Oxidative Effects of Potassium Dichromate on Biochemical, Hematological Characteristics, and Hormonal Levels in Rabbit Doe (
Oryctolagus cuniculus

)

1

Department of Animal Production, Faculty of Agronomy and Agricultural Sciences, University of Dschang, P.O. Box 188, Dschang, Cameroon

2

Department of Animal Biology and Physiology, Faculty of Sciences, University of Yaounde I, P.O. Box 812, Yaoundé, Cameroon

*

Author to whom correspondence should be addressed.

Received: 28 January 2019 / Revised: 6 March 2019 / Accepted: 13 March 2019 / Published: 18 March 2019
Abstract
The present study was conducted to evaluate the toxicity induced by the increasing doses of potassium dichromate in rabbit doe. Twenty-eight adult does of 6 months of age were divided into four groups (A, B, C, and D; n = 7), with comparable average body weight (bw). Group A rabbits received only distilled water daily and served as a control, while groups B, C, and D received, respectively, 10 mg/kg bw, 20 mg/ kg bw, and 40 mg/kg bw of potassium dichromate via gavage for 28 days, after which animals were anesthetized with ether vapor and sacrificed. Blood samples were obtained via cardiac puncture and collected without anticoagulant for biochemical dosages and with anticoagulant (EDTA) for complete blood count. Follicle stimulating hormone (FSH), luteinizing hormone (LH), and estradiol (E2) were dosed in serum and in homogenates of ovary with the help of AccuDiag
TM
ELISA kits from OMEGA DIAGNOSTICS LTD (Scotland, England) while respecting the immuno-enzymatic method. Activities of superoxide dismutase (SOD), glutathione (GSH), catalase (CAT), and concentration of malondialdehyde (MDA) in liver, kidney, ovary and uterus were measured. Hematology revealed a significant (
p
< 0.05) decrease in mean values of hemoglobin and platelets while white blood cells and lymphocytes showed a significant (
p
< 0.05) increase in exposed groups. No significant (
p
> 0.05) difference was registered in monocytes, red blood cells, hematocrits, and plaquetocrits values with respect to the control. No matter the organ considered, no significant (
p
> 0.05) change was recorded in weight and volume. Nephrotoxicity analysis registered a significant (
p
< 0.05) increase in urea and creatinine, unlike renal tissue protein, which decreased significantly (
p
< 0.05). However, hepatotoxicity registered no significant (
p
> 0.05) variation in aspartate aminotransferase but total protein, alanine aminotransferase, and total cholesterol increased significantly (
p
< 0.05), while hepatic tissue protein revealed a significant (
p
< 0.05) decrease. Analysis on reproductive parameters showed a significant (
p
< 0.05) decrease in ovarian and uterine tissue proteins, as well as in follicle stimulating hormone, luteinizing hormone, and estradiol. Oxidative stress markers recorded no significant (
p
> 0.05) difference in glutathione reductase except in ovary where a significant (
p
< 0.05) decrease was seen when compared with the control, while catalase revealed a significant (
p
< 0.05) decrease, except in liver where there was no significant (
p
> 0.05) change. Superoxide dismutase and malondialdehyde recorded a significant (
p
< 0.05) decrease and increase respectively, with respect to the control. Results obtained from this study showed that the reduction process of chromium in tissues may cause the generation of reactive oxygen species, which are involved in hematoxic, nephrotoxic, hepatotoxic, and reproductive toxicity effects.
View Full-Text
►

▼

Figures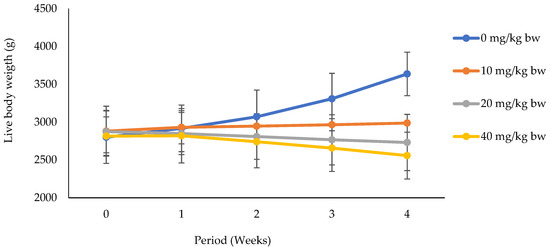 Figure 1
This is an open access article distributed under the
Creative Commons Attribution License
which permits unrestricted use, distribution, and reproduction in any medium, provided the original work is properly cited (CC BY 4.0).

Share & Cite This Article
MDPI and ACS Style
Mary Momo, C.M.; Ferdinand, N.; Omer Bebe, N.K.; Alexane Marquise, M.N.; Augustave, K.; Bertin Narcisse, V.; Herve, T.; Joseph, T. Oxidative Effects of Potassium Dichromate on Biochemical, Hematological Characteristics, and Hormonal Levels in Rabbit Doe (Oryctolagus cuniculus). Vet. Sci. 2019, 6, 30.
Note that from the first issue of 2016, MDPI journals use article numbers instead of page numbers. See further details here.
Related Articles
Comments
[Return to top]