Open Access This article is
freely available
re-usable
Article
Terroir Tourism: Experiences in Organic Vineyards
1
Carson College of Business, School of Hospitality Business Management, Washington State University, Richland, WA 99352, USA
2
Department of Hospitality and Retail Management, Texas Tech University, Lubbock, TX 79409, USA
*
Author to whom correspondence should be addressed.
Received: 30 January 2019 / Accepted: 19 March 2019 / Published: 4 April 2019
Abstract
:
This article considers key determinants of terroir tourism in the context of organic vineyards in Oregon, US. Emerging from anthropology, climatology, ecology, geography and wine tourism, terroir tourism has been recently recognized to have potential for developing tourism in Oregon. However, research has sought to determine terroir tourism and its characteristics, differentiating it from wine tourism. This case of Oregon will investigate a wine territory through the examination of organic vineyards. The relative importance of terroir within the organic vineyard destinations of Oregon is examined. Determining the characteristics of terroir tourism from a review on terroir and the experience economy 4E framework on wine tourism develops the case into organic vineyards with terroir tourism characteristics. Ultimately, an attempt to further develop wine tourism destinations based on their unique terroir esthetic experiences, and the potential for terroir tourism within the experience economy, is developed.
Keywords:
wine tourism; experience economy; terroir tourism; organic
2. Literature Review
Previous literature has demonstrated the importance and effectiveness of segmenting wine consumers based on their motivations and behaviors as wine tourists [
11
,
12
], and psychographically, using measures such as wine tourism involvement and wine knowledge [
13
]. Regardless of type, segmenting wine tourists is an important component of understanding terroir tourism consumer behavior because of their varying interests in wine and grape production within a territory. Getz and Brown studied the motivation and behavior of wine consumers in Calgary, Canada, and found these tourists to be primarily cultural tourists, interested in wine and food, and outdoor recreational opportunities [
14
]. Whereas in China, while learning about wine and winemaking, tasting wine and hearing stories about wine are of interest [
15
] Thach highlights the importance of segmenting wine consumers [
16
]. Segmentation of wine between conventional grape product and organic grape production is a current trend in the industry and suggests a similar segmentation for wine tourists and terroir tourists, which might provide the further development of tourism products to meet the unique experiences that each tourist desire.
An experiential view of wine tourism has been scant, although promising [
17
,
18
,
19
,
20
,
21
] given the hedonic nature of the experience. Quadri's [
22
] dissertation study on rural wine tourism utilized the central constructs of the experience economy model, the 4Es—education, esthetics, entertainment and escapist [
23
]—to explain the experiential nature of wine tourism. The suitability of this framework to help understand the greater wine tourism experience has been developed in several studies, as described in
Table 2
.
Examples of experience-based activities for wine tourists, with respect to the 4E framework, include [
21
]:
Education
Wine tastings and seminars

Culinary-wine pairing events

Home wine-making seminars

Cooking and craft-making classes
Entertainment
Cellar concerts, music in the vineyard

Wine-blending demonstration

Farm and food demonstrations
Escapist
Vineyard hikes, cycling tours

Hot air ballooning over vineyards

Vineyard tours by horse and carriage
Esthetics (enriched by sensual environments)
Consuming the 'winescape'

Enjoying unique lodging (B&B) and wines

Driving along rural roads lined with vineyards

Art and craft fairs at wineries
The esthetic experience entails immersion in a sensual environment. The winescape reflects this opportunity and has proven to be fundamental for wine tourism [
17
]. Terroir tourism activities at organic vineyards are noted in Oregon as an esthetic experience. Experiences like soil sampling, geologic digs, and terroir walks and talks are offered at the Momtazi organic vineyard and Maysara winery in McMinville, Oregon [
24
]. The Montazi vineyard is the largest planted Demeter Biodynamic Certified in Oregon with 532 acres of planted grapes [
25
] and the largest biodymanic wine producer in the state. While some businesses may engage customers primarily through one realm of experience, many offer experiences that encompass multiple realms. An experience that encompasses all four realms is said to hit the 'sweet spot' in the middle of the framework—a 'mnemonic place' that is distinct from the everyday norm and is only possible through the staging and theming of an experience [
26
]. For instance, a goat farmer who makes Neufchâtel, a cheese originally from the town of the same name in the region of Normandy, France, may find it appropriate to build a Bed & Breakfast or retail store esthetic experience around a French provincial theme [
27
].
Theming
For Pine & Gilmore, before an experience can be staged, it must be successfully themed [
23
]. Furthermore, theming an experience means scripting a story reliant upon guests' participation. Similarly, effective interpretation at a winery follows an overarching theme unique to the vineyard. According to Pine & Gilmore, five key principles define successful creation of a theme: (1) An engaging theme must alter a guest's sense of reality; (2) the richest venues possess themes that fully alter one's sense of reality by affecting the experience of space, time, and matter; (3) engaging themes integrate space, time and matter into a cohesive, realistic whole; (4) themes are strengthened by creating multiple places within a place; (5) a theme should fit the character of the enterprise staging the experience [
23
]. Each of these principles seem to point to the fact that the theme should enhance a sense of place for the visitors, as well as an important goal for an interpretive theme. Interpretation can serve as a winery's primary form of communication with their audience.
In order to fulfill these purposes, businesses create interpretive plans. Many times, businesses start out solely selling goods or offering services and want to add value by offering distinct customer experiences. The mix of goods and services offered by small firms can range from very focused to diverse. These goods and services may offer cues for the kind of theme or impression around which to build experiences. Therefore, terroir tourism is constructed by theming a destination before it can be successfully staged as a territory with terroir characteristics.
3. Discussion and Conclusions
While a wine region's wine tourism traditionally connects the identity of a winery to regional location externalities without addressing the question of terroir, terroir categories like territory are key potential elements of location choices for terroir tourists. Furthermore, these terroir categories are private resources, rather than externalities. Organic vineyards provide these private resources for Oregon wineries and their vineyards, which reinforces the connection between organic viticultural practices and terroir tourism potential in Oregon.
Author Contributions
Equal contributions were made by authors Marlowe and Bauman to this manuscript.
Funding
This research received no external funding.
Conflicts of Interest
The authors declare no conflict of interest.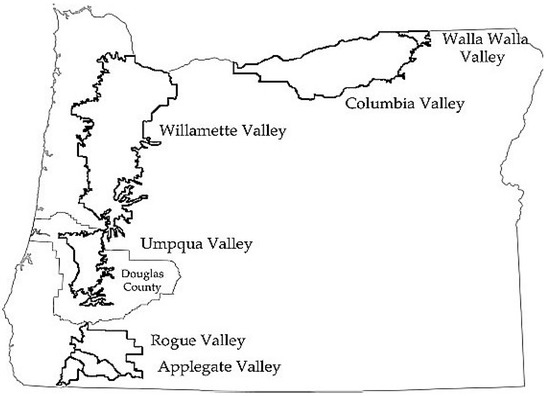 Figure 1.
The spatial depiction of Oregon's American Viticultural Areas (AVAs). (Adapted from [
10
], with permission from Jones, 2004).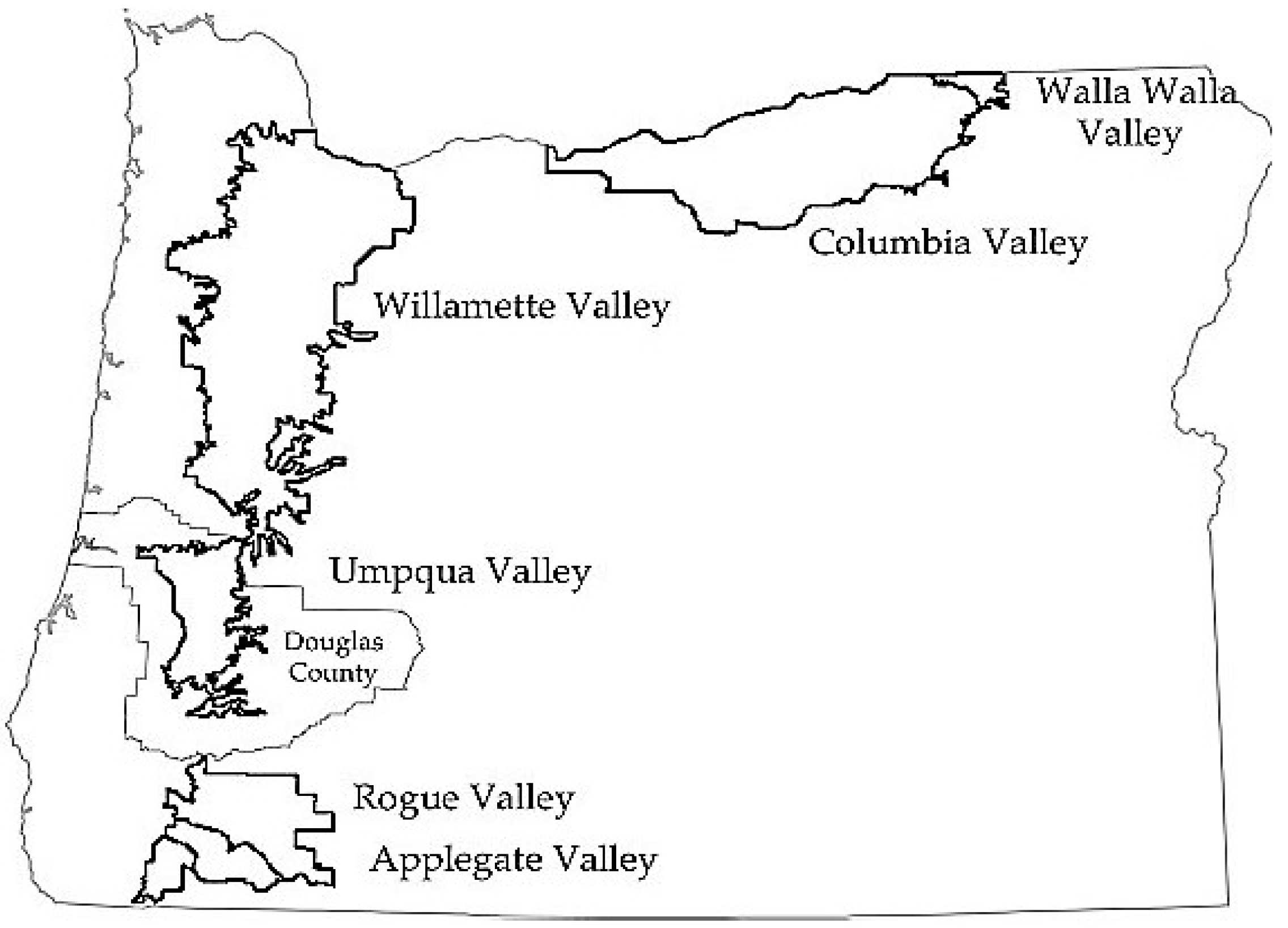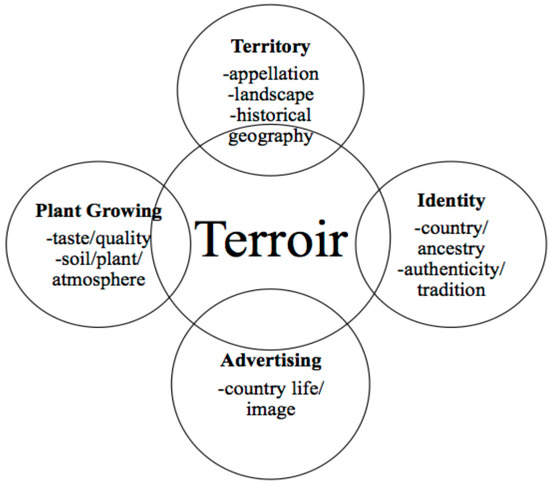 Figure 2.
A typology of viticultural terroir (adapted from [
32
], with permission from Vaudour, 2002).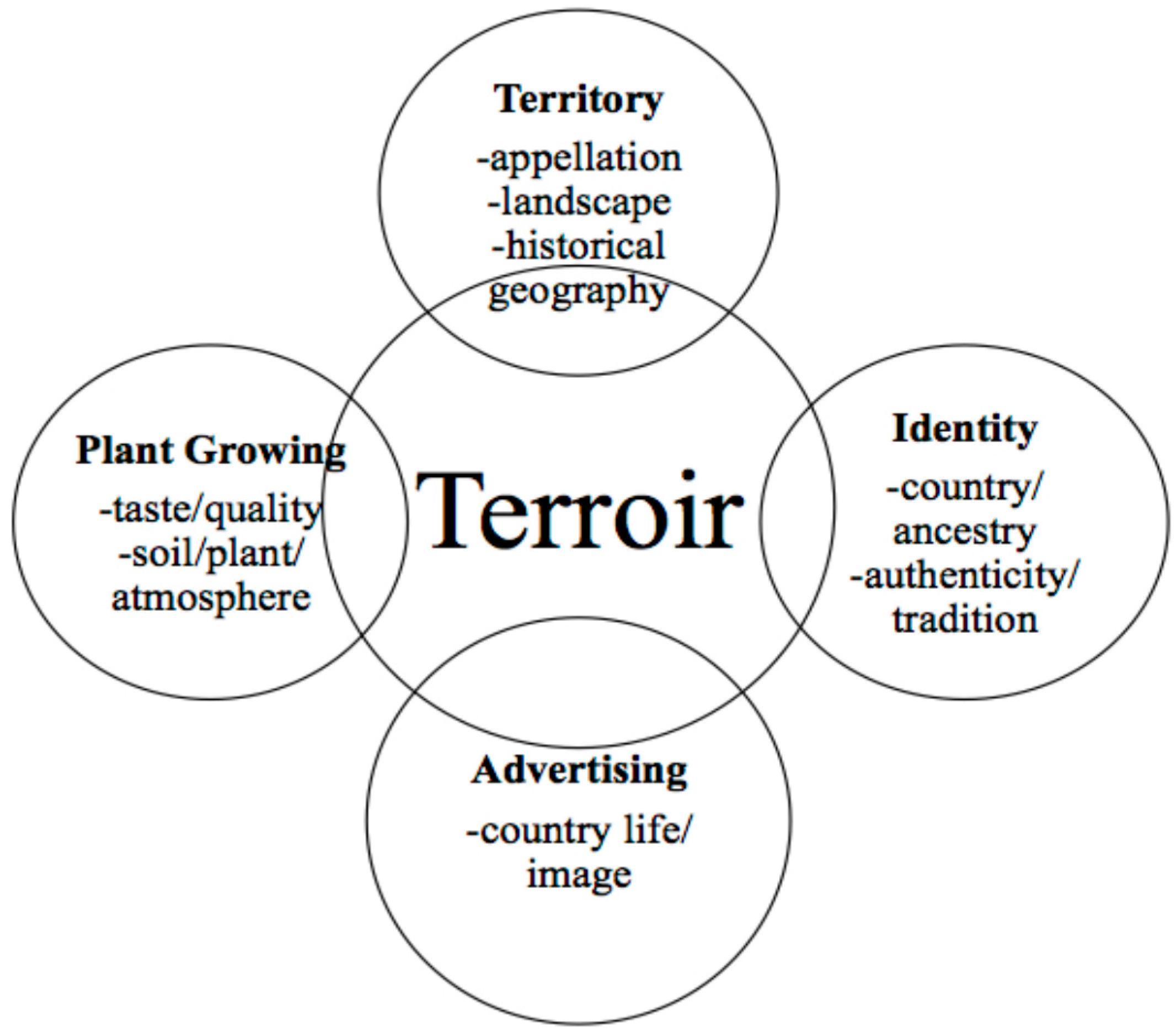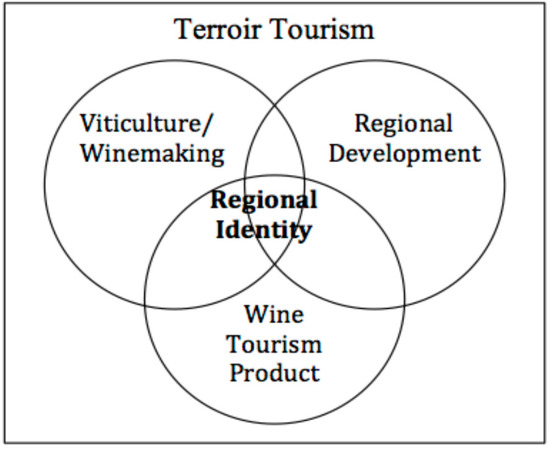 Figure 3.
A conceptual framework of terroir tourism (adapted from [
33
], with permission from Holland et al., 2014).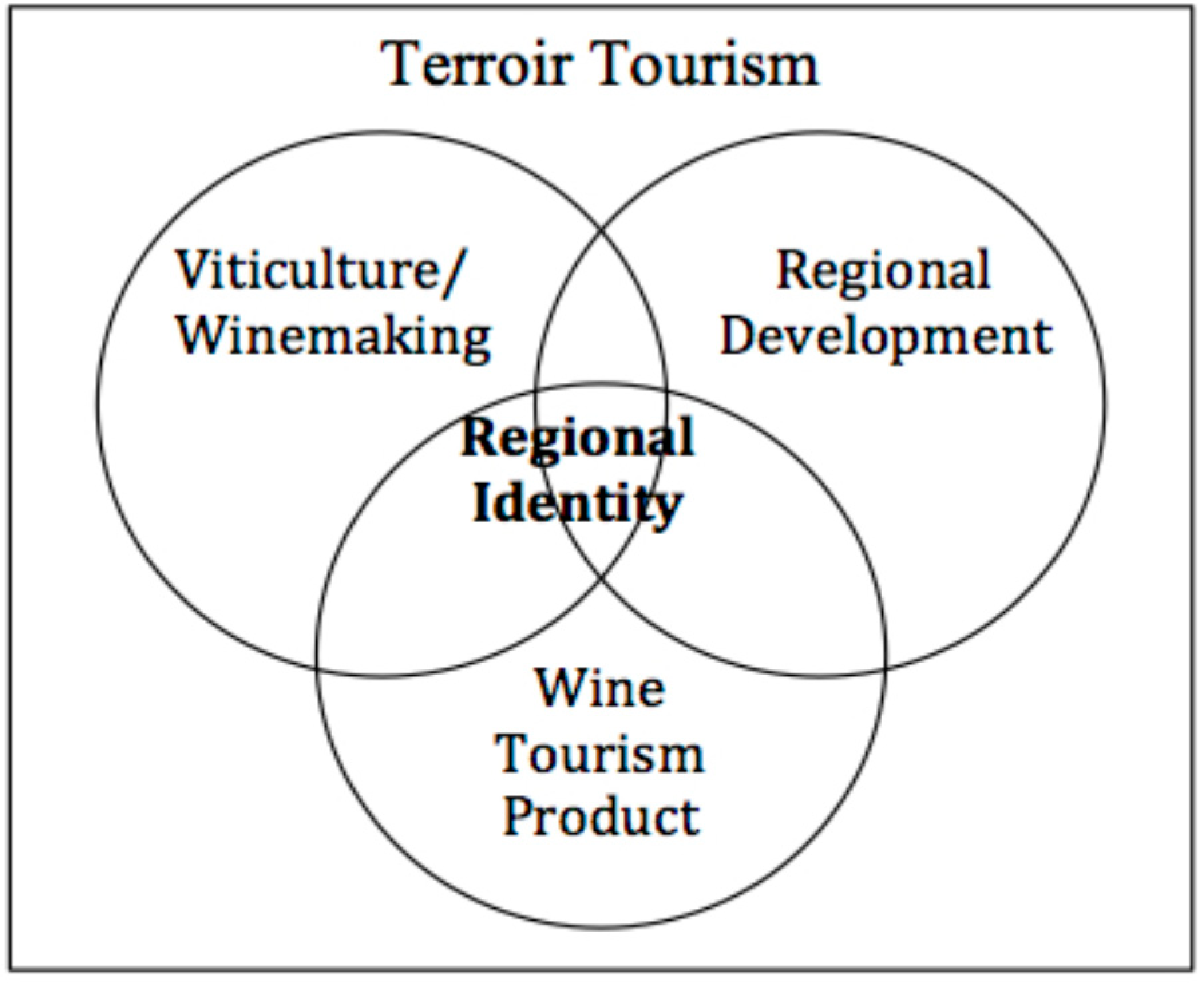 Table 1.
Oregon's Organic Vines (Adapted from [
8
], with permission from Oregon Organic Wine, 2015).
| Oregon Tilth Organic Certified | Acres |
| --- | --- |
| Cattrall Brothers Vineyards | 22 |
| Columbia Blossom Orchards | 1 |
| Cooper Mountain Vineyards | 110 |
| Cornucopia Vineyards LLC | 134.7 |
| Cowhorn Vineyard & Garden | 117 |
| Croft Vineyards | 96.9 |
| Ecological Farms | 4.5 |
| Epyllion Vineyard | 5 |
| Evesham Wood Vineyard & Winery, Inc. | 12.6 |
| Idiot's Grace | 7 |
| JMD Vineyard | 4.8 |
| King Estate Winery, LP | 465 |
| Meadows Vineyard | 4 |
| Momtazi Vineyard | 532 |
| Pheasant Valley Orchard, Inc. | 16 |
| Redford/Wetle Farms | 8 |
| Sokol Blosser Vineyards | 82.8 |
| Starview Farm | 0.5 |
| Stater Vineyard | 8 |
| Upper Five Vineyard | 4.2 |
| Willamette Valley Vineyards | 24.5 |
| Western Oregon Organic Farms | 8 |
| TOTAL ORGANIC | 1660 |

Table 2.
Indicators of 4Es in literature with regard to wine tourists (adapted from [
21
], with permission from Quadri-Felitti & Fiore, 2012).

© 2019 by the authors. Licensee MDPI, Basel, Switzerland. This article is an open access article distributed under the terms and conditions of the Creative Commons Attribution (CC BY) license (http://creativecommons.org/licenses/by/4.0/).