Open Access This article is
freely available
re-usable
Review
Techno-Functional Role of Exopolysaccharides in Cereal-Based, Yogurt-Like Beverages
Bioenologia 2.0, via G. Verdi, 32, 31046 Oderzo, Italy
Received: 29 December 2018 / Accepted: 18 January 2019 / Published: 1 February 2019
Abstract
:
This review describes the technical and functional role of exopolysaccharides (EPSs) in cereal-based, yogurt-like beverages. Many microorganisms produce EPSs as a strategy for growing, adhering to solid surfaces, and surviving under adverse conditions. In several food and beverages, EPSs play technical and functional roles. Therefore, EPSs can be isolated, purified, and added to the product, or appropriate bacteria can be employed as starter cultures to produce the EPSs in situ within the matrix. The exploitation of in situ production of EPSs is of particular interest to manufacturers of cereal-base beverages aiming to mimic dairy products. In this review, traditional and innovative or experimental cereal-based beverages, and in particular, yogurt-like beverages are described with a particular focus in lactic acid bacteria (LAB's) EPS production. The aim of this review is to present an overview of the current knowledge of exopolysaccharides produced by lactic acid bacteria, and their presence in cereal-based, yogurt-like beverages.
Keywords:
cereal-based yogurt-like beverages; exopolysaccharides; LAB
2. Type of Exopolysaccharides
3. Microbial Exopolysaccharides
4. EPSs Technical Roles
EPSs can maintain a high level of water-soluble active compounds from cereals due to their high water-binding ability, which results in increased water retention. EPSs can also interact with structure-forming components present in the medium. Therefore, EPSs can improve the metabolic absorption of certain minerals (e.g., calcium, magnesium, and iron).
6. Cereal-Based Beverages
7. EPS-Producing LABs in Experimental Cereal-Based, Yogurt-Like Beverages
EPS-producing LABs significantly contribute to texture, mouth feel, taste perception, and stability of cereal-based, yogurt-like beverages.
EPSs are dietary fiber, and their presence in cereal-based yogurt-like beverages lead to a better bioavailability of dietary fiber in the product.
8. Conclusions
To confirm that EPSs are always of greater interest, several patents of EPS-producer LAB strains have recently been obtained [
79
,
83
].
In conclusion, EPSs are important in cereal-based, yogurt-like beverages because of their technological role in improving stability, rheological properties, the texture of products, the control of flavor release, increased shelf-life, and substituted fat and protein as described in Williams and Phillips [
34
].
Several studies demonstrate the possibility of developing cereal-based, yogurt-like beverages. The presence of a strain of EPS producers can improve the technical and functional quality of the beverages, leading to a drink without phase separation, with low pH, and that is stable during the storage period. These kinds of products could be a good source of protein, fiber, vitamins, and minerals, making them important not only for the coeliac and/or lactose-intolerant population, but also a new alternative for all customers. Moreover, many studies suggest that this kind of beverages might support the growth and viability of probiotic LABs (e.g., References [
84
,
85
]).
Funding
This research received no external funding.
Conflicts of Interest
The author declares no conflict of interest.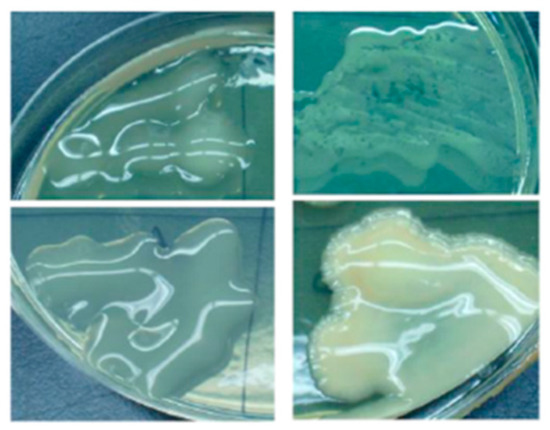 Figure 1. EPS production on an agar plate with the slimy appearance of the strains able to produce EPSs.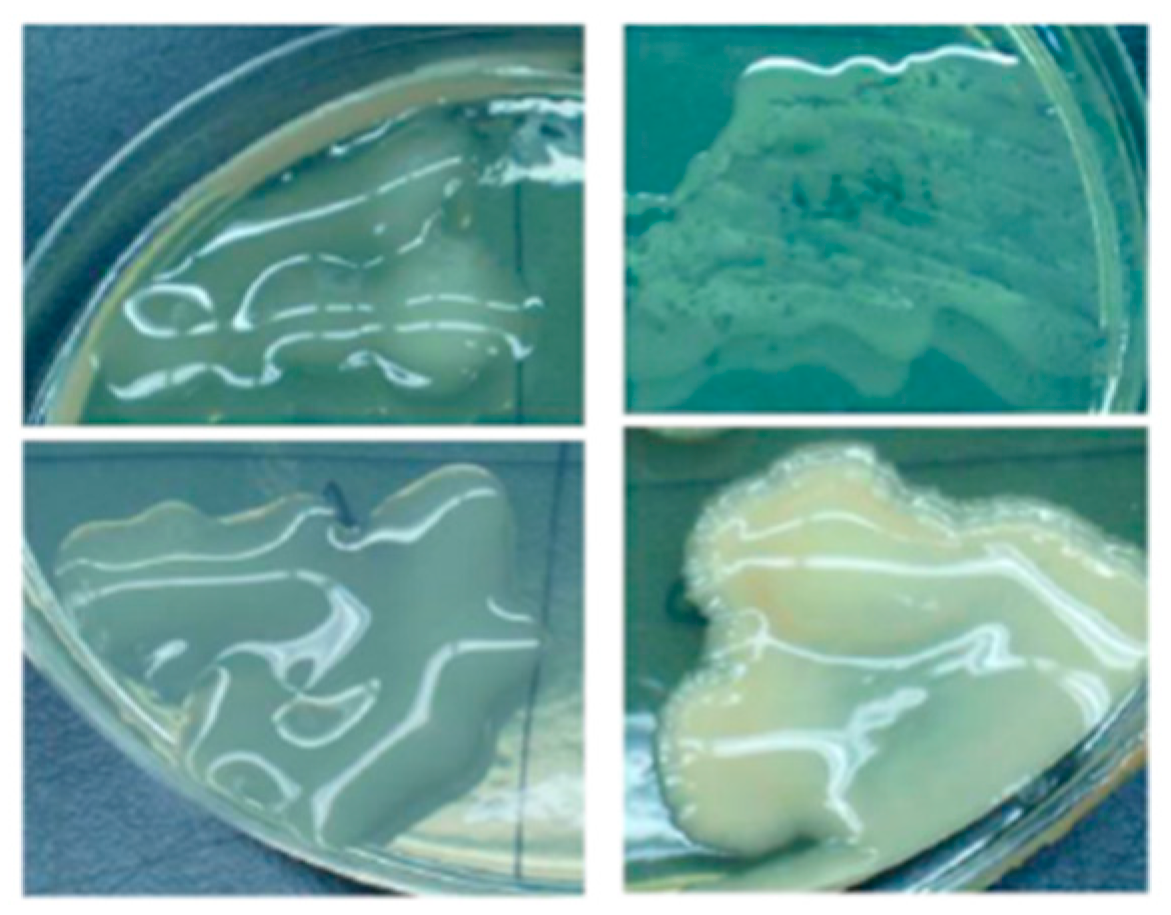 Figure 2. Schematic description of exopolysaccharides, including principal information about structure, production, and main function of EPSs.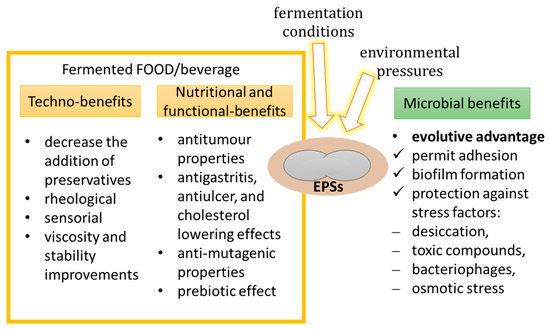 Figure 3. Microbial benefits due to EPS production for cell and key techno and functional roles of EPSs in food or beverages.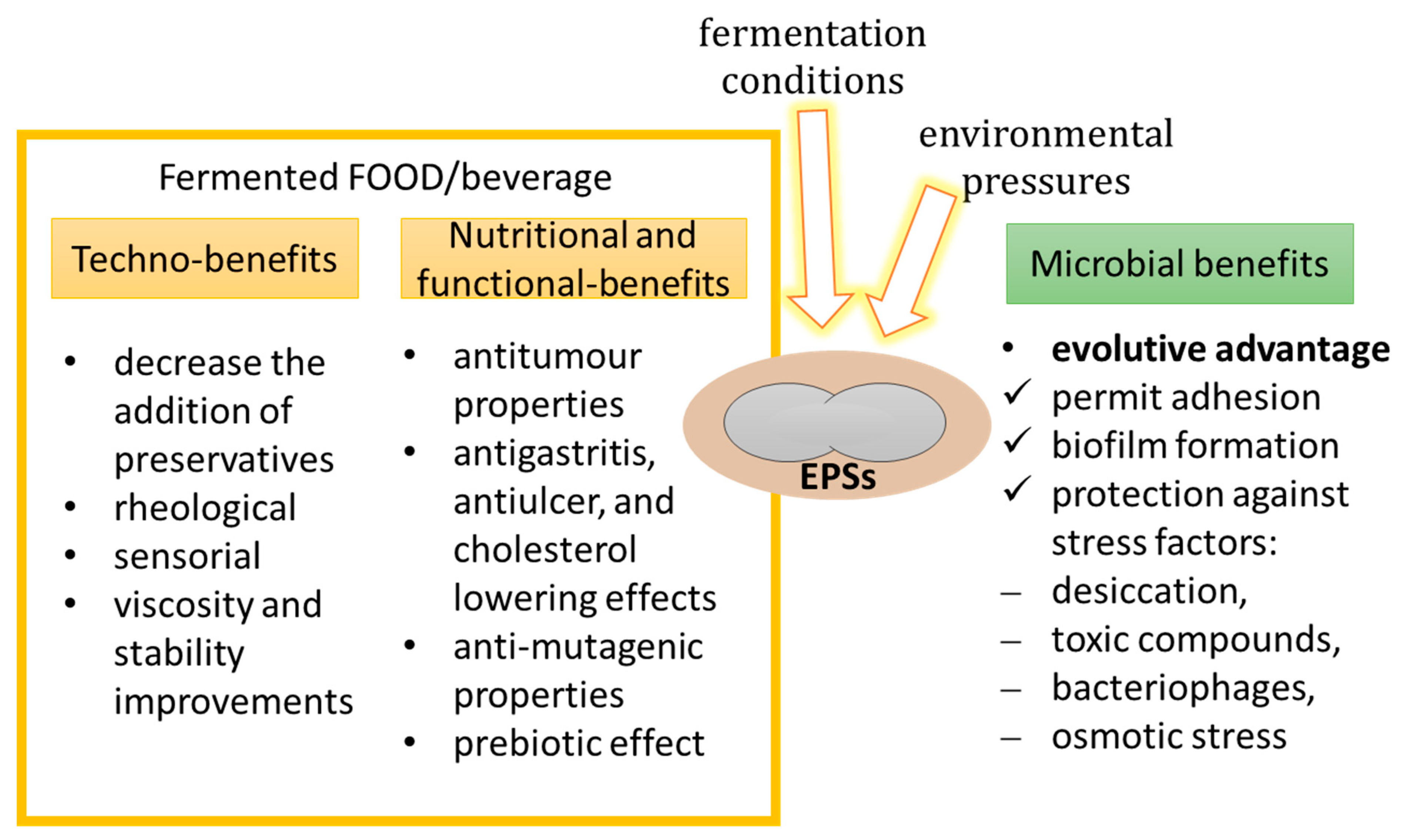 Traditional Beverages Based on Cereals
Microorganism
Cereals
Kind of Beverage
Origins
References
amazake

Aspergillus

sp.
rice
sweet fermented rice drink
Japanese
[54]
bhaati jaanr
LABs; yeast (

Saccharomycopsis fibuligera, Rhizophus

sp.)
rice
staple food beverage
Nepal, India, Bhutan
[55]
boza
LABs (

Lactobacillus

sp.,

Leuconostoc

sp.,

Lactococcus

sp.,

Pediococcus

sp.); yeast (

Saccharomyces cerevisiae, Candida

sp.,

Geotrichum

sp.)
wheat, rye, millet, maize
sweet colloid beverage
Bulgaria, Albania, Turkey, and Romania
[56]
bushera
LAB (species of

Lactobacillus, Lactococcus, Leuconostoc, Enterococcus, Streptococcus, Weissella

)
sorghum and Millet
non-alcholic drink
Uganda
[57]
chhang
LAB (1.7 × 104 such as

Lactobacillus

sp.) and yeast (3.5 × 104 such as

Saccharomyces

sp.)
rice, barley, or millet
alcholic drink
Nepal, Tibet
[58]
Kvass
LAB (

L.casei, Leuc.mesenteroides

); yeast (

S. cerevisiae

)
rye
fermented, non-alcholic drink
Russia
[59]
haria
microbial consortia (LAB,

Bifidobacterium

, and yeast)
rice
beverage
India
[60]
mangisi
LAB (9.03 × 1010 CFU/mL); yeast and mould (1.1 × 107 CFU/mL)
millet
sweet, sour, non-alcholic drink
Zimbabwe
[61]
Marcha
LABs (

L. plantarum

); yeast
rice
fermented, non-alcholic drink
India
[62]
ogi (or koko)
LABs (such as

L. plantarum, L. pantheris, L. vaccinostercus

); yeast (such as

Candida krusei, Clavispora, S. cerevisiae, Rhodotorula

sp.) and mould (such as

Aspergillus

sp.,

Penicillium

sp.)
maize, sorghum, millet, wheat
non-alcholic drink; porridge
Nigeria, Ghana
[63]
omegisool
LAB (

Lactobacillus

sp.,

Pediococcus

sp.)
millet
alcholic beverage
Korea
[64]
togwa
LABs (

Lactobacillus

sp.,

Pediococcus

sp.); yeast (

Candida

sp.,

Issatchenkia orientalis, Saccharomyces cerevisiae

)
maize, millet
non-alcholic drink
Africa
[65]

Table 2. Experimental cereal/pseudocereal-based, yogurt-like beverages with a focus on EPS-producer strains if present.
LAB strain
EPS
Substrate
Reference

L. lactis ARH74

EPS-producer strain
quinoa
[69]

L. delbrueckii

subsp.

bulgaricus

-NCFB 2772
EPS-producer strain
oat
[72]

L. plantarumCCM 7039 and B. longum CCM 4990

unknown
rice
[73]

L. plantarum

Lp90
EPS-producer strain
oat
[74]

P.damnosus

eps
oat
[75]

P.damnosus 2.6

β-glucan
oat based medium
[76]

L.brevis G-77

α- and β-glucan

W. confusa DSM 2019

dextran
quinoa
[77]

W. cibaria

WC4
EPS-producer strain
emmer flour
[78]

L. rhamnosus

GG
unknown
buckwheat
[79]

© 2019 by the author. Licensee MDPI, Basel, Switzerland. This article is an open access article distributed under the terms and conditions of the Creative Commons Attribution (CC BY) license (http://creativecommons.org/licenses/by/4.0/).