Open Access This article is
freely available
re-usable
Review
Differential Methylation and Acetylation as the Epigenetic Basis of Resveratrol's Anticancer Activity
1
College of Basic Sciences, King Faisal University, Hofuf 400-Al Ahsa-31982, Saudi Arabia
2
Department of Medical Laboratory Technology, Faculty of Applied Medical Sciences, University of Tabuk, P.O. Box 741, Tabuk 71491, Saudi Arabia
3
Department of Psychiatry, University Hospital Limerick, Limerick V94 T9PX, Ireland
4
Institute of Biomedical and Genetic Engineering (IBGE), Islamabad 44000, Pakistan
5
Department of Postgraduate Education and Research, Kazakhstan Medical University KSPH, Almaty 050004, Kazakhstan
6
Organic Chemistry Laboratory, Department of Chemistry, University of Bayreuth, Universitaetsstrasse 30, 95447 Bayreuth, Germany
7
Department of Oncologic Sciences, Mitchell Cancer Institute, University of South Alabama, Mobile, AL 36604, USA
*
Author to whom correspondence should be addressed.
Received: 11 January 2019 / Accepted: 11 February 2019 / Published: 13 February 2019
Abstract
:
Numerous studies support the potent anticancer activity of resveratrol and its regulation of key oncogenic signaling pathways. Additionally, the activation of sirtuin 1, a deacetylase, by resveratrol has been known for many years, making resveratrol perhaps one of the earliest nutraceuticals with associated epigenetic activity. Such epigenetic regulation by resveratrol, and the mechanism thereof, has attracted much attention in the past decade. Focusing on methylation and acetylation, the two classical epigenetic regulations, we showcase the potential of resveratrol as an effective anticancer agent by virtue of its ability to induce differential epigenetic changes. We discuss the de-repression of tumor suppressors such as BRCA-1, nuclear factor erythroid 2-related factor 2 (NRF2) and Ras Associated Domain family-1α (RASSF-1α) by methylation, PAX1 by acetylation and the phosphatase and tensin homologue (PTEN) by both methylation and acetylation, in addition to the epigenetic regulation of oncogenic NF-κB and STAT3 signaling by resveratrol. Further, we evaluate the literature supporting the potentiation of HDAC inhibitors and the inhibition of DNMTs by resveratrol in different human cancers. This discussion underlines a robust epigenetic activity of resveratrol that warrants further evaluation, particularly in clinical settings.
Keywords:
resveratrol; epigenetic; methylation; acetylation
Funding
Mohd Farhan is thankful to the Deanship of Scientific Research, King Faisal University, for a research grant through the Nasher track (186105).
Conflicts of Interest
The authors declare no conflict of interest.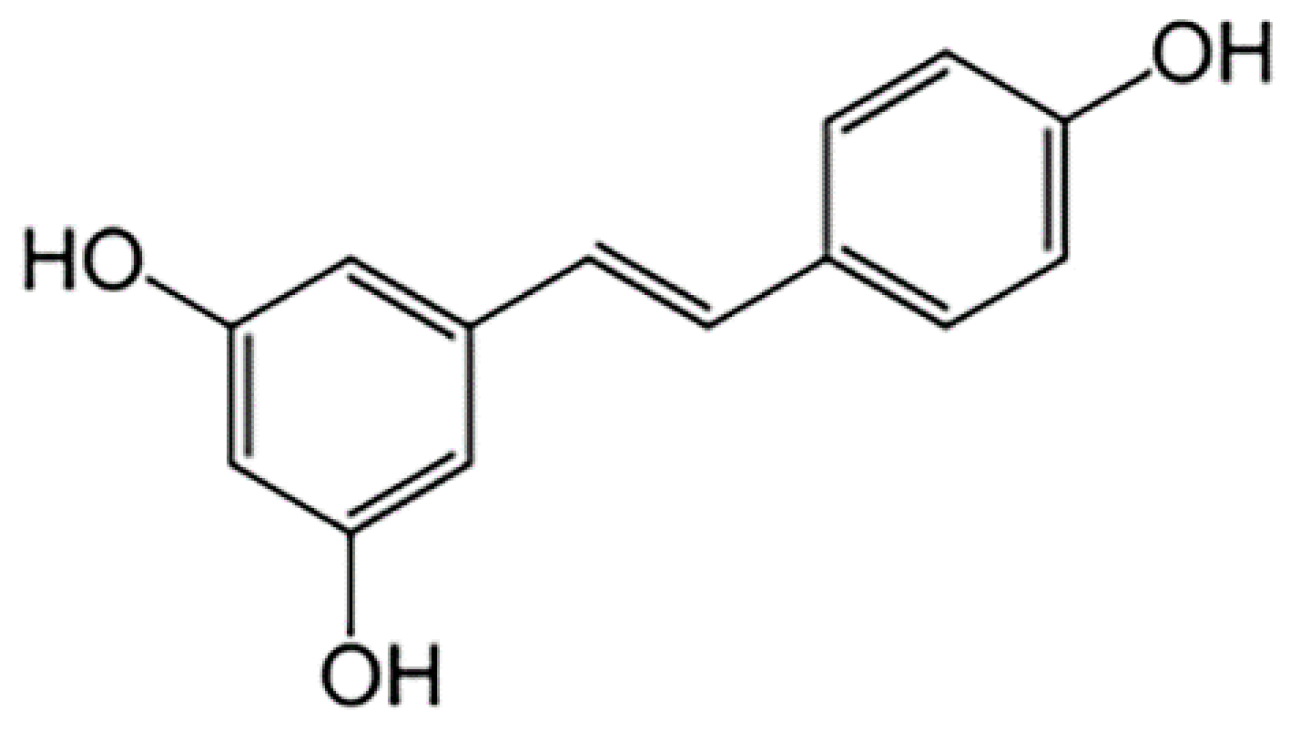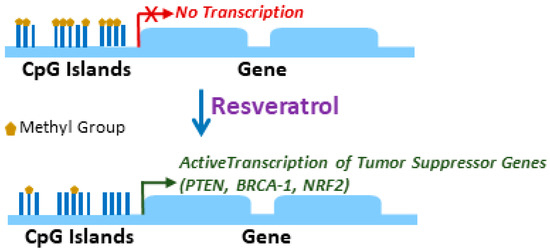 Figure 2. Activation of tumor suppressor genes by resveratrol through promoter DNA hypomethylation. The CpG islands in the DNA promoter regions of the tumor suppressor genes are hypermethylated resulting in their silencing. De-methylation of these CpG islands by resveratrol results in the activation of transcription and the eventual expression of tumor suppressor genes such as the phosphatase and tensin homologue (PTEN), BRCA-1 and nuclear factor erythroid 2-related factor 2 (NRF2).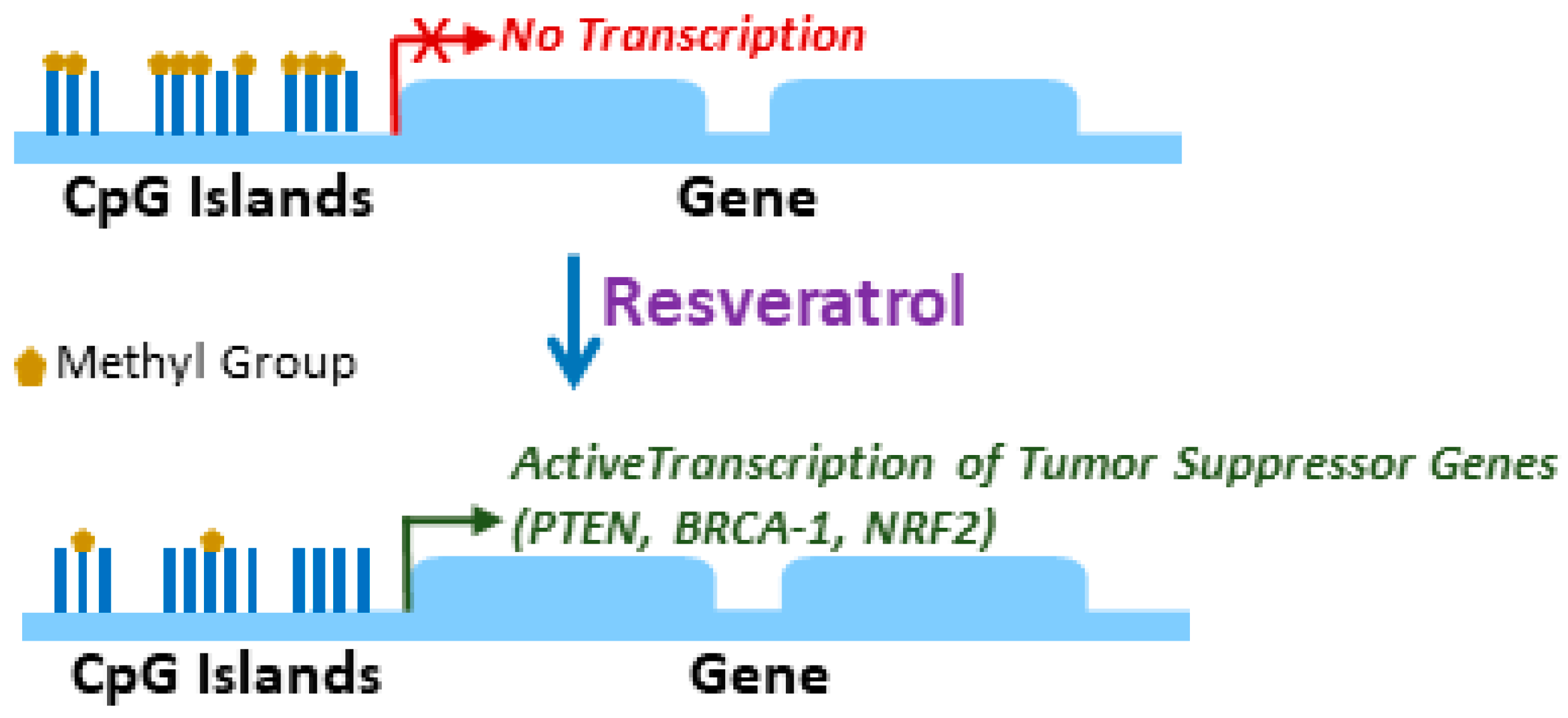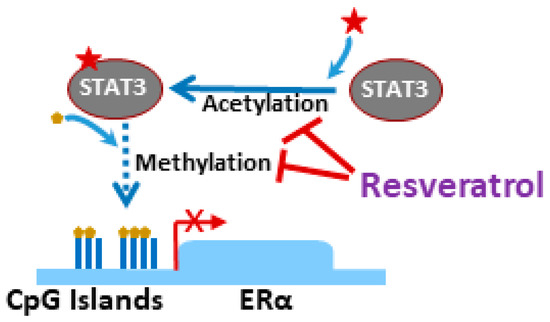 Figure 3. Epigenetic regulation in triple negative breast cancers (TNBCs). TNBCs are characterized by activated STAT3 signaling, involving acetylated STAT3. ERα signaling in TNBCs is silenced through promoter DNA hypermethylation which might be related to STAT3 acetylation but the mechanisms remain unclear (and are therefore shown with a dotted line). Resveratrol is an effective inhibitor of STAT3 acetylation as well as ERα promoter DNA methylation. Restoration of ER-signaling makes TNBC cells sensitive to the ER-targeting therapy, tamoxifen.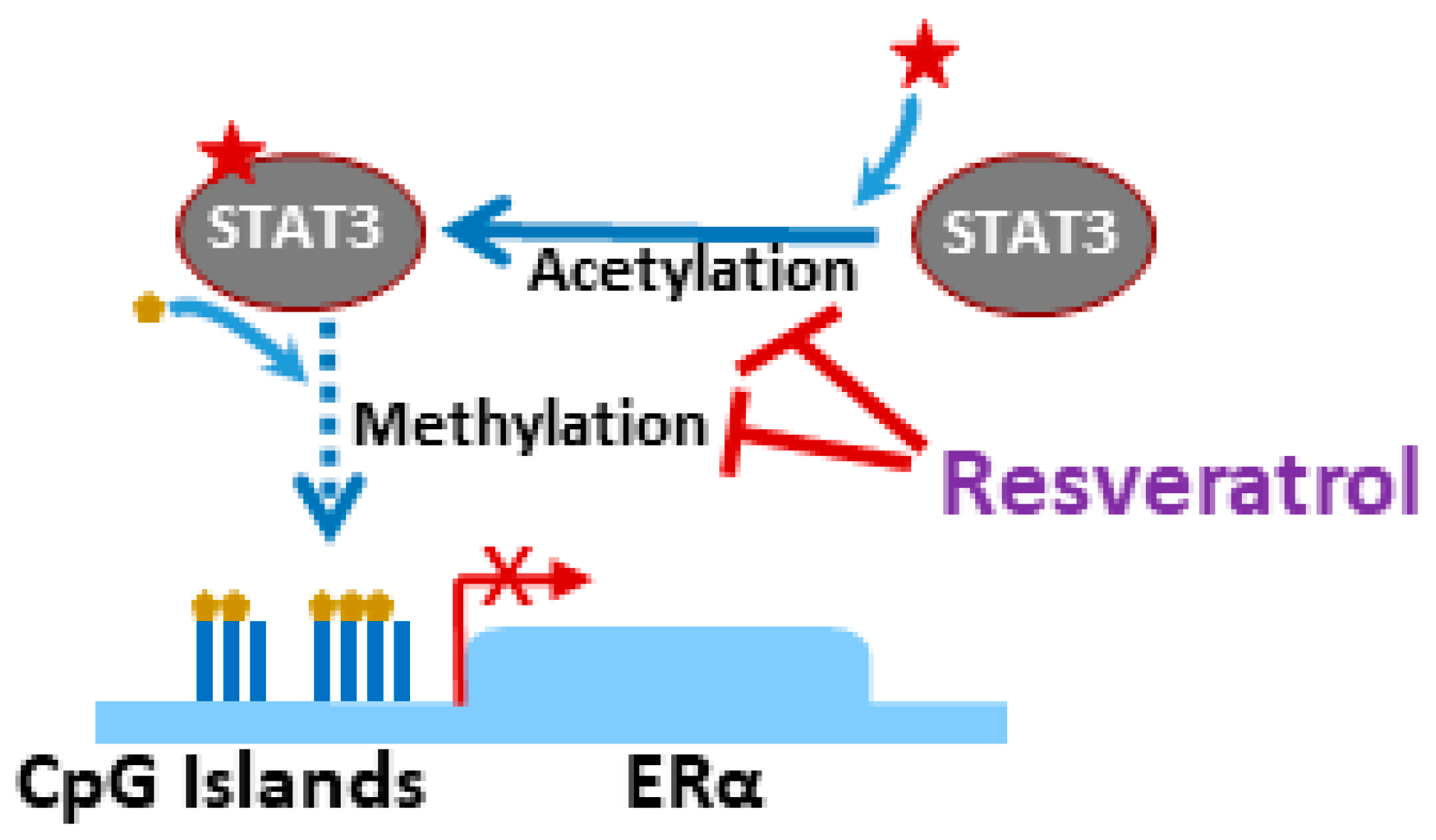 Tumor Suppressor
Cancer Type
Effect of Resveratrol
Reference
BRCA-1
Breast
Reduced promotor DNA methylation in vitro
[36]
Reduced promotor DNA methylation in vivo
[37]
NRF2
Breast
Reduced promotor DNA methylation
[38]
p53
Lymphoma
Induced acetylation
[73]
Prostate
[75]
PAX1
Cervical
Regulation of histone acetylation
[66]
PTEN
Breast
Reduced promoter DNA methylation
[35]
Prostate
Acetylation and activation
[77]
RASSF-1α
Breast
Reduced DNA methylation
[42]

© 2019 by the authors. Licensee MDPI, Basel, Switzerland. This article is an open access article distributed under the terms and conditions of the Creative Commons Attribution (CC BY) license (http://creativecommons.org/licenses/by/4.0/).