Open Access This article is
freely available
re-usable
Article
The Role of Non-Caloric Sweeteners in Sensory Characteristics of Pastry Products
1
Escuela de Nutrición y Dietética, Facultad de Salud, Universidad Santo Tomas, Ejercito 146, Santiago 8370003, Chile
2
Departamento de Ciencias Básicas, Facultad de Ciencias, Universidad Santo Tomas, Avenida Carlos Schorr 255, Talca 3473620, Chile
*
Author to whom correspondence should be addressed.
Received: 27 June 2019 / Accepted: 31 July 2019 / Published: 8 August 2019
Abstract
:
The purpose of this work was to evaluate the role of non-caloric sweeteners in pastry products considering the product made with sugar as a control sample. Sensory preference and acceptability with consumers were determined through ranking test and 9-point hedonic scale respectively. The satiation and satiety were determined by the visual analogue scale (VAS). In addition, caloric intake; macronutrients; physical parameters such as yield, specific volume, hardness, cohesiveness, and gum; stability in storage time by microbiological analysis; and moisture variation of the samples were calculated. The results showed that the preference and sensory acceptability is significantly (
p
< 0.05) higher in the control sample; the sweeteners decreased the sensory response, but not the satiation and satiety, although these are not related to the sensory response and did not present significant differences with the control sample, except in the satiation parameter of the sample sweetened with Stevia. The physical and texture parameters highlight the best quality of the control sample and are related to the sensory response. The shelf life is also greater in the control sample, which shows that sugar contributes sweetness and other technological characteristics related to texture, stability during storage, aroma, color, and flavor, thanks to the Maillard reaction.
Keywords:
non-caloric sweeteners; sensory characteristics; physical parameters; useful life
1. Introduction
Non-caloric sweeteners must be approved by specialized agencies, such as the Joint FAO/WHO Expert Committee on Food Additives (JEFCA), the European Food Safety Authority (EFSA), and the Food and Drug Administration (FDA), that evaluate their safety and risks. This evaluation establishes an acceptable daily intake (ADI), which according to Joint FAO/WHO, is defined as "amount of a food additive that for a human, expressed on the basis of body weight, can be consumed daily even during all of life, without risk".
Among non-caloric sweeteners that are commonly used in processed foods are stevia, sucralose, tagatose, and polyols.
The objectives of the present study are to evaluate the role of non-caloric sweeteners in sensory characteristics and physical parameters, and furthermore the satiation, satiety, and shelf life of these cupcakes.
2. Materials and Methods
2.1. Materials
Four types of cupcakes were prepared. The basic formula includes white flour, eggs, milk, butter, baking powder, and different sweeteners (sugar and non-caloric sweeteners (NCS) based in stevia, sucralose, and tagatose; doses are according to the recommendations delivered in each container). Formulations are presented in
Table 1
. Baking time was 55 min at 165 °C.
2.2. Sensory Analysis
Application of two sensory tests to assess the subjective response of consumers.
Ranking test was performed to evaluate the preference within the cupcakes with 55 subjects aged between 18 and 40 years old. Each subject received a tray containing four samples of cupcakes in dishes marked with random three-digit codes, a glass of water and response sheet. The sensory analysis was carried out according to the standard UNE-ISO 8587 [
28
].
Furthermore, the acceptability test applied was the 9-points hedonic verbal scale, from "dislike extremely" to "like extremely" [
29
]. One-hundred-and-sixty subjects aged between 18 and 40 years old, evaluated one sample each session. After the evaluation, each response of the hedonic scale was numbered from 1 to 9, where 1 corresponds to "dislike extremely" and 9 to "like extremely".
2.3. Satiation and Satiety Evaluation
Visual analogue scale (VAS) were used to evaluate the subjective appetite sensation of the four cupcakes samples, with 160 subjects aged between 18 and 40 years, evaluating one sample each session. They consist of a scale, with 7 points, from "I'm very hungry" to "I'm very full". VAS was applied before eating 50 g of a cupcake, immediately after consuming it (15 min approximately) and after 120 min of consumption. The second response corresponds to satiation, and after 120 min is satiety [
25
].
Analysis of variance (ANOVA) was carried out on the numbers of the scale, and Tukey's pairwise multiple comparison tests (α = 0.05) were carried out. The averages of the VAS responses were plotted over time, equaling the baseline value.
2.4. Energy and Nutrients
2.5. Physical Analysis
Process yield was determined by weighting the raw batter and baked product and expressed as (%) of initial sample weight.
The cupcakes' specific volumes were measured following the rapeseed displacement method, expressed as (cm
3
/g) [
31
].
Textural profile analysis (TPA) test was performed using Zwick/Roell Texture with 500 N load cell. Each sample for analysis was 2 × 2.5 × 2.5 cm, which is compressed twice consecutively, using a flat base cylindrical punch 25 mm in diameter, evaluating the hardness. Four repetitions were performed per sample. Textural parameters including Hardness (g), (the Hardness value is the peak force that occurs during the first compression), Cohesivity (is how well the product withstands a second deformation relative to its resistance under the first deformation, calculated from the area of work during the second compression divided by the area of work during the first compression), and Gumminess (g) (g) (Hardness × Cohesiveness).
2.6. Humidity
Thermogravimetric method was applied for size humidity in the storage time. According to 93,401 Official Methods of Analysis of Association of Official Analytical Chemists International. 16th Ed. AOAC, 1995, USA [
32
]. The samples were finely ground and approximately 5 g were weighed in dry crucibles previously weighed in analytical balance. The samples were placed in an oven at 105 °C for 4 h, after that time, they were removed from the stove with tweezers and placed in a desiccator for 30 min. Then the crucible was weighed in analytical balance. The process is repeated until a constant weight is reached. The humidity is calculated with the following formula:
where: A = crucible weight, B = crucible weight plus sample, C = crucible weight plus dry sample.
2.7. Microbiological Analysis
Yeast and mold presence were detected in the samples in the storage time. Ten grams of each sample were weighed and homogenized with 90 mL of peptonated water solution. Dilutions were made and seeded in sterile plates. Potato dextrose agar was added, and the plates were incubated at 25 ± 1 °C for 3 to 5 days. The presence of yeast and mold colonies was observed.
2.8. Statistical Analysis
Analysis of variance (ANOVA) was carried out on the numbers of the scale, and Tukey's pairwise multiple comparison tests (α = 0.05) were carried out.
All analyses were carried out using SPSS version 19.0 software.
4. Discussion
In the case of the specific volume of the baked products, milk and egg proteins contribute mainly (Matos et al., 2014); these are present in all the samples in the same concentration, so the variation in this case can be attributed to the different sweeteners used in each sample.
Hardness and gumminess texture variables increase significantly in C1, C2 and C3 with respect to C0, while cohesiveness increases in C1 and decreases in C2, without significant differences.
The products of the Maillard reaction are attributed antimicrobial effects, which agrees with these results, since C0 was elaborated with sugar which favors the production of the Maillard reaction. C3 was elaborated with tagatose that also suffers a Maillard reaction; however, from the microbiological point of view, C3 reacted as well as the C1 sample that was made with stevia.
The shelf life of the cupcakes was greater when they were made with sugar, since sugar is an agent that helps moisture stability, limiting the swelling of the starch, resulting in a finer final texture. The volume of the cakes made with sugar is also greater, since it improves the aggregation of fat crystals and thus captures and retains air during the shake, which coincides with the results of texture, in which the dough is softer and less gummy.
5. Conclusions
According to the results, it is concluded that the effect of replacing 100% sugar with non-nutritive sweeteners affects bakery products from a sensory, physical and vital point of view. According to the ranking of preference and acceptability, the cakes prepared with sugar maintain a significant difference with respect to non-caloric sweeteners. While satiety is not affected for the different preparations, there are differences in microbiological activity; on the one hand, the effect of sugar does not allow microbial growth during the entire study, however, non-caloric sweeteners do allow it from day 17. On the other hand, when considering the non-nutritive sweeteners used based on stevia, sucralose and tagatose, and considering the different criteria evaluated in this study, the best response is presented by C1 sample, sweetened with stevia.
Author Contributions
Conceptualization, V.Q. and M.F.; methodology, V.Q.; software, J.V. and V.U.; validation, J.V., V.U. and N.G.; formal analysis, N.G. and M.J.A.; investigation, M.J.A. and C.A.; resources, V.Q.; data curation, V.Q., C.A. and M.F.; writing—Original draft preparation, V.Q.; writing—Review and editing, V.Q. and M.F.; visualization, M.F.; supervision, V.Q.; project administration, V.Q.; funding acquisition, V.Q.
Funding
This research was funded by Dirección de Investigación y Postgrado of Universidad Santo Tomás, Chile, internal Proyect "edulcorantes no caloricos en alimentos y su efecto en la saciedad y aceptabilidad sensorial" grant number 23.18.
Conflicts of Interest
The authors declare no conflict of interest.

Figure 1. Photos of cupcake samples. Where different samples are C0 = based in Sugar; C1 = based in Stevia, Maltitol and Polydextrose; C2 = based in Sucralose, Maltitol and Polydextrose; C3 = based in Tagatose, Isomaltitol and Soluble Fiber.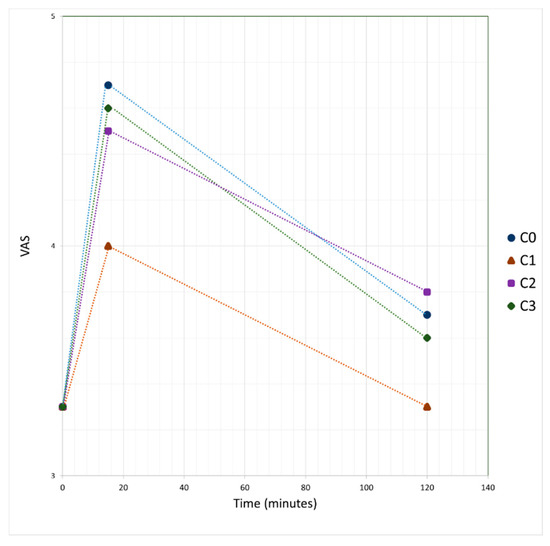 Figure 2. Satiation and satiety rating through time, before intake and after 15 and 120 min of intake of cupcake samples.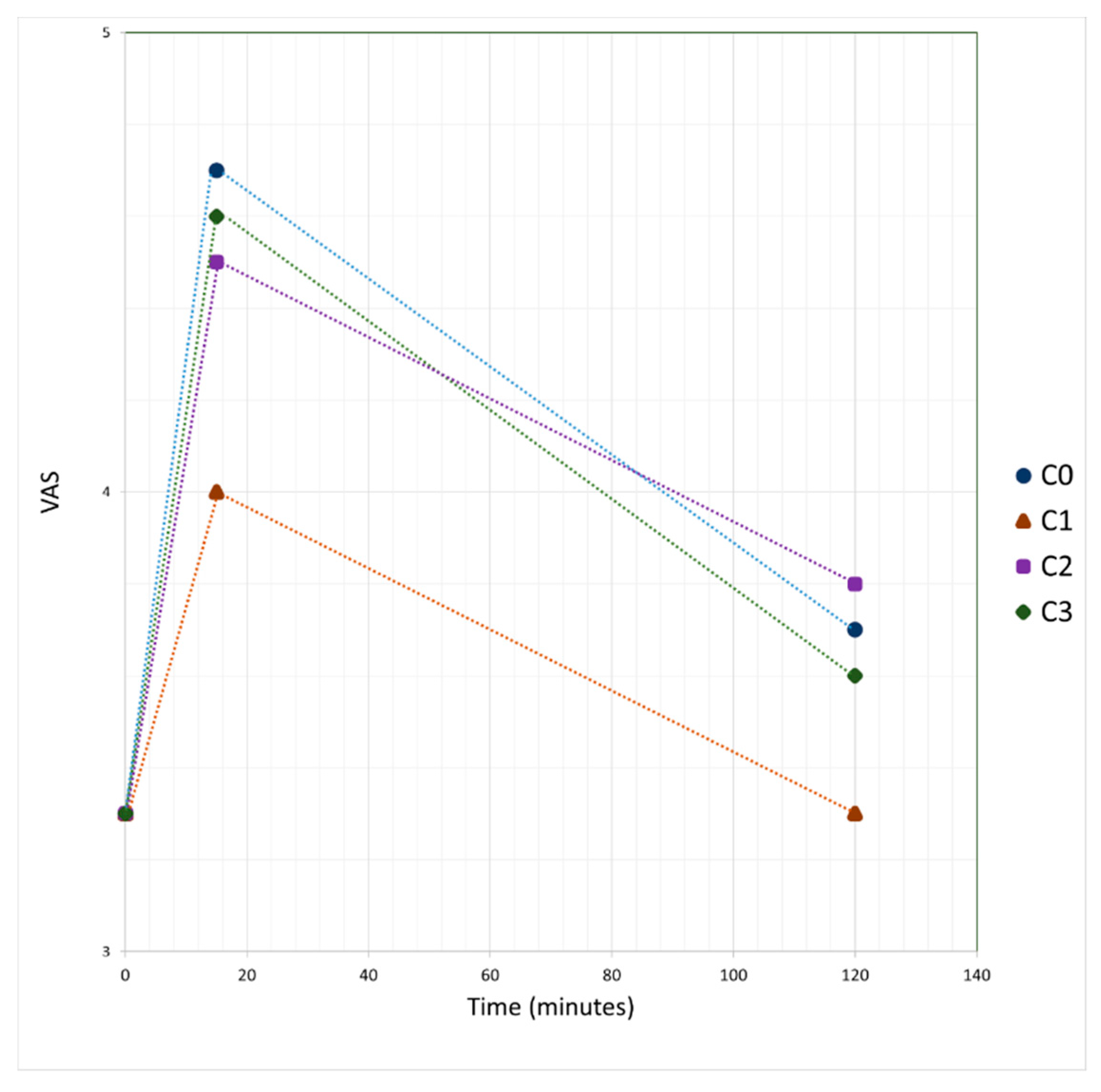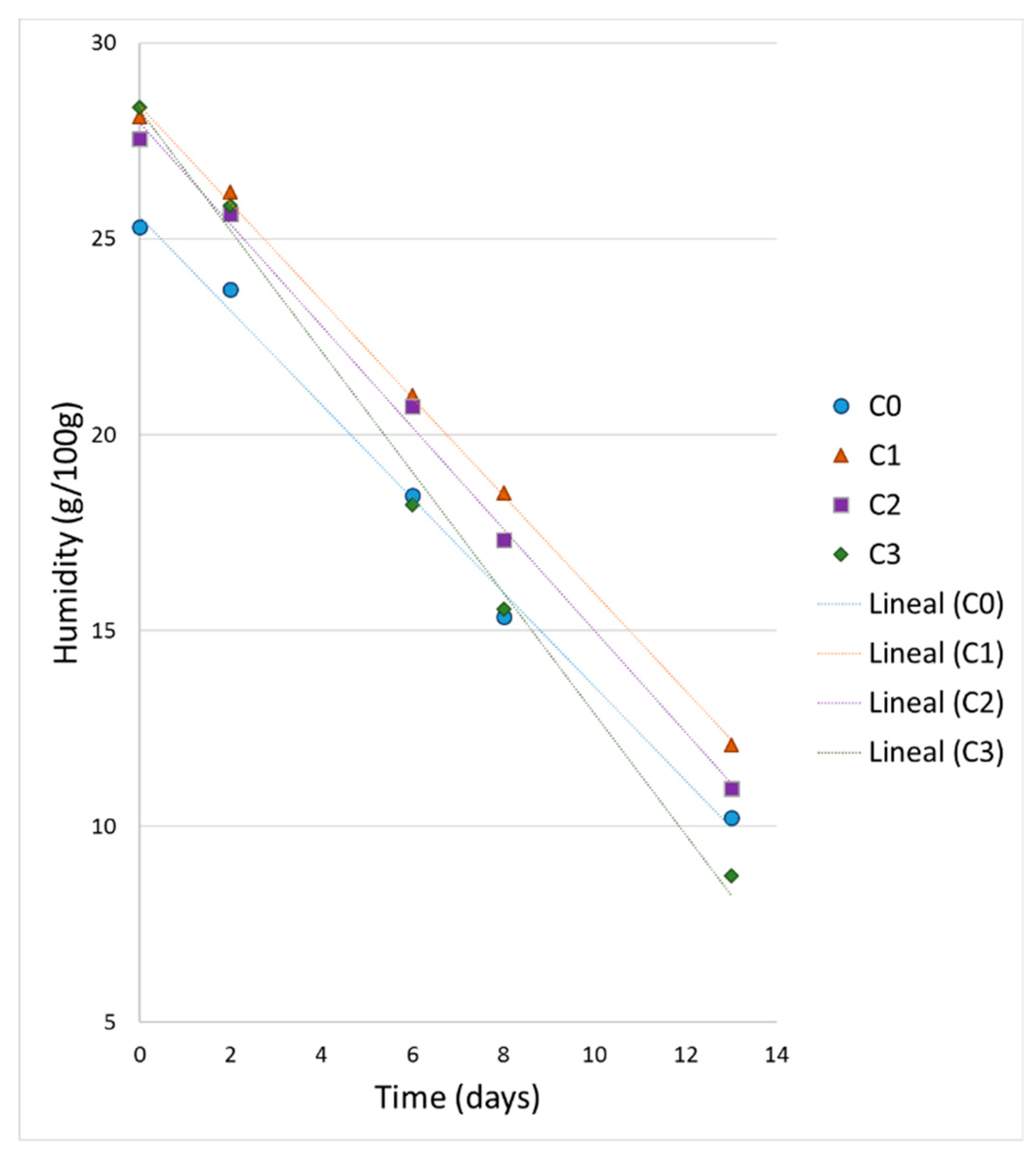 Samples
C0
C1
C2
C3
White flour (g)
100
100
100
100
Eggs (units)
1
1
1
1
Milk (mL)
80
80
80
80
Butter (g)
50
50
50
50
Baking powder (g)
10
10
10
10
Sugar (g)
95
0
0
0
Stevia, maltitol, polydextrose (g)
0
47.5
0
0
Sucralose, maltitol, polydextrose (g)
0
0
47.5
0
Tagatose, isomaltitol, soluble fiber (g)
0
0
0
47.5
| Sample | Preference | 9-Point Hedonic Scale Acceptability (Average) |
| --- | --- | --- |
| C0 | 1° a | 8 a = I like very much |
| C1 | 2° b | 7 b = I like moderately |
| C2 | 3° bc | 7 b = I like moderately |
| C3 | 4° c | 7 b = I like moderately |
Different letters indicate significant differences (

p

< 0.05).
| Samples | C0 | C1 | C2 | C3 |
| --- | --- | --- | --- | --- |
| Energy (kcal) | 399 b | 315 a | 292 a | 298 a |
| Proteins (g) | 6.4 a | 7.3 b | 6.8 ab | 7.0 ab |
| Total lipid (g) | 15.4 a | 17.6 c | 16.3 ab | 16.8 bc |
| Carbohydrate (g) | 58.6 b | 31.8 a | 29.6 a | 29.6 a |
| Sugars, total (g) | 30.8 c | 4.7 a | 2.8 a | 13.2 b |
Different letters indicate significant differences (

p

< 0.05).
| Samples | Yield (g/100 g) | Specific Volume (cm3/g) | Hardness N | Cohesiveness | Gum gf |
| --- | --- | --- | --- | --- | --- |
| C0 | 80.0 a | 6.5 a | 8.3 a | 0.26 a | 208 a |
| C1 | 80.1 a | 3.5 b | 25.8 b | 0.27 a | 704 b |
| C2 | 86.7 a | 3.2 b | 29.5 b | 0.24 a | 723 b |
| C3 | 84.0 a | 2.9 b | 23.3 b | 0.26 a | 624 b |
Different letters in each column indicate significant differences (

p

< 0.05) among the samples.
Samples
Time (Days)
C0
C1
C2
C3
3
−
−
−
−
8
−
−
−
−
14
−
−
−
−
17
−
−
+
−
25
−
+
+
+

© 2019 by the authors. Licensee MDPI, Basel, Switzerland. This article is an open access article distributed under the terms and conditions of the Creative Commons Attribution (CC BY) license (http://creativecommons.org/licenses/by/4.0/).