The Influence of Milk Type on the Proteolysis and Antioxidant Capacity of White-Brined Cheese Manufactured from High-Heat-Treated Milk Pretreated with Chymosin
1
University of Belgrade, Faculty of Agriculture, Nemanjina 6, 11081 Belgrade, Serbia
2
Maize Research Institute, Slobodana Bajica 1, 11081 Belgrade, Serbia
3
Faculty of Technology, Zvornik, 75400 Karakaj, Bosnia and Herzegovina
*
Author to whom correspondence should be addressed.
Received: 26 March 2019 / Revised: 9 April 2019 / Accepted: 11 April 2019 / Published: 17 April 2019
Abstract
We investigated the effect of milk type on the proteolysis and total antioxidant capacity (TEAC) of white-brined cheeses prepared from high-heat-treated (90 °C, 10 min) cow's and goat's milk, pretreated with chymosin at a low temperature (4 °C). The cheeses produced showed improved antioxidant characteristics and a high content of denatured whey proteins. However, these characteristics depend on the type of milk and the ripening time. Ripened cow's milk cheese had higher values of WSN/TN (water-soluble nitrogen per total nitrogen content) and TCA-SN/TN (nitrogen soluble in 12% trichloroacetic acid per total nitrogen), but similar PTA-SN/TN (nitrogen soluble in 5% phosphotungstic acid per total nitrogen) values were observed in ripened cheeses. The antioxidant potential of a WSF (water-soluble fraction) was higher in goat's milk cheese, but higher TEAC (total antioxidant capacity) values of WINF (water-insoluble fraction) were observed in matured cow's milk cheese. In vitro digestion slightly improved the radical scavenging capacity of WSF, whereas digested WINF had more than twice the capacity of their undigested counterparts. The cheeses prepared in this study could be a good source of antioxidant peptides. Further investigations of their in vitro and in vivo functionality need to be conducted.
View Full-Text
►

▼

Figures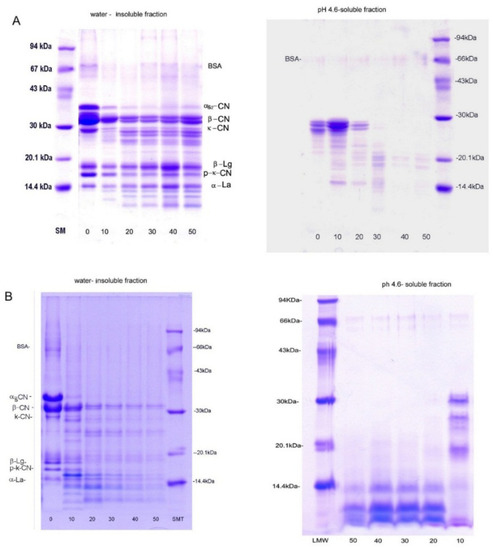 Figure 1
This is an open access article distributed under the
Creative Commons Attribution License
which permits unrestricted use, distribution, and reproduction in any medium, provided the original work is properly cited (CC BY 4.0).

Share & Cite This Article
MDPI and ACS Style
Barac, M.; Pesic, M.; Zilic, S.; Smiljanic, M.; Sredovic Ignjatovic, I.; Vucic, T.; Kostic, A.; Milincic, D. The Influence of Milk Type on the Proteolysis and Antioxidant Capacity of White-Brined Cheese Manufactured from High-Heat-Treated Milk Pretreated with Chymosin. Foods 2019, 8, 128.
Note that from the first issue of 2016, MDPI journals use article numbers instead of page numbers. See further details here.
Related Articles
Comments
[Return to top]