Effect of Multiple Micronutrient Fortification on Physico-Chemical and Sensory Properties of Chhash (Traditional Indian Yogurt-Based Drink)
1
Food Science and Human Nutrition, University of Illinois, Urbana-Champaign; Urbana, IL 61801, USA
2
Division of Nutritional Sciences, University of Illinois, Urbana-Champaign; Urbana, IL 61801, USA
*
Author to whom correspondence should be addressed.
Received: 11 November 2018 / Revised: 19 December 2018 / Accepted: 21 December 2018 / Published: 22 December 2018
(This article belongs to the Section
Dairy
)
Abstract
Introduction: Micronutrient malnutrition is a persistent problem in India mainly due to low dietary diversity and poor nutrient density of staple foods. The addition of a commercial micronutrient mix in terms of physico-chemical and sensory characteristics was evaluated. Methods: The yogurt prepared with reduce-fat milk (2%), 20 g/L CHN-11 fermentation culture and 12 h incubation (42 °C) was diluted at a rate of 35% to yield a 32 mg/100 mL concentration. The premix provided vitamin A, vitamin D, folic acid, iodine, iron, and zinc oxide to cover ~20–35% recommended RDA (recommended dietary allowance) per serving (250 mL). A three-factorial design, 2 treatments (control and fortified), 3 temperatures (4, 25, and 40 °C) and 4 time points (1, 2, 3 and 6 days), was used to analyze the physico-chemical properties in terms of titratable acidity, pH, color, and viscosity. A discriminatory sensory test (triangle) was performed with college students (
n
= 58) and mothers with young children (
n
= 25), who were living in Mehsana, India to evaluate the difference between fortified and non-fortified cooled (4 °C) product. Results: Fortification did not affect most of the physico-chemical properties of chhash. As expected, titratable acidity increased whereas pH decreased with increasing storage time and temperature. Fortified samples showed higher b* values, whereas L* and a* were not affected. Viscosity changed due to temperature and time, but not fortification. Participants could not discriminate between samples in terms of color, aroma, and taste. Conclusion: Fortification of chhash is technically feasible.
View Full-Text
►

▼

Figures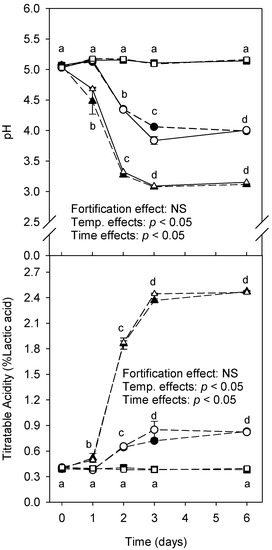 Figure 1
This is an open access article distributed under the
Creative Commons Attribution License
which permits unrestricted use, distribution, and reproduction in any medium, provided the original work is properly cited (CC BY 4.0).

Share & Cite This Article
MDPI and ACS Style
Gaur, S.; Waller, A.W.; Andrade, J.E. Effect of Multiple Micronutrient Fortification on Physico-Chemical and Sensory Properties of Chhash (Traditional Indian Yogurt-Based Drink). Foods 2019, 8, 5.
Note that from the first issue of 2016, MDPI journals use article numbers instead of page numbers. See further details here.
Related Articles
Comments
[Return to top]