Physicochemical Properties of Hom Nil (
Oryza sativa

) Rice Flour as Gluten Free Ingredient in Bread

1

Technopreneurship and Innovation Management Program, Graduate School, Chulalongkorn University, Bangkok 10330, Thailand

2

KCG Excellence Center, KCG Corporation Co., Ltd., Thepharak Rd., Bangpleeyai, Bangplee, Samutprakarn 10540, Thailand

3

Department of Food Technology, Faculty of Science, Chulalongkorn University, Bangkok 10330, Thailand

4

Department of Nutrition and Dietetics, Faculty of Allied Health Sciences, Chulalongkorn University, Bangkok 10330, Thailand

*

Author to whom correspondence should be addressed.

Received: 10 July 2018 / Revised: 6 August 2018 / Accepted: 25 September 2018 / Published: 27 September 2018
Abstract
Hom Nil (
Oryza sativa
), a Thai black rice, contains polyphenolic compounds which have antioxidant properties. The objective of this study was to investigate physicochemical properties of Hom Nil rice flour (HN) and its application in gluten free bread by using Hom Mali 105 rice flour (HM) as the reference. The results demonstrated that HN flour had significantly higher average particle sizes (150 ± 0.58 µm), whereas the content of amylose (17.6 ± 0.2%) was lower than HM flour (particle sizes = 140 ± 0.58 µm; amylose content = 21.3 ± 0.6%). Furthermore, HN contained higher total phenolic compounds (TPC) (2.68 ± 0.2 mg GAE/g flour), total anthocyanins (293 ± 30 mg cyanidin-3-glucoside/g flour), and the ferric reducing antioxidant power (FRAP) (73.5 ± 1.5 mM FeSO
4
/g) than HM flour (TPC = 0.15 mg GAE/g flour and FRAP = 2.24 mM FeSO
4
/g flour). In thermal properties, the onset temperature (T
o
), the peak temperature (T
p
) and the conclusion (T
c
) temperature of HN flour were similar to the values of HM flour. However, HN flour had lower enthalpy change (ΔH) than HM flour. The results showed that HN flour had lower swelling power and higher solubility than HM flour at the temperature between 55 °C and 95 °C. In pasting properties, HN flour also showed lower peak, trough and breakdown viscosity than HM flour. In addition, the bread samples prepared by HN flour had higher value of hardness and lower value of cohesiveness than the bread prepared from HM flour. Taken together, the findings suggest that HN flour could be used as an alternative gluten-free ingredient for bread product.
View Full-Text
►

▼

Figures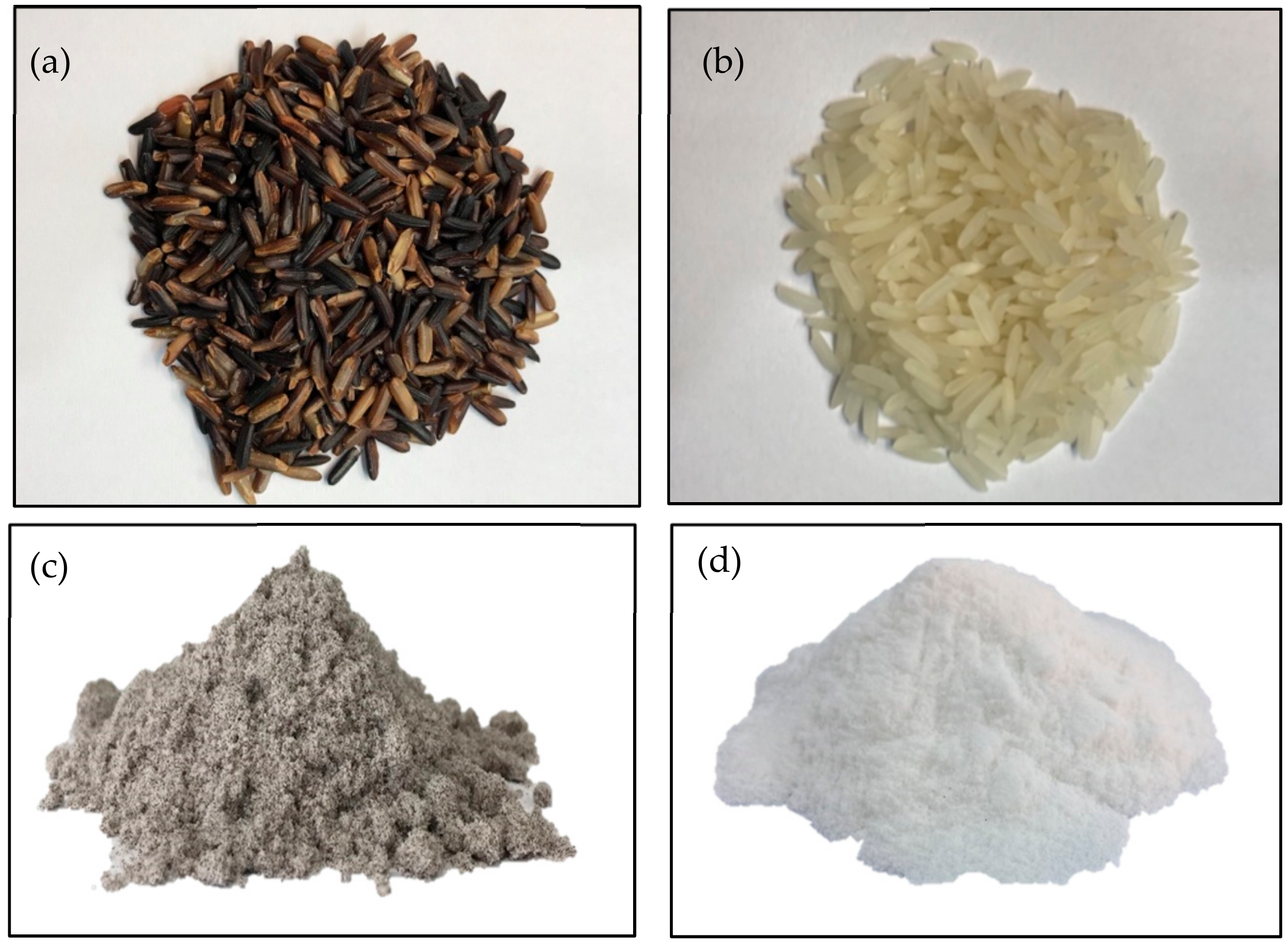 Figure 1
This is an open access article distributed under the
Creative Commons Attribution License
which permits unrestricted use, distribution, and reproduction in any medium, provided the original work is properly cited (CC BY 4.0).

Share & Cite This Article
MDPI and ACS Style
Thiranusornkij, L.; Thamnarathip, P.; Chandrachai, A.; Kuakpetoon, D.; Adisakwattana, S. Physicochemical Properties of Hom Nil (Oryza sativa) Rice Flour as Gluten Free Ingredient in Bread. Foods 2018, 7, 159.
Note that from the first issue of 2016, MDPI journals use article numbers instead of page numbers. See further details here.
Related Articles
Comments
[Return to top]