Open Access This article is
freely available
re-usable
Review
Recent Advances in Techniques for Starch Esters and the Applications: A Review
1
School of Food Science and Engineering, South China University of Technology, Guangzhou 510641, Guangdong, China
2
Centre for Food Research and Innovation, Department of Wine, Food and Molecular Biosciences, Lincoln University, Lincoln 85084, New Zealand
*
Author to whom correspondence should be addressed.
Academic Editor: Billy R. Hammond
Received: 3 May 2016 / Accepted: 30 June 2016 / Published: 9 July 2016
Abstract
:
Esterification is one of the most important methods to alter the structure of starch granules and improve its applications. Conventionally, starch esters are prepared by conventional or dual modification techniques, which have the disadvantages of being expensive, have regent overdoses, and are time-consuming. In addition, the degree of substitution (DS) is often considered as the primary factor in view of its contribution to estimate substituted groups of starch esters. In order to improve the detection accuracy and production efficiency, different detection techniques, including titration, nuclear magnetic resonance (NMR), Fourier transform infrared spectroscopy (FT-IR), thermal gravimetric analysis/infrared spectroscopy (TGA/IR) and headspace gas chromatography (HS-GC), have been developed for DS. This paper gives a comprehensive overview on the recent advances in DS analysis and starch esterification techniques. Additionally, the advantages, limitations, some perspectives on future trends of these techniques and the applications of their derivatives in the food industry are also presented.
Keywords:
starch; esterification; dual modification; activation; catalyst; microwave; pulsed electric fields; high pressure; high temperature; oxidation; cross-linking; application
1. Introduction
This review, attempts to redress the balance, summarizes recent advances in esterification procedures, including conventional and dual modification, such as catalyst addition, ball milling activation, high temperature/pressure, microwave assist, pulsed electric fields, chemical synthesis involving cross-linking, and oxidation.
2. Determination Methods of DS
3. Comparison of Conventional and Dual Modification Methods
3.1. Conventional Modification
3.2. Dual Modification Combined with Physical Methods
Dual modification is the combination of conventional modification and other kinds of techniques to improve the properties of starch esters. These dual modification methods include chemical reaction in the presence of a specific physical environment or an enzymatic treatment to increase the yield of derivatizations or improve the DS [
8
]. The common dual methods with physical motivation are catalyst-added, ball milling before esterification, synthesis of high temperature, high pressure, microwave, and pulsed electric fields.
3.3. Dual Modification Combined with Chemical Methods
The combination of esterification with other chemical modification methods, such as cross-linking and oxidation, have already been studied. These starch esters are prepared by synthetic methods and, due to double functional groups being present in the starch molecules, dual properties are exhibited.
3.3.1. Cross-Linking
Simple modification of cross-linking, where the polymer chains of starch cross-link with two- or poly-function compounds, such as adipic acid, citric acid or phosphoric acid, leading to a significant increase in molecular weight, is a well established and widely used chemical method for starch modification in the laboratory, as well as in industry [
75
].
The integration of esterification and cross-linking is an effective way to obtain the derivatives with double functions. Han et al. [
58
] explored cross-linked acetylated starch, focusing on its slowly digestible starch content. They found that a higher content of slowly digestible starch was present when dual modification was employed as opposed to those modified by cross-linking or acetylation alone. Slowly digestible starch is beneficial to diabetics and those with cardiovascular disease, as has been proved by subsequent research [
16
]. Das et al. [
76
] conducted further study on the characteristics of dual modified starch esters, and pointed out that the esterified crosslinked starch, not only had good emulsification stability, but also showed high resistance to heat, acid, and shear force with DS of 0.018–0.058. Lopez et al. [
77
] carried out a systematic analysis of the physicochemical and functional properties of corn starch using the combined techniques. The study found that the acetyl content of acetylated-crosslinking starch (1.9%) was slightly lower than that of single acetylated starch (2.2%), which indicated that the hydroxyl groups had been replaced by an amount of cross-linking, leading to fewer locations being available and, thus, a greater resistance to importing acyl groups. Hence, this method of cross-linking and esterification can obtain more different functional properties and enhance the application in food products.
Based on the mentioned studies, therefore, it appears that it is still necessary to take up the challenge to establish novel methods in order to produce starch esters with double functional groups with a high rate of efficiency, so as to cater to a more universal applications in different areas.
3.3.2. Oxidation
Oxidation as a form of chemical modification, involves the introduction of carboxyl and carbonyl functional groups by means of sequential depolymerization of the starch. Such starches have been established to be whiter in color, but have low values in breakdown and setback viscosity when pasting properties are analyzed [
78
]. There are a few researchers studying starch modified by the combination of esterification and oxidization. Aini et al. [
79
] studied the esterification of starch followed by oxidization, and concluded that the gelatinization temperature, peak viscosity and retrogradation were lower than starch that had only been subjected to esterification. Additionally, the absorption of metal ions can occur in the oxidized starch and is common in acetylated crosslinked starch [
80
]. This diversifies the application of oxidized esterified starch into the area of adsorption of metal ions. It is apparent then that starch esters, assisted by chemical synthesis, can drive the double functions and be applied in non-food industries.
4. Emerging Processing Trends in the Future
The preparation of starch esters is a well-established field of research. The microwave-assisted method mentioned above is very convenient and eco-friendly. As previously noted, conventional esterification of starch is usually done under high pH, using harsh chemicals and creating toxic waste, making it expensive and potentially unavailable for large-scale industrial production of modified starches. Unlike conventional modification, dual modification methods, such as PEF–assisted, microwave assisted or enzyme catalyzed esterification, are multifunctional, manageable, less time consuming and have a high reaction efficiency. In addition, these methods avoid the use of organic reagents, which are mild to the environment, as well as the end product. Enzyme catalyzed esterification, however, is much more expensive than the other two methods. Therefore, the dual methods of PEF–assisted or microwave-assisted esterification are potential and promising techniques for starch modification. Nevertheless, the combination of the alternative promising synthesis procedures and its nanostructure, characteristics and novel applications are still far from being exhaustively investigated.
5. Conclusions
This review summarizes current determination methods of DS, the merits and shortcomings of diverse modification methods, and the advanced applications for starch esters. From these methods, these emerging dual techniques appear to have the capability to improve DS value, accelerate reaction efficiency, shorten reaction time and explore novel applications. In addition, the dual modification techniques overcome the drawbacks that occur in conventional modification, and can produce all the advantages when modified by the single method, which would gain considerable economic benefits. The conclusion is that dual modification techniques of microwave-assisted and PEF–assisted esterification, which exhibit cost reduction, reagent saving, reaction time shortening, and reaction efficiency promotion, are the two main promising trends for starch modification.
Acknowledgments
The current work was financially supported by the National Natural Science Foundation of China (21576099, 21376094 and 31301559) and S&T projects of Guangdong province (2015A030312001, 2013B051000010, 2013B020203001).
Author Contributions
J.H., X.-A.Z., Z.H., C.S.B., M.B. conceived the review plan. J.H., X.-A.Z., Z.H. analyzed the data; J.H., M.B. wrote and edited the~paper.
Conflicts of Interest
The authors declare no conflict of interest.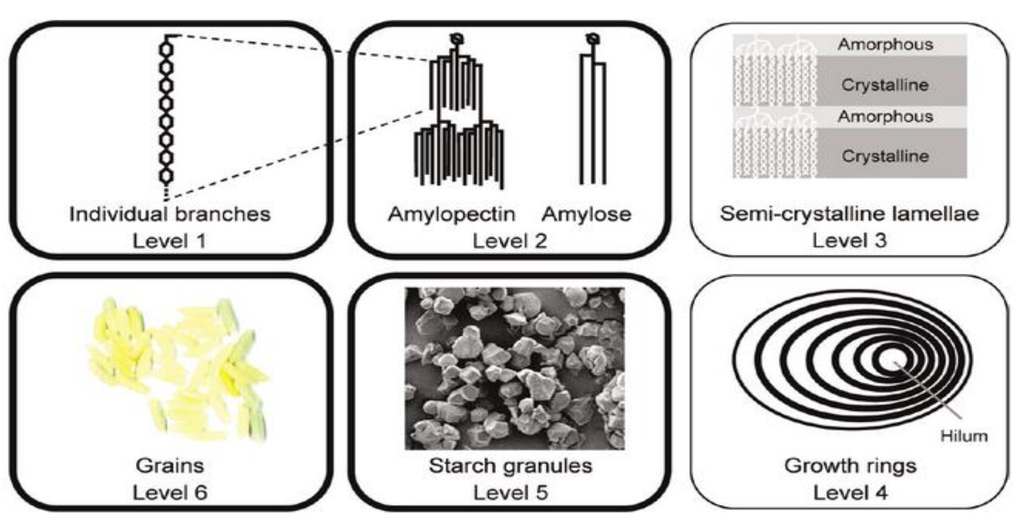 Figure 1.
Six levels of starch granule structure: level 1of individual branches, level 2 of amylose and amylopectin, level 3 of semi-crystalline lamellae, level 4 of growth rings, level 5 of starch granules, level 6 of cereal grains [
2
].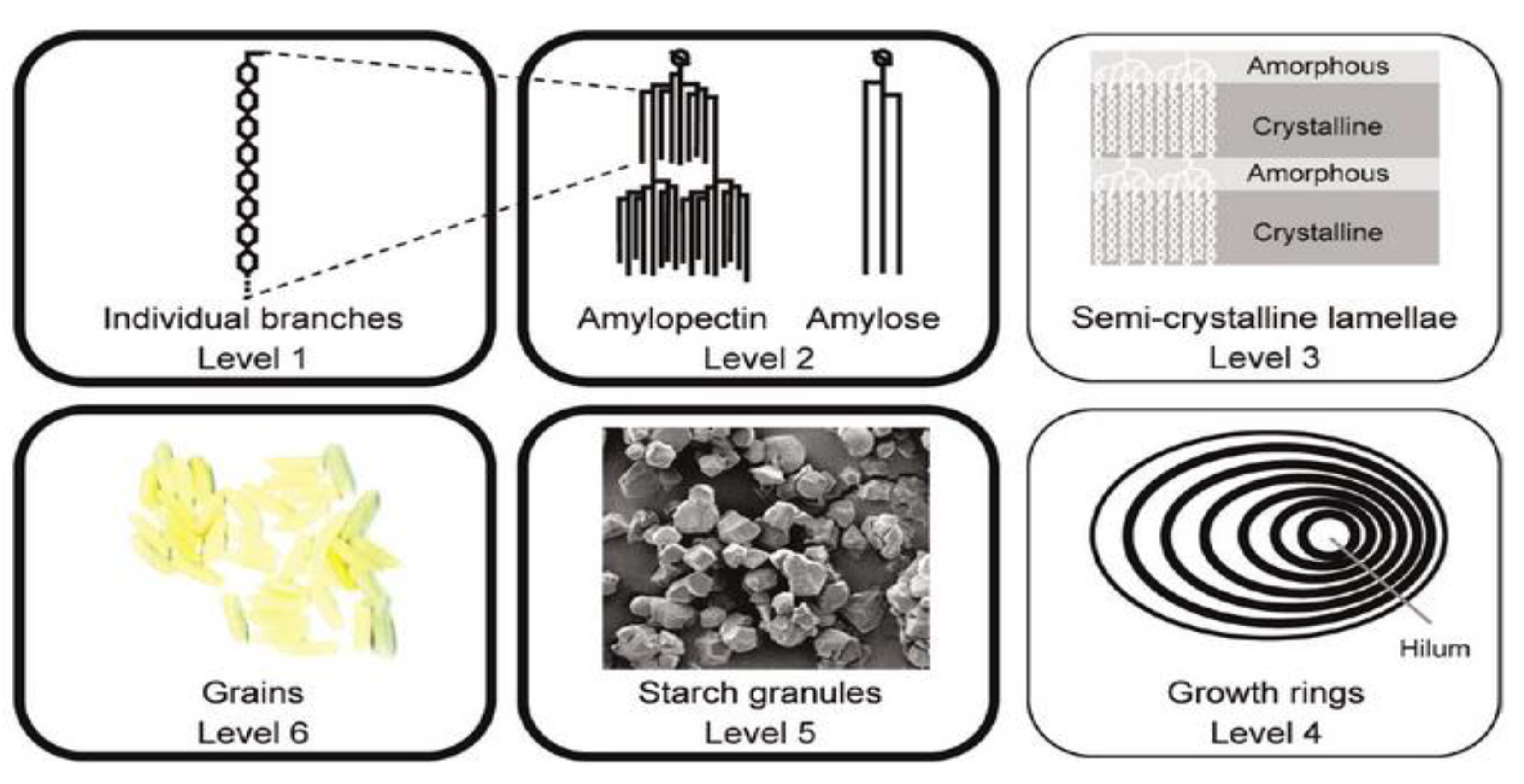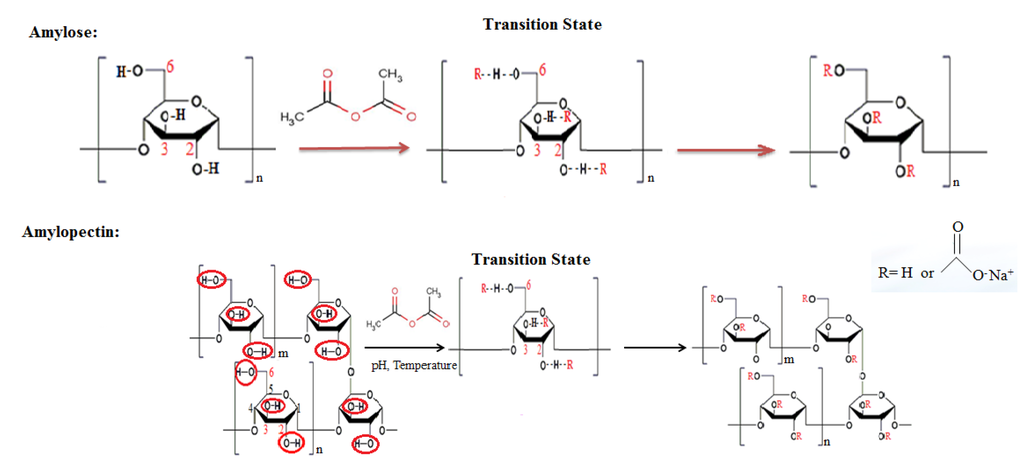 Figure 2. The reaction mechanism of starch esterification (amylose and amylopectin). This scheme took acetic anhydride as an example.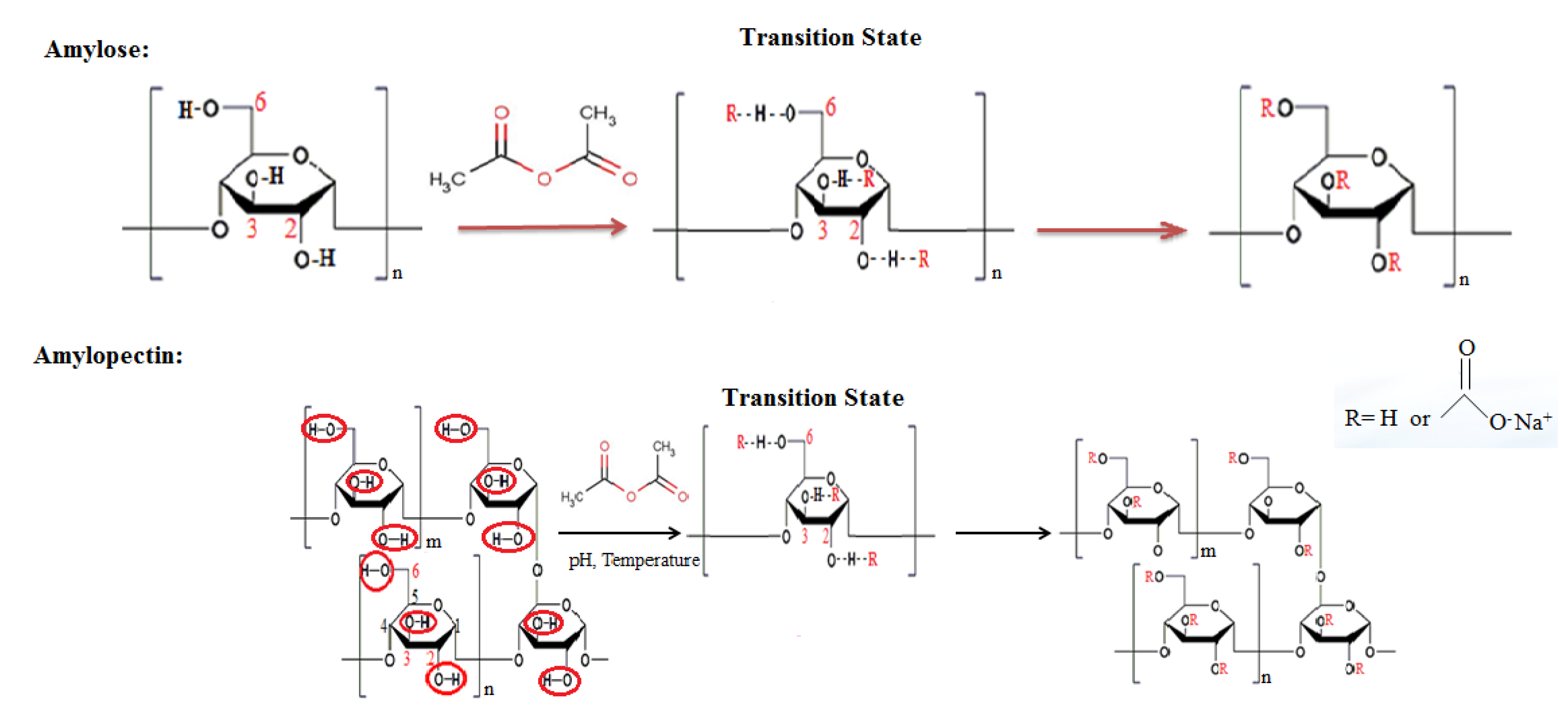 Table 1. Effect of conventional and dual modification methods on acetyl content and degree of substitution (DS).
Table 1. Effect of conventional and dual modification methods on acetyl content and degree of substitution (DS).
Starch Type
Method
Starch Concentration (

w

/

w

)
Anhydride Content (%)
pH
NaOH (

w

/

w

)
Reaction Time (min)
Acetyl (%)
DS (%)
References
Corn
Conventional
29
8
7.8–8.4
4.0
60–180
2.2–5.3
0.080–0.210
Ayucitra [30]
Conventional
25
1–3
8.0
3.0
360–1440
-
0.015–0.023
Bhosale, et al. [31]
Inorganic reagents Catalyzed
30
2–12
8.0–8.4
3.0
~100
3.4–4.7
0.133–0.154
Singh, et al. [13]
High temperature
32
32
8.0–8.5
3.0
200
-
0.810–2.890
Chi, et al. [32]
Rice
Conventional
31
6
8.0–8.4
3.0
~100
2.3–3.7
0.095–0.144
Sodhi, et al. [10]
Sodium carbonate assisted
40
1–6 mL
8.0–9.0
-
840
-
0.018–0.045
Bao, et al. [33]
Potato
Conventional
20–40
3
8.0, 8.5
3.0
120–360
-
0.012–0.015
Ruan, et al. [34]
Sodium carbonate assisted
40
1–6 mL
8.0–9.0
-
840
-
0.017–0.049
Bao, et al. [33]
Inorganic reagents catalyzed
30
2–12
8.0–8.4
3.0
~100
4.7–6.0
0.180–0.238
Singh, et al. [13]
PEF–assisted
30–40
6
8.0–8.5
3.0
60
-
0.054–0.130
Hong, et al. [35]
Cassava
Microwave-assisted & High temperature
87–93
3–5
-
No use
3–7
2
0.007–0.051
Jyothi, et al. [36]
Enzyme catalyzed & Microwave-assisted
50
-
-
No use
2
-
0.330–1.10
Rajan, et al. [37]
Amaranth
Conventional
25
1–3
8.0
3.0
360–1440
-
0.016–0.027
Bhosale, et al. [31]
"-" means that these data have not been listed in the articles. PEF means pulsed electric fields. The volume of 1–6 mL in the second column represent that the anhydride was added 1–6 mL by volume instead of mass percent as in the literature.
Table 2. The merits and demerits of diverse determination methods of DS since 2000.

| Determination Method | Types of Esters | Merits | Shortcomings | References |
| --- | --- | --- | --- | --- |
| Titration | OSA and ACS | Widely used; Better acceptance of its reaction mechanism; Determination of native starch | Complicated process for pretreatment; Increased sample consumption; Time-consuming; Special reaction environment; Color reversion after end point; CO2 disturbance; Pyridine used in sometimes | [16,32,38,47] |
| Back-titration | OSA and ACS | Widely used; Better acceptance of its reaction mechanism; Avoids interference of atmospheric CO2 atmosphere; Determination of native starch | Excess alkali; Increased sample consumption; Color reversion after end point; | [10,13,35,48] |
| Spectrophotometric | ACS | Less sample weight | double color determination; Repeated procedures; | [11,45,49] |
| FT-IR | ACS | Less sample weight | Determination of series of standard with diverse DS; High cost; Use of titration method; Complicated and fussy procedures | [14] |
| NMR (involving 1H-NMR, 13C-NMR) | OSA and ACS | Less sample weight; Simple procedure; Consistent results | the use of internal standards; High cost; Complicated and fussy procedure; Uses of DMSO and chloroform; Determination of DS and DB | [14,41,43,50,51,52] |
| TGA/IR | ACS | Combination of two instruments | High energy consumption; High temperature; Diverse standard samples | [45] |
| HS-GC | Cellulose | Less sample weight; Avoids interference of atmospheric CO2 | - | [46] |
OSA, octenyl succinated starch; ACS, acetylated starch; DB, degree of branching; FT-IR, Fourier transform infrared spectroscopy; NMR, nuclear magnetic resonance; TGA/IR, Thermogravimetric analyzer/infrared spectroscopy; HS-GC, Headspace and gas chromatography. "-" means that there's no use in starch modification in other literature.
© 2016 by the authors; licensee MDPI, Basel, Switzerland. This article is an open access article distributed under the terms and conditions of the Creative Commons Attribution (CC-BY) license (http://creativecommons.org/licenses/by/4.0/).