Syntheses, Structures, and Catalytic Hydrocarbon Oxidation Properties of
N

-Heterocycle-Sulfonated Schiff Base Copper(II) Complexes

Centro de Química Estrutural, Instituto Superior Técnico, Universidade de Lisboa, Av. Rovisco Pais, 1049-001 Lisbon, Portugal

*

Authors to whom correspondence should be addressed.

Received: 16 October 2018 / Revised: 3 January 2019 / Accepted: 31 January 2019 / Published: 6 February 2019
Abstract
Reaction of the
o
-[(
o
-hydroxyphenyl)methylideneamino]benzenesulfonic acid (H
2
L) (
1
) with CuCl
2
·2H
2
O in the presence of pyridine (py) leads to [Cu(L)(py)(EtOH)] (
2
) which, upon further reaction with 2,2'-bipyridine (bipy), pyrazine (pyr), or piperazine (pip), forms [Cu(L)(bipy)]·MeOH (
3
), [Cu
2
(L)
2
(μ-pyr)(MeOH)
2
] (
4
), or [Cu
2
(L)
2
(μ-pip)(MeOH)
2
] (
5
), respectively. The Schiff base (
1
) and the metal complexes (
2
–
5
) are stabilized by a number of non-covalent interactions to form interesting H-bonded multidimensional polymeric networks (except
3
), such as zigzag 1D chain (in
1
), linear 1D chain (in
2
), hacksaw double chain 1D (in
4
) and 2D motifs (in
5
). These copper(II) complexes (
2
–
5
) catalyze the peroxidative oxidation of cyclic hydrocarbons (cyclooctane, cyclohexane, and cyclohexene) to the corresponding products (alcohol and ketone from alkane; alcohols, ketone, and epoxide from alkene), under mild conditions. For the oxidation of cyclooctane with hydrogen peroxide as oxidant, used as a model reaction, the best yields were generally achieved for complex
3
in the absence of any promoter (20%) or in the presence of py or HNO
3
(26% or 30%, respectively), whereas
2
displayed the highest catalytic activity in the presence of HNO
3
(35%). While the catalytic reactions were significantly faster with py, the best product yields were achieved with the acidic additive.
View Full-Text
►

▼

Figures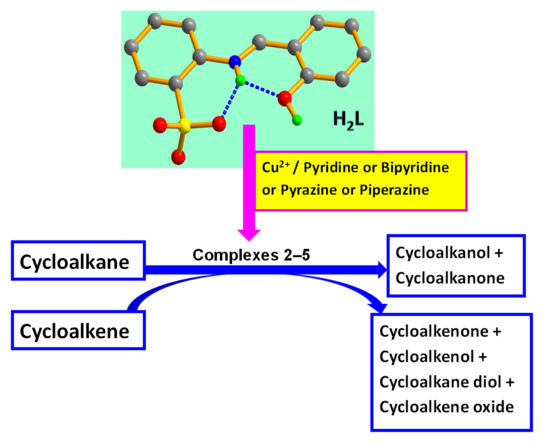 Graphical abstract
This is an open access article distributed under the
Creative Commons Attribution License
which permits unrestricted use, distribution, and reproduction in any medium, provided the original work is properly cited (CC BY 4.0).

Share & Cite This Article
MDPI and ACS Style
Hazra, S.; Rocha, B.G.M.; Guedes da Silva, M.F.C.; Karmakar, A.; Pombeiro, A.J.L. Syntheses, Structures, and Catalytic Hydrocarbon Oxidation Properties of N-Heterocycle-Sulfonated Schiff Base Copper(II) Complexes. Inorganics 2019, 7, 17.
Note that from the first issue of 2016, MDPI journals use article numbers instead of page numbers. See further details here.
Related Articles
Comments
[Return to top]