One-Dimensional Fluorene-Based Co(II) Phosphonate Co(H2O)2PO3C–C12H9·H2O: Structure and Magnetism
1
Normandie Univ, ENSICAEN, UNICAEN, CNRS, CRISMAT, 14000 Caen, France
2
IPCMS, UMR Unistra-CNRS 7504, 23 rue du Loess, BP 43, 67034 Strasbourg CEDEX 2, France
3
CEMCA UMR CNRS 6521, Université de Brest, IBSAM, 6 Avenue Victor Le Gorgeu, 29238 Brest, France
*
Authors to whom correspondence should be addressed.
Received: 4 July 2018 / Revised: 31 August 2018 / Accepted: 3 September 2018 / Published: 5 September 2018
Abstract
A new Co(II) phosphonate, Co(H
2
O)
2
PO
3
C–C
12
H
9
·H
2
O, has been synthesized under hydrothermal conditions. The monoclinic
P
2
1
/
c
structure of this organic–inorganic hybrid consists of isolated perovskite-type chains of corner-shared CoO
4
(H
2
O)
2
octahedra interconnected via phosphonate groups. The unique one-dimensional structure of this phase is closely related to the single-chain magnet (SCM) phosphonate Co(H
2
L)(H
2
O), with L = 4-Me-C
6
H
4
-CH
2
N(CPO
3
H
2
)
2
, that contains isolated chains of CoO
5
N octahedra. Like the latter, this hybrid exhibits 1D antiferromagnetic interactions and the possibility of an effective pseudo spin contribution due to spin canting at low temperature, but, in contrast, is not an SCM. This different magnetic behavior is explained by the different geometry of the octahedral chains and by the possible existence of weak antiferromagnetic interactions between the chains. This opens the route to the investigation of a large series of compounds by tuning the chemical composition and structure of the phosphonic acid used as organic precursor of hybrid materials.
View Full-Text
►

▼

Figures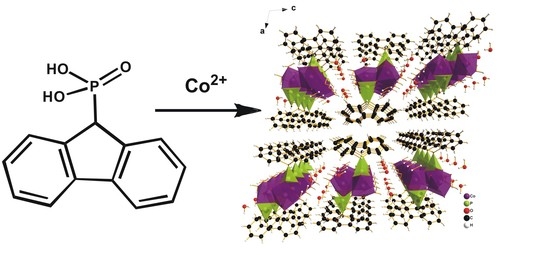 Graphical abstract
This is an open access article distributed under the
Creative Commons Attribution License
which permits unrestricted use, distribution, and reproduction in any medium, provided the original work is properly cited (CC BY 4.0).

Share & Cite This Article
MDPI and ACS Style
Bloyet, C.; Rueff, J.-M.; Perez, O.; Pautrat, A.; Caignaert, V.; Raveau, B.; Rogez, G.; Jaffrès, P.-A. One-Dimensional Fluorene-Based Co(II) Phosphonate Co(H2O)2PO3C–C12H9·H2O: Structure and Magnetism. Inorganics 2018, 6, 93.
Note that from the first issue of 2016, MDPI journals use article numbers instead of page numbers. See further details here.
Related Articles
Comments
[Return to top]