Child Morbidity and Disease Burden in Refugee Camps in Mainland Greece
1
Pediatric Department, 424 General Military Hospital, Thessaloniki 56429, Greece
2
Surgery Department, 424 General Military Hospital, Thessaloniki 56429, Greece
3
Medical Service, Hellenic Army, Thessaloniki 56429, Greece
4
Internal Medicine Department, 424 General Military Hospital, Thessaloniki 56429, Greece
5
School of Medicine, Aristotle University of Thessaloniki, Thessaloniki 54124, Greece
6
Nephrology Department, Hippokration General Hospital, Aristotle University of Thessaloniki, Thessaloniki 54642, Greece
7
Infection Control Committee, Hippokration General Hospital, Infectious Diseases Unit, 3rd Department of Pediatrics, Aristotle University of Thessaloniki, Thessaloniki 54642, Greece
*
Author to whom correspondence should be addressed.
Received: 11 February 2019 / Revised: 4 March 2019 / Accepted: 8 March 2019 / Published: 17 March 2019
Abstract
The crisis conflicts in Syria have forced a lot of people to relocate and live in mainland Greece, where they are hosted in refugee camps. In the present study, our aim was to assess child morbidity and overall disease burden in two camps in northern Greece during a six-month winter period. A primary health care office was founded in each camp. Refugees of all ages with health problems were examined daily by specialty doctors. Cases were classified into two categories: Infectious or non-infectious. In total, 2631 patients were examined during this period (out of the 3760 refugees hosted). Of these patients, 9.8% were infants, 12.7% were toddlers, and 13.4% were children. Most of the visits for children aged less than 12 years old were due to infectious diseases (80.8%). The most common sites of communicable diseases among children were the respiratory tract (66.8%), the skin (23.2%), and the urinary (3.2%) and gastrointestinal tracts (6.2%). Non-communicable diseases were mostly due to gastrointestinal (20.2%), respiratory (18.2%), surgical (13.1%), and allergic (10.3%) disorders. Infants, toddlers, and children suffered more frequently from respiratory infections, while in adolescents and adults, non-infectious diseases were more common. Toddlers and children were more likely to fall ill in comparison to infants. Conclusions: During the winter period, infectious diseases, especially of the respiratory tract, are the main reason for care seeking among refugees in Greek camps, with toddlers suffering more than other age groups. The overall mortality and referral percentage were low, indicating that adequate primary care is provided in this newly established refugee hosting model.
View Full-Text
►

▼

Figures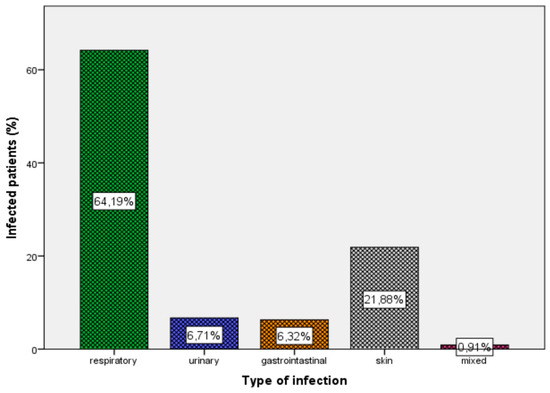 Figure 1
This is an open access article distributed under the
Creative Commons Attribution License
which permits unrestricted use, distribution, and reproduction in any medium, provided the original work is properly cited (CC BY 4.0).

Share & Cite This Article
MDPI and ACS Style
Kampouras, A.; Tzikos, G.; Partsanakis, E.; Roukas, K.; Tsiamitros, S.; Deligeorgakis, D.; Chorafa, E.; Schoina, M.; Iosifidis, E. Child Morbidity and Disease Burden in Refugee Camps in Mainland Greece. Children 2019, 6, 46.
Note that from the first issue of 2016, MDPI journals use article numbers instead of page numbers. See further details here.
Related Articles
Comments
[Return to top]