Open Access This article is
freely available
re-usable
Case Report
Zimmermann-Laband-1 Syndrome: Clinical, Histological, and Proteomic Findings of a 3-Year-Old Patient with Hereditary Gingival Fibromatosis
1
Istituto di Odontoiatria, Fondazione Policlinico Universitario A. Gemelli IRCCS, Università Cattolica del Sacro Cuore, 00168 Rome, Italy
2
Istituto di Biochimica e Biochimica Clinica, Università Cattolica del Sacro Cuore, Fondazione Policlinico Universitario A. Gemelli, IRCCS, 00168 Rome, Italy
*
Author to whom correspondence should be addressed.
Received: 29 May 2019 / Accepted: 27 June 2019 / Published: 29 June 2019
Abstract
:
Background: Zimmermann-Laband-1 syndrome (ZLS-1; OMIM# 135500) is a rare genetic disorder whose oral pathognomonic sign is the development of progressive, diffuse, and severe gingival hypertrophy. Most children with abnormally gingival hyperplasia may also present multiple unerupted teeth and skeletal deformities of maxillary arches (i.e., skeletal anterior open bite). Despite phenotypic variability of the clinical spectrum, gingival fibromatosis is the hallmark of ZLS-1. Method: In this study, we report a 3-year-old male patient with a ZLS-1-related gingival overgrowth and failure of eruption of the deciduous teeth in the molar area. Surgical excision was performed under general anesthesia. Results: At three weeks follow-up, esthetics was significantly improved in terms of gingival appearance, and teeth eruption allowed an adequate masticatory function. Conclusion: In severe cases, surgical removal of the hyperplasic fibrous tissue may be required to expose unerupted teeth and establish a proper gingival contour. Surgical excision under general anesthesia is an elective procedure for patients with special needs, mental disability, as well as young and adult patients with dental anxiety type II and IV associated with poor oral health.
Keywords:
gingival fibromatosis; Zimmermann-Laband syndrome; periodontal disease; oral microbiome
Author Contributions
Conceptualization: E.S. and F.G.; methodology: E.S.; validation: F.G., E.S., and P.G.; formal analysis: F.I.; investigation: F.G. and F.I.; data curation: L.D.T.; writing—original draft preparation: F.G.; writing—review and editing: E.S.; visualization: L.D.T.; supervision: P.G.; project administration: P.G.
Funding
This research received no external funding.
Conflicts of Interest
The authors declare no conflict of interest.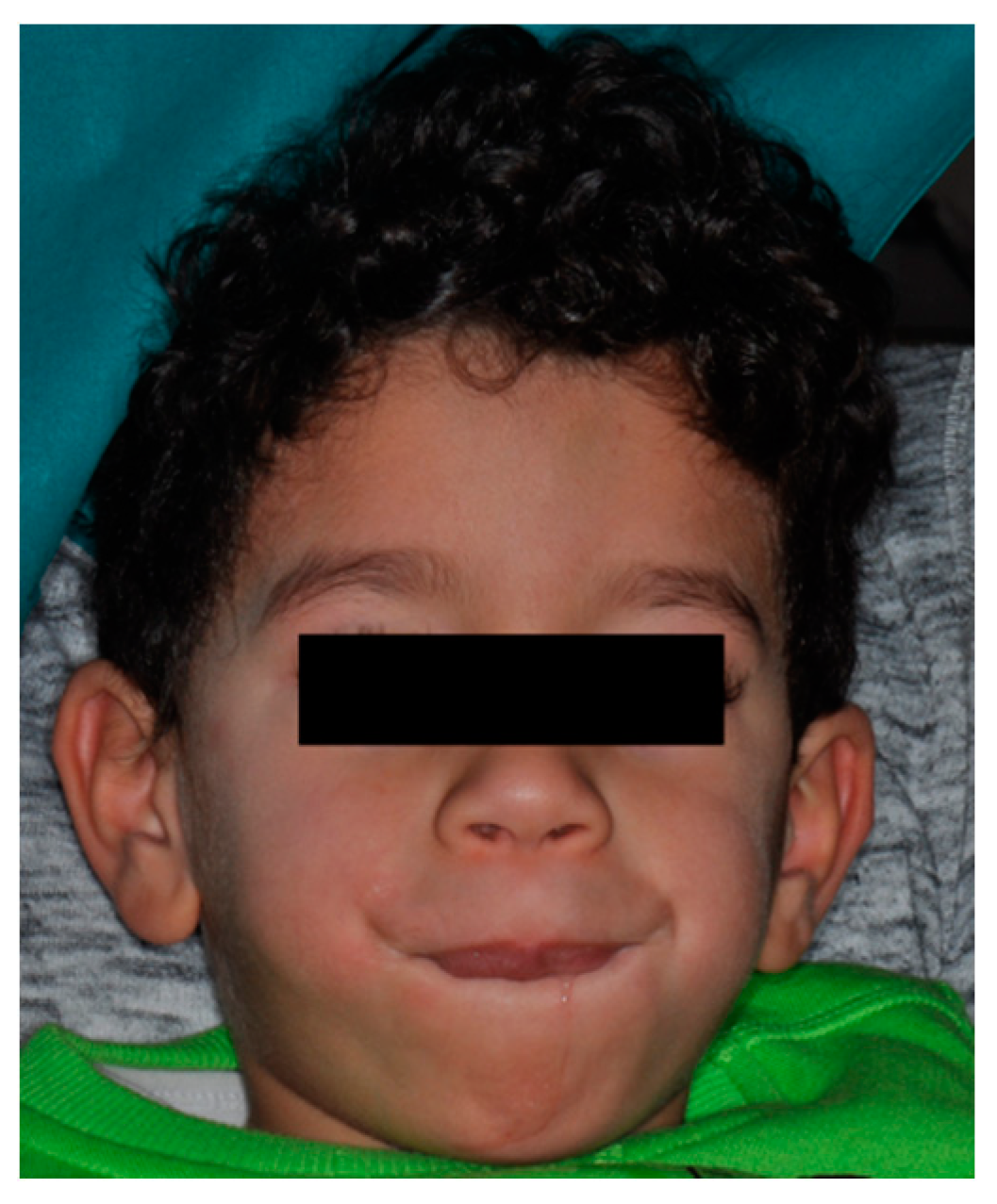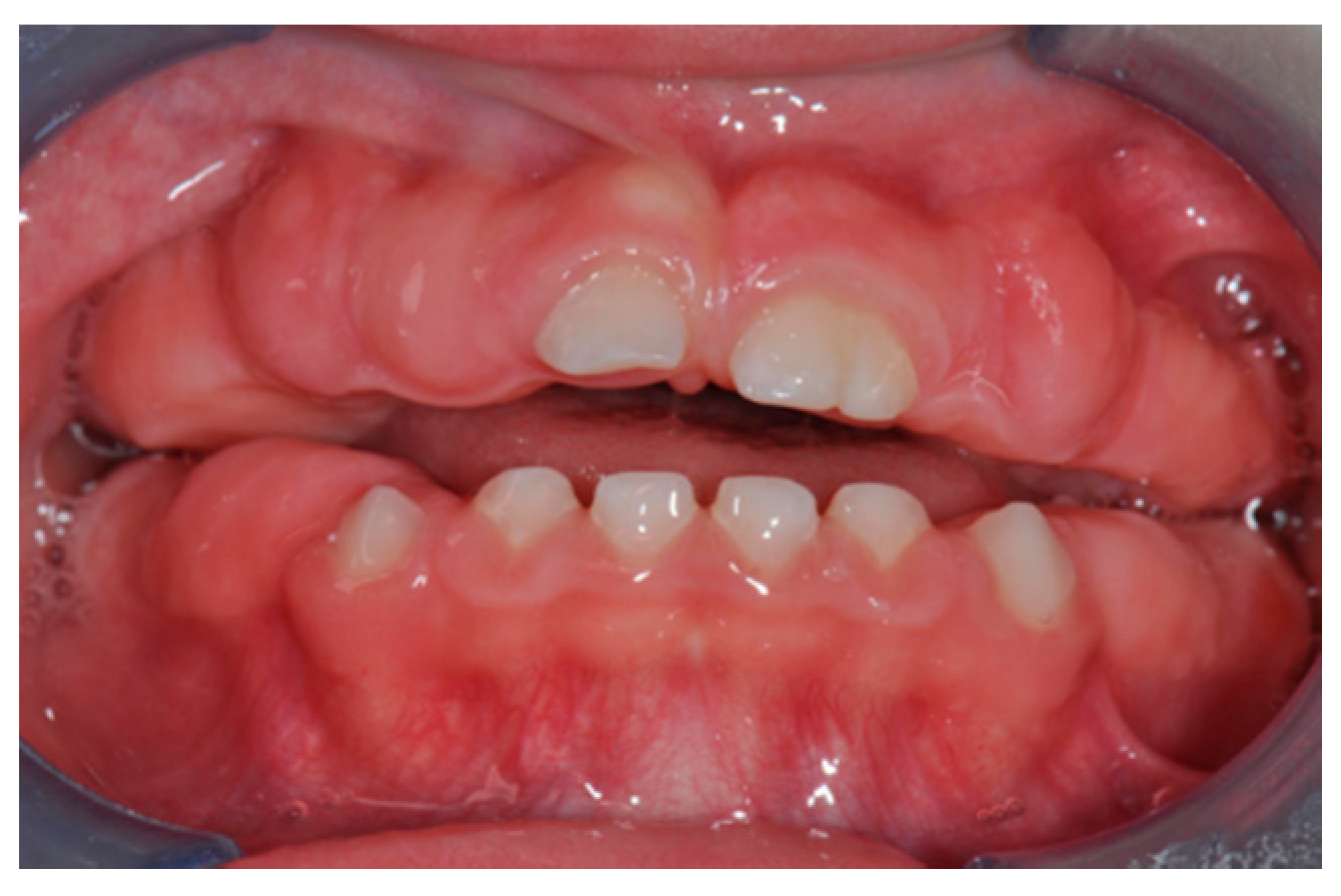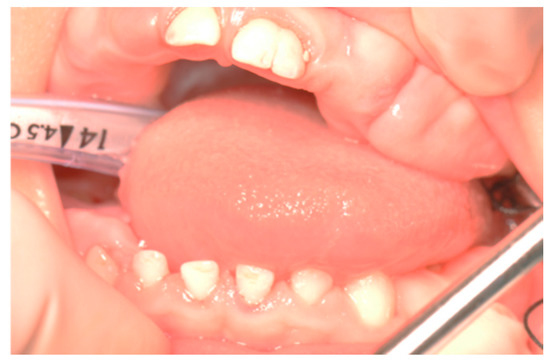 Figure 3. Intra-operative photo: orotracheal intubation in general anesthesia; gingival fibromatosis.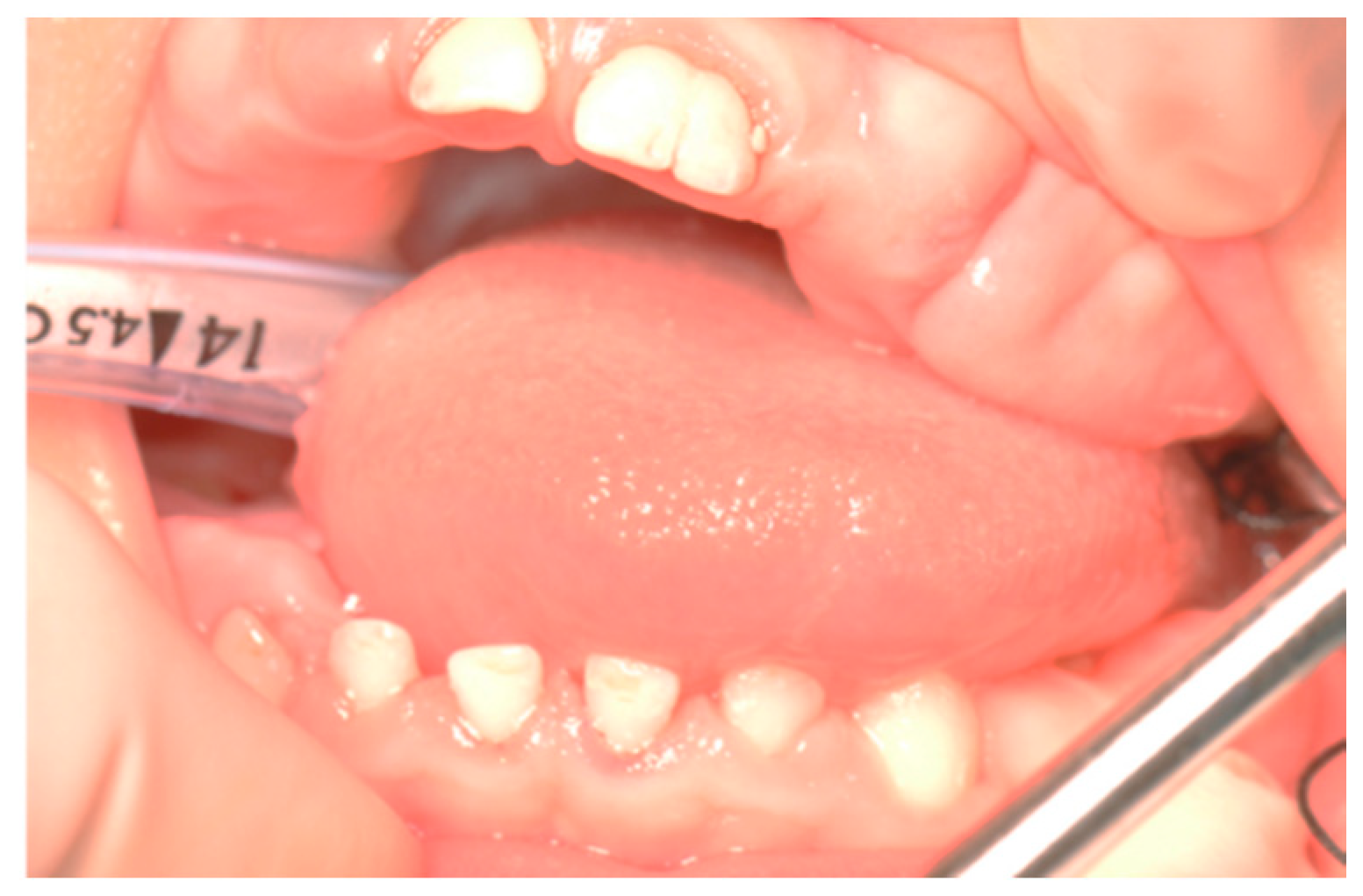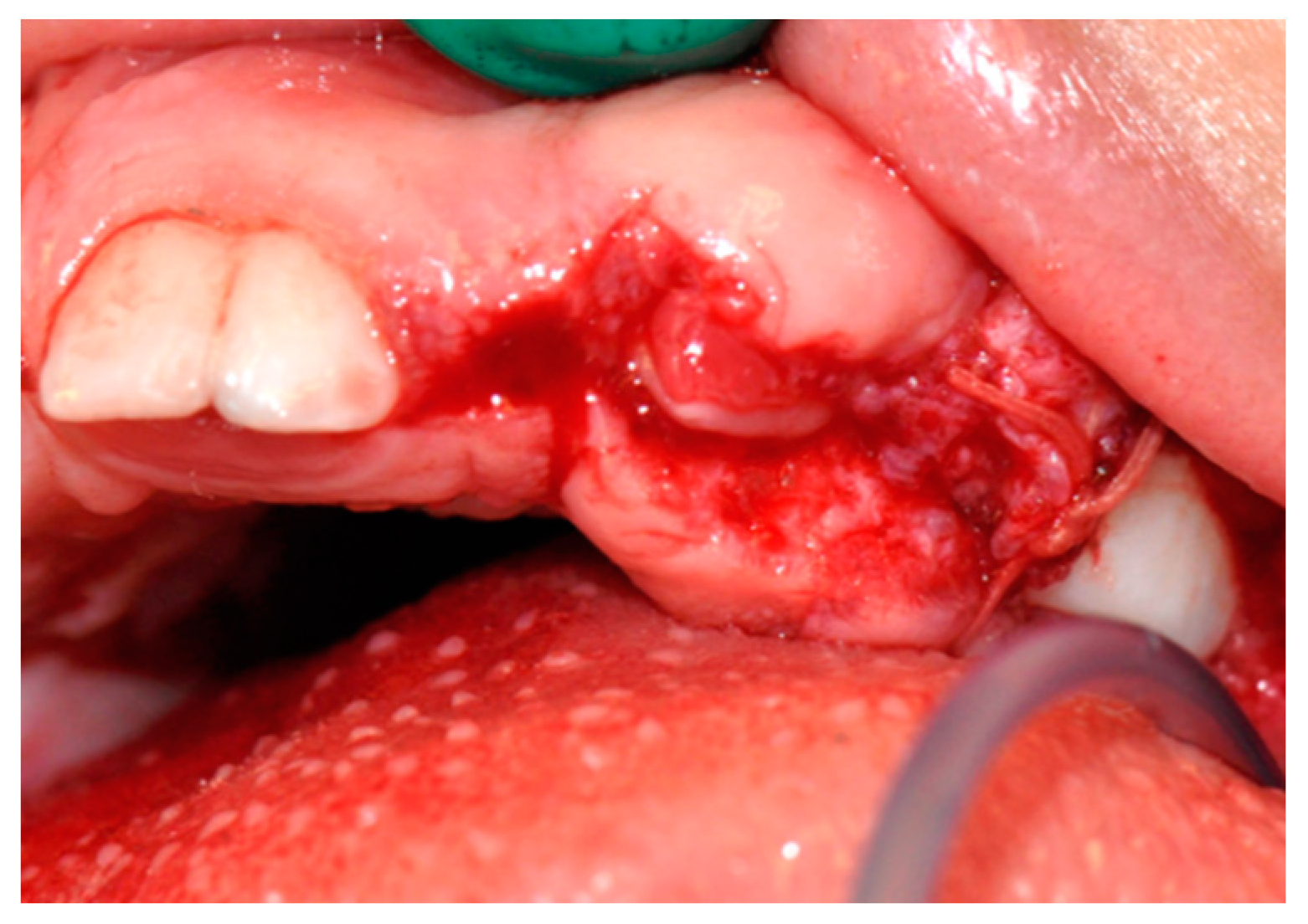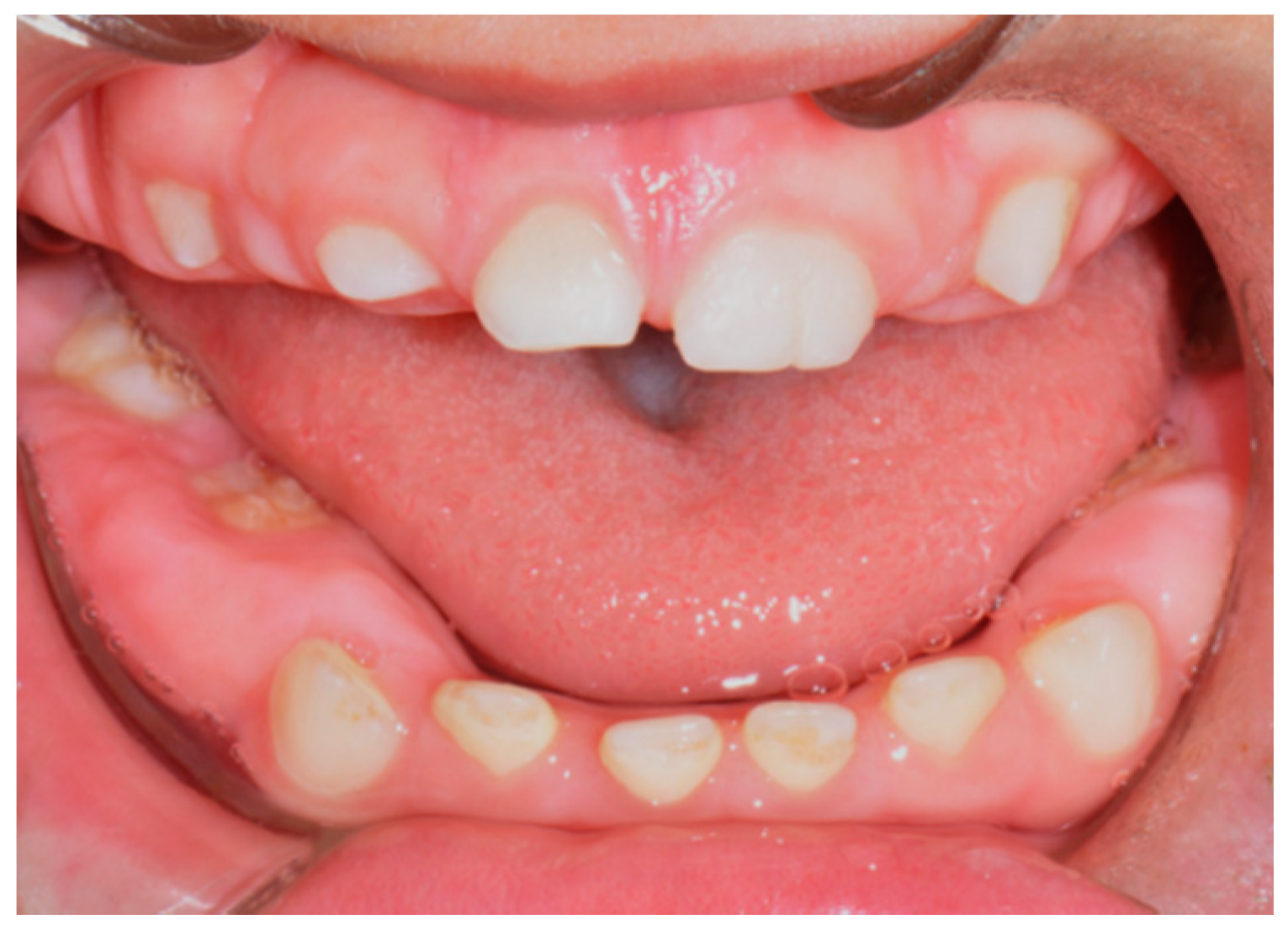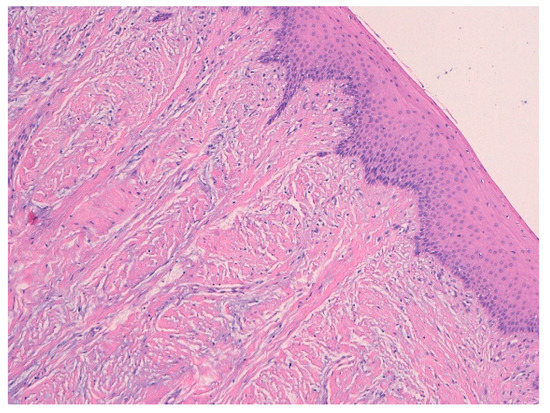 Figure 6. Histological findings of the biopsied sample: the squamous-lining oral mucosa with parakeratosis and pseudoepitheliomatous hyperplasia.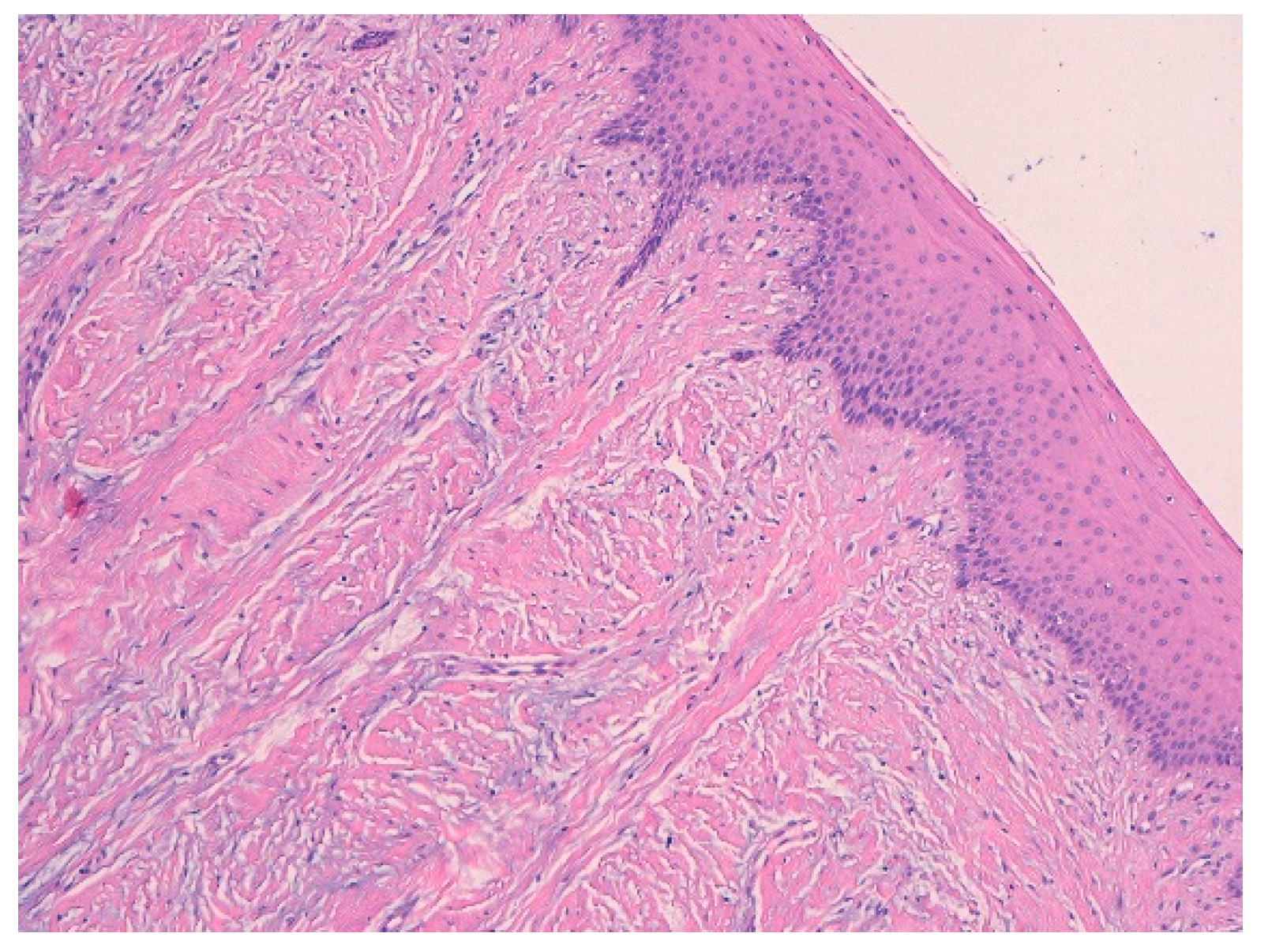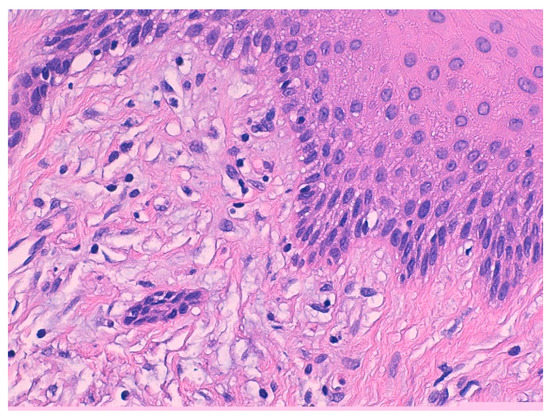 Figure 7. Histological findings of the biopsied sample: the subepithelial deposition of dense hypocellular connective tissue collagenized with focal mixoidal changes.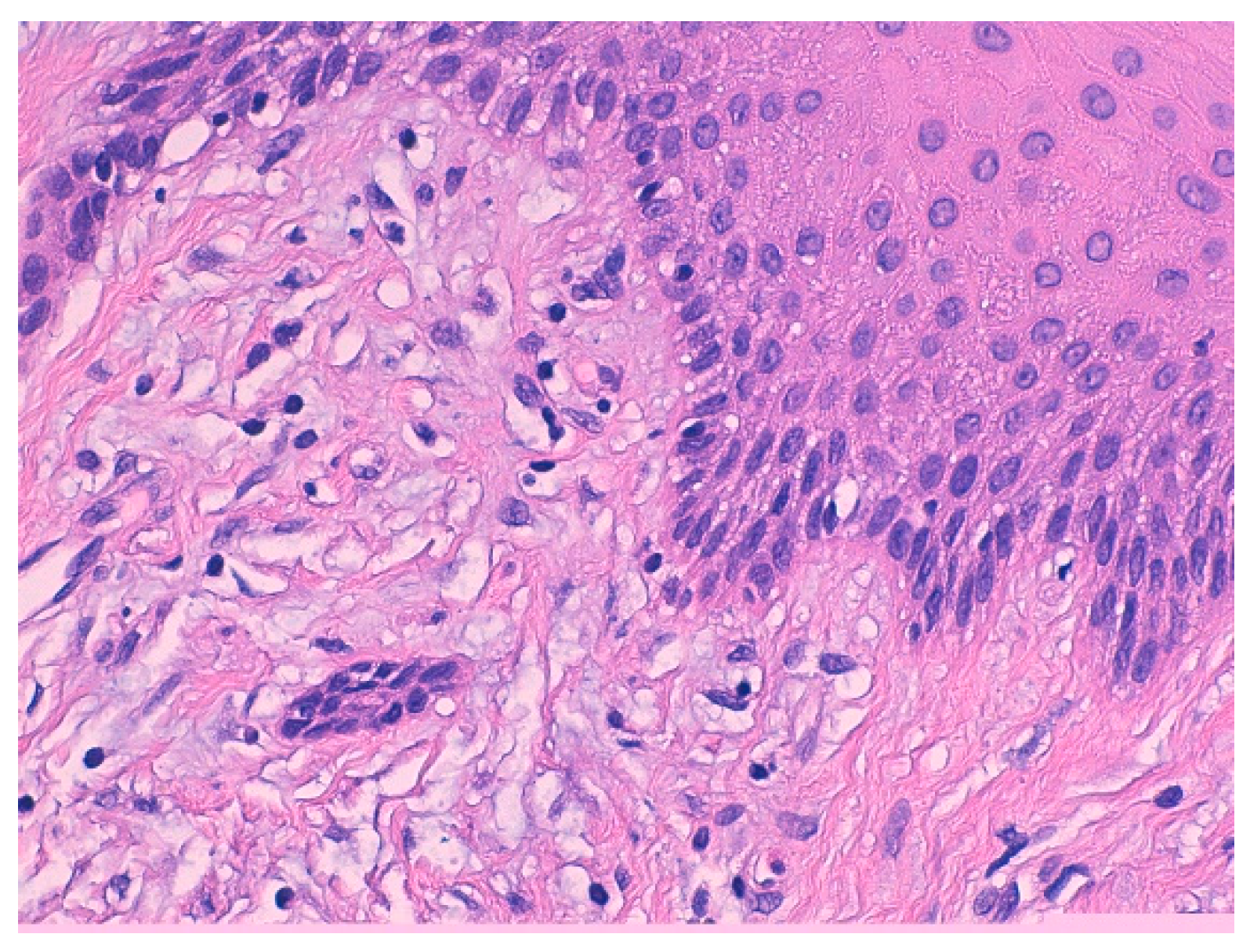 Classification of Hereditary Gingival Fibromatosis
1. Hereditary gingival fibromatosis
2. Gingival fibromatosis with craniofacial dysmorphism
3. Gingival fibromatosis with progressive deafness
4. Gingival fibromatosis/ hypertrichosis syndrome
5. Ramon syndrome
6. Zimmermann-Laband syndrome
7. Infantile systemic hyalinosis
8. Juvenile hyaline fibromatosis
9. Oculodental syndrome, Rutherfurd type
10. Amelogenesis imperfecta/nephrocalcinosis syndrome
11. Amelogenesis imperfecta/gingival fibromatosis syndrome

© 2019 by the authors. Licensee MDPI, Basel, Switzerland. This article is an open access article distributed under the terms and conditions of the Creative Commons Attribution (CC BY) license (http://creativecommons.org/licenses/by/4.0/).