Open Access This article is
freely available
re-usable
Review
Microfluidic Devices for Label-Free DNA Detection
Centre for Biosensors, Bioelectronics and Biodevices (C3Bio) and Department of Electronic & Electrical Engineering, University of Bath, Bath BA2 7AY, UK
*
Authors to whom correspondence should be addressed.
Received: 2 August 2018 / Accepted: 18 September 2018 / Published: 25 September 2018
Abstract
:
Sensitive and specific DNA biomarker detection is critical for accurately diagnosing a broad range of clinical conditions. However, the incorporation of such biosensing structures in integrated microfluidic devices is often complicated by the need for an additional labelling step to be implemented on the device. In this review we focused on presenting recent advances in label-free DNA biosensor technology, with a particular focus on microfluidic integrated devices. The key biosensing approaches miniaturized in flow-cell structures were presented, followed by more sophisticated microfluidic devices and higher integration examples in the literature. The option of full DNA sequencing on microfluidic chips via nanopore technology was highlighted, along with current developments in the commercialization of microfluidic, label-free DNA detection devices.
Keywords:
DNA; biosensor; label-free; microfluidics; Lab-on-Chip
1. Introduction
The rapid technological progress of the past couple of decades in the fields of biosensors and microfluidics [
1
], has allowed the originally envisioned democratization of healthcare of the early 1990s [
2
] to be closer to realization than ever. A broad range of different biosensing concepts and microfluidic structures currently allows the qualitative or quantitative detection of various biomarkers of clinical interest. With DNA biomarkers [
3
,
4
] increasingly being identified and associated with a very broad spectrum of clinical diseases (e.g., cancer, infectious disease, antimicrobial resistance, etc.), intense scientific effort has been focused on their sensitive and specific detection. With the ultimate goal being affordable, easy to use and small footprint DNA diagnostic microsystems, microfluidic structure integration for sample pre-processing and automated reagent handling are some of the critical aspects being investigated currently [
5
]. Simplicity in device functionality is critical, aspiring for robust and reliable diagnostic microsystems; to this end, simplification of the biosensing assay by removing the need for any additional labelling step [
6
,
7
] can provide a step-change in the development of tests ready for mass deployment.
Therefore, in this review our goal is to present recent developments in label-free DNA biosensors, with a particular focus on integration with microfluidic structures. We classified the microfluidic devices based on the integrated microfluidic structure complexity, starting from the simplest approach of flow-cell integration. Given the number of interesting flow-cell integrated structures, they were sub-classified using the biosensing principle employed. We then proceeded to more complicated microfluidic structures for label-free DNA biosensing platforms, higher integration examples, and state-of-the-art nanofluidic-based DNA sequencers. We conclude with the commercialization efforts currently being pursued in the field. It is worth noting that our definition of label-free detection involves techniques that do not require the attachment of any additional molecule on the target DNA sequence; hence techniques involving the use of reagents diluted in solutions for measurement purposes, are still considered to be label-free.
2. Flow-Cell Biosensing Approaches
Over the past two decades label-free biosensing has seen an unprecedented development in advancement from macro, to micro, to nanotechnology [
8
]. This improvement in the miniaturization of sensing technology would not have been possible without the integration of microfluidics [
9
]. Nonetheless, the field of biosensing still has a long way to go to meet the requirements of commercialization, for application in bed-side diagnostics [
10
]. Technologies for the label-free detection of DNA hybridization utilizing microfluidic structures to deliver the analytes exploit optical, electrochemical, as well as mass-based sensing concepts.
2.2. Electrochemical
Electrochemical impedance spectroscopy (EIS) is a ubiquitous characterization technique used in biosensing laboratories to detect the non-linear response of an electrochemical system to an applied potential, revealing underlying biological recognitions events.
3. Microfluidic Modules for Sample Preparation
The simplest microfluidic devices integrated with label-free DNA biosensors comprise the previously analyzed approach of flow cell chambers, or channels that allow the continuous flow analysis of a pre-processed DNA sample. However, the true advantage of integrating microfluidic components with a DNA biosensor is leveraged when the sample can be pre-processed on-chip, with the incorporation of the necessary modules. In the case of DNA detection, the first sample preparation step required is the extraction of the specific DNA that needs to be detected. Depending on the sensitivity of the biosensor and the concentration of the target DNA within the sample, a DNA amplification step may also be required. Moreover, when the application requires very high throughput analysis, droplet microfluidic devices have proved to be very promising, allowing the implementation of the complete assay within a few nL liquid compartments.
3.1. DNA Extraction
DNA extraction microfluidic modules [
38
] are involved with releasing the target DNA from the cells of interest, using a variety of techniques to this end. Extracting the required DNA is currently a basic molecular biology laboratory technique [
38
,
39
], with several commercial kits in the market for standard laboratory use. The process can be roughly divided into four steps [
40
], which can be modulated depending on the sample and downstream applications: (i) Cell disruption; (ii) removal of membrane lipids, proteins, and other nucleic acids; (iii) nucleic acid purification/binding from bulk; and (iv) nucleic acid concentration. The advantages of using microfluidics for these processes involve the automation of laborious and time-consuming laboratory processes, minimizing human-handling errors or cross-contamination. It also allows for their integration with DNA detection modules to realize a sample-in-answer-out Lab-on-Chip device.
The first efforts in DNA extraction microfluidic modules involved the adaptation of benchtop DNA extraction protocols [
41
,
42
,
43
,
44
,
45
,
46
] in a microfluidic device. The main challenges faced by these early examples included the need to handle multiple chemical reagents in multistep assays, along with the transfer of reagents between solid and liquid phases. Furthermore, it is worth noting that care needs to be taken on the extraction reagent selection, so that they do not inhibit any subsequent amplification or detection steps [
47
].
Another very interesting microfluidic implementation involves the utilization of magnetic particles. For example, Karle et al. [
48
] cultured the bacterium
Escherichia coli
in a magnetic bead suspension, along with lysis and binding buffers, resulting in the bacterial DNA being extracted and attached on the magnetic bead surfaces (
Figure 8
). The DNA-carrying beads could then be directed at will within the chip using a rotating permanent magnet. This approach significantly simplifies the designed chip and fluidic handling steps required. One of the most commercially successful implementations of a DNA extraction microfluidic module is found in the GeneXpert MTB/RIF [
49
]. In this system, the cells of interest are isolated from the sample though filtration, and their DNA is released via sonication.
3.2. DNA Amplification
Very often the concentration of the extracted DNA within the sample volume proves to be too low for a biosensing system to detect. As such, it is common to incorporate a DNA amplification step prior to sensing. The first, most common and most frequently used DNA amplification technique is Polymerase Chain Reaction (PCR) [
50
]. PCR was first developed in 1984 and involves the thermal cycling of the PCR mixture between three thermal zones: Melting (denaturation of the DNA double helix), annealing (attachment of the complementary primer DNA), and extension (polymerase extension of the primer region to form a new double helix copy). Hence, the DNA concentration is doubled after each thermal cycle, resulting in a final concentration of 2
N
after N thermal cycles.
This procedure has long been exploited in molecular biology laboratories, using benchtop equipment called thermocyclers. The large thermal mass of the chambers and the samples result in lengthy heating and cooling cycles, leading to DNA amplification times in the order of a couple of hours. To this end, microfluidic devices have been exploited to accelerate this process in a two-fold manner: First by miniaturizing the chambers to accelerate reaction times, and second by reducing both the sample and the device thermal mass, to reduce the heating and cooling times required. Several such devices have been presented in the literature [
50
], achieving impressive analysis times (in the order of minutes as opposed to hours), and allowing their integration with additional microfluidic modules. The minimization of the heating power consumption has also been pursued [
51
], following several approaches (i.e., integrated heaters, elaborate temperature control algorithms), allowing the incorporation of such components into portable systems.
This high temperature and thermal cycling requirement has led in parallel to the development of alternative, lower engineering specification amplification protocols, operating with only one constant temperature, i.e., isothermal amplification protocols [
52
]. Several protocols have been developed, differing in terms of ease of operation and performance. The main techniques involve Helicase-Dependent Amplification (HDA), Strand Displacement Amplification (SDA), Recombinase Polymerase Amplification (RPA), Nucleic Acid Sequence Based Amplification (NASBA), and Loop-mediated isothermal amplification (LAMP). Recently, most of the developed isothermal amplification protocols have also been integrated into microfluidic devices, varying in the reaction times achieved and in power consumption [
52
,
53
]. A constraint that needs to be considered when exploiting these techniques, as opposed to conventional PCR, is the complexity of the assay design, and the related increased reagent cost. In some of these techniques, 6–8 different primers may be needed for one reaction. Nonetheless, the minimal hardware requirements of these techniques makes them ideal for their implementation in paper-based microfluidic devices (
Figure 9
), particularly suited for use in resource limited settings [
54
].
4. Higher Integration Platforms
5. Nanopore Technology for Label-Free DNA Sequencing
7. Conclusions and Future Outlook
In this article, we reviewed recent technological progress in the field of microfluidic-assisted label-free DNA biosensing devices. We mainly focused on label-free highly integrated biosensor devices, which are suitable for point-of-site detection, such as medical diagnostics, biological research, environmental monitoring, and food analysis. Optical, electrochemical, mass-based label-free biosensing approaches are currently being pursued for microfluidic integration, each featuring particular advantages and disadvantages. Mass-based methods can provide very efficient detection for heavier molecules, nonetheless, they can prove less competitive for smaller molecules, such as short chain oligonucleotides. On the other hand, optical approaches can provide very low-limits of detection even for very small molecules; however, they suffer from their elaborate instrumentation requirement in terms of platform miniaturization. Electrochemical biosensors offer the advantage of combined low limits of detection and minimal, low-power instrumentation requirements. All sample preparation microfluidic modules enabling a sample-in-answer-out system (i.e., cell-isolation, DNA extraction, DNA amplification), have been individually demonstrated in the literature; nonetheless, very few efforts for multiple module integration have been reported so far. Multiplexed DNA amplification modules, droplet-based microfluidics, and nanopore-assisted sequencing, clearly indicate the technical feasibility of high-throughput and high specification portable systems in the future. Currently via nanopore technology, it is possible to have DNA sequencing at the point-of-need, at a throughput of 10–20 G bases per 48 h. Whilst such a sequencing throughput is impressive, there are numerous diagnostic applications where full genome sequencing is not required. In such cases, microfluidic platforms offering sample-in-answer-out operations, with time to result of a few minutes, may prove more practical in real-life practice, both for Point-of-Need use in Centralized healthcare systems and for low-resource settings.
Building on more mature technologies in microfluidic DNA systems, several commercial efforts are already promising to launch in the immediate future sample-in-answer-out systems, with specific medical diagnostic applications. A major challenge to be overcome pertains to the cost-effective integration of highly sensitive biosensors in portable devices, or even in equipment-free systems. At the moment, a seamless mass-manufacturing approach for integration of all the required components is not commercially available, with each diagnostic company pursuing their own strategy. Moreover, the exploitation of sensing approaches requiring elaborate or expensive instrumentation can present obstacles in portability, along with the large power requirements associated with heating on modules incorporating DNA amplification. With most practical applications demanding the quantification of multiple DNA strands simultaneously, both assays and devices allowing multiplexed detection need to be developed. Finally, device development should be carried out based on real physiological samples early on, assuring device compliance with international regulatory frameworks and biomedical device standards.
Funding
The authors wish to acknowledge the financial support of eFUTURES EPSRC (EP/L025450/1), British Council (Newton Fund Institutional Links, UK-Turkey, 336872), The Royal Society (RSG\R1\180260), and the Rosetrees Trust (A1607).
Conflicts of Interest
The authors declare no conflict of interest.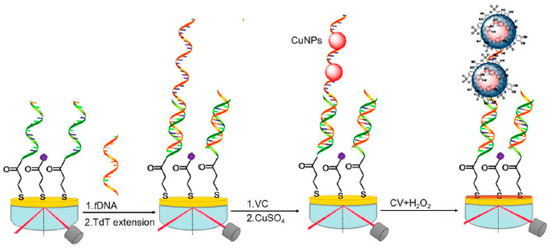 Figure 1.
Schematic drawing of the synthesis of CuNPs templated by TdT-mediated DNA (Reprinted from Yuan et al. [
15
]. Copyright (2017), with permission from Elsevier).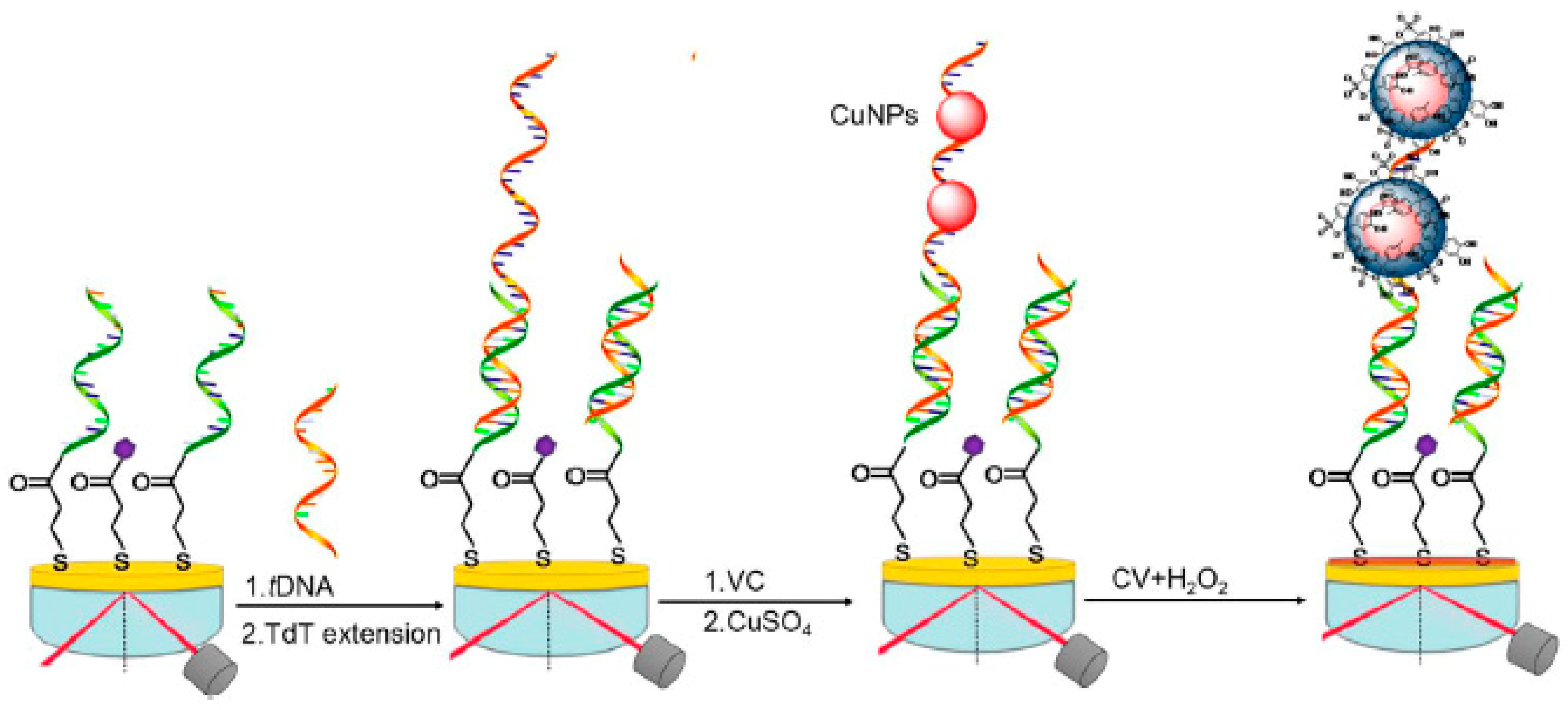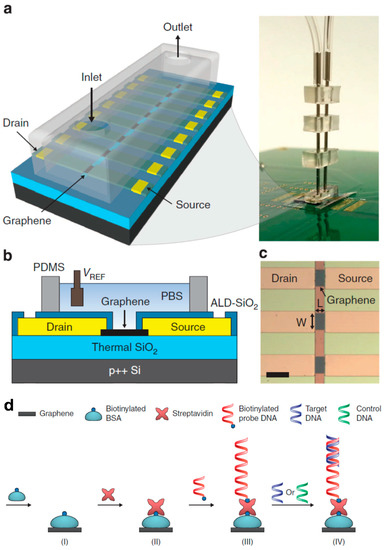 Figure 2.
(
a
) Image of an 8-graphene-electrode/FET array with a microfluidic channel. (
b
) A cross-sectional view of an individual graphene site. (
c
) Optical image of a fabricated graphene array. (
d
) Schematic illustration of site-specific probe DNA immobilization and target detection. (I & II) BSA–streptavidin surface functionalization, (III) non electrophoretic probe DNA immobilization, and (IV) hybridization or control experiments (Reprinted from Xu et al. [
28
]. Copyright (2014), with permission from Springer Nature).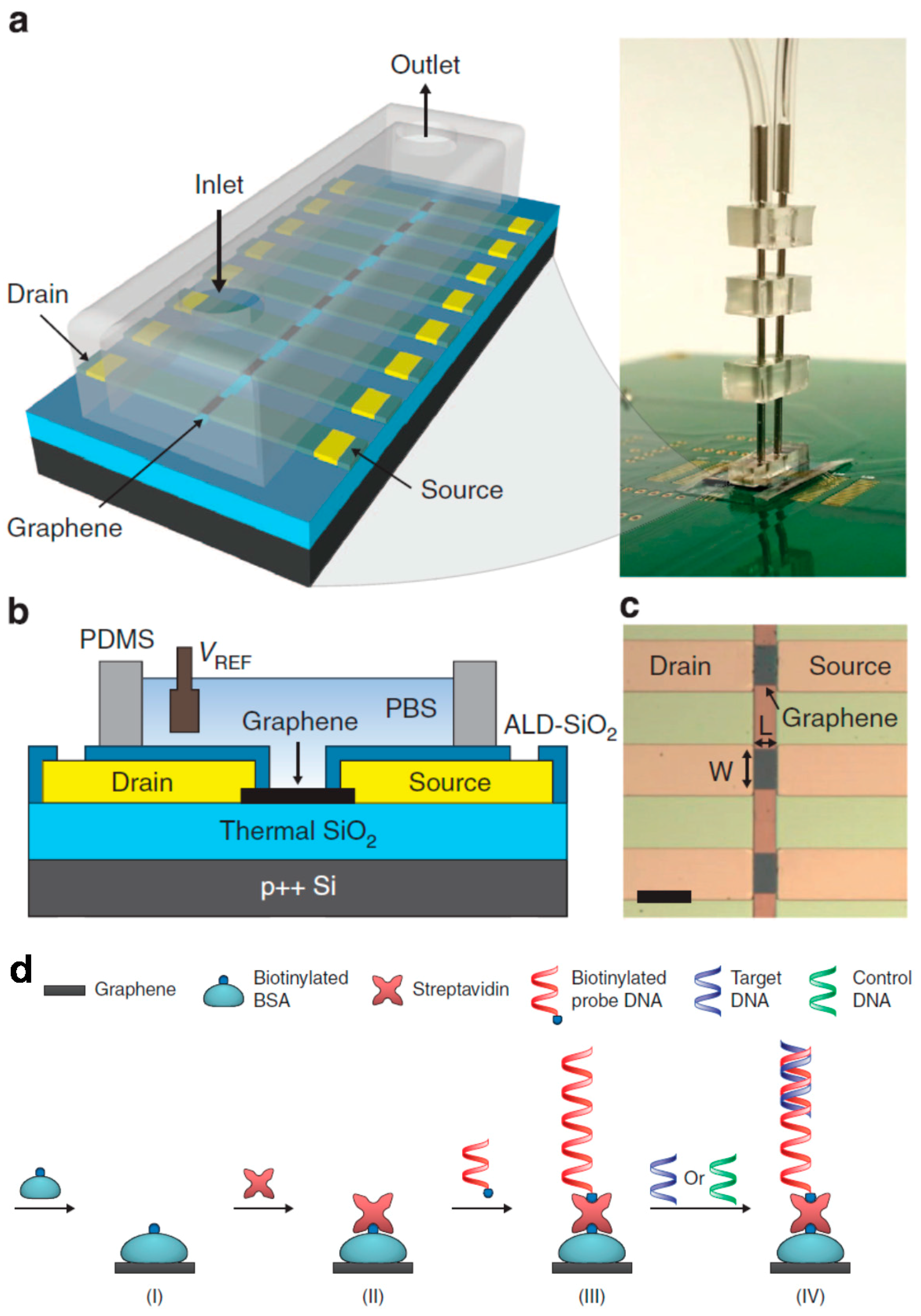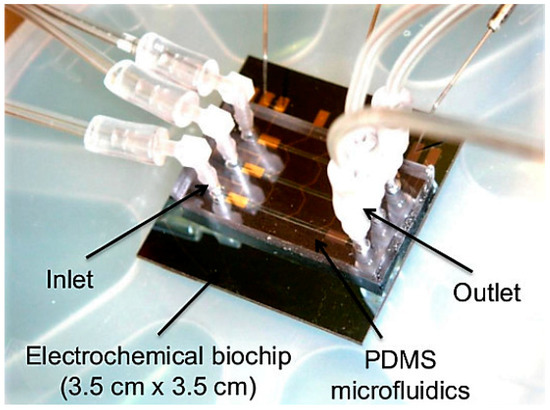 Figure 3.
Tested microfluidic device (dimensions: 3.5 cm × 3.5 cm; micro-channel height of 100 µm, width 500 µm) (Reprinted from Ben-Yoav et al. [
29
]. Copyright (2012), with permission from Elsevier).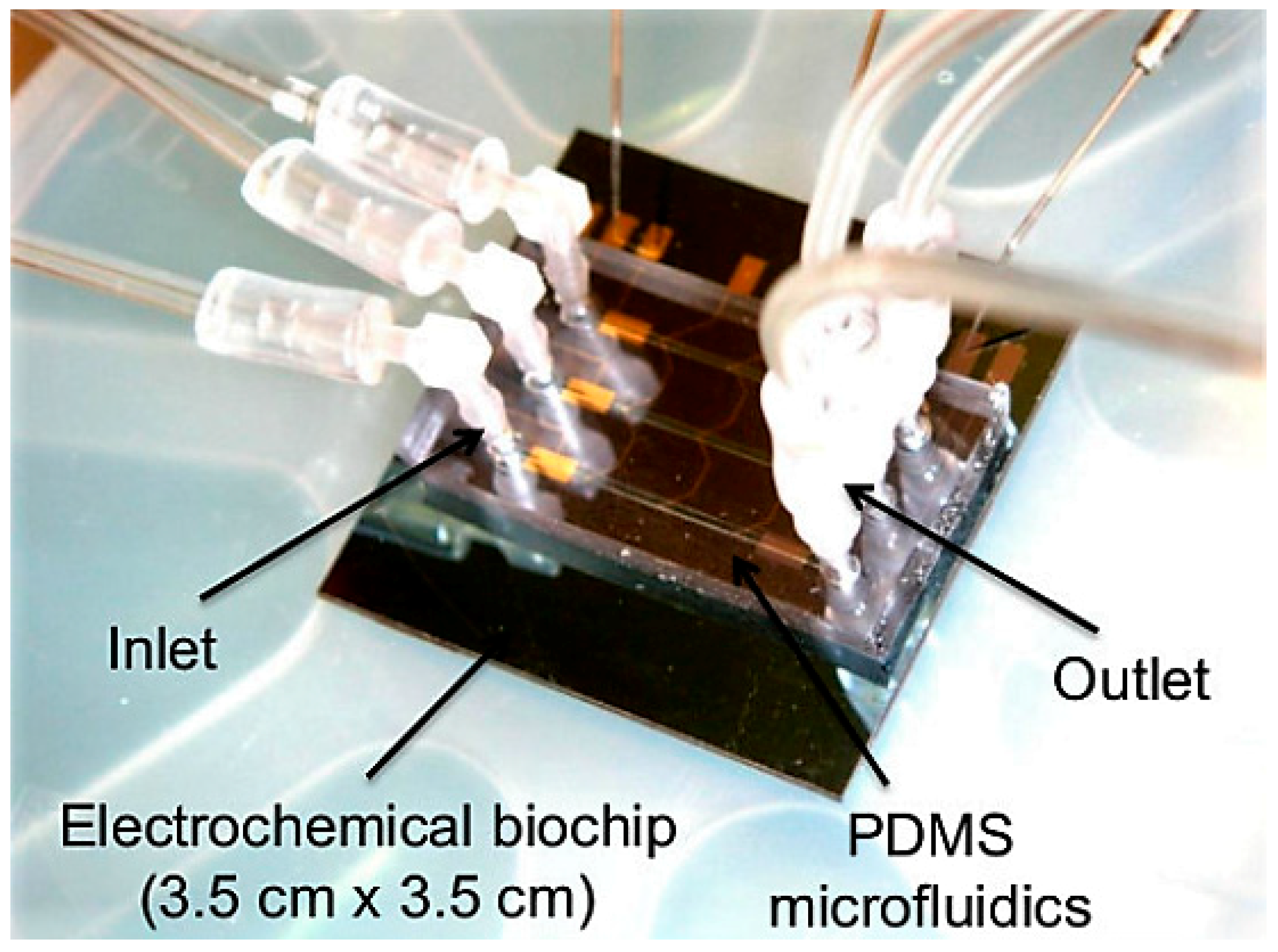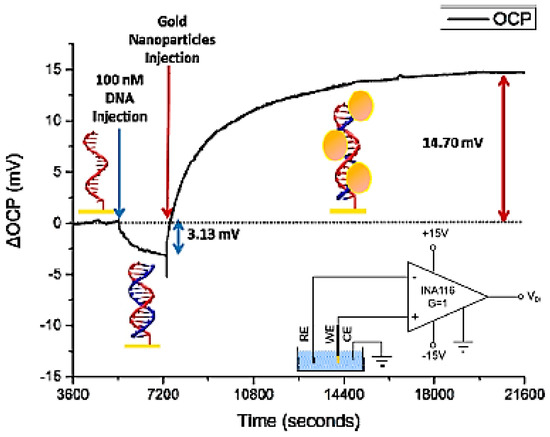 Figure 4.
Open circuit potential (OCP) measurements of PNA/DNA hybridization in real-time (© [2015] IEEE. Reprinted, with permission, from Joly et al. [
30
]).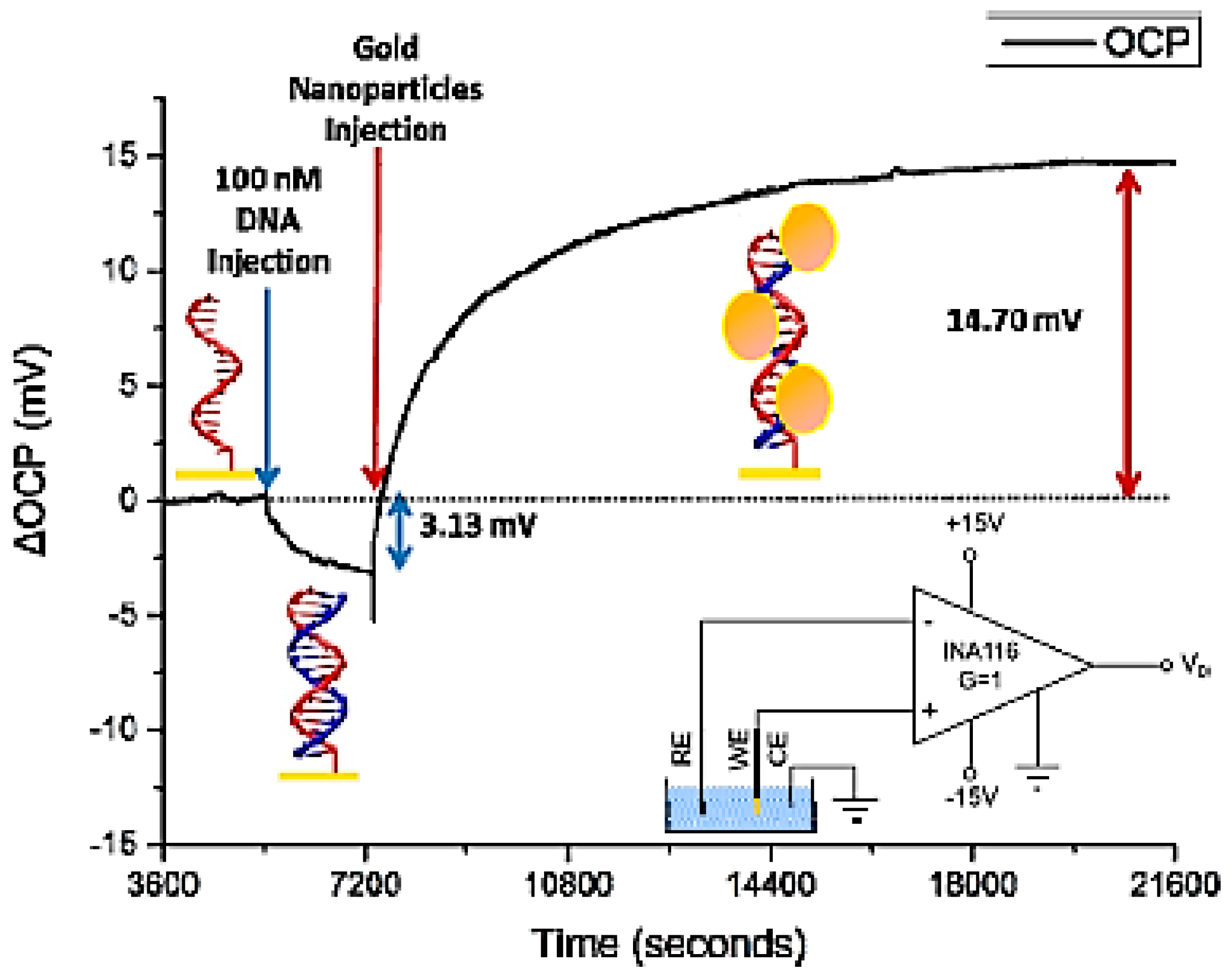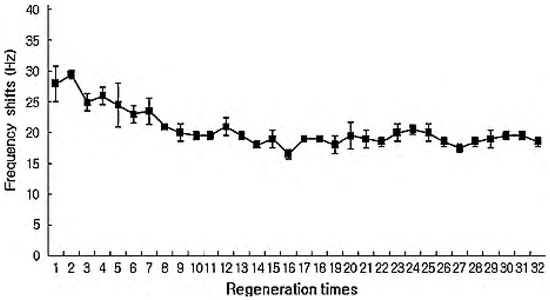 Figure 5.
Regeneration test of quartz crystal microbalance (QCM) sensor utilizing biotinylated DNA probes for detection of target DNA. No significant decrease in signal was detected up to 32 regenerations (Reprinted from Hong et al. [
32
]. Copyright (2010), with permission from Elsevier).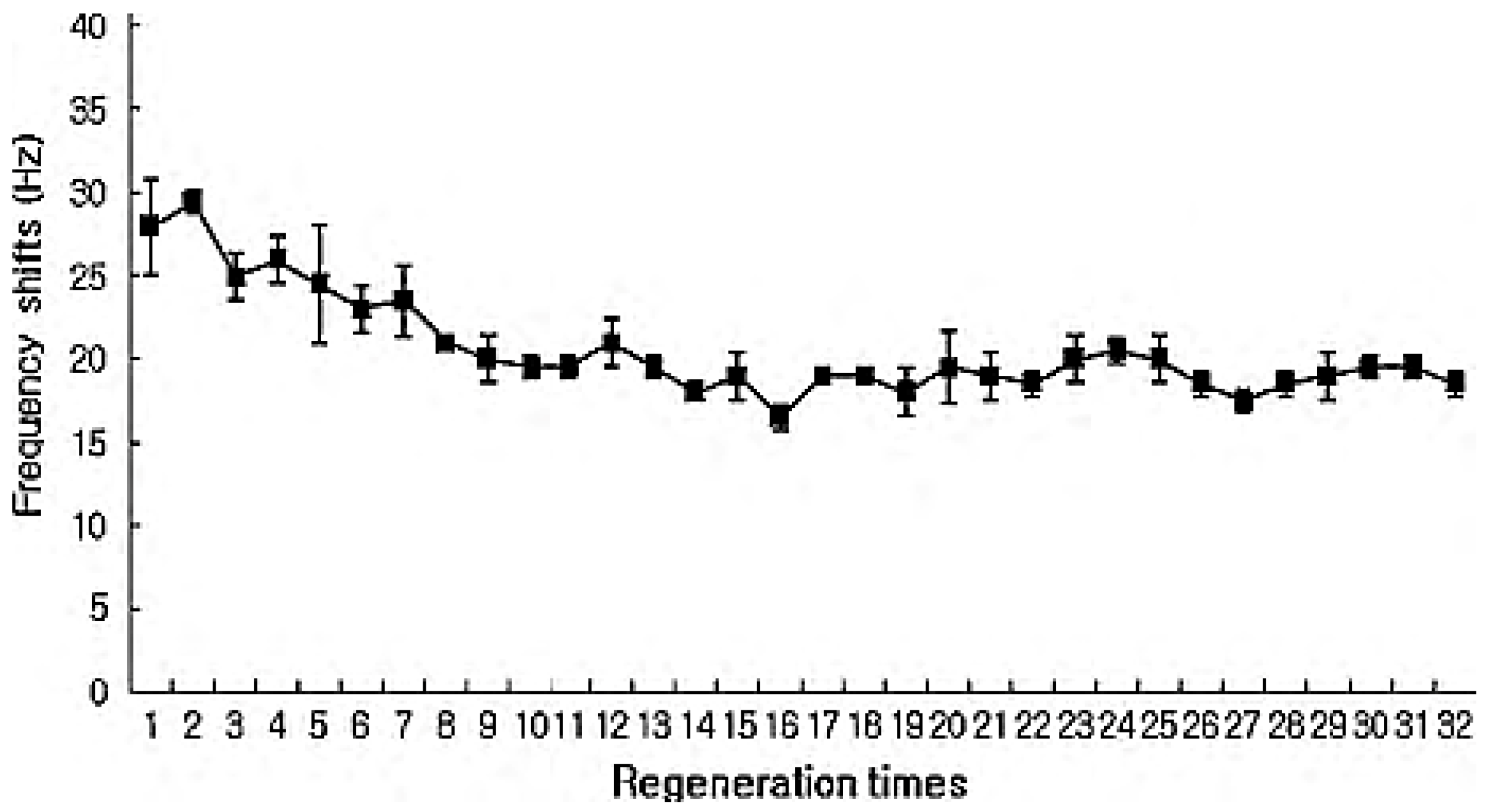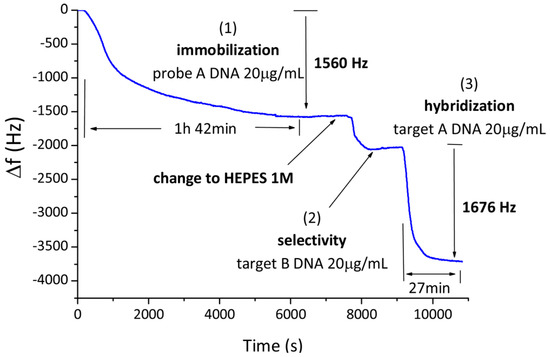 Figure 6.
Frequency changes detected during circulation of DNA-disulfide probe (1), DNA target B control and DNA target A [
33
] (Originally published in "Development of a Mass Sensitive Quartz Crystal Microbalance (QCM)-Based DNA Biosensor Using a 50 MHz Electronic Oscillator Circuit" under Creative Commons 4.0 license).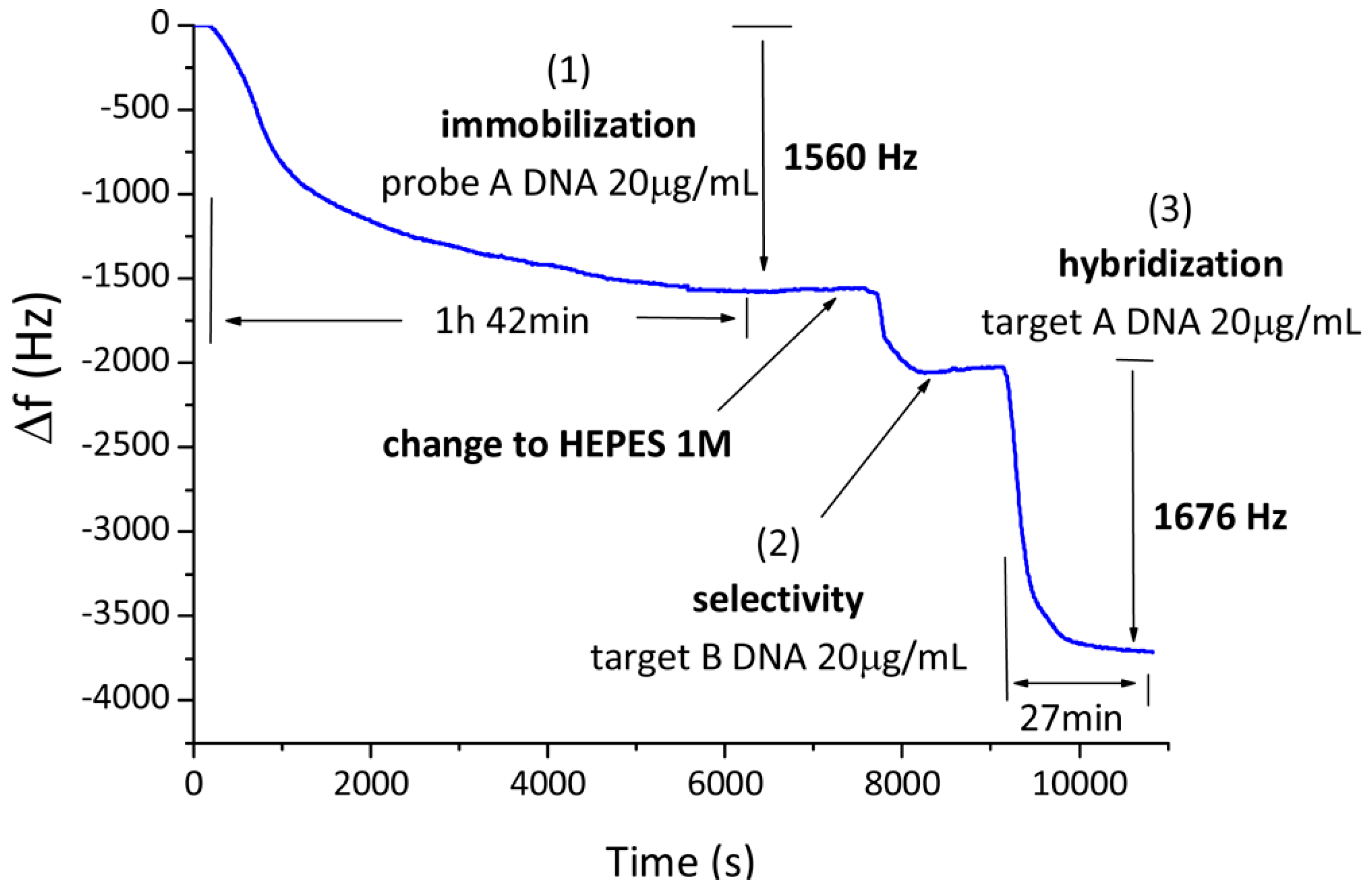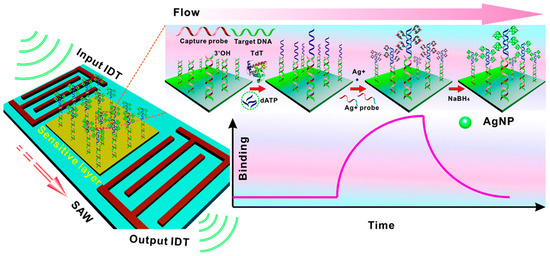 Figure 7.
Surface acoustic wave (SAW)-based sensor with input and output interdigital transducer (IDT) for specific, signal-amplified DNA detection by a synergic mass increase of DNA extension and AgNPs growth in situ (Reprinted from Zhang et al. [
37
]. Copyright (2017), with permission from Royal Society of Chemistry).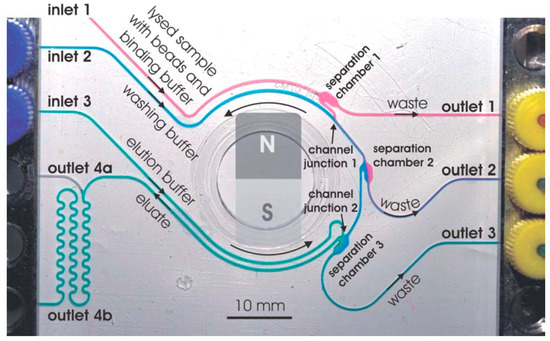 Figure 8.
Photograph of magnetic particle assisted DNA extraction chip (Reprinted from Karle et al. [
48
]. Copyright (2010), with permission from Royal Society of Chemistry).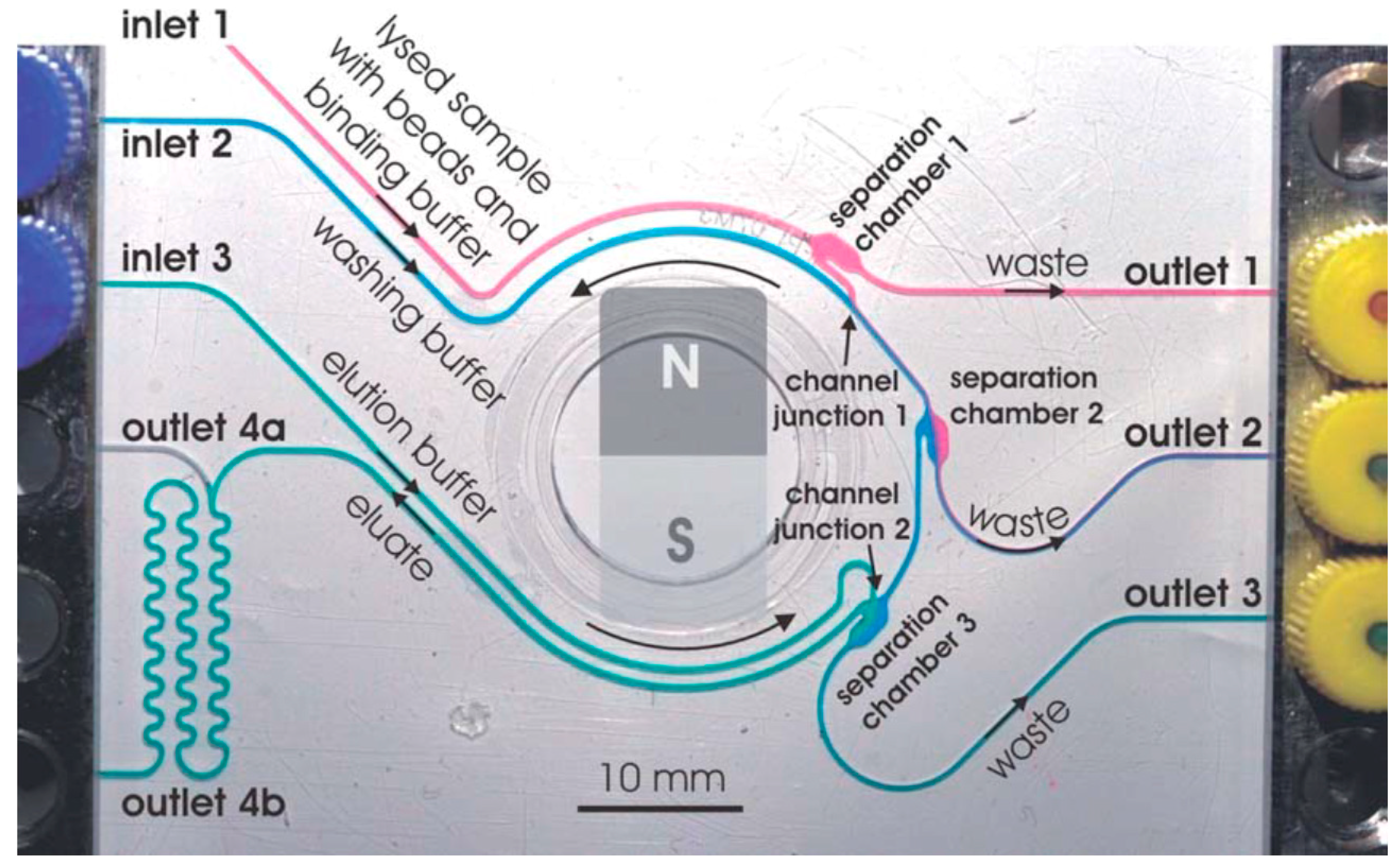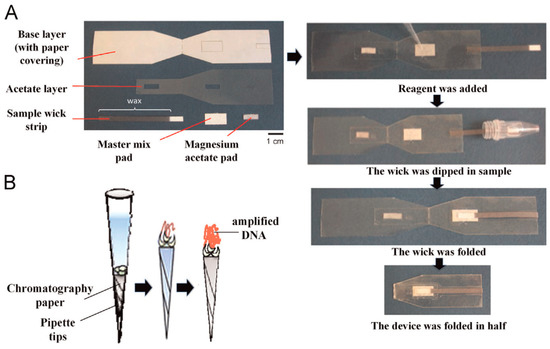 Figure 9.
(
A
) Recombinase Polymerase Amplification (RPA) and (
B
) Helicase-Dependent Amplification (had) paper-based devices for nucleic acid amplification (Reprinted from Choi et al. [
54
]. Copyright (2015), with permission from Elsevier).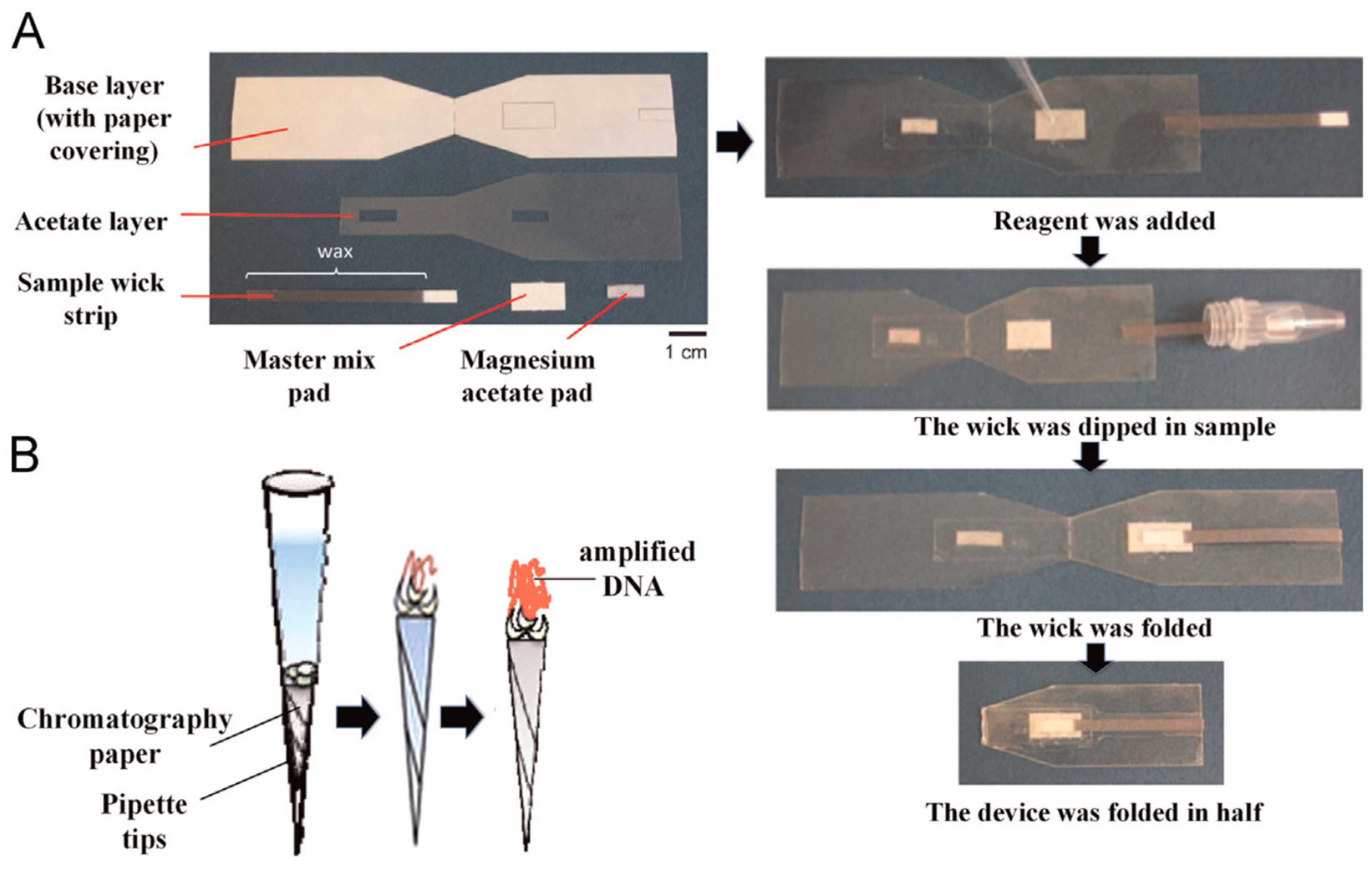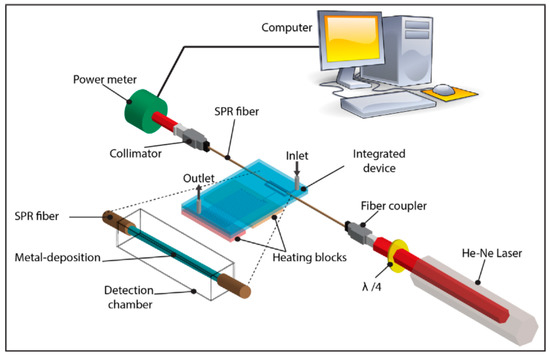 Figure 10.
Schematic illustration of DNA amplicon detection (Reprinted from Nguyen et al. [
60
]. Copyright (2017), with permission from Elsevier).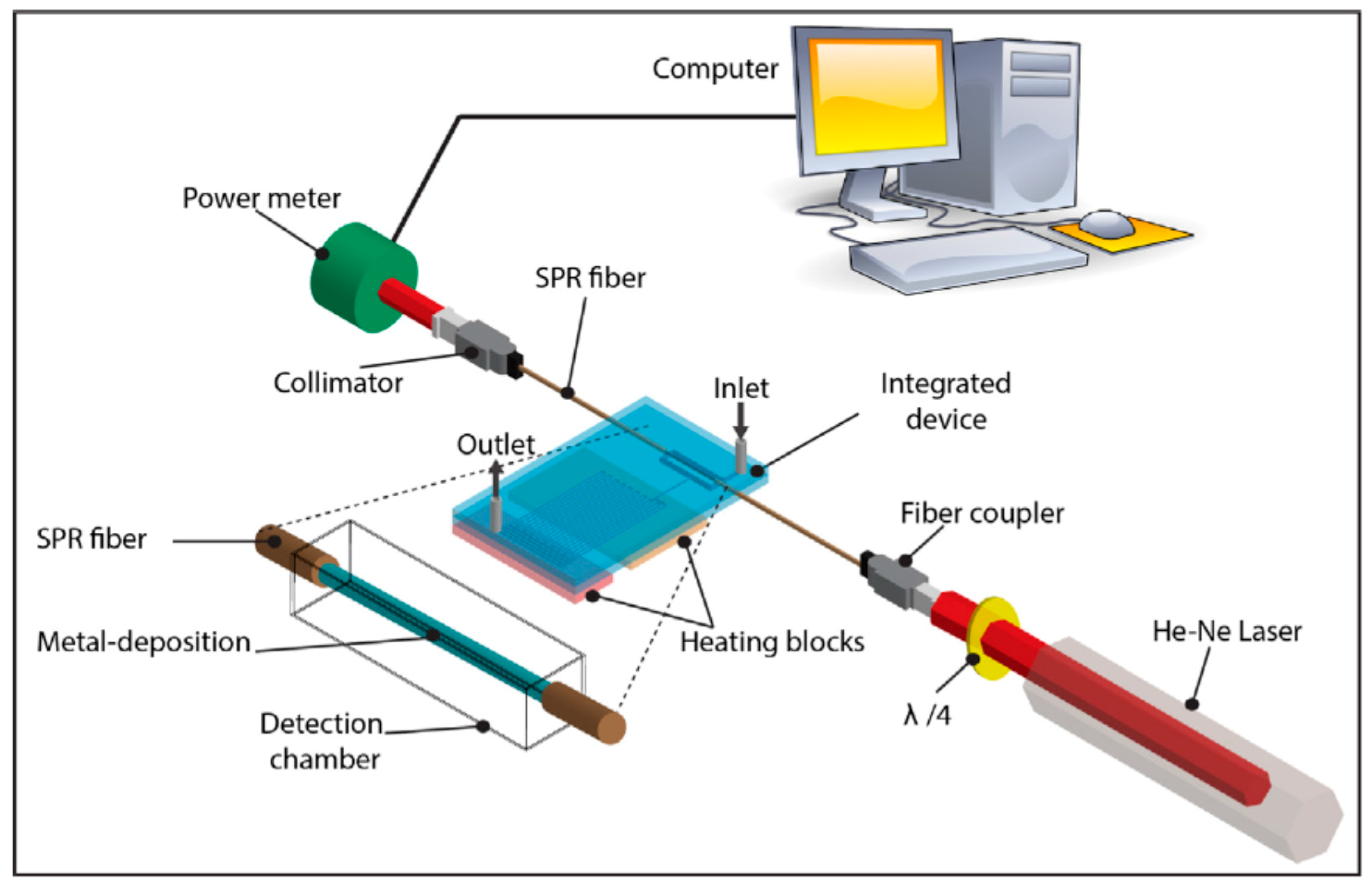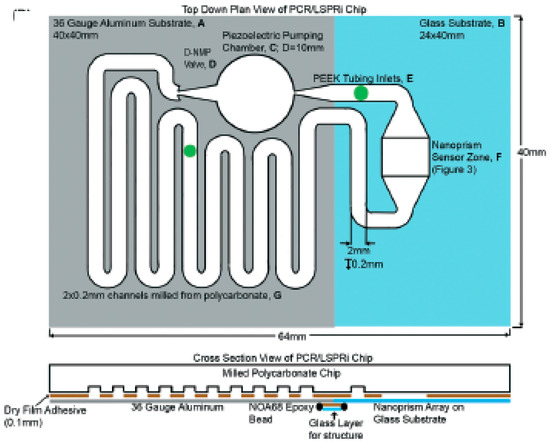 Figure 11.
Structural microfluidic channel layout of Polymerase Chain Reaction (PCR) chip (Reprinted from Haberet al. [
63
]. Copyright (2017), with permission from Royal Society of Chemistry).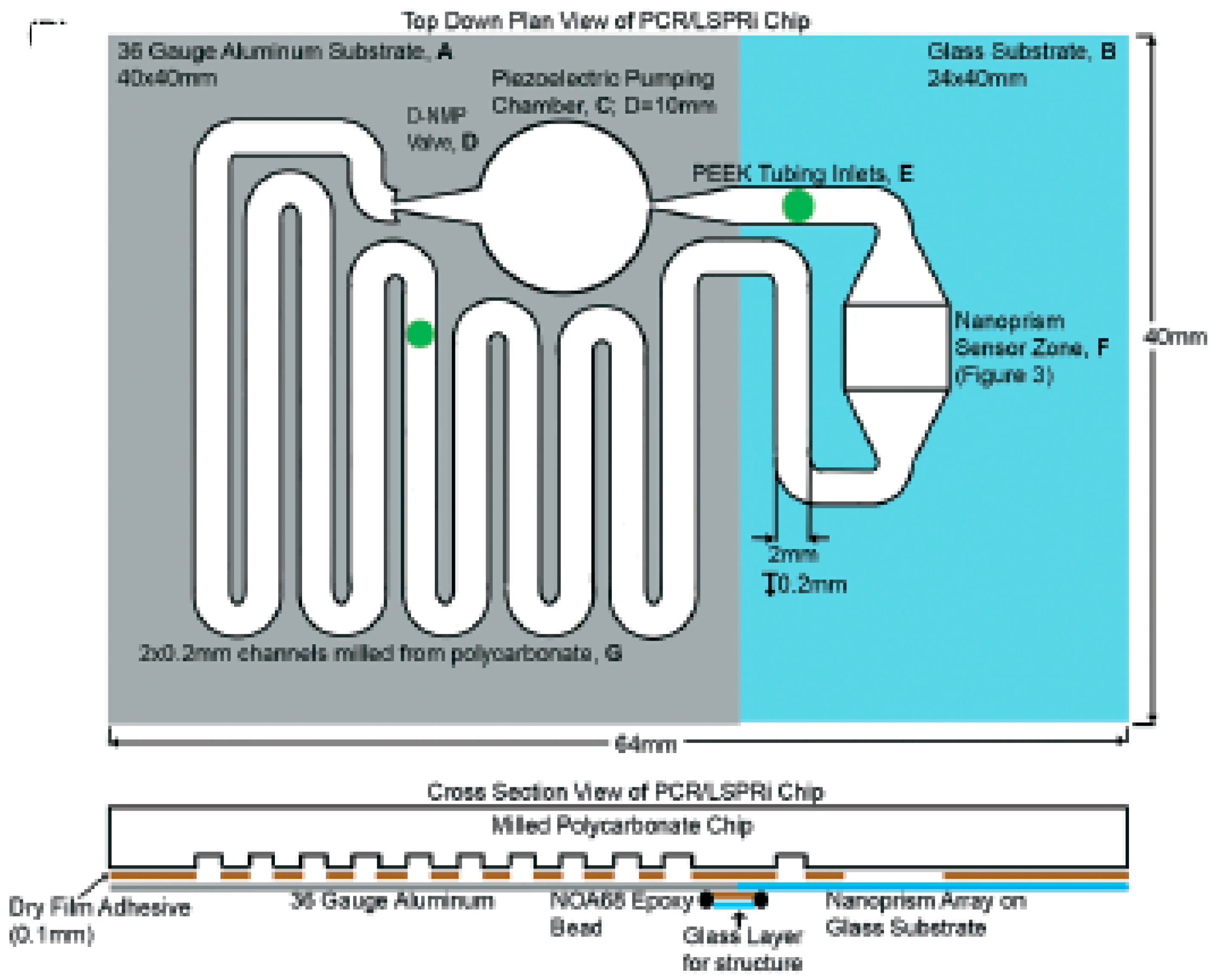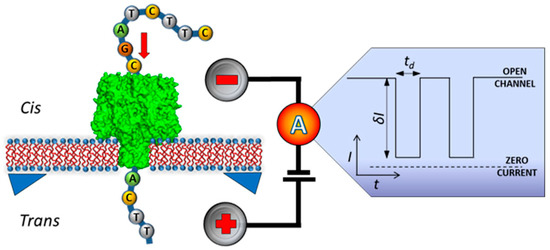 Figure 12.
Structural microfluidic channel layout of PCR chip (Reprinted from Kudr et al. [
68
]. Copyright (2015), with permission from John Wiley and Sons).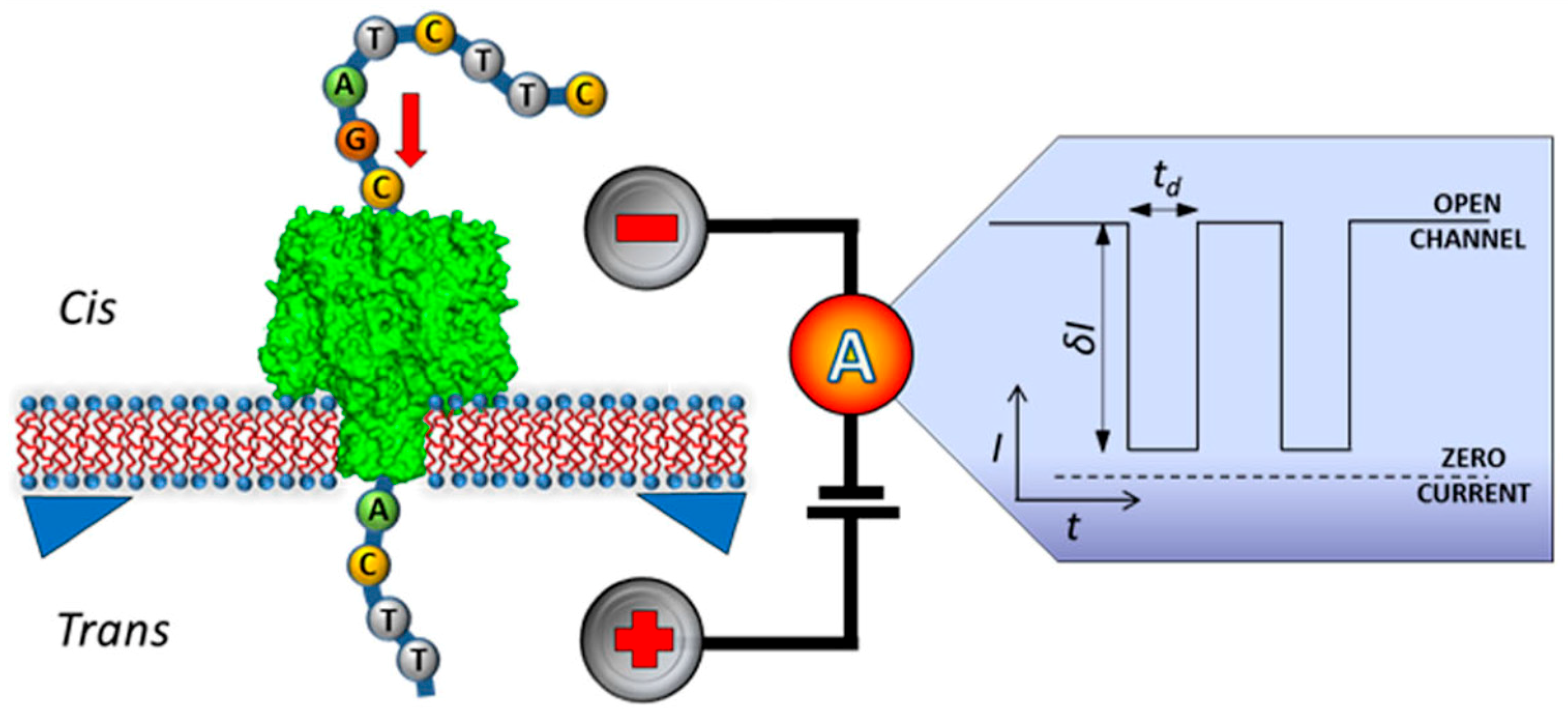 © 2018 by the authors. Licensee MDPI, Basel, Switzerland. This article is an open access article distributed under the terms and conditions of the Creative Commons Attribution (CC BY) license (http://creativecommons.org/licenses/by/4.0/).