Open Access This article is
freely available
re-usable
Communication
Extracellular Vesicle Integrins Distinguish Unique Cancers
Department of Biomedical Sciences, Florida State University College of Medicine, Tallahassee, FL 32306, USA
*
Author to whom correspondence should be addressed.
Received: 13 March 2019 / Accepted: 9 April 2019 / Published: 11 April 2019
Abstract
:
The proteomic profile of extracellular vesicles (EVs) has been of increasing interest, particularly in understanding cancer growth, drug resistance, and metastatic behavior. Emerging data suggest that cancer-derived EVs carry an array of oncogenic cargo, including certain integrin proteins that may, in turn, promote cell detachment, migration, and selection of future metastatic sites. We previously reported a large comparison of secreted vesicle protein cargo across sixty diverse human cancer cell lines. Here, we analyze the distinct integrin profiles of these cancer EVs. We further demonstrate the enrichment of integrin receptors in cancer EVs compared to vesicles secreted from benign epithelial cells. The total EV integrin levels, including the quantity of integrins α6, αv, and β1 correlate with tumor stage across a variety of epithelial cancer cells. In particular, integrin α6 also largely reflects breast and ovarian progenitor cell expression, highlighting the utility of this integrin protein as a potential circulating biomarker of certain primary tumors. This study provides preliminary evidence of the value of vesicle-associated integrin proteins in detecting the presence of cancer cells and prediction of tumor stage. Differential expression of integrins across cancer cells and selective packaging of integrins into EVs may contribute to further understanding the development and progression of tumor growth and metastasis across a variety of cancer types.
Keywords:
Exosomes; mass spectrometry; proteomics; biomarkers; cancer; extracellular vesicles; microvesicles; oncosomes
Supplementary Materials
The following are available online at
https://www.mdpi.com/2227-7382/7/2/14/s1
, Table S1: Proteins identified from mass spectrometry analysis of MCF10a cell-derived EVs; Figure S1: Alpha integrin subunit expression secreted into EVs across the NCI-60 panel of cancer cells; Figure S2: Beta integrin subunit expression secreted into EVs across the NCI-60 panel of cancer cells; Figure S3: The relation of the most abundant alpha and beta integrin ratios secreted into cancer-cell derived vesicles.
Author Contributions
Conceptualization—S.N.H. and D.G.M.J.; Validation—S.N.H.; Formal analysis—S.N.H.; Investigation—S.N.H.; Resources—D.G.M.J.; Data curation—S.N.H.; Writing—original draft preparation, S.N.H.; Writing—Review and editing—S.N.H. and D.G.M.J.; Supervision—D.G.M.J.; Funding acquisition—D.G.M.J.
Funding
This research was funded by grants awarded to D.G.M.J. from the Florida Department of Health (4BB05) and the National Cancer Institute of the National Institutes of Health (R01CA204621).
Acknowledgments
We thank Xia Liu, Rakesh Singh, and the Florida State University Translational Science Laboratory for help in the mass spectrometry conducted in this study.
Conflicts of Interest
The authors declare no conflict of interest.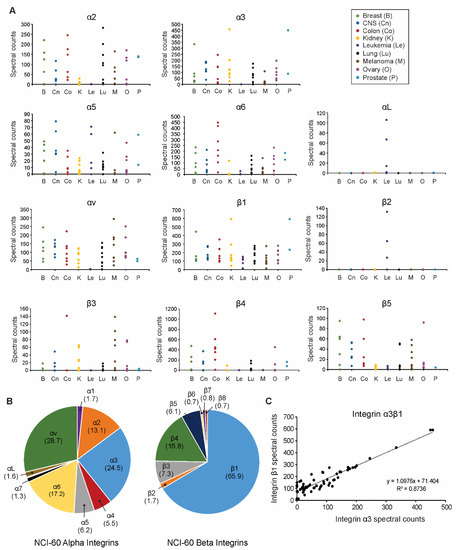 Figure 1. Tumor extracellular vesicles display distinct integrin profiles. (A) Spectral counts of alpha and beta integrin subunits secreted into tumor extracellular vesicles (EVs) were compared across the NCI-60 panel of human cancer cells; (B) Breakdown of EV alpha and beta integrin subunit composition (percentages) averaged across the NCI-60 panel; (C) Direct comparison of vesicular α3 and β1 protein spectral counts secreted by each of the 60 cancer cell lines.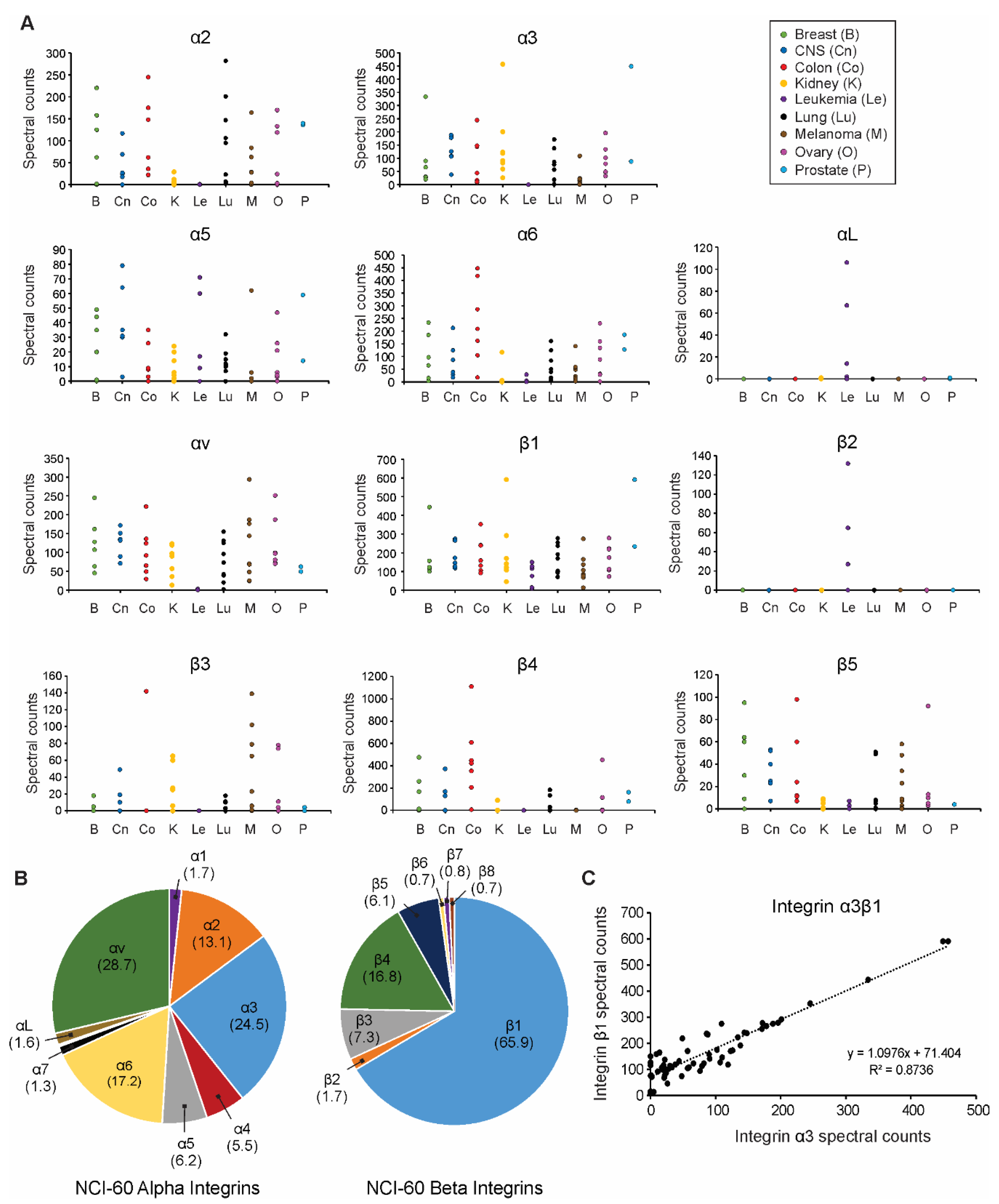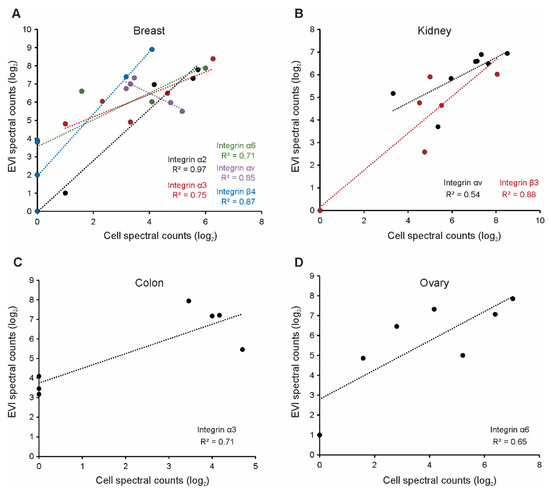 Figure 2. Various vesicle-associated integrins represent progenitor cell expression across epithelial cancer lines. Spectral counts of integrin subunits in (A) breast; (B) kidney; (C) colon; and (D) ovarian cancer-derived EVs compared to respective whole cell spectral counts previously reported.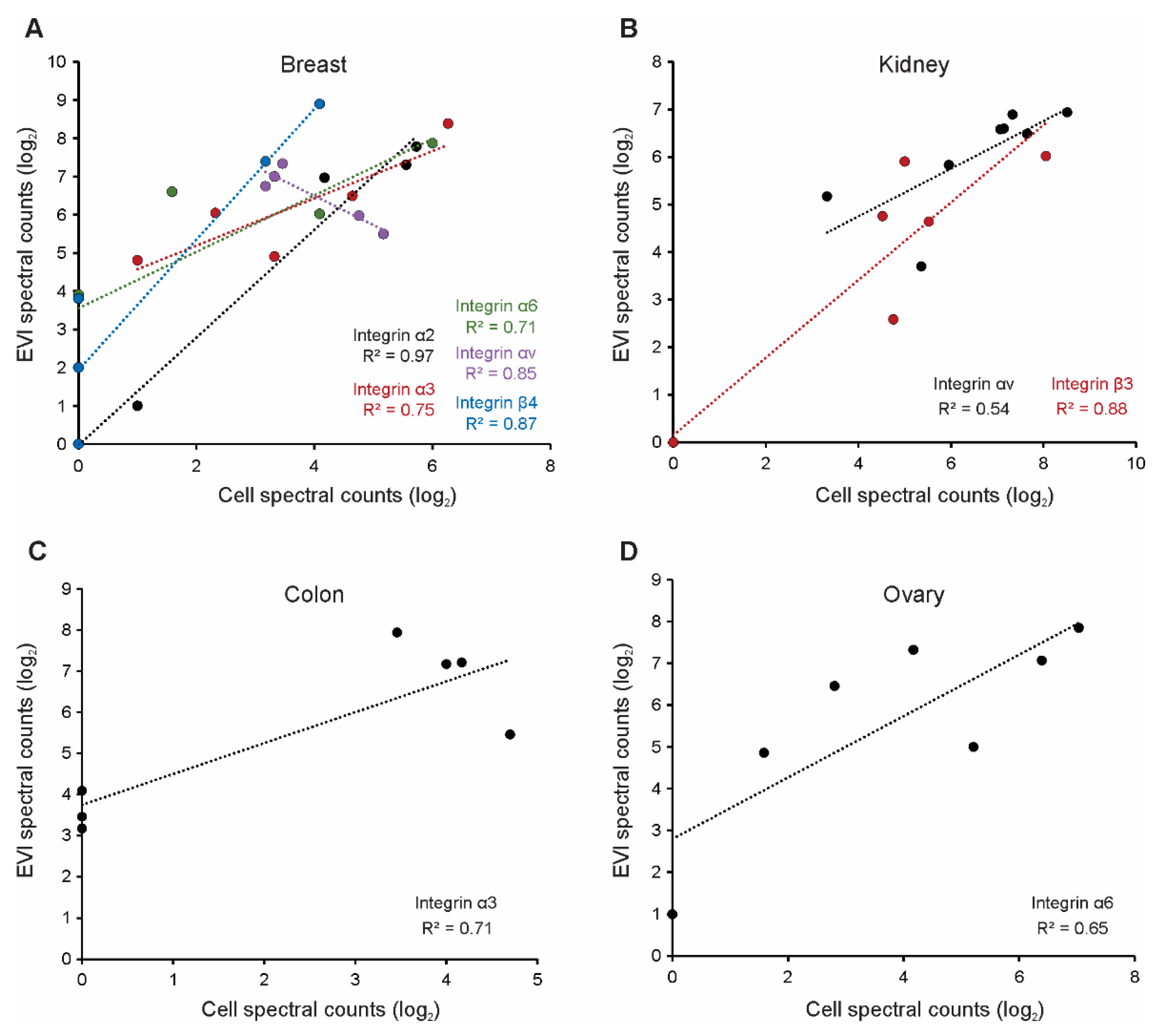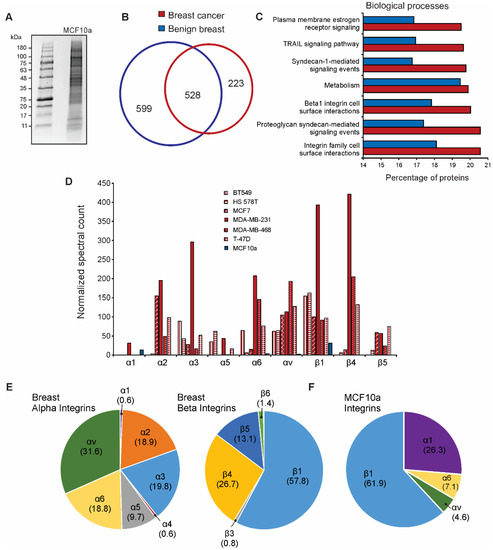 Figure 3. Breast cancer EV integrin profiles differ from benign breast cell-derived vesicles. (A) Coomassie-stained gel purification of MCF10a EV proteins; (B) Overlap of total vesicle proteins identified by mass spectrometry from MCF10a cells (benign breast) compared to those commonly identified in all six breast cancer cell lines in the NCI-60 panel; (C) Enrichment analysis of proteins identified in benign breast EVs versus breast cancer cell-derived EVs; (D) Spectral count comparison of the most abundant integrin subunits secreted by benign (blue) or tumor (red) breast cells; (E) Breakdown of EV alpha and beta integrin subunit composition (percentage of total alpha or beta proteins, respectively) secreted from breast cancer cells; (F) Vesicle composition of integrin subunits secreted by MCF10a breast epithelial cells (percentage of total integrins identified in samples).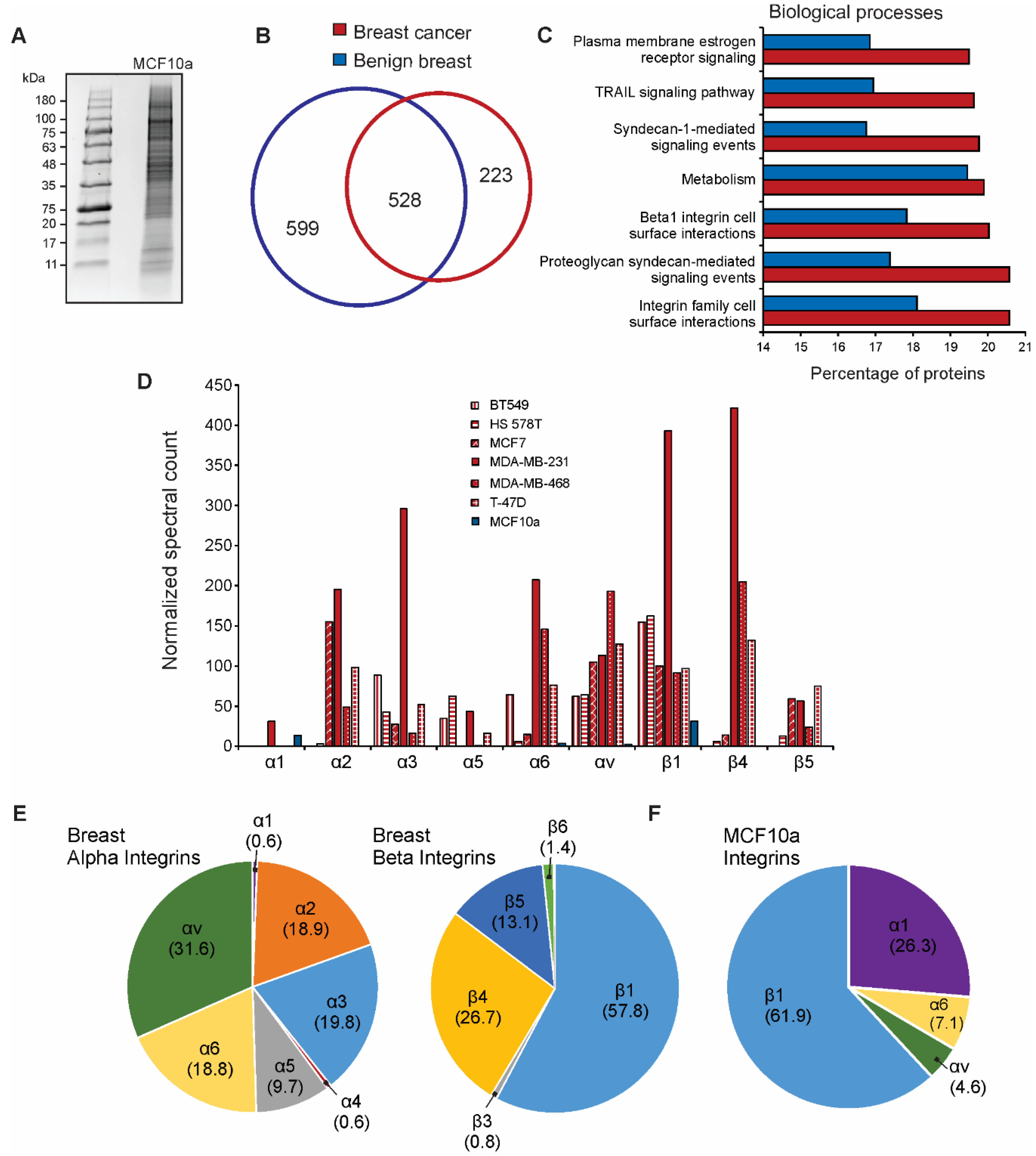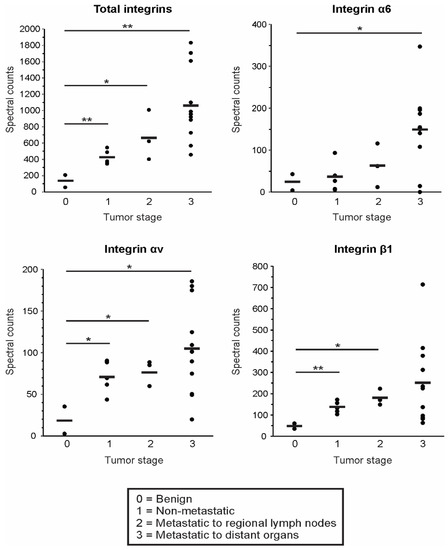 Figure 4.
Epithelial cancer stage correlates with EV integrin levels. Spectral counts of representative vesicle integrin subunits compared across benign and tumorigenic cancer lines. Tumor stage was categorized based on clinical information provided by the American Type Culture Collection (ATCC) database. Average spectral counts of integrins within each tumor stage were compared to benign cell-derived EV levels by ANOVA. *
p
< 0.05, **
p
< 0.01.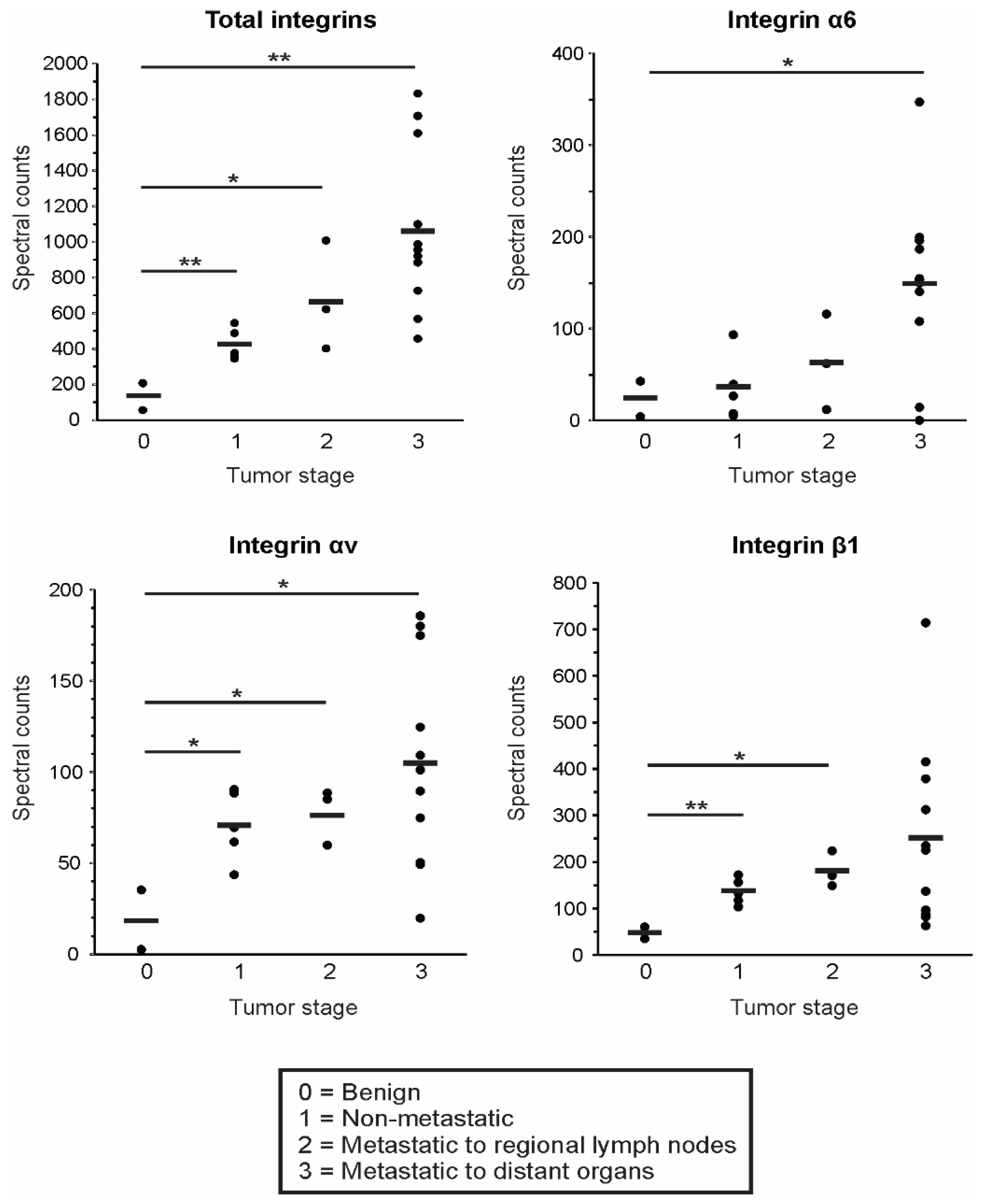 © 2019 by the authors. Licensee MDPI, Basel, Switzerland. This article is an open access article distributed under the terms and conditions of the Creative Commons Attribution (CC BY) license (http://creativecommons.org/licenses/by/4.0/).