Exploring Morphine-Triggered PKC-Targets and Their Interaction with Signaling Pathways Leading to Pain via TrkA
1
Department of Biochemistry, Chemistry Institute, University of São Paulo, Sao Paulo 05508-220, Brazil
2
Department of Pharmacological Sciences, Icahn School of Medicine at Mount Sinai, New York, NY 10029, USA
*
Authors to whom correspondence should be addressed.
Received: 24 August 2018 / Revised: 29 September 2018 / Accepted: 2 October 2018 / Published: 6 October 2018
Abstract
It is well accepted that treatment of chronic pain with morphine leads to μ opioid receptor (MOR) desensitization and the development of morphine tolerance. MOR activation by the selective peptide agonist, D-Ala2, N-MePhe4, Gly-ol]-enkephalin(DAMGO), leads to robust G protein receptor kinase activation, β-arrestin recruitment, and subsequent receptor endocytosis, which does not occur in an activation by morphine. However, MOR activation by morphine induces receptor desensitization, in a Protein kinase C (PKC) dependent manner. PKC inhibitors have been reported to decrease receptor desensitization, reduce opiate tolerance, and increase analgesia. However, the exact role of PKC in these processes is not clearly delineated. The difficulties in establishing a particular role for PKC have been, in part, due to the lack of reagents that allow the selective identification of PKC targets. Recently, we generated a conformation state-specific anti-PKC antibody that preferentially recognizes the active state of this kinase. Using this antibody to selectively isolate PKC substrates and a proteomics strategy to establish the identity of the proteins, we examined the effect of morphine treatment on the PKC targets. We found an enhanced interaction of a number of proteins with active PKC, in the presence of morphine. In this article, we discuss the role of these proteins in PKC-mediated MOR desensitization and analgesia. In addition, we posit a role for some of these proteins in mediating pain by TrKA activation, via the activation of transient receptor potential cation channel subfamily V member 1 (TRPV1). Finally, we discuss how these new PKC interacting proteins and pathways could be targeted for the treatment of pain.
View Full-Text
►

▼

Figures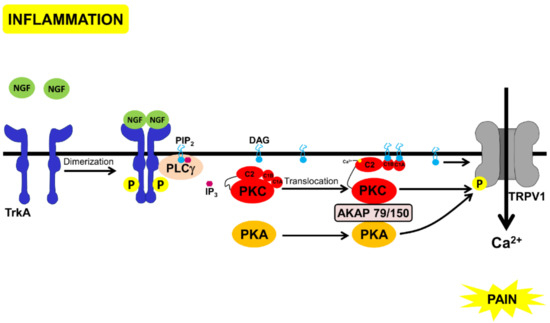 Figure 1
This is an open access article distributed under the
Creative Commons Attribution License
which permits unrestricted use, distribution, and reproduction in any medium, provided the original work is properly cited (CC BY 4.0).

Share & Cite This Article
MDPI and ACS Style
Pena, D.A.; Duarte, M.L.; Pramio, D.T.; Devi, L.A.; Schechtman, D. Exploring Morphine-Triggered PKC-Targets and Their Interaction with Signaling Pathways Leading to Pain via TrkA. Proteomes 2018, 6, 39.
Note that from the first issue of 2016, MDPI journals use article numbers instead of page numbers. See further details here.
Related Articles
Comments
[Return to top]