Proteases Shape the
Chlamydomonas

Secretome: Comparison to Classical Neuropeptide Processing Machinery

1

Department of Neuroscience, University of Connecticut Health Center, Farmington, CT 06030-3401, USA

2

Department of Biology, Brookhaven National Laboratory, Upton, NY 11973-5000, USA

3

Department of Molecular Biology and Biophysics, University of Connecticut Health Center, Farmington, CT 06030-3305, USA

4

W.M. Keck Biotechnology Resource Laboratory, Yale University, New Haven, CT 06511-6624, USA

*

Author to whom correspondence should be addressed.

†

Current address: Department of Biochemistry and Biophysics, University of California, San Francisco, San Francisco, CA 94143-0525, USA

Received: 30 August 2018 / Revised: 17 September 2018 / Accepted: 20 September 2018 / Published: 23 September 2018
Abstract
The recent identification of catalytically active peptidylglycine α-amidating monooxygenase (PAM) in
Chlamydomonas reinhardtii
, a unicellular green alga, suggested the presence of a PAM-like gene and peptidergic signaling in the last eukaryotic common ancestor (LECA). We identified prototypical neuropeptide precursors and essential peptide processing enzymes (subtilisin-like prohormone convertases and carboxypeptidase B-like enzymes) in the
C. reinhardtii
genome. Reasoning that sexual reproduction by
C. reinhardtii
requires extensive communication between cells, we used mass spectrometry to identify proteins recovered from the soluble secretome of mating gametes, and searched for evidence that the putative peptidergic processing enzymes were functional. After fractionation by SDS-PAGE, signal peptide-containing proteins that remained intact, and those that had been subjected to cleavage, were identified. The
C. reinhardtii
mating secretome contained multiple matrix metalloproteinases, cysteine endopeptidases, and serine carboxypeptidases, along with one subtilisin-like proteinase. Published transcriptomic studies support a role for these proteases in sexual reproduction. Multiple extracellular matrix proteins (ECM) were identified in the secretome. Several pherophorins, ECM glycoproteins homologous to the
Volvox
sex-inducing pheromone, were present; most contained typical peptide processing sites, and many had been cleaved, generating stable N- or C-terminal fragments. Our data suggest that subtilisin endoproteases and matrix metalloproteinases similar to those important in vertebrate peptidergic and growth factor signaling play an important role in stage transitions during the life cycle of
C. reinhardtii
.
View Full-Text
►

▼

Figures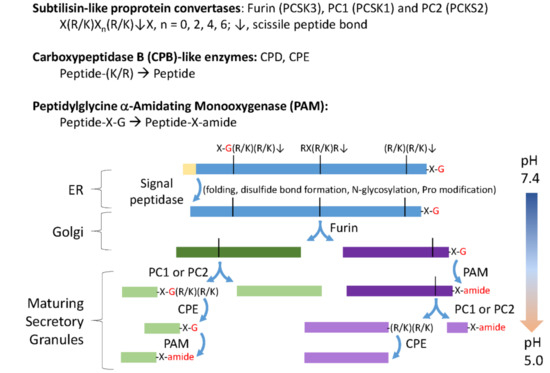 Figure 1
This is an open access article distributed under the
Creative Commons Attribution License
which permits unrestricted use, distribution, and reproduction in any medium, provided the original work is properly cited (CC BY 4.0).

Share & Cite This Article
MDPI and ACS Style
Luxmi, R.; Blaby-Haas, C.; Kumar, D.; Rauniyar, N.; King, S.M.; Mains, R.E.; Eipper, B.A. Proteases Shape the Chlamydomonas Secretome: Comparison to Classical Neuropeptide Processing Machinery. Proteomes 2018, 6, 36.
Note that from the first issue of 2016, MDPI journals use article numbers instead of page numbers. See further details here.
Related Articles
Comments
[Return to top]