Open Access This article is
freely available
re-usable
Opinion
Top-Down Proteomics and Farm Animal and Aquatic Sciences
1
CIIMAR—Interdisciplinary Centre of Marine and Environmental Research, University of Porto, 4450-208 Matosinhos, Portugal
2
Clinical Department, RUSVM—Ross University School of Veterinary Medicine, PO Box 334, Basseterre, Saint Kitts and Nevis
*
Author to whom correspondence should be addressed.
Academic Editors: Jens Coorssen, Alfred L. Yergey and Jacek R. Wisniewski
Received: 11 October 2016 / Accepted: 5 December 2016 / Published: 21 December 2016
Abstract
:
Proteomics is a field of growing importance in animal and aquatic sciences. Similar to other proteomic approaches, top-down proteomics is slowly making its way within the vast array of proteomic approaches that researchers have access to. This opinion and mini-review article is dedicated to top-down proteomics and how its use can be of importance to animal and aquatic sciences. Herein, we include an overview of the principles of top-down proteomics and how it differs regarding other more commonly used proteomic methods, especially bottom-up proteomics. In addition, we provide relevant sections on how the approach was or can be used as a research tool and conclude with our opinions of future use in animal and aquatic sciences.
Keywords:
farm animal proteomics; aquatic sciences proteomics; top-down proteomics
1. Introduction
Proteomics may be defined as the study of the proteome in a given cell, tissue, organ, organism, or even at the population or multi-population level. Initiated approximately two decades ago with the advent of protein gel electrophoresis and mass spectrometry instruments, proteomics is today a well-established field of research with numerous applications in very diverse sciences such as plant sciences, human medicine, bacteriology, and other fields. The use and adoption of proteomics in animal, veterinary, and aquatic sciences have been relatively slow when compared to other areas of research. Nevertheless, the last 10 years have witnessed a substantial increase in proteomics research in these areas [
1
,
2
]. In fact, numerous examples are available in the literature and include, for instance, research on meat science [
3
,
4
], colostrum and milk science [
5
], the creation of vaccines for tickborne diseases [
6
], the establishment of welfare and stress biomarkers [
7
], diverse uses in aquaculture [
8
], or the establishment of pollution markers in bivalves [
9
].
The majority of the species studied in farm animal and aquatic sciences research are termed non-model species. Working with such species poses several inconveniences, particularly related to their relatively low representation in protein databases [
10
]. In fact, with the exception of cattle [
11
], pig [
12
,
13
], and rabbit [
14
], other species' representation in search databases is extremely low. The characteristics of these databases bring technical limitations, particularly at the level of protein identification that must be established through homology searches [
2
]. It also brings some limitations to the choice of proteomic methods that can be used in Animal and Aquatic Science Proteomics (AASP). In fact, in these fields of research, two-dimensional gel electrophoresis (2DE) has been termed "the workhorse" for proteomics research [
2
]. Numerous examples may be found in the literature on AASP research using 2DE, including single stain gels [
15
,
16
,
17
,
18
] and 2DE-DIGE (difference gel electrophoresis) [
19
]. Additional alternative gel techniques such as blue native polyacrylamide (PAGE) gels, particularly suitable for membrane proteomics, and the study of protein complexes and protein–protein interactions [
20
], such as those in the mitochondria [
21
], have also been used. More recently, with the improvement of databases and the relative decrease on instrumentation prices, gel-free techniques such as iTRAQ (isobaric tag for relative and absolute quantitation) or label-free proteomics have increasingly become more popular and widespread in the AASP research community. Examples include the use of iTRAQ to study the wool proteome [
22
] and colostrum protein uptake [
23
], or to use label-free proteomics to study the goat mammary gland [
24
] or marine mussel (
Mytilus edulis
) response to salinity [
25
]. The previously mentioned techniques are termed bottom-up proteomics (BUP) (see next section). However, in recent years, top-down proteomics (TDP) have also been established and, as in other fields of research, their use in AASP is still very incipient. Nevertheless, it is a technique that is available and that in the coming years will likely become more and more common in AASP research.
This article is dedicated to TDP in the framework of AASP research and includes both a review and an opinion perspective, intended for individuals in animal/veterinary and aquatic sciences, particularly those already using proteomics and/or contemplating the use of TDP. The rationale behind this article is illustrated in
Figure 1
and shows major areas of research in farm animal and aquatic sciences and how they might interact with top-down proteomics. After this brief introduction,
Section 2
will focus on the characteristics of a TDP approach, its use, required instrumentation, and advantages and drawbacks inherent to this approach.
Section 3
and
Section 4
will focus on specific examples where TDP has been successfully used in the fields of animal/veterinary sciences and aquatic sciences, respectively, in order to illustrate the advantages inherent to this approach. Finally, in
Section 5
, we will conclude with our personal views on the usefulness of TDP to these two exciting fields.
2. Basis of Top-Down Proteomics
TDP proteomics has several important advantages that make it extremely useful for the AASP research community. The study of intact proteins and PTM characterization are very important to understand specific biological processes of interest to animal and aquatic sciences. In the next two sections, we will illustrate how TDP has been used in animal and aquatic sciences, highlighting the usefulness of the technique and the possibilities it may open in the future.
3. Top-Down Proteomics in Animal Sciences
In the last two decades, the use of proteomics in animal sciences has been rapidly expanding. Its applications are varied and include aspects as different as classical farm animal physiology to product (meat, dairy, etc.) characterization and detection of frauds in foods of animal origin [
2
]. The majority of the proteomics research in farm animal sciences has been done mostly through the use of gel-based techniques and, more recently, BUP-based shotgun/gel-free proteomics, whereas the use of TDP has been extremely limited. Several factors contribute to this reality, particularly the lack of awareness of the possibilities the technique can bring to the animal science research community, high instrument costs, and limited availability of instrumentation. However, the use of TDP seems to be expanding, and over the last half-decade several examples of its use may be found in the literature concerning farm animals. Therefore, it is likely that, similar to other proteomic techniques like 2DE/DIGE, iTRAQ, or label-free proteomics, its use will expand in the coming years.
Zhang and co-workers [
32
], conducted one of the earliest studies using TDP in swine. These authors used pigs as a model for cardiovascular research in humans, characterizing the modifications in swine troponin by using high-resolution TDP in conjugation with immunoaffinity chromatography purification. The study demonstrated that swine cardiac troponin I (cTnI) affinity-purified from domestic pig hearts was N-terminally acetylated and phosphorylated. While the study clearly demonstrated the unique power of TDP in the characterization of protein modifications in a farm animal species, the results contributed valuable information not just to the
Sus scrofa
species but also by analogy to humans. The same group has more recently used TDP to study tropomyosin (TPM) isoforms and PTMs that regulate TPM function in swine skeletal muscle [
47
]. The authors characterized the TPM sequence and localized PTMs such as acetylation, phosphorylation, and amino acid polymorphisms. Furthermore, the authors were able to characterize a TPM isoform that could be added to the existing swine TPM sequences that proved to be identical to an already characterized mouse isoform. In 2016, the same research group used a similar approach to characterize TPM isoforms in the skeletal muscle of humans and rats by comparison to swine [
48
]. The authors characterized major isoforms for the three species and used MS methodology to identify the sequences. The results revealed muscle-type-specific differences in the abundance of unmodified and modified TPM isoforms in rat and human skeletal muscles. The works by these authors clearly demonstrated the importance of TPM for the thorough characterization of isoforms of muscle proteins and PTMs and their role on muscle physiology and muscle-related disease. The future is bright for applications in the field of peptidomics and meat science (e.g., meat contamination/adulteration) [
4
]. TDP has also been used to evaluate homogenized tissue followed by depletion of large proteins and subsequent application of capillary LC–MS in order to characterize lower molecular weight (MW) (500–5000 Da) species in tissue [
49
]. The authors of this review have surveyed several sheep (
Ovis aries
) tissues (heart, lung, liver, kidney, and spleen) and demonstrated the reproducibility of the method and its usefulness to characterize low molecular mass proteins or large peptides.
In the last two years, TDP has also been used to characterize epididymal sperm maturation [
50
]. Boar spermatozoa isolated from four different epididymal regions (immature to mature stage) were analyzed combining differential and quantitative MALDI-TOF profiling for whole cells or subcellular fractions. Whole cells and subcellular fractions were combined with TDP directed at specific proteins in order to identify endogenous biomolecules and establish the importance of protease activity in sperm maturation and fertility. The same group studied chicken semen (spermatozoa and seminal plasma) peptidome/proteome, linking it to a molecular phenotype related to sperm quality. The authors used three quantitative strategies (fluid and intact cells MALDI-MS, SDS-PAGE combined to LC-MS/MS with spectral counting, and XIC (extracted ion chromatograms) methods). The combination of approaches allowed the characterization of specific profiles per male and the identification of 16 biomolecules of relevance to avian fertility. The authors also identified several proteins involved in different biochemical pathways (oxidoreduction mechanisms, energy processes, proteolysis, and protein localization) with a relevant role in rooster fertility. The same group recently conducted a complimentary study [
51
] in which a larger standardized experimental procedure was designed for the development of a fertility-predictive mathematical model based on sperm cell MALDI-TOF MS profiles acquired through a fast, automated method. The authors determined that an intact cell MALDI-TOF MS-based method showed high diagnostic accuracy in identifying fertile/subfertile males in a large male population of known fertility from two distinct genetic lineages (meat production and egg laying). Additionally, identification of 40% of the
m
/
z
peaks observed in the sperm MS profiles through a top-down high-resolution protein identification analysis contributed to the study of proteomic markers in avian fertility in a model that can possibly be translated to other species. These studies demonstrated the importance of combining TDP with other approaches to successfully study male fertility, a process of capital importance in animal husbandry and production.
The mentioned studies have in common the use of TDP to study specific protein characteristics or protein roles in specific physiological processes, such as muscle contractility or sperm maturation. They also show the potential for the combination of top-down proteomics with more classical and standardized proteomic methods—revealing the high complimentarily nature of this approach and the plethora of biological processes of specific interest to the animal science research community—that this technique may bring.
4. Top-Down Proteomics in Aquatic Sciences
Top-down proteomics arises as a new technology in aquatic sciences. TDP could be rapidly integrated with several research topics in which further information is required of the proteome, namely in the domains of protein polymorphisms and PTMs' characterization.
Although only a few examples of areas of aquatic science research were presented that could integrate TDP approaches, TDP can be employed in many other research topics that seek more information about the proteome, and specifically the polymorphism of the proteome and post-translational protein regulation.
5. Conclusions and Future Perspectives
Over the last two decades, proteomics, as other postgenomic tools (e.g., transcriptomics or metabolomics) has become increasingly more common for use in a broad variety of life science fields. Adopting proteomic principles and techniques for use in animal and aquatic sciences has been slower than in other fields, which are traditionally more dynamic and have more access to research funds. Late adoption by AASP researchers has happened in the past with several versions of the 2DE technology (silver nitrate, colloidal Coomassie, fluorescent dyes, and DIGE) and later with the advent of MS-based approaches, particularly shotgun proteomics. Several factors may have contributed to this late technology adoption. Possibly the most relevant can be linked to a generalized lack of knowledge and perception of the principles or possibilities of proteomics research by animal and aquatic sciences researchers. Another important factor is the lack of access or links to proteomic platforms, as very few animal or aquatic science research institutes and universities could afford to purchase their own MS instruments and hire specialized staff for maintenance and operation. Even if the first two difficulties previously mentioned were overcome, traditionally, AASP researchers have always had some difficulty in accessing the high funds needed for a proteomics component in a research project. These difficulties have, however, been curbed over the last decade, thanks to important networking and dissemination efforts by research consortia such as FA1002–Proteomics in Farm Animals COST action (
http://www.cost-faproteomics.org/
) or the PRIME-XS initiative (
http://www.primexs.eu/
). These projects were crucial for the development of proteomics in areas such as animal and aquatic sciences; ultimately, allowing researchers in these two fields to get acquainted and become active users of proteomic techniques with important effects on their scientific outputs benefits both science and society as a whole.
A similar trend seems to be in motion for TDP. A literature search such as the one described above reveals that, today, only a handful of researchers within the AASP community are actively using TDP. However, the results obtained and their significance indicate that TDP will likely become more and more common in AASP research. TDP has numerous advantages, the most important is undoubtedly the appropriateness to the study of intact proteins and PTMs that are in turn crucial to understand a specific biological process of key relevance to animal or aquatic sciences.
Furthermore, the existing publications in these two fields clearly demonstrate the high complementary nature of TDP and how it effectively interacts with more classical proteomics approaches such as 2DE or shotgun proteomics. The take-off of TDP in AASP, therefore, seems to have started recently, and it is likely that in the next decade the approach will become much more common in AASP, either alone or as a complement to other proteomics approaches and to other omics-based studies. Its applicability is thus likely to expand to all areas of animal and aquatic sciences, particularly those where PTMs play a crucial role. Accordingly, processes like the study of sperm maturation, tissue, and embryo development, the development of allergies, or the study of specific cellular metabolism are among the areas that would likely benefit from the inclusion of TDP in a research project. The accumulated experience in the past with other proteomics techniques means that possibly a broad inclusion of TDP in animal and aquatic sciences studies will likely be quicker than in the past. However, and as before, collaborations between animal or aquatic sciences researchers and proteomics and mass spectrometry platforms will be of paramount importance.
Acknowledgments
Alexandre Campos work is supported by a post-doctoral grant (SFRH/BPD/103683/2014) from Foundation for Science and Technology (FCT, Lisbon, Portugal). Authors thank Donald Bergfelt (RUSVM, St. Kitts, West Indies) for reviewing the English of the manuscript. Authors are indebted to Simão Mateus (University of Porto Natural History and Science Museum, Oporto, Portugal) for the kind artwork contribution.
Author Contributions
A.M.D.A. and A.M.O.C. wrote the paper.
Conflicts of Interest
The authors declare no conflict of interest.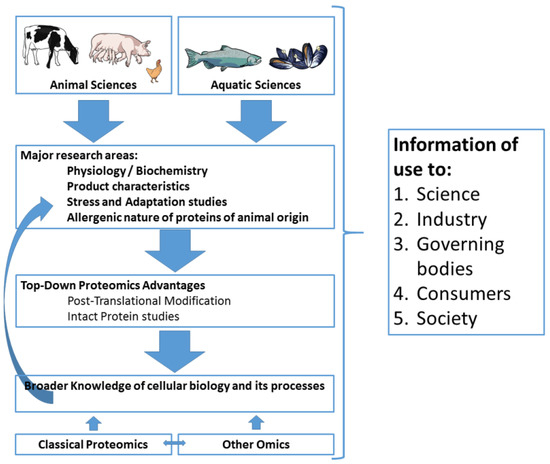 Figure 1. Interaction of top-down proteomics with animal and aquatic sciences illustrating the advantages of including the technique in research programs that include classical proteomics and other omics (Transcriptomics, Lipidomics, or Metabolomics).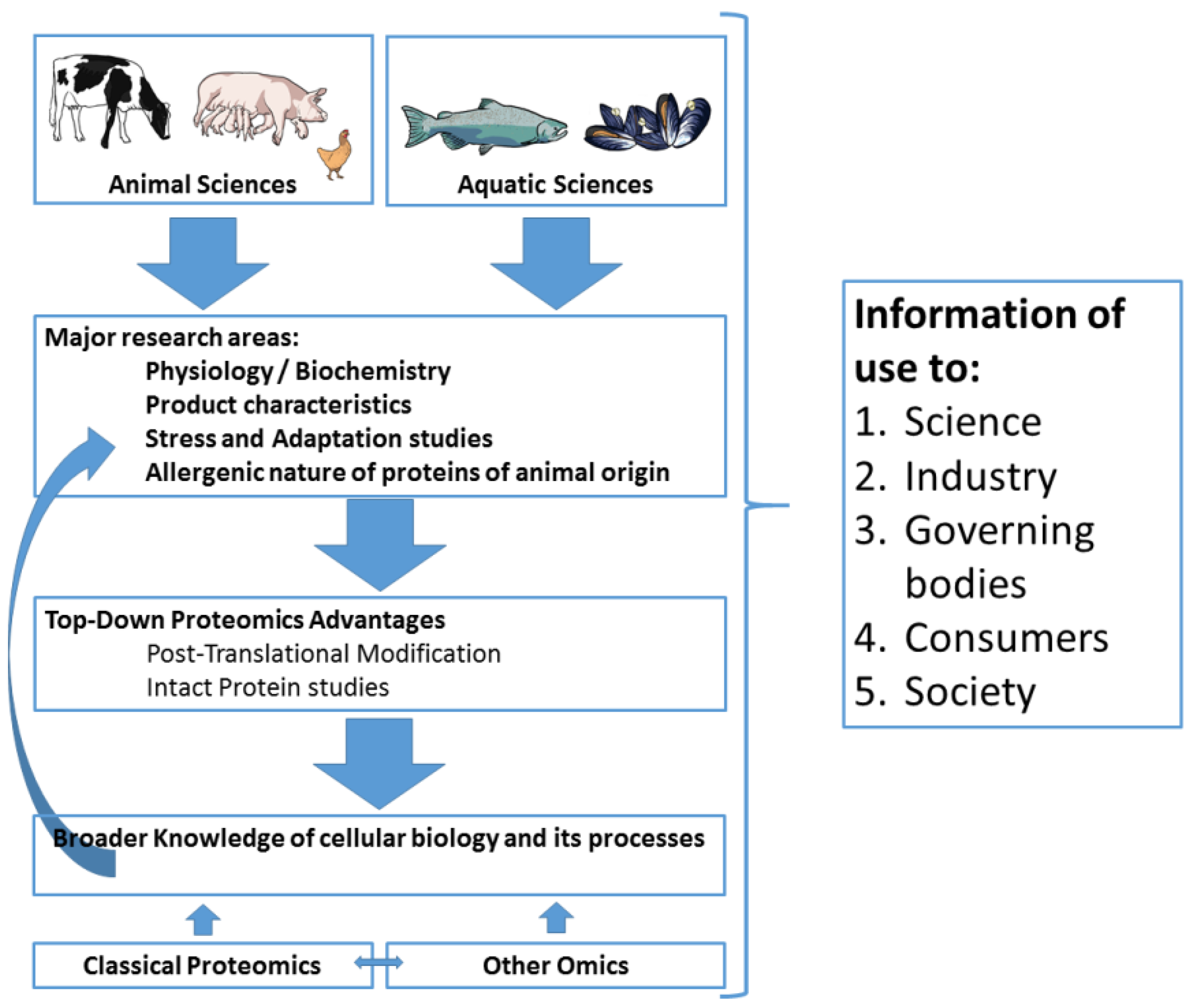 © 2016 by the authors; licensee MDPI, Basel, Switzerland. This article is an open access article distributed under the terms and conditions of the Creative Commons Attribution (CC-BY) license (http://creativecommons.org/licenses/by/4.0/).