Protein Dynamics in the Plant Extracellular Space
1
Centro de Investigação das Ferrugens do Cafeeiro (CIFC), Instituto Superior de Agronomia (ISA), Universidade de Lisboa (UL), Quinta do Marquês, 2784-505 Oeiras, Portugal
2
Linking Landscape, Environment, Agriculture and Food (LEAF), Instituto Superior de Agronomia (ISA), Universidade de Lisboa (UL), 1349-017 Lisboa, Portugal
3
Instituto de Tecnologia Química e Biológica (ITQB), Universidade NOVA de Lisboa (UNL), 2780-157 Oeiras, Portugal
4
Faculdade de Ciências e Tecnologia, Universidade NOVA de Lisboa (UNL), 2829-516 Caparica, Portugal
5
Instituto de Biologia Experimental e Tecnológica (IBET), 2780-157 Oeiras, Portugal
6
Departamento de Fitossanidade, Faculdade de Agronomia Eliseu Maciel (FAEM), Universidade Federal de Pelotas (UFPEL), 96010-610 Pelotas-RS, Brazil
*
Author to whom correspondence should be addressed.
Academic Editors: Nicolas L. Taylor and Jacek R. Wisniewski
Received: 28 May 2016 / Revised: 7 July 2016 / Accepted: 7 July 2016 / Published: 13 July 2016
Abstract
The extracellular space (ECS or apoplast) is the plant cell compartment external to the plasma membrane, which includes the cell walls, the intercellular space and the apoplastic fluid (APF). The present review is focused on APF proteomics papers and intends to draw information on the metabolic processes occurring in the ECS under abiotic and biotic stresses, as well as under non-challenged conditions. The large majority of the proteins detected are involved in "cell wall organization and biogenesis", "response to stimulus" and "protein metabolism". It becomes apparent that some proteins are always detected, irrespective of the experimental conditions, although with different relative contribution. This fact suggests that non-challenged plants have intrinsic constitutive metabolic processes of stress/defense in the ECS. In addition to the multiple functions ascribed to the ECS proteins, should be considered the interactions established between themselves and with the plasma membrane and its components. These interactions are crucial in connecting exterior and interior of the cell, and even simple protein actions in the ECS can have profound effects on plant performance. The proteins of the ECS are permanently contributing to the high dynamic nature of this plant compartment, which seems fundamental to plant development and adaptation to the environmental conditions.
View Full-Text
►

▼

Figures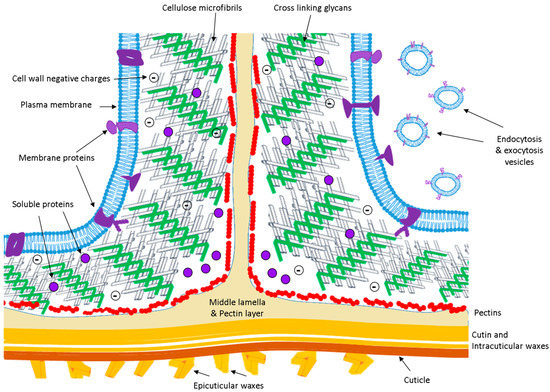 Figure 1
This is an open access article distributed under the
Creative Commons Attribution License
which permits unrestricted use, distribution, and reproduction in any medium, provided the original work is properly cited (CC BY 4.0).

Share & Cite This Article
MDPI and ACS Style
Guerra-Guimarães, L.; Pinheiro, C.; Chaves, I.; Barros, D.R.; Ricardo, C.P. Protein Dynamics in the Plant Extracellular Space. Proteomes 2016, 4, 22.
Note that from the first issue of 2016, MDPI journals use article numbers instead of page numbers. See further details here.
Related Articles
Comments
[Return to top]