Open Access This article is
freely available
re-usable
Article
Development of Final Projects in Engineering Degrees around an Industry 4.0-Oriented Flexible Manufacturing System: Preliminary Outcomes and Some Initial Considerations
Department of Electrical Engineering, Electronics and Automation, University of Extremadura, Avenida de Elvas, s/n, 06006 Badajoz, Spain
*
Author to whom correspondence should be addressed.
Received: 8 October 2018 / Accepted: 4 December 2018 / Published: 9 December 2018
Abstract
:
New paradigms such as the Industry 4.0, the Industrial Internet of Things (IIoT), or industrial cyber-physical systems (ICPSs) have been impacting the manufacturing environment in recent years. Nevertheless, these challenging concepts are also being faced from the educational field: Engineering students must acquire knowledge and skills under the view of these frameworks. This paper describes the utilization of an Industry 4.0-oriented flexible manufacturing system (FMS) as an educational tool to develop final projects (FPs) of engineering degrees. A number of scopes are covered by an FMS, such as automation, supervision, instrumentation, communications, and robotics. The utilization of an FMS with educational purposes started in the academic year 2011–2012 and still remains active. Here, the most illustrative FPs are expounded, and successful academic outcomes are reported. In addition, a set of initial considerations based on the experience acquired by the FP tutors is provided.
Keywords:
engineering education; flexible manufacturing system; Industry 4.0; final project; automation; supervision; robotics; industrial communications
Author Contributions
Conceptualization, I.G. and A.J.C.; Investigation, I.G. and A.J.C.; Methodology, I.G. and A.J.C.; Resources, I.G. and A.J.C.; Validation, I.G. and A.J.C.; Writing-Original Draft Preparation, I.G. and A.J.C.; Writing-Review & Editing, I.G. and A.J.C.
Funding
This research received no external funding.
Acknowledgments
The authors are grateful to the students who developed the projects under their tutoring. In addition, the authors wish to thank the anonymous reviewers for their valuable suggestions that allowed for improving this article.
Conflicts of Interest
The authors declare no conflict of interest.
Abbreviations
The following abbreviations were used in this manuscript:
| | |
| --- | --- |
| BYOD | Bring your own device |
| CM | Cloud manufacturing |
| DM | Dissertation mark |
| EHEA | European Higher Education Area |
| ERP | Enterprise resource planning |
| ICPS | Industrial cyber-physical systems |
| ICT | Information and communication technology |
| IE | Industrial Ethernet |
| IES | Industrial Engineering School |
| IIoT | Industrial Internet of Things |
| FM | Final mark |
| FMS | Flexible manufacturing system |
| FP | Final project |
| LAN | Local area network |
| LF | Learning factory |
| LMS | Learning management system |
| MES | Manufacturing execution systems |
| PBL | Project-based learning |
| PHM | Prognostics and health management |
| PLC | Programmable logic controller |
| PROFIBUS | Process Fieldbus |
| RAPID | Robotics application programming interactive dialogue |
| RFID | Radio frequency identification |
| RM | Report mark |
| SCADA | Supervisory control and data acquisition |
| SQL | Structured Query Language |
| UEX | University of Extremadura |
| VB | Visual Basic |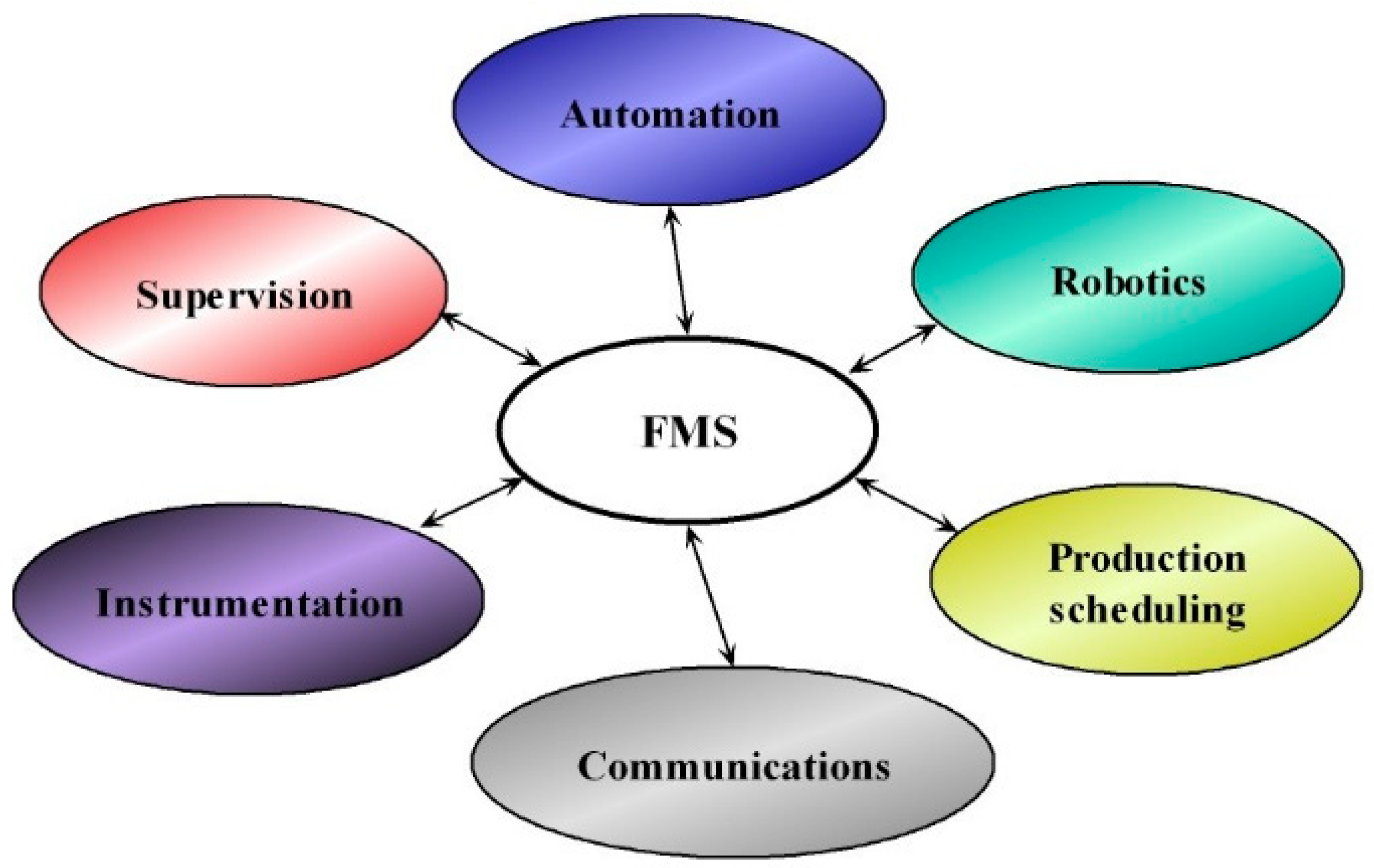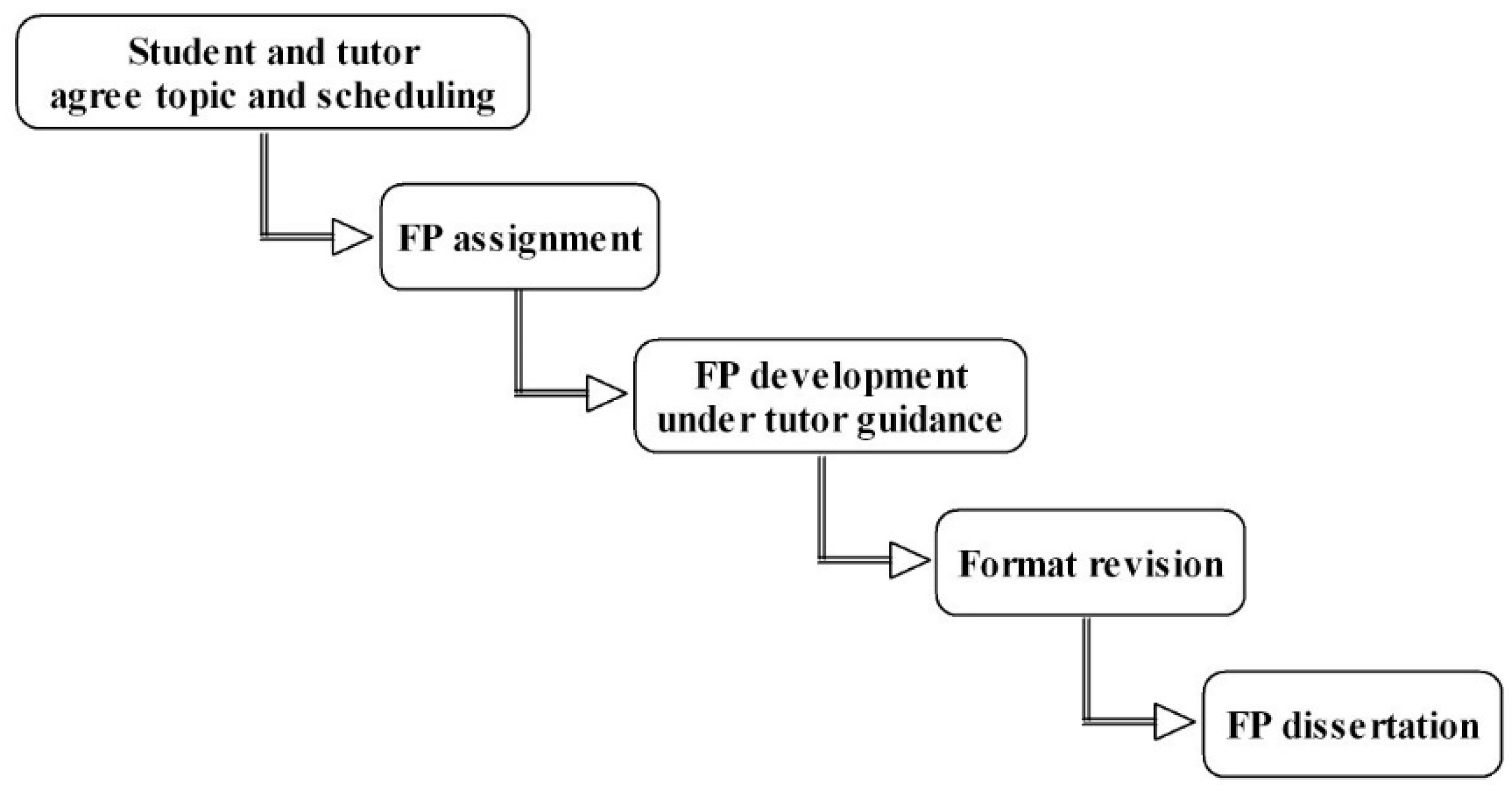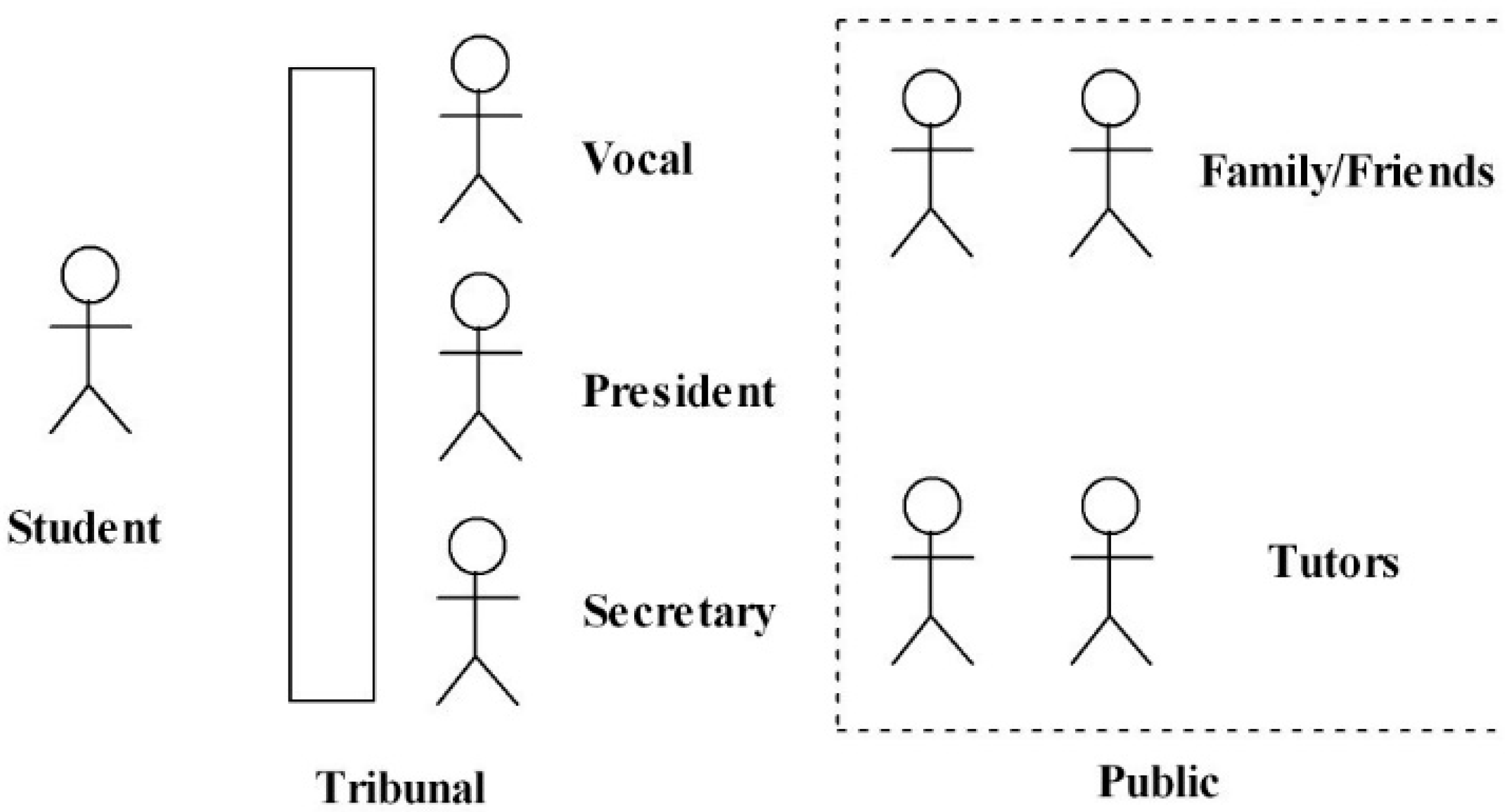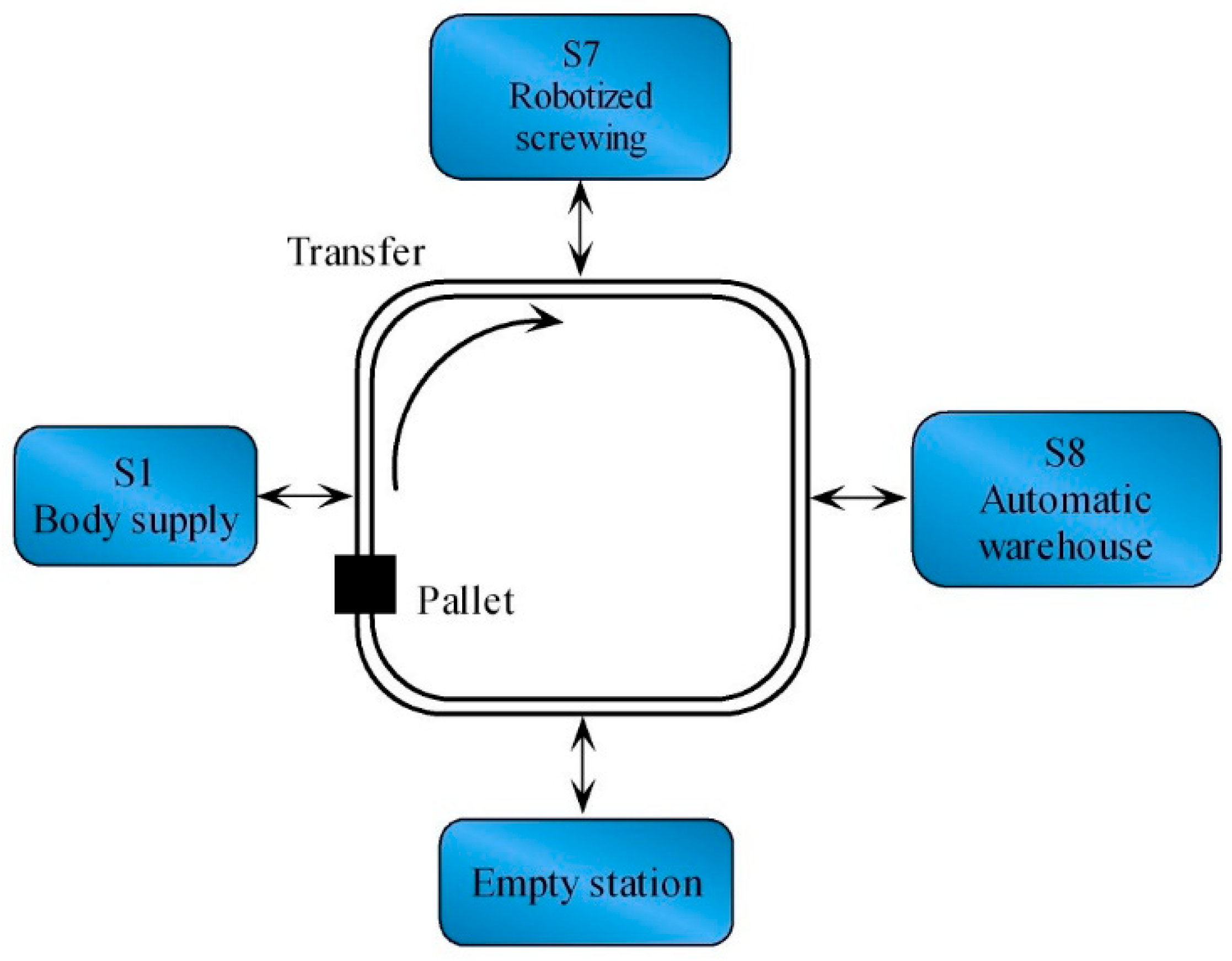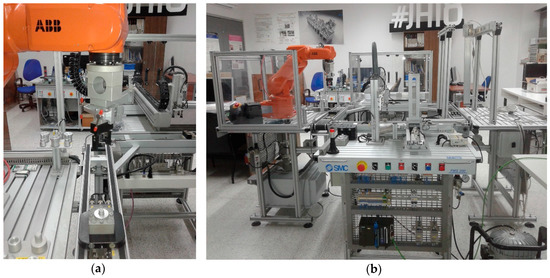 Figure 5. Aspects of the experimental components: (a) Assembled turning mechanism over a pallet; (b) complete FMS.


Figure 7. Screens of the supervisory control and data acquisition (SCADA) system developed in a FP: (a) Screen to monitor the operation of the S7; (b) screen to monitor the operation of the S8.


Figure 8. Deployment of a database for the FMS: (a) Block diagram of the approach; (b) details of the code of a Visual Basic (VB) script.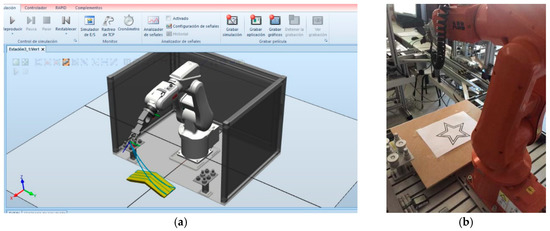 Figure 9. Aspect of the tasks developed in a robotics-devoted FP: (a) Screenshot of the ABB Robot Studio software used to program a surface tracking application; (b) photograph of a drawing performed by the robotic arm.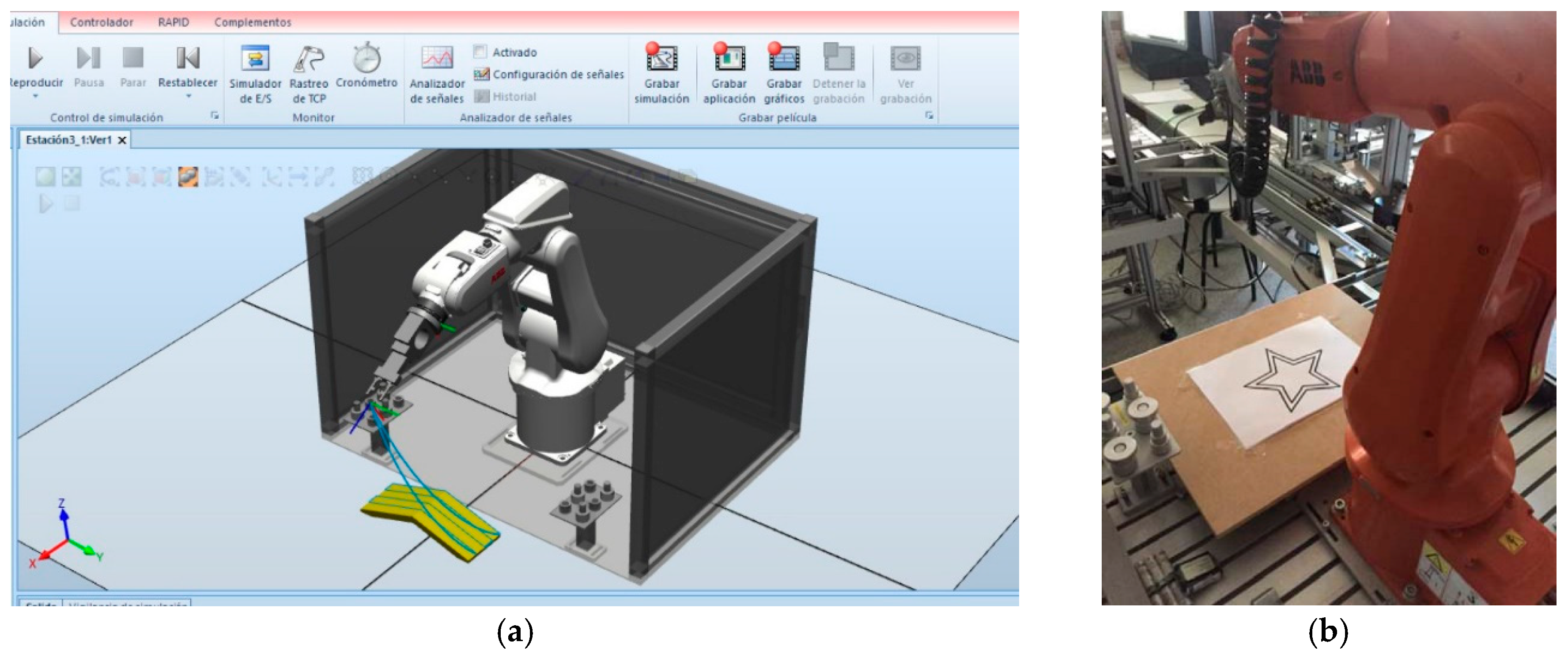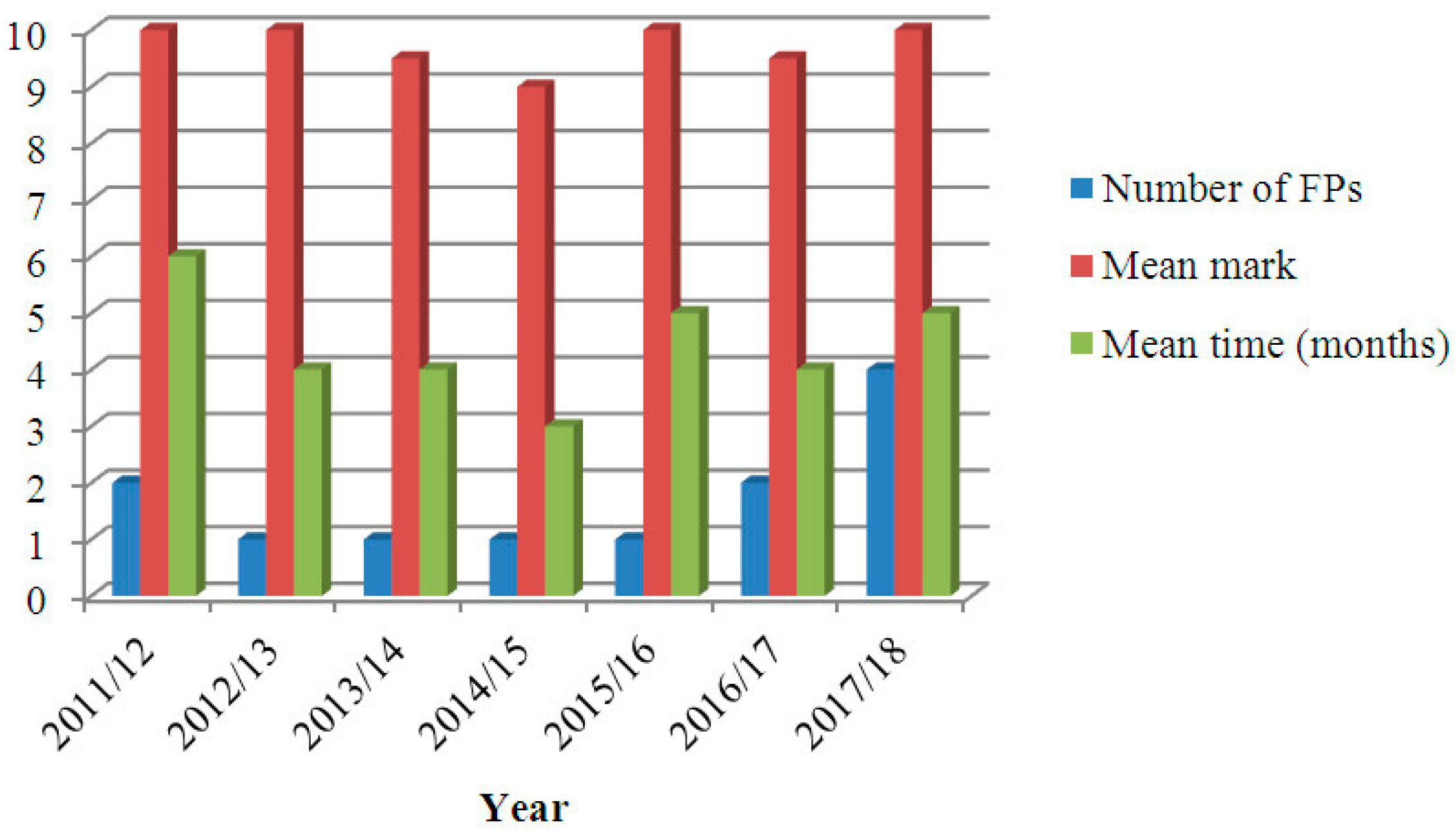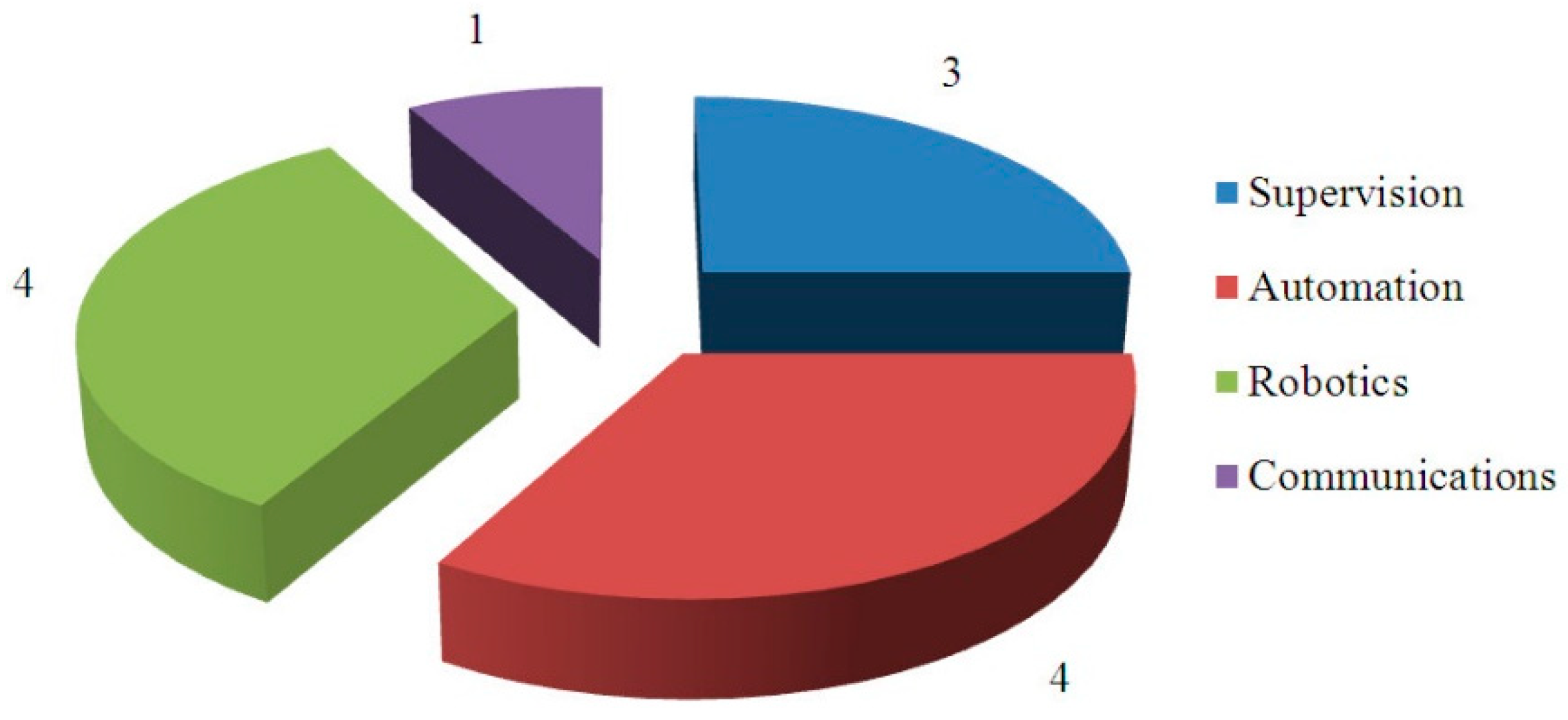 Title
Course
Character
Bachelor's Degree in Electronic Engineering and Automation
Introduction to Automation
Automation I
Automation II
Industrial Process Control
Robotics and Perception Systems
Supervisory Control Systems
Obligatory
Obligatory
Obligatory
Obligatory
Obligatory
Optional
Bachelor's Degree in Electrical Engineering
Introduction to Automation
Industrial Automation
Supervisory Systems
Obligatory
Obligatory
Optional
Bachelor's Degree in Mechanical Engineering
Introduction to Automation
Industrial Automation
Obligatory
Optional
Bachelor's Degree in Industrial Chemical Engineering
Electronic Engineering and Automation
Process Engineering II
Obligatory
Obligatory
Master's Degree in Industrial Engineering
Electronic Technology and Automation
Automation of Production Systems
Obligatory
Optional
Master's Degree in Research in Engineering and Architecture
Introduction to Research in Advanced
Automation Techniques
Optional
| Risk | Security Means |
| --- | --- |
| Electrical | Electrical protections against discharges |
| Physical | Physical barriers surrounding the FMS; emergency buttons; limited access to the laboratory |
| Software | Boundaries in programmable logic controller (PLC) code; user authentication for supervisory management |
| Cyber threats | Isolation of the local area network (LAN) devoted to FMS-related communications |
| Software | Sensors | Actuators | Control Units | Supervisory Devices | Network Fieldbus |
| --- | --- | --- | --- | --- | --- |
| TIA Portal | Presence | Electrical | PLC S7-300 and S7-1200 | Windows PC Runtime | PROFINET/Ethernet |
| SQL Manager | Position | Pneumatic | Servomotor driver | KTP 600 | PROFIBUS |
| Robot Studio | Encoder | Servomotor | Robot controller | | |
| Advantages | Drawbacks |
| --- | --- |
| To my knowledge, this is the first time that the students have managed equipment with a focus on the Industry 4.0. They have heard about the concept, the new industrial revolution, but they have not really handled any laboratory system compliant with it. This is imperative for them to start to apprehend Industry 4.0 implications. | Using proprietary software packages imposes an important limit for the student because he/she cannot follow programming or configuring tasks at home: Their presence in the laboratory is imposed. For the next projects, the utilization of open source software and hardware should be approached. |
| Each new project relies to a high degree on the previous ones. For instance, the inclusion of the new station was based on the automation and communication of the rest of the stations. This is seen as a positive feature since students do not learn isolated technologies but an integrated and multidisciplinary environment. | Tutoring a project in the Industry 4.0 is an exciting task: However, the devoted time and effort have been higher than in the case of covering automation systems with more traditional focuses. I have dedicated a lot of time to studying the state of the art as well as the Industry 4.0 requirements. |

© 2018 by the authors. Licensee MDPI, Basel, Switzerland. This article is an open access article distributed under the terms and conditions of the Creative Commons Attribution (CC BY) license (http://creativecommons.org/licenses/by/4.0/).