Mitigating the Climate Impact from Aviation: Achievements and Results of the DLR WeCare Project
1
Deutsches Zentrum für Luft- und Raumfahrt, Institut für Physik der Atmosphäre,82234 Oberpfaffenhofen, Germany
2
Delft University of Technology, Section Aircraft Noise and Climate Effects, Faculty of Aerospace Engineering, 2628 HS Delft, The Netherlands
3
Deutsches Zentrum für Luft- und Raumfahrt, Simulations- und Softwaretechnik, 51147 Köln, Germany
4
Deutsches Zentrum für Luft- und Raumfahrt, Institut für Lufttransportsysteme, 21079 Hamburg, Germany
5
Deutsches Zentrum für Luft- und Raumfahrt, Institut für Flugführung, 38108 Braunschweig, Germany
6
Deutsches Zentrum für Luft- und Raumfahrt, Flugexperimente, 82234 Oberpfaffenhofen, Germany
7
Deutsches Zentrum für Luft- und Raumfahrt, Institut für Antriebstechnik, 51147 Köln, Germany
8
Karlsruher Institut für Technologie, Institut für Meteorologie und Klimaforschung, 76021 Karlsruhe, Germany
*
Author to whom correspondence should be addressed.
Academic Editor: Konstantinos Kontis
Received: 7 April 2017 / Revised: 12 June 2017 / Accepted: 16 June 2017 / Published: 29 June 2017
Abstract
The WeCare project (Utilizing Weather information for Climate efficient and eco efficient future aviation), an internal project of the German Aerospace Center (Deutsches Zentrum für Luft- und Raumfahrt, DLR), aimed at finding solutions for reducing the climate impact of aviation based on an improved understanding of the atmospheric impact from aviation by making use of measurements and modeling approaches. WeCare made some important contributions to advance the scientific understanding in the area of atmospheric and air transportation research. We characterize contrail properties, show that the aircraft type significantly influences these properties, and how contrail-cirrus interacts with natural cirrus. Aviation NO
x
emissions lead to ozone formation and we show that the strength of the ozone enhancement varies, depending on where within a weather pattern NO
x
is emitted. These results, in combination with results on the effects of aerosol emissions on low cloud properties, give a revised view on the total radiative forcing of aviation. The assessment of a fleet of strut-braced wing aircraft with an open rotor is investigated and reveals the potential to significantly reduce the climate impact. Intermediate stop operations have the potential to significantly reduce fuel consumption. However, we find that, if only optimized for fuel use, they will have an increased climate impact, since non-CO
2
effects compensate the reduced warming from CO
2
savings. Avoiding climate sensitive regions has a large potential in reducing climate impact at relatively low costs. Taking advantage of a full 3D optimization has a much better eco-efficiency than lateral re-routings, only. The implementation of such operational measures requires many more considerations. Non-CO
2
aviation effects are not considered in international agreements. We showed that climate-optimal routing could be achieved, if market-based measures were in place, which include these non-CO
2
effects. An alternative measure to foster climate-optimal routing is the closing of air spaces, which are very climate-sensitive. Although less effective than an unconstrained optimization with respect to climate, it still has a significant potential to reduce the climate impact of aviation. By combining atmospheric and air transportation research, we assess climate mitigation measures, aiming at providing information to aviation stakeholders and policy-makers to make aviation more climate compatible.
View Full-Text
►

▼

Figures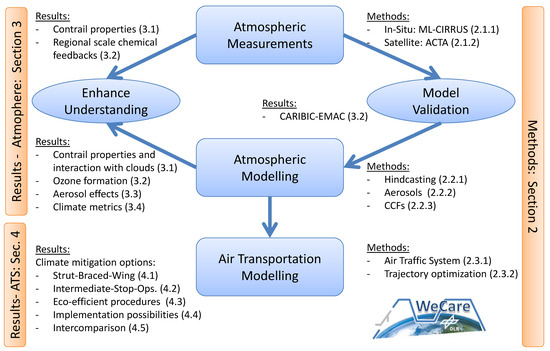 Graphical abstract
This is an open access article distributed under the
Creative Commons Attribution License
which permits unrestricted use, distribution, and reproduction in any medium, provided the original work is properly cited (CC BY 4.0).

Share & Cite This Article
MDPI and ACS Style
Grewe, V.; Dahlmann, K.; Flink, J.; Frömming, C.; Ghosh, R.; Gierens, K.; Heller, R.; Hendricks, J.; Jöckel, P.; Kaufmann, S.; Kölker, K.; Linke, F.; Luchkova, T.; Lührs, B.; Van Manen, J.; Matthes, S.; Minikin, A.; Niklaß, M.; Plohr, M.; Righi, M.; Rosanka, S.; Schmitt, A.; Schumann, U.; Terekhov, I.; Unterstrasser, S.; Vázquez-Navarro, M.; Voigt, C.; Wicke, K.; Yamashita, H.; Zahn, A.; Ziereis, H. Mitigating the Climate Impact from Aviation: Achievements and Results of the DLR WeCare Project. Aerospace 2017, 4, 34.
Note that from the first issue of 2016, MDPI journals use article numbers instead of page numbers. See further details here.
Related Articles
Comments
[Return to top]