A Two-Temperature Open-Source CFD Model for Hypersonic Reacting Flows, Part One: Zero-Dimensional Analysis†
1
James Weir Fluids Laboratory, University of Strathclyde, Glasgow G1 1XJ, UK
2
Centre for Future Air-Space Transportation Technology, University of Strathclyde, Glasgow G1 1XJ, UK
3
Instituto de Aeronáutica e Espaço, Division of Aerodynamics (DCTA/IAE/ALA), Praça Mal. Eduardo Gomes, 50 Vila das Acácias, São José dos Campos 12215-904, Brazil
*
Author to whom correspondence should be addressed.
‡
These authors contributed equally to this work.
†
This paper is an extended version of our paper published in Casseau, V.; Scanlon, T.J.; Brown, R.E. Development of a two-temperature open-source CFD model for hypersonic reacting flows. In Proceedings of the 20th AIAA International Space Planes and Hypersonic Systems and Technologies Conference, Glasgow, UK, 6–9 July 2015.
Academic Editors: Konstantinos Kontis and Mário M. G. Costa
Received: 2 August 2016 / Revised: 27 September 2016 / Accepted: 29 September 2016 / Published: 18 October 2016
Abstract
A two-temperature CFD (computational fluid dynamics) solver is a prerequisite to any spacecraft re-entry numerical study that aims at producing results with a satisfactory level of accuracy within realistic timescales. In this respect, a new two-temperature CFD solver,
hy2Foam
, has been developed within the framework of the open-source CFD platform OpenFOAM for the prediction of hypersonic reacting flows. This solver makes the distinct juncture between the trans-rotational and multiple vibrational-electronic temperatures.
hy2Foam
has the capability to model vibrational-translational and vibrational-vibrational energy exchanges in an eleven-species air mixture. It makes use of either the Park TTv model or the coupled vibration-dissociation-vibration (CVDV) model to handle chemistry-vibration coupling and it can simulate flows with or without electronic energy. Verification of the code for various zero-dimensional adiabatic heat baths of progressive complexity has been carried out.
hy2Foam
has been shown to produce results in good agreement with those given by the CFD code LeMANS (The Michigan Aerothermodynamic Navier-Stokes solver) and previously published data. A comparison is also performed with the open-source DSMC (direct simulation Monte Carlo) code
dsmcFoam
. It has been demonstrated that the use of the CVDV model and rates derived from Quantum-Kinetic theory promote a satisfactory consistency between the CFD and DSMC chemistry modules.
View Full-Text
►

▼

Figures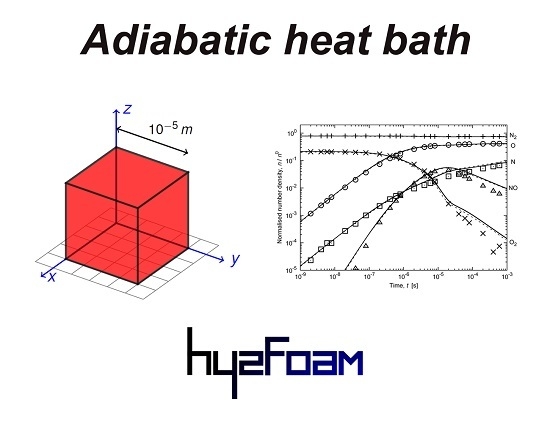 Graphical abstract
This is an open access article distributed under the
Creative Commons Attribution License
which permits unrestricted use, distribution, and reproduction in any medium, provided the original work is properly cited (CC BY 4.0).

Share & Cite This Article
MDPI and ACS Style
Casseau, V.; Palharini, R.C.; Scanlon, T.J.; Brown, R.E. A Two-Temperature Open-Source CFD Model for Hypersonic Reacting Flows, Part One: Zero-Dimensional Analysis. Aerospace 2016, 3, 34.
Note that from the first issue of 2016, MDPI journals use article numbers instead of page numbers. See further details here.
Related Articles
Comments
[Return to top]