Open Access This article is
freely available
re-usable
Article
Insurer Resilience in an Era of Climate Change and Extreme Weather: An Econometric Analysis
1
U.S. Department of Energy, Headquarters, Washington, DC 20585, USA
2
Nexus Group, Graduate School of Information Science and Technology, Hokkaido University, Sapporo 060-0817, Japan
*
Author to whom correspondence should be addressed.
Received: 13 March 2019 / Accepted: 4 April 2019 / Published: 8 April 2019
Abstract
:
Having sustained, over the course of more than two decades, record-breaking natural catastrophe losses, American insurers and reinsurers are justifiably questioning the potential linkage between anthropogenic climate change and extreme weather. Here, we explore issues pertaining to this linkage, looking at both the likely short-term implications for the insurance industry, as well as potential longer-term impacts on financial performance and corporate resilience. We begin our discussion with an overview of the implications that climate change is likely to have on the industry, especially as it relates to how catastrophic risks are construed, assessed, and managed. We then present the rudiments of an econometric analysis that explores the financial resilience of the property/casualty (P/C) industry in the face of both natural and man-made catastrophes. In this analysis, we explore the profitability consequences of several illustrative scenarios involving large-scale losses from extreme weather—specifically, a sequence of storms like those striking the U.S. in 2004—and a scenario that explores the prospect of a Katrina-scale storm in combination with a mass terror attack on the scale of 9/11. At systemic levels of aggregation, our analysis suggests a high degree of macro-resilience for the P/C industry. Moreover, we find that insurer resilience is higher for larger impacts, considering both the speed of recovery, as well as the inverse of the area under the unaffected system profile. We conclude with a summary of our findings and a closing commentary that explores the potential implications of these results for P/C insurers moving forward.
Keywords:
climate change; econometric analysis; insurance; resilience; risk; tropical cyclones
Author Contributions
Conceptualization, L.J.V.J. and M.C.; methodology, L.J.V.J. and M.C.; software, L.J.V.J. and M.C.; validation, L.J.V.J. and M.C.; formal analysis, L.J.V.J. and M.C.; investigation, L.J.V.J. and M.C.; resources, L.J.V.J.; data curation, L.J.V.J. and M.C.; writing—original draft preparation, L.J.V.J. and M.C.; writing—review and editing, L.J.V.J. and M.C.; visualization, L.J.V.J. and M.C.; supervision, L.J.V.J.; project administration, L.J.V.J.; funding acquisition, NA. These authors contributed equally to this work.
Funding
This research received no external funding.
Acknowledgments
The authors are indebted to Marcellus Andrews of Bucknell University for his initial work [
39
] in developing the econometric model and analysis presented here, and to the late Gordon Stewart, past president of the Insurance Information Institute, who originally spearheaded this work in the wake of Hurricane Katrina. The views and opinions expressed herein do not necessarily state or reflect those of the United States Government, Japan Government, or any agency thereof.
Conflicts of Interest
The authors declare no conflict of interest.
Appendix A. Climate Change, Extreme Weather, and Risk
Here, we explore the issue of the potential linkage between anthropogenic climate change and extreme weather, with particular emphasis on tropical cyclone activity in the North Atlantic. We frame our discussion in terms of ongoing efforts to arrive at reliable estimates of future tropical cyclone activity—on both global and regional scales. We consider hurricane dynamic features such as frequency and intensity, and how these can be used to estimate hurricane risk exposure.
Appendix A.1. Estimating Hurricane Frequency
Variability is an endemic feature of the Earth's climate. Understanding the natural climatic variability of the globe is therefore central to understanding the potential influence that anthropogenic factors might have on global climate change. Models and experiments that disentangle the natural and anthropogenic factors that drive climatic change are central to efforts directed at devising better predictive capabilities. Globally, the 1980s and 1990s were characterized by unusually warm weather. In fact, eight of the 10 warmest years in the past century occurred during this time period. As
Figure A1
illustrates, an increase in global mean surface temperature change (of about 0.3 C–0.6 C) has occurred since about 1860. A cursory glance at this figure reveals both
year-to-year
and
decade-to-decade variability
in the historical record; and even though there is a distinct warming trend, the increase is nonuniform, with periods of both
cooling
and
warming
.

Turning to the specific issue of hurricane activity in the North Atlantic,
Figure A2
illustrates that the mid-1990s marked the beginning of a period of pronounced increases in the annual number of named tropical storms and major hurricanes in this region. In the Atlantic hurricane season of 2005, for example, there were a record-breaking 27 named storms, 14 of which were hurricanes. Of these 14 hurricanes, seven were classified as major hurricanes; three of these seven major hurricanes reached Category 5 status. Empirical evidence suggests that the frequency and intensity of tropical cyclones is increasing as surface ocean temperatures increase [
40
]. However, the same evidence points out that future climate scenarios feature fewer but more extreme cyclones on average.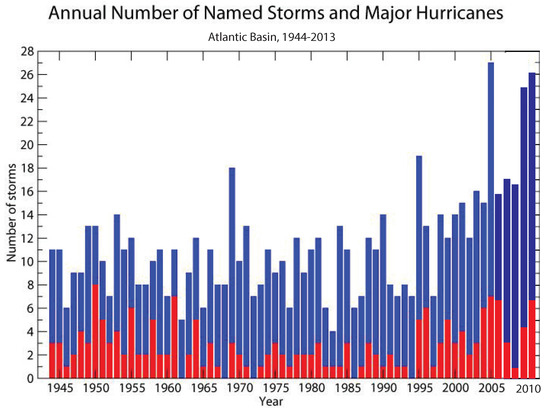 Figure A2. Annual number of named tropical storms and major hurricanes: Atlantic, 1944–2013; named tropical storms are depicted in blue and major hurricanes are depicted in red (source: NOAA).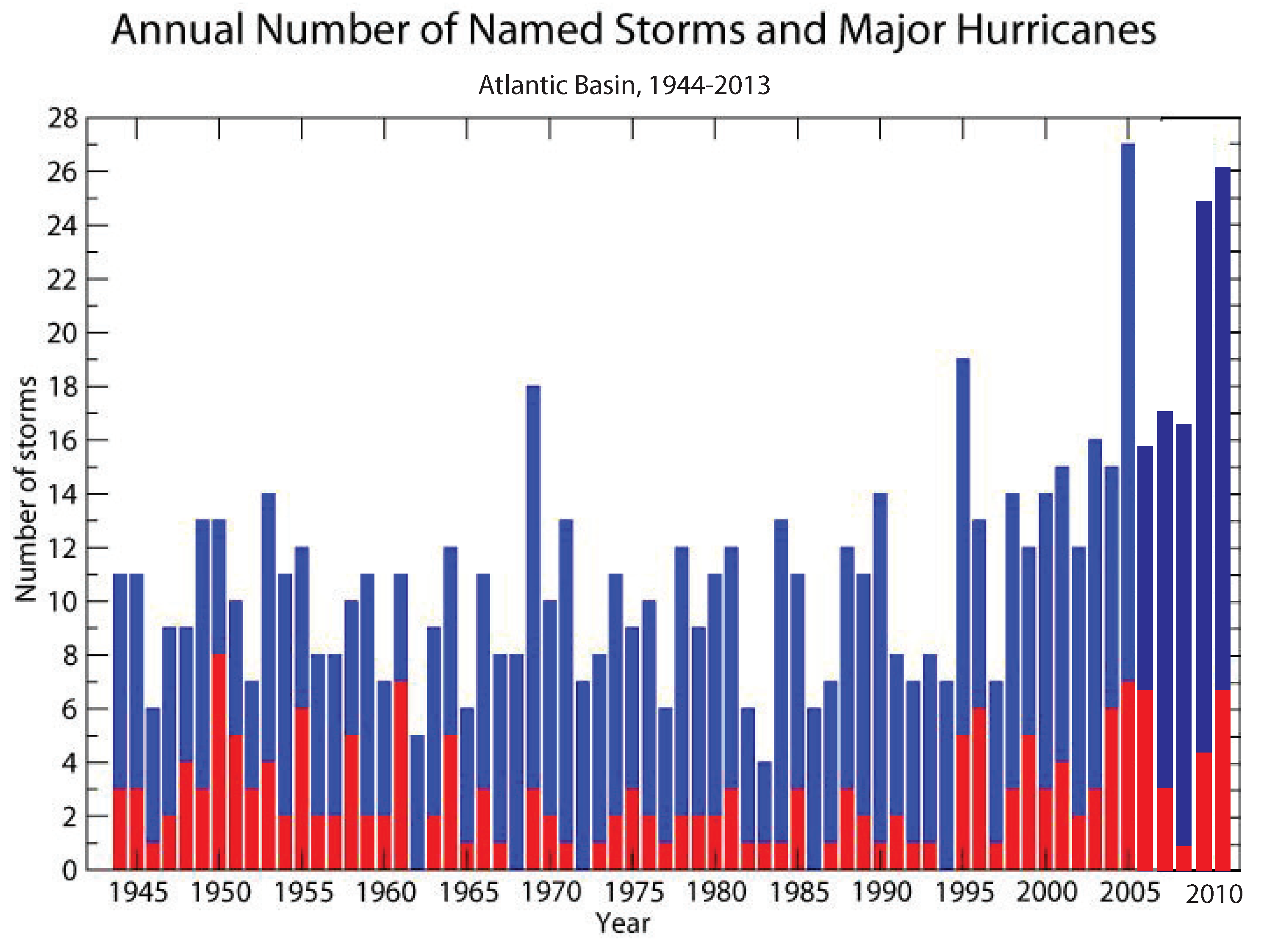 The observed variability in hurricane frequency in the past decade is not so extreme that it cannot be explained in terms of naturally occurring multi-decadal variability. The global historical record for tropical cyclones yields several important insights in this regard. First, it is important to note that globally, there has been
no appreciable increase in tropical cyclone activity over the past several decades
. Webster et al. [
41
], for example, note that over the past 30 years, there has been
no trend towards either increases or decreases
in the total number of storms seen in a given year. Indeed, from a global perspective, these results are not surprising, as the past half-decade or so has seen heightened levels of hurricane activity, whereas the 1970s, 1980s, and early 1990s were marked by diminished levels of hurricane activity. One has to look as far back as the 1940s, 1950s, and the early 1960s to find hurricane activity levels commensurate with present levels.
As for the spatial variability of tropical cyclones, a discrepancy in trends of intensity and frequency is observed for different basins other than the Atlantic cyclone basin [
40
]. This observed regional variability in the number, intensity, and frequency of tropical storms and hurricanes complicates efforts to arrive at a comprehensive and global understanding of the major influences of tropical cyclone frequency—be they anthropic in character or naturally occurring. Indeed, while storms in the North Atlantic have become more frequent since the 1990s, in other parts of the world—such as the Western and Eastern Pacific—tropical cyclone frequency has, in fact,
declined
since the early 1990s. As Webster et al. [
41
] describe, the current situation is one where "against a background of increasing sea surface temperature, no
global trend
has emerged in the
number
of tropical storms and hurricanes" (emphasis added). As we discuss below, our current inability to arrive at global insights has important ramifications for ongoing efforts to arrive at
regional
characterizations of the behavioral dynamics of tropical cyclones. In all of this, we are, of course, keenly interested in deriving reliable estimates of the frequency of
future
tropical cyclone activity. As described above, however, current efforts to utilize the available historical record to discern trends—which can, in turn, be used as the basis for deriving forward-looking projections of future tropical cyclone activity—have led to largely inconclusive results.
Given these limitations, climate scientists also pursue a number of global modeling efforts that seek to arrive at realistic representations of the global climate system; these representations are then used to produce model-derived projections of future tropical cyclone activity [
15
,
33
,
40
,
42
,
43
]. While progress has been made in developing increasingly sophisticated models of the global climate system, the climate change research that bears most directly on questions concerning potential future changes in hurricane frequency arising from greenhouse warming is, at best, ambiguous. The major modeling results published in recent years lack consistency in projecting
increases
or
decreases
in the total number of storms. See, e.g., Henderson-Sellars et al. [
10
], Royer et al. [
44
], and Sugi et al. [
45
]. One area where the empirical studies and the global modeling results are in agreement is in projecting that future changes in tropical cyclone frequency will be
regionally dependent
. If true, this situation will require modeling efforts that are capable of rendering informative regional forecasts and scenarios. At the present time, though, climate scientists' understanding of
tropical cyclogenisis
is too incomplete to render reliable projections about future changes in tropical cyclone frequency. This observation notwithstanding, what the historical record illustrates with great clarity is that future changes in hurricane frequency are likely to exhibit considerable year-to-year and decade-to-decade variability.
Appendix A.2. Estimating Hurricane Intensity
The analytical task of discerning trends in tropical cyclone intensity is more complex than that of estimating tropical cyclone frequency. One reason for this is that there are, in fact, several plausible measures of storm intensity. Common measures of tropical cyclone intensity are: Maximum Potential Intensity, Average Intensity, Average Storm Lifetime, Average Wind Speed, Maximum Sustained Wind Speed, Maximum Wind Gust, Accumulated Cyclone Energy, Minimum Central Pressure, and Power Dissipation. As before, it is useful to begin our discussion by examining the historical record for indications of how tropical cyclone intensity has varied over time. The empirical record reveals that, over the past half-century, tropical and subtropical sea-surface temperatures have shown an overall increase of approximately 0.2 C. Although most global modeling studies predict increases in modeled storm intensities under greenhouse warming scenarios, the statistical evidence in favor of hypotheses that postulate
systematic
increases in potential storm intensities is weak. See, e.g., Free et al. [
46
]. Webster et al. [
41
], for example, note that globally, since 1970, the annual number of Category 1 hurricanes has declined, whereas the number of Category 2 and Category 3 hurricanes has fluctuated (though the global average has, nevertheless, remained fairly constant over the same time horizon). Over the same time period, the number of Category 4 and Category 5 hurricanes has increased.
Appendix A.3. Estimating Hurricane Risk Exposure
Consideration of the
vulnerability
and
exposure
dimensions of hurricane risk is central to any reasoned approach to climate insurance [
15
]. At the bottom, the models that are used to explore these facets of hurricane risk focus on population-related variables, and they endeavor to characterize and evaluate the effects that hurricanes have on human welfare and physical assets. Arriving at reliable estimates of economic and insured loss requires an understanding of how vulnerable specific geographic regions or structures are to extreme weather events. In seeking quantified estimates of vulnerability to these events, modelers begin by characterizing the inventory of persons and properties at risk. Knowledge about inventory and vulnerability, combined with knowledge and information about the natural hazard itself, allows risk managers to quantify the expected impacts and outcomes associated with extreme weather events.
Most efforts to characterize the primary drivers of hurricane risk exposure focus on two factors: (i) how society develops in terms of changing demographics; and (ii) how society prepares itself for storms.
From a risk-based perspective, the vulnerability and exposure dimensions of the problem will almost surely dominate any influence that variations in storm frequency and intensity—be they caused by natural or man-made factors—will have on overall characterizations of risk for particular geographic regions of the country. This is certainly true at very small scales. Indeed, the major source of worry concerning hurricane risk exposure in the United States is the fact that the size of coastal populations will grow faster than the overall existing population, thereby radically increasing the number of persons, and both the amount and value of property, in the path of potentially destructive hurricanes [
43
].
As many commentators have noted in recent years, the best available projections of the country's rapidly changing demographics paint an increasingly dire situation. These projections, when combined with conservative assumptions about the growth of property ownership per person in coastal areas, suggests that we will continue to see substantial increases in the value of coastal properties vulnerable to hurricanes.
Figure A3
A,B show the level of vulnerable coastal properties that existing in 2015 and 2025 assuming (i) a one-half of one percent annual increase in the inflation adjusted value of coastal property per person; and (ii) a one percent annual increase in coastal property holdings per person. Note that Florida is included in both the Southeast and Gulf Coast tallies. The rapid growth of the Gulf States will lead to an explosion in the value of vulnerable property, despite the modest per person property growth rates assumed, compared to the exposure of slower growing regions (such as the Mid-Atlantic and New England) or the Southeast.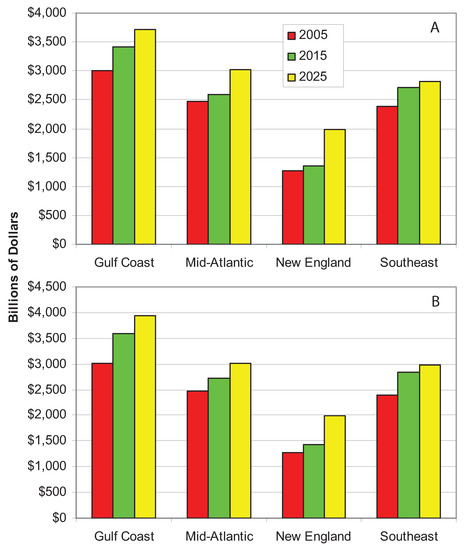 Figure A3. Value of coastal property from data, 2005–2025. (A,B) represent 0.5% and 1% growth, respectively (source: U.S. Census Bureau).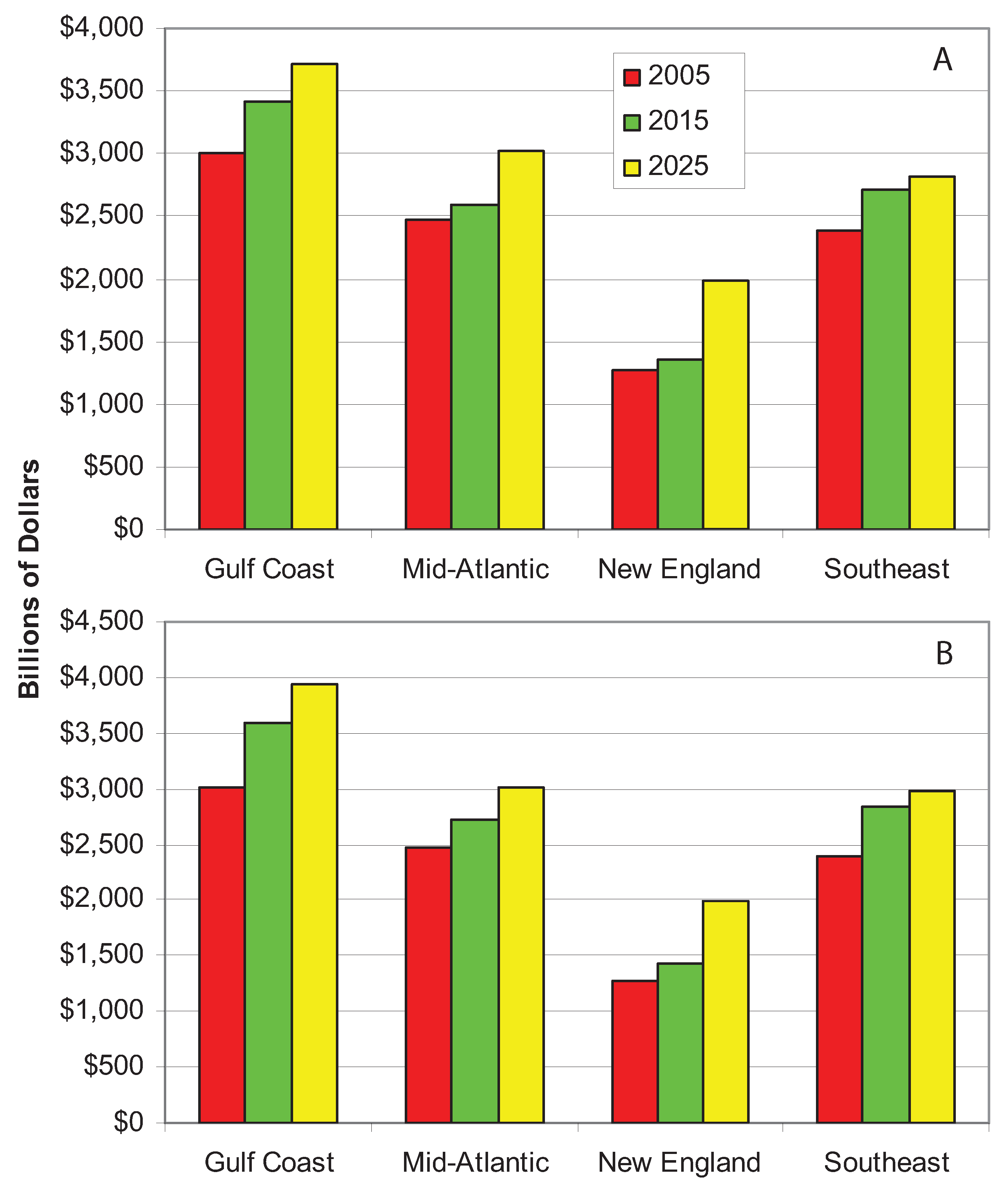 Looking forward, the risk management challenges that arise from these problems are two-fold in nature. First, research efforts must continue to strive to develop meaningful
regional
forecasts of tropical cyclone activity. How uncertainty is characterized and evaluated in these forecasts is an issue very much at the forefront of current research [
47
]. Researchers and catastrophe modelers will, of course, continue to mine the available historical record for emerging patterns and trends, and, over time, these efforts will lend themselves to predictive exercises that yield insights that are useful to decision-makers. Second, in the absence of regional forecasts that engender confidence on the part of decision-makers and risk managers, efforts must focus on arriving at strategic risk mitigation options that are, to some measurable degree, flexible, robust, and capable of engendering resilience [
19
]. It is this last topic—the
financial resilience
of the insurance industry to extreme events—that is the focus of the analysis developed and presented here.
At present, there is only weak evidence suggesting the possibility of a systematic increase in the potential intensity of future tropical cyclone activity. Emanuel [
42
], for example, reports a discernable upward trend in power dissipation in the North Atlantic and the Western North Pacific. And while the observed trend is dramatic (a factor of two increase over the past half century),
the underlying causal mechanisms are far from being well-understood
. Power dissipation measures the total amount of energy released by a hurricane over its lifetime. Technically, Emanuel [
42
] defines the annual
power dissipation index
(PDI) as the integral of the third power of the maximum sustained wind speed over all 6-h observations at tropical storm intensity or higher and over all tropical cyclones during the year.
In the North Atlantic—consistent with our earlier remarks about storm frequency—recent increasing trends in Atlantic storm intensity can largely be explained by multi-decadal variations that are, in some respects, better understood than the physical theories that attempt to relate storm intensity to tropical climate change. Numerous statistical studies have mined the available empirical record for evidence of anthropogenically-induced trends; still, no significant anthropogenic trends have emerged from these studies. See, e.g., Landsea et al. [
48
] and Chan and Liu [
11
]. Some recent analysis have shown how intensity and frequency of tropical cyclones are correlated, where cyclone intensity is a power-law distributed variable [
6
]. Having explored the relevant empirical findings, let us return to the global modeling studies that we discussed earlier, this time exploring the model-based, theoretical insights that have emerged in recent years about the influence that anthropogenically-induced greenhouse warming might have on hurricane activity in the United States.
Early efforts along these lines gave many pause for concern. In 1987, for example, Emanuel [
49
] reported that a doubling of atmospheric levels would give rise to increased sea-surface temperatures, eventually producing 40–50% increases in the maximum strength of hurricanes. As alarming as these predictions were, it is worth noting that, at around this same time, equally credible scientists were arguing the reverse, i.e., that greenhouse warming could, in fact, give rise to
decreases
in hurricane frequency and intensity. See, e.g., Idso [
50
] and Idso et al. [
51
]. The very latest global modeling studies have sought to explore the manner and degree to which anthropogenically-induced warming influences tropical cyclone intensity. Some studies suggest that the projected changes in tropical cyclone intensity are small. Emanuel, for example, reports a 10% increase in wind speed for a 2 C increase in tropical sea surface temperature. Two sets of published results suggest that Emanuel's estimates may, in fact, overstate the true value of these projected increases. Researchers using the GFDL model, for example, report a 5% increase in hurricane wind speeds by 2080 [
52
,
53
]; more recently, Michaels et al. [
54
] report even smaller increases over comparable time horizons.
In interpreting these results for insurance-related risk management contexts, it is important to recognize that an endemic feature of the types of global simulation studies discussed above is that they lend little insight into questions concerning the
timing
of these projected increases. This is true, also, for recent detailed predictions [
47
], particularly for the timing of cyclones at very small scales. In many of these global modeling studies, modeled changes in tropical cyclone intensity unfold over very extended time horizons. As Knutson and Tuleya [
53
] note, "-induced tropical cyclone intensity changes are
unlikely to be detectable
in historical observations and will
probably not be detectable for decades to come
" [emphasis added]. Michaels et al. [
54
] echo this belief—and take it, perhaps, one step further—with their assertion that changes in "future hurricane intensities will be
undetectable in the foreseeable future
and, in fact,
may never be manifest
" [emphasis added].
As before, arriving at reliable assessments of regional climate change is, perhaps, the greatest challenge facing climate modelers today. The ability to link—conceptually and empirically—anthropogenic climate change to storm intensity in ways that lend themselves to modeling efforts that yield reliable regional forecasts is, unfortunately, some years away.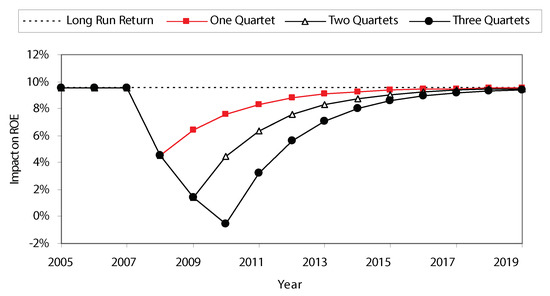 Figure 1. Response of Return on Equity to one (observed) and more Quartet-scale storm loss scenarios. The area under the un-impacted profile is proportional to the damage (the complement of the area can be construed as the "learning" information volume) and the slope of the response function as the speed of recovery of the system.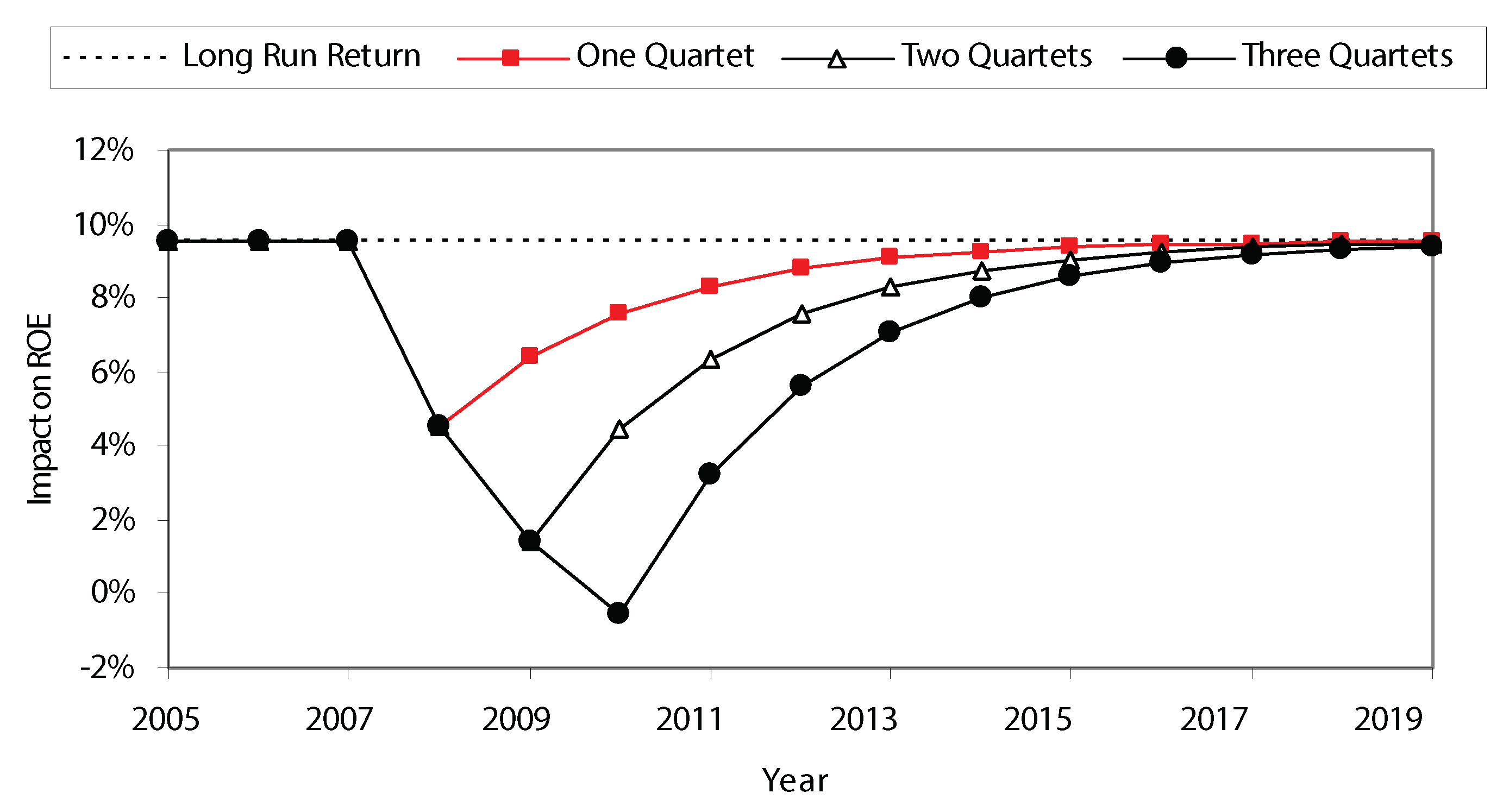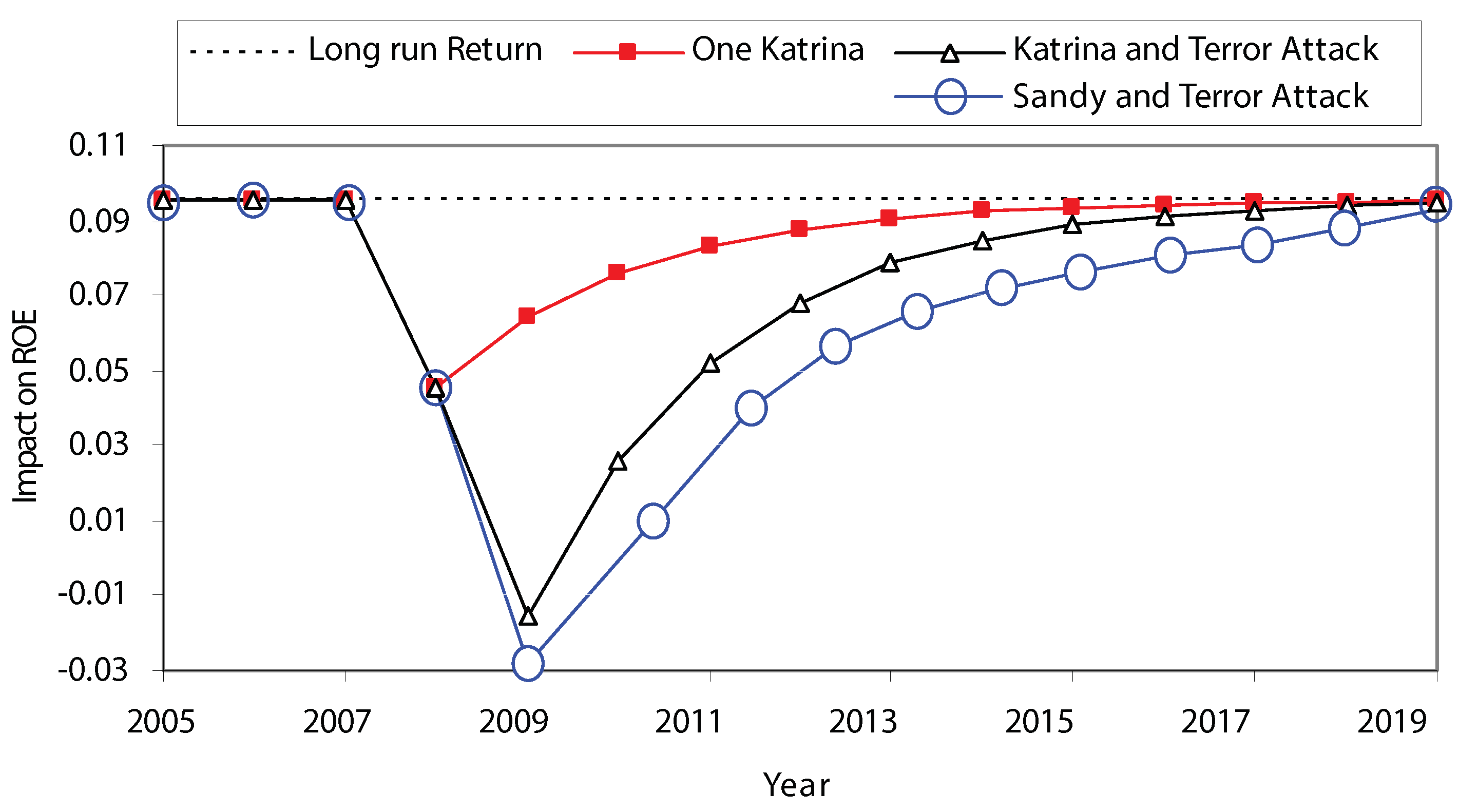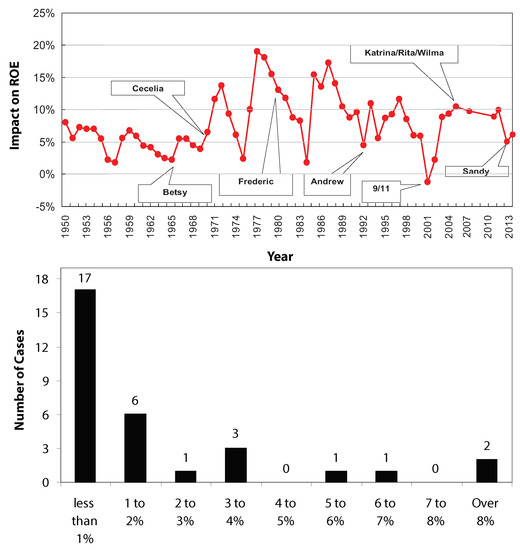 Figure 3. Top: Impact of selected large-loss hurricanes on return on equity for the insurance industry: 1950–2013. Bottom: The distribution of the ratio of hurricane losses to policyholder surplus (here noted as "Number of Cases"): 1950–2013 (source: Insurance Information Institute).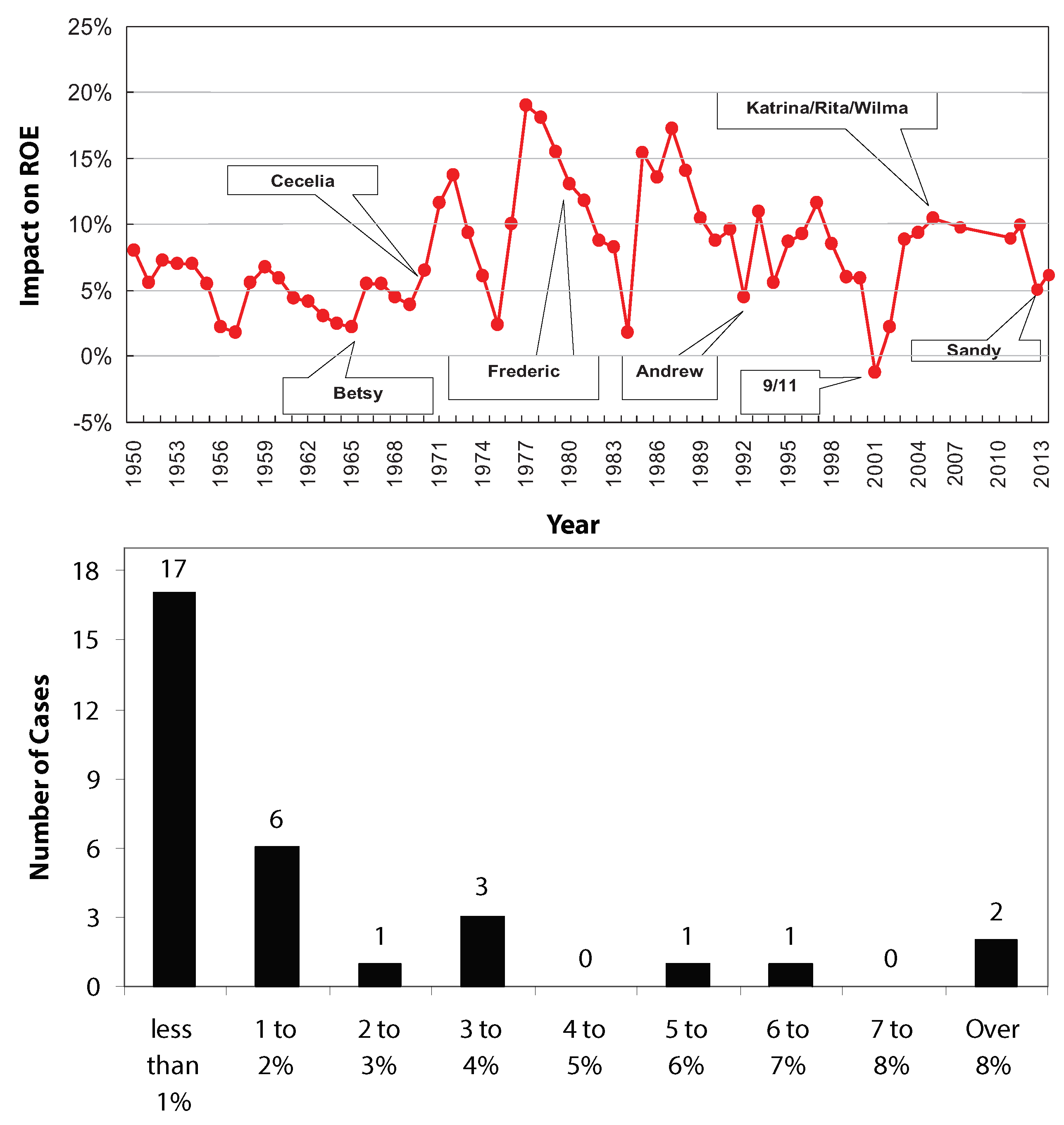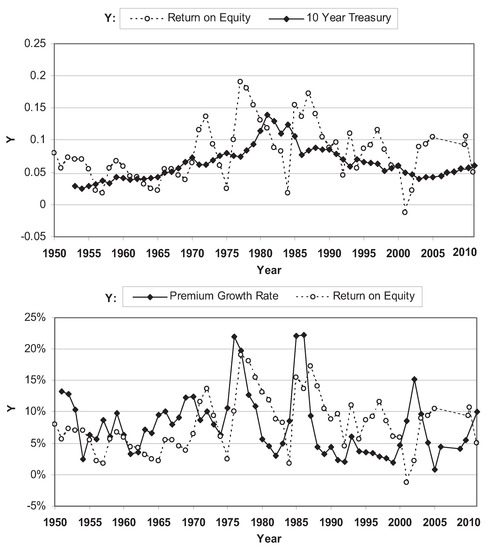 Figure 4.
Top
: P/C return on equity and the 10-year Treasury bond rate (GAAP ROEs, with the exception of the 2004/5 P/C figure, which is the return on average surplus; the 2005 value is the I.I.I. full-year estimate.
Bottom
: P/C return on equity and yearly premium growth rates; source:
Economic Report of the President
.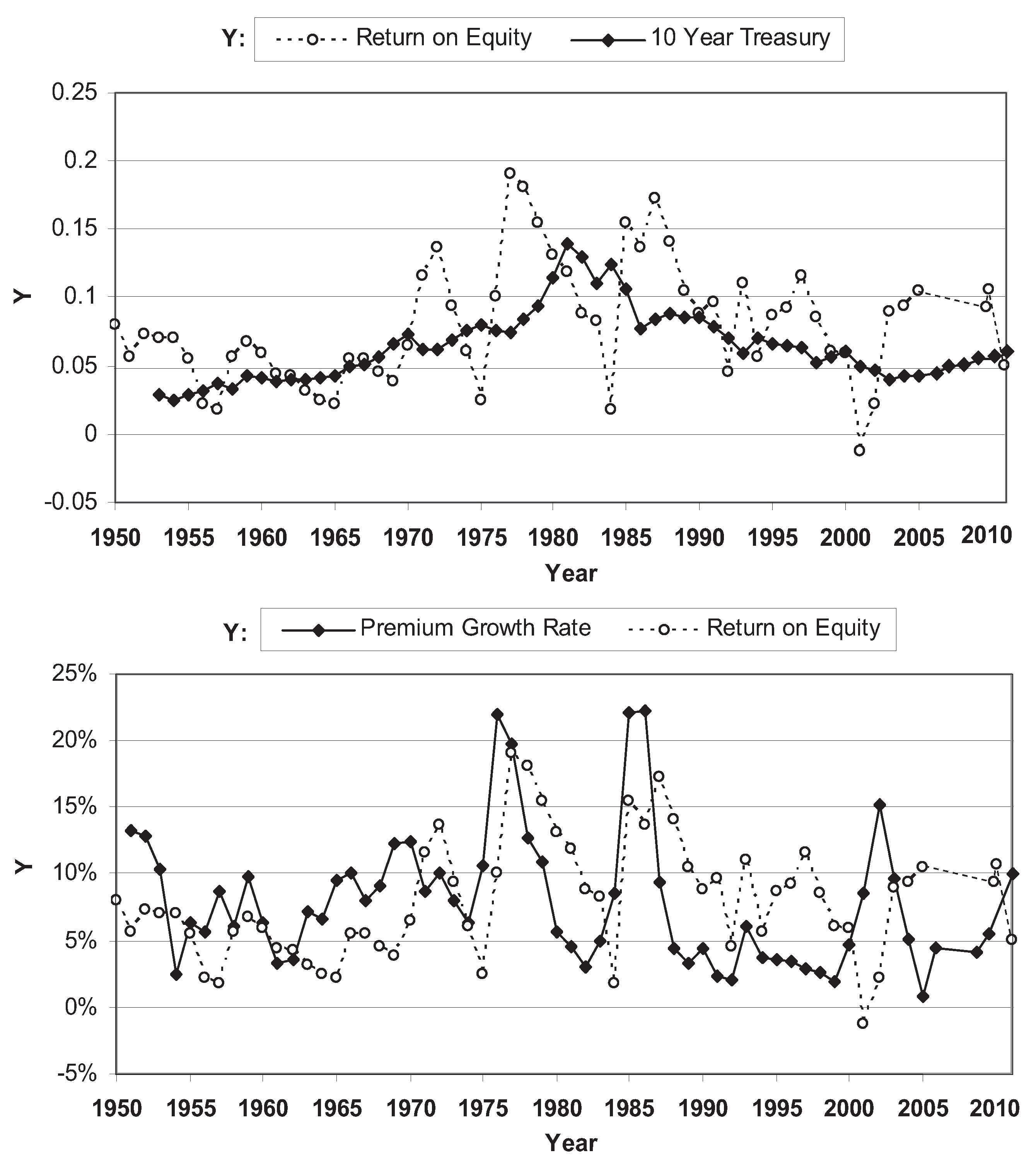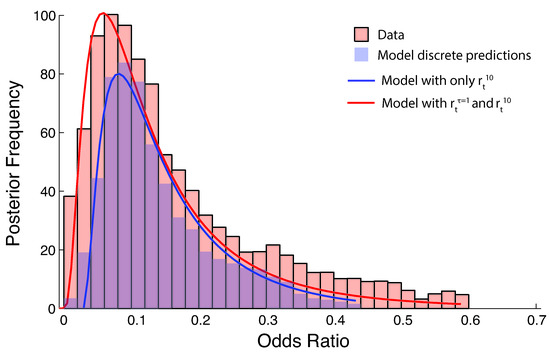 Figure 5. Data and Model predictions. The odds ratio is the ratio of the odds of a ROE change (at least of change) in the year following a year with at least one hurricane to the odds of a ROE change in the year following a year without a hurricane.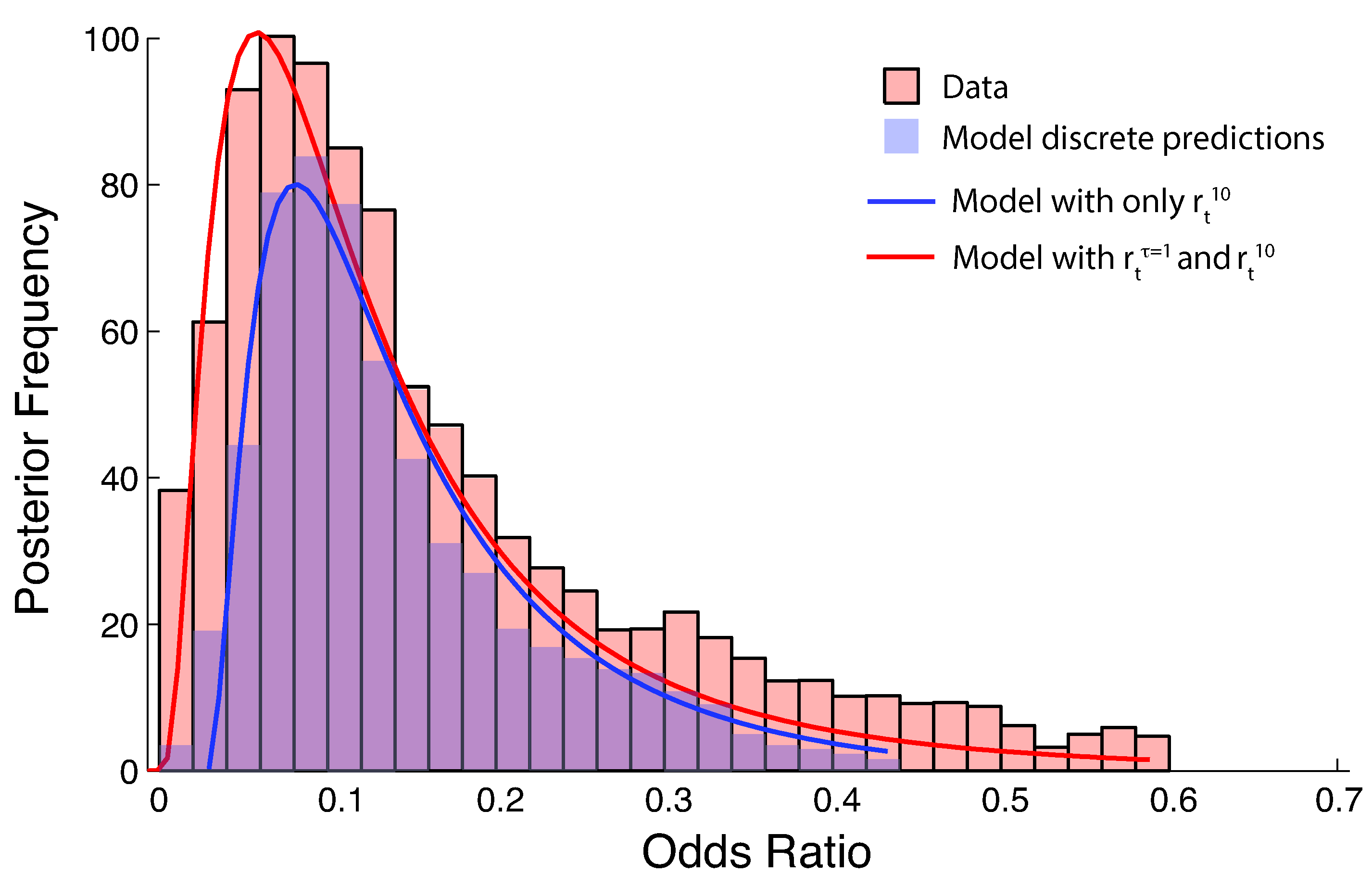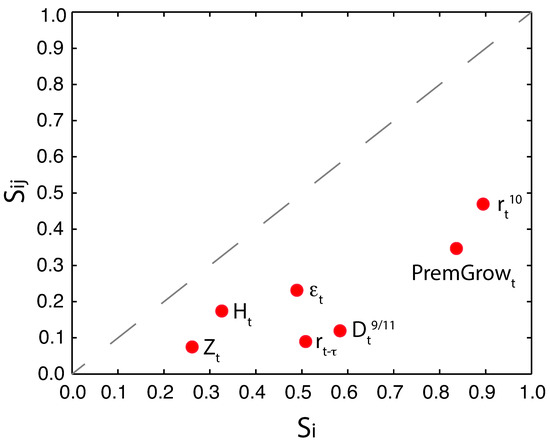 Figure 6. First and second order sensitivity index ( and ) for the ROE model. The number and mean intensity of hurricanes are second-order factors in predicting ROE, thus they can be neglected by the model.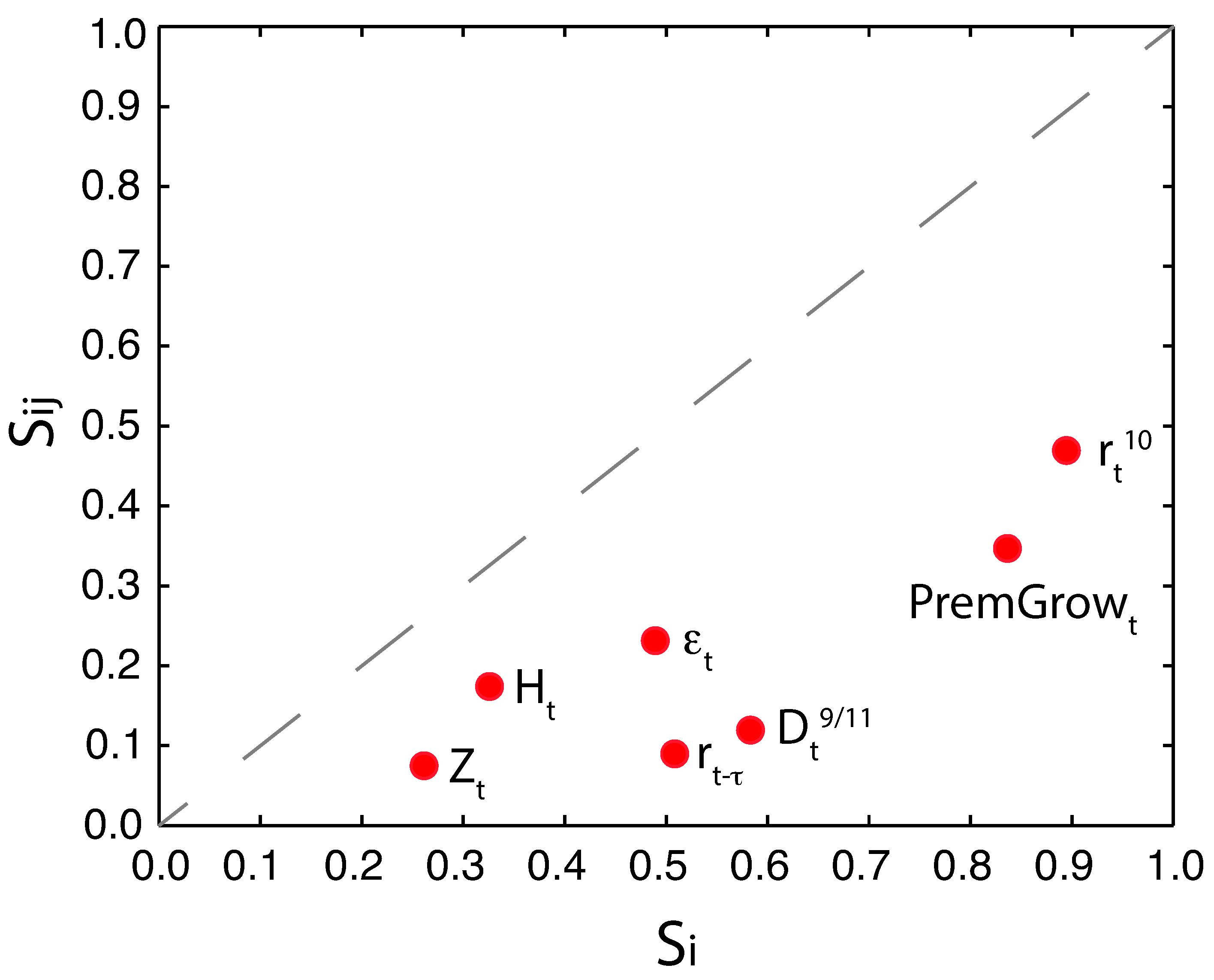 Table 1.
Various specifications of the P/C return on equity model. Each column represents a different model specification. "–" means that the variable was not included into the model. The standard error of the estimate (SEE), the value of the Durbin h-statistic (
h
), and the estimate of the first-order serial correlation coefficient for the Ordinary Least Squares (OLS) error for various models are reported at the bottom.
| | | Model | | |
| --- | --- | --- | --- | --- |
| Variable | 1 | 2 | 3 | 4 |
| Constant | 4.11 | 7.0 | 3.99 | 5.83 |
| | (1.73) | (2.41) | (2.04) | (2.37) |
| | 0.83 | 0.62 | 0.40 | – |
| | (1.10) | (1.15) | (1.26) | – |
| | −0.27 | −0.18 | – | −0.09 |
| | (−1.32) | (−1.44) | – | (0.03) |
| | 0.32 | 0.37 | 0.33 | 0.21 |
| | (1.37) | (1.42) | (1.30) | (0.88) |
| | 0.31 | – | 0.27 | 0.28 |
| | (3.10) | – | (3.05) | (2.90) |
| | −7.64 | −7.85 | −6.44 | −9.11 |
| | (−0.277) | (−3.20) | (−3.11) | (−3.26) |
| | 0.21 | 0.15 | 0.27 | 0.26 |
| | (2.99) | (2.14) | (2.87) | (3.14) |
| SEE | 2.000 | 2.446 | 1.923 | 1.871 |
| DW | – | 1.589 | – | – |
| Durbin h | 7.110 | – | 6.401 | 8.114 |
| | 0.033 | – | 0.294 | 0.317 |
| Time Period | 1954–2013 | 1954–2013 | 1954–2013 | 1954–2013 |
| | | | | |
| --- | --- | --- | --- | --- |
| | 1 | - | - | - |
| | 0.718 | 1 | - | - |
| | −0.037 | −0.043 | 1 | – |
| | 0.066 | 0.394 | 0.029 | 1 |

Table 3. Top ten insured losses in current dollars and as a fraction of policyholders surplus (source: ISO; I.I.I.). Losses and total surplus are in billions of current dollars. WTC is the World Trade Center attack, here considered as a stressor equivalent to hurricanes.
Hurricane
Year
Losses (

$

)
Total Surplus (

$

)
Ratio
Katrina
2005
38.10
427.20
8.91%
Andrew
1992
20.88
200.54
10.41%
Charley
2004
7.47
402.26
1.85%
Ivan
2004
7.11
402.26
1.76%
Hugo
1989
6.39
166.44
3.83 %
Wilma
2005
6.10
427.20
1.42%
Rita
2005
4.70
427.20
1.10%
Frances
2004
4.59
402.26
1.14%
Jeanne
2004
3.65
402.26
0.91%
Georges
1998
3.36
423.40
0.83%
WTC
2001
18.80
374.36
5.02%
Sandy
2012
68.00
583.50
11.60%

© 2019 by the authors. Licensee MDPI, Basel, Switzerland. This article is an open access article distributed under the terms and conditions of the Creative Commons Attribution (CC BY) license (http://creativecommons.org/licenses/by/4.0/).