Open Access This article is
freely available
re-usable
Review
Photosynthetic Metabolism under Stressful Growth Conditions as a Bases for Crop Breeding and Yield Improvement
1
Instituto de Agrobiotecnología (IdAB), Consejo Superior de Investigaciones Científicas (CSIC)-Gobierno de Navarra, Av. Pamplona 123, 31192 Mutilva, Spain
2
Dpto. Nutrición Vegetal, Estación Experimental de Aula Dei (EEAD), CSIC, Apdo. 13034, 50080 Zaragoza, Spain
3
Institute for Multidisciplinary Applied Biology, Dpto. Agronomía, Biotecnología y Alimentación, Universidad Pública de Navarra, Campus Arrosadia, 31006 Pamplona, Spain
4
Centro de Mejoramiento Genético y Fenómica Vegetal, Facultad de Ciencias Agrarias, Universidad de Talca, Talca 3460000, Chile
*
Author to whom correspondence should be addressed.
Received: 29 November 2019 / Accepted: 2 January 2020 / Published: 10 January 2020
Abstract
:
Increased periods of water shortage and higher temperatures, together with a reduction in nutrient availability, have been proposed as major factors that negatively impact plant development. Photosynthetic CO2 assimilation is the basis of crop production for animal and human food, and for this reason, it has been selected as a primary target for crop phenotyping/breeding studies. Within this context, knowledge of the mechanisms involved in the response and acclimation of photosynthetic CO2 assimilation to multiple changing environmental conditions (including nutrients, water availability, and rising temperature) is a matter of great concern for the understanding of plant behavior under stress conditions, and for the development of new strategies and tools for enhancing plant growth in the future. The current review aims to analyze, from a multi-perspective approach (ranging across breeding, gas exchange, genomics, etc.) the impact of changing environmental conditions on the performance of the photosynthetic apparatus and, consequently, plant growth.
Keywords:
climate change; crops; gas exchange; growth; photosynthesis; yield
1. An Introduction to Climate Change and Crop Yield
In this review, we first address the photosynthetic metabolism under stress conditions, especially high temperature, water, and nutrients scarcity. We then describe major methods that have been used for photosynthesis-based breeding under the scenario of climate change. Finally, we discuss perspectives for crop breeding programs.
2. Photosynthetic Metabolism under a Changing Environment
Exposure to environmental stress induces numerous physiological reactions in plants. Among the key physiological changes are alterations in photosynthetic rates and assimilate translocation [
18
], changes in water uptake and evapotranspiration [
19
,
20
], effects on nutrient uptake and translocation [
21
,
22
], modifications to antioxidant reactions [
23
,
24
] and programmed cell death [
25
], and altered gene expression and enzyme activity [
26
,
27
], all of which are the most frequently impacted processes under environmental stress conditions.
In general terms, stress-derived inhibitory effects on photosynthesis may be due to (i) limitations on CO
2
diffusion factors and/or (ii) metabolic factors (
Figure 1
). There is considerable evidence that underlines stomatal closure as the main event in stress conditions [
28
,
29
,
30
,
31
]. The result of stomatal closure is a decrease in the sub-stomatal and chloroplast CO
2
concentration (Ci and Cc, respectively), which produces a fall in the assimilation of CO
2
. On the other hand, when water stress is more severe, metabolic limitations occur [
32
]. Among the most widely considered of these are impacts on Calvin cycle enzyme activity (Rubisco, SBPase, etc.) and depleted availability of ATP and NADPH [
33
,
34
].
2.2. Water Stress
Finally, as yield losses become more common under increasingly frequent and intense drought periods, the search is on for effective adaptation strategies to the effects of climate change on agriculture. It is, therefore, important to understand the responses and mechanisms by which plants can increase their adaptability to these adverse conditions. The approach should integrate photosynthesis responses, stomatal closure, osmotic adjustment, plant water relations, ROS scavenging and defense, and signaling and gene expression.
3. Photosynthesis as a Strategy to Improve Crop Yield
4. Photosynthesis-Based Breeding under the Scenario of Global Climatic Change: Marker-Assisted Selection, Genomic Selection, and Genetic Engineering
5. Perspectives
Regardless of the enhancer effect of high CO
2
on plant net photosynthesis and productivity, predictions of climate change also involve rises in average temperatures of 2.6 °C and 4.8 °C by 2065 and 2100, respectively, and greater climate variability with more frequent periods of drought and heatwaves [
209
]. It is well established that both high temperature and drought have detrimental effects on photosynthesis and plant production [
210
,
211
]. When simulated climate change scenarios include elevated atmospheric CO
2
concentration alone, plant responses are generally increased in photosynthesis, growth, and yield. However, growth and production may decrease under the future higher atmospheric CO
2
concentrations when plants are also subjected to elevated temperature or insufficient water. In fact, significant decreases in yields of rice and wheat have been reported under elevated CO
2
(500 ppm) due to an increase in canopy temperature of 1.5–2.0 °C [
212
].
Crop production must double by 2050 to meet the predicted production demands of the global population, however, achieving this goal will be a significant challenge for plant breeders. Traditional plant breeding is based on phenotypic selection and subsequent progeny testing, commonly followed by re-selection, which can be a very slow process and often requires time-consuming and costly phenotyping. The understanding of physiologic and molecular mechanisms involved in the response of photosynthetic machinery and plant development under changing environmental conditions could lead to the development of new strategies and tools for enhancing stress tolerance. There is increasing evidence that to achieve a quantum boost to crop yield potential, a major improvement in photosynthetic capacity and/or efficiency will be required. There is also evidence that historic gains in wheat yield potential have been associated with increased photosynthesis. Thus, it is recommended for crop breeding programs to continue working on the improvement of the efficiency of plant CO2 assimilation (through a better CO2 stomatal and/or mesophyll conductance, higher capacity for photosynthetic electron transport and CO2 fixation, and optimized sugar transport and use) and at the same time on the enhancement of the water (WUE) and nutrient use efficiency in preparation for the environmental conditions predicted for the future. Further research is also recommended on plants with delayed senescence (stay-green) since this situation usually maintains the plant photosynthetically active for a longer time leading to an extended period of grain filling.
Author Contributions
Conceptualization I.A.; Writing—review & editing, I.A., F.M., M.A., D.F., J.G.-T., A.L.G., A.S., D.S., S.B.M. and M.G. All authors have read and agreed to the published version of the manuscript.
Funding
This work was supported by the Spanish Innovation and Universities Ministry (AGL2016-79868-R; PCIN-2017-007).
Conflicts of Interest
The authors declare no conflict of interest.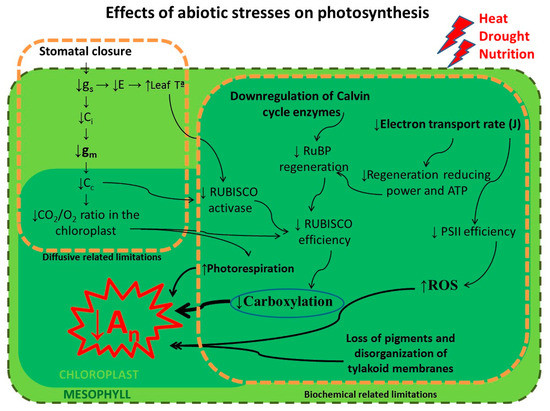 Figure 1. Photosynthetic metabolism under a changing environment. A multi-scale model representing the impact of key stress factors (high temperature, drought, and low soil fertilization levels) on photosynthetic performance associated with limitations to CO2 diffusion factors and/or metabolic factors. Stomatal closure diminishes sub-stomatal and chloroplast CO2 concentration (Ci and Cc, respectively) with a consequent reduction in photosynthetic rates (An). Under severe stress conditions, limitations to the activity of Calvin cycle enzymes (Rubisco, SBPase, etc.) and the photosynthetic electron transport rate (J), and the appearance of reactive oxygen species (ROS), among others, are observed.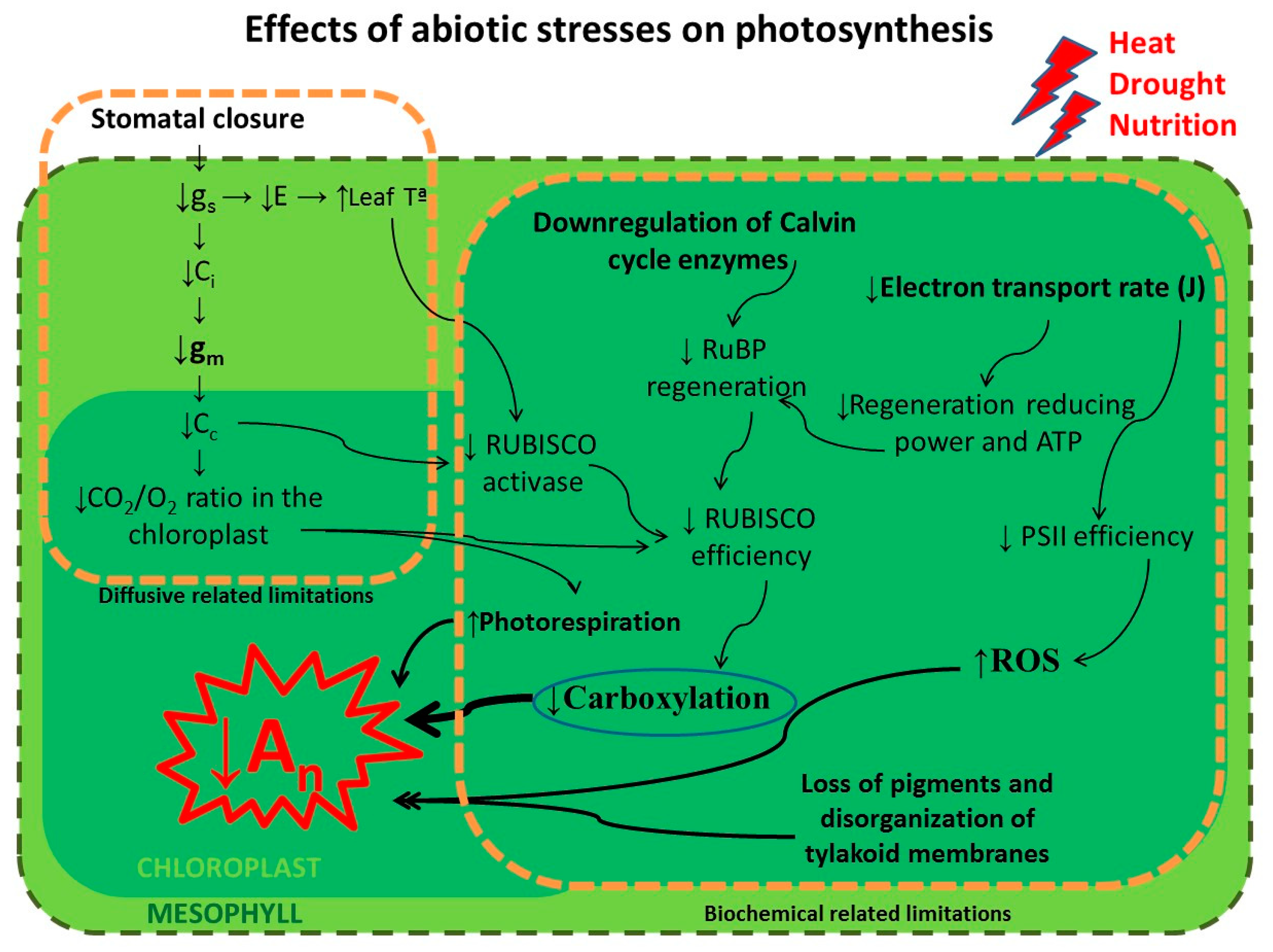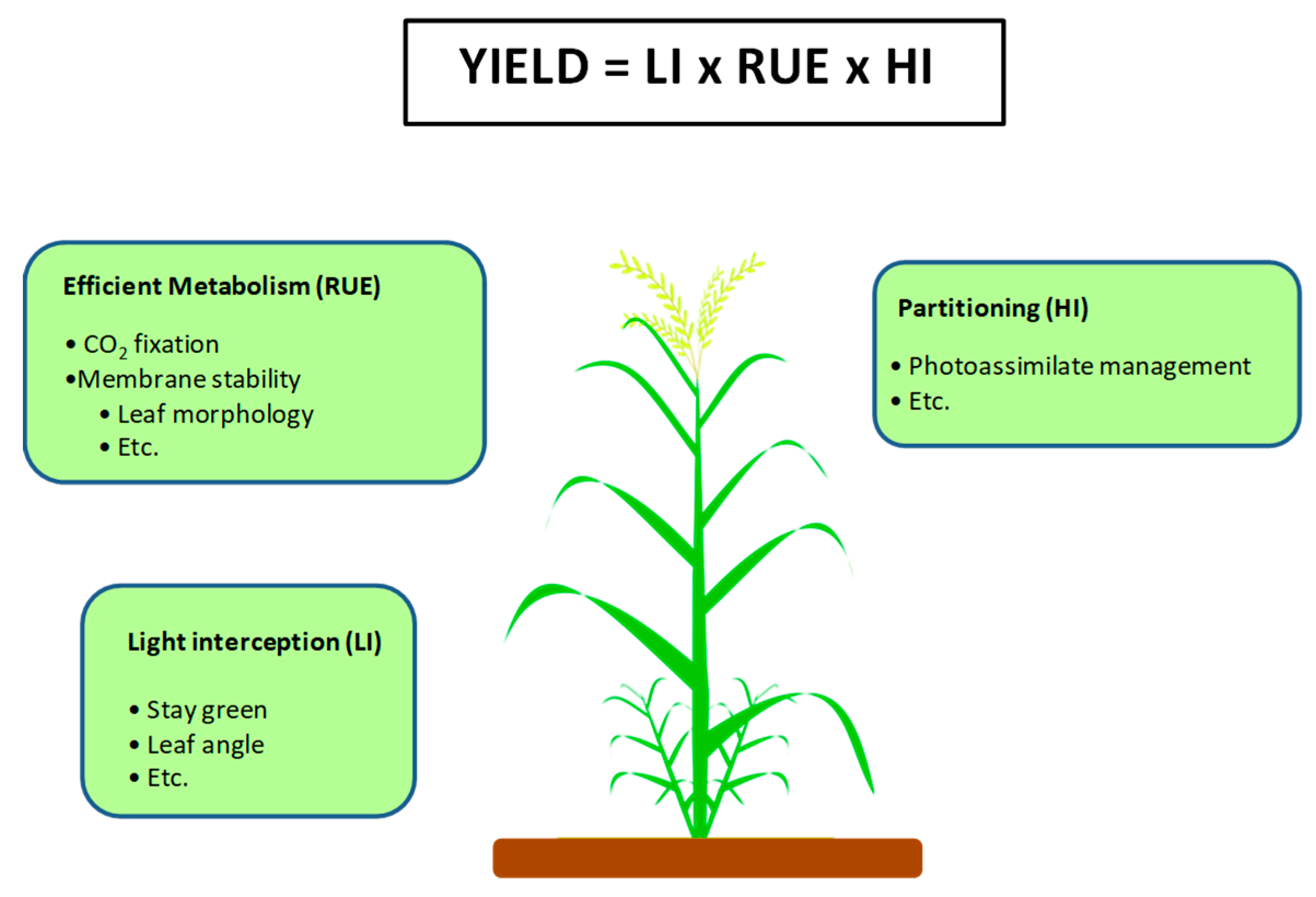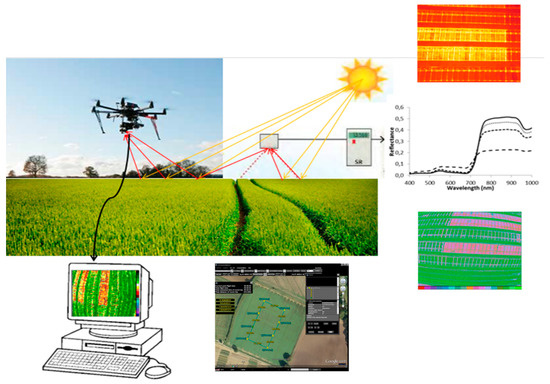 Figure 3. High throughput phenotyping using remote sensing. The production of sufficient food to meet increasing population demands while maintaining environmental sustainability is one of the greatest challenges of the twenty-first century. High throughput phenotyping (HTP) allows for precise monitoring of plant organs, individual plants, field plots, and full fields as required. These platforms include spectroradiometers, thermal sensors, Red–Green–Blue (RGB) imaging, etc. Due to the enormous volume and variety of imaging and remote sensing data generated, one of the main limiting factors is the management and interpretation of all this information. Further, connecting the different scales and platforms will be an important goal, and the key to creating useful phenotyping tools for the selection of genotypes with enhanced resource use efficiency under future stressful environments.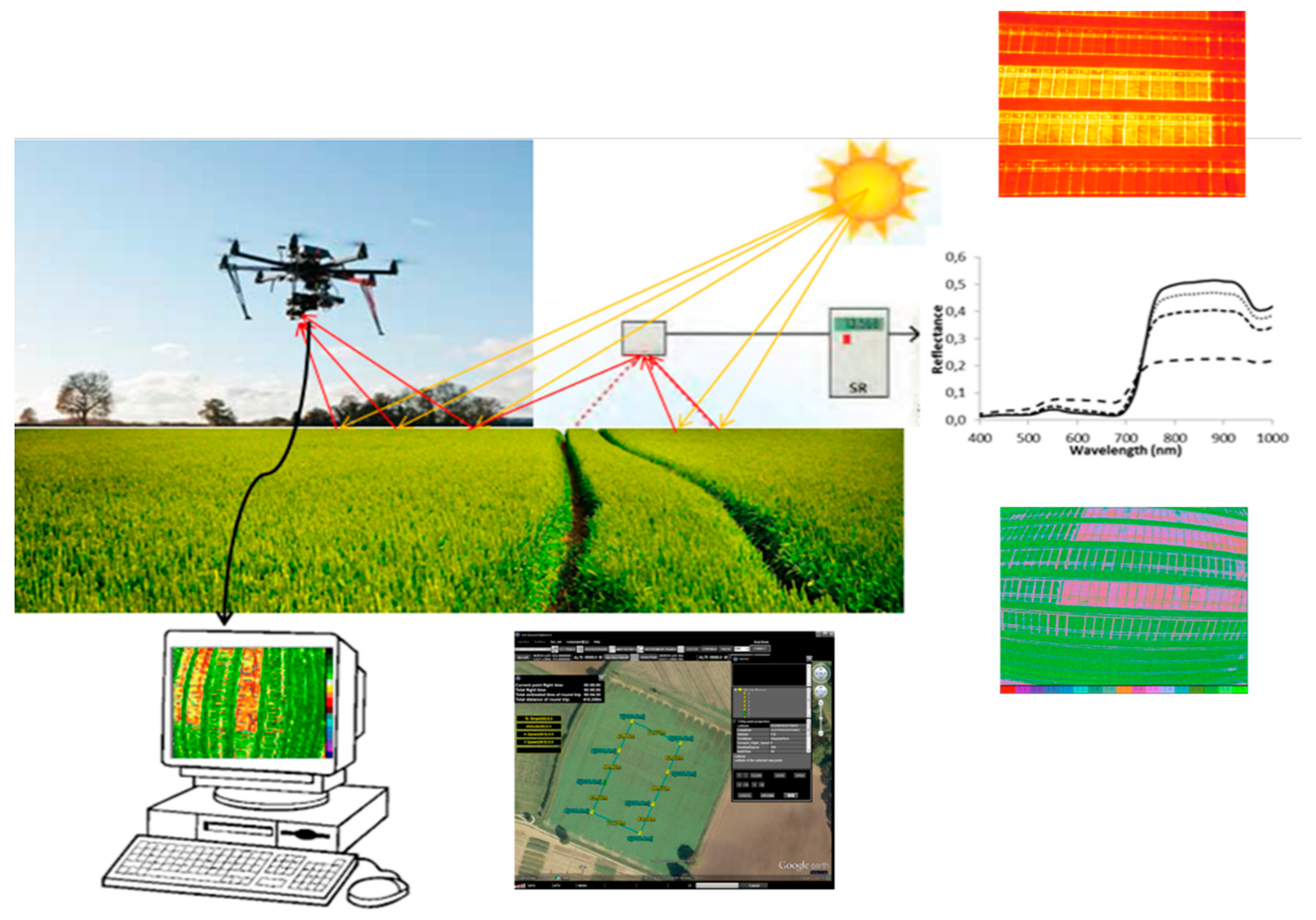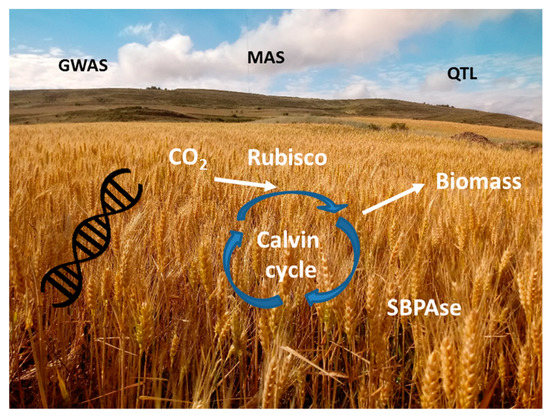 Figure 4. Photosynthesis-based multi-approach crop breeding. Plant photosynthesis, and therefore, growth is determined by multiple regulatory mechanisms. Previous studies have identified traits that may be targeted for modification to improve CO2 assimilation rates and yield. Alongside traditional breeding programs, modern techniques enable the development of synthetic biology and genetic engineering to develop crops that are better adapted to stress.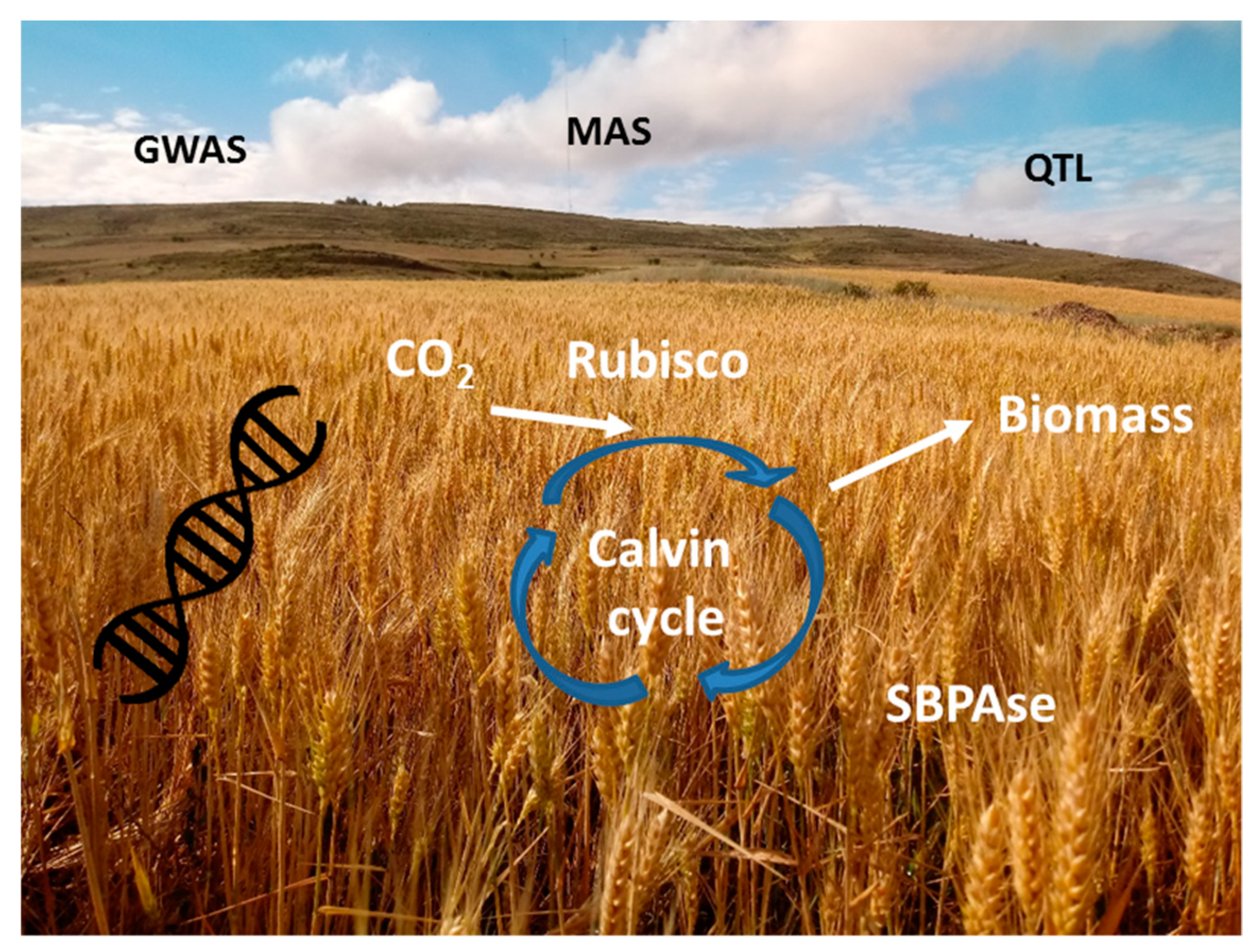 © 2020 by the authors. Licensee MDPI, Basel, Switzerland. This article is an open access article distributed under the terms and conditions of the Creative Commons Attribution (CC BY) license (http://creativecommons.org/licenses/by/4.0/).