Genome-Wide Analysis of the WOX Gene Family and Function Exploration of GmWOX18 in Soybean
1
Oil Crops Research Institute of Chinese Academy of Agriculture Sciences, Wuhan 430062, China
2
Chinese Academy of Agricultural Sciences/Key Laboratory for Biological Sciences of Oil Crops, Ministry of Agriculture, Wuhan 430062, China
3
Jilin Provincial Key laboratory of Agricultural Biotechnology, Jilin Academy of Agricultural Sciences, Changchun, Jilin 130033, China
*
Authors to whom correspondence should be addressed.
Received: 12 June 2019 / Revised: 4 July 2019 / Accepted: 9 July 2019 / Published: 11 July 2019
Abstract
WUSCHEL-related homeobox (WOX) is a family of transcription factors that are unique to plants and is characterized by the presence of a homeodomain. The WOX transcription factor plays an important role in regulating plant growth and development and the response to abiotic stress. Soybean is one of the most important oil crops worldwide. In this study, based on the available genome data of soybean, the WOX gene family was identified by bioinformatics analysis. The chromosome distribution, gene and protein structures, phylogenetic relationship and gene expression patterns of this family were comprehensively compared. The results showed that a total of 33 putative WOX genes in the soybean genome were found and then designated as GmWOX1- GmWOX33, which were distributed across 19 chromosomes except chromosome 16. Multiple sequence analysis of the GmWOX gene family revealed a highly conserved homeodomain. Phylogenetic tree analysis showed that 33 WOX genes could be divided into three major clades (modern/WUS, intermediate and ancient) in soybean. Of these 33 WOX genes, some showed differential expression patterns in the tested tissues (leaves, pods, unopen and open flowers, nodules, seed, roots, root hairs, stems, shoot apical meristems and shoot tips). In addition, the expression profile and qRT-PCR analysis showed that most of the GmWOX genes responded to different abiotic stress treatments (cold and drought). According to the expression pattern of GmWOX genes in the high regeneration capacity soybean material P3, overexpression of GmWOX18 was selected for function analysis. The overexpression of GmWOX18 increased the regeneration ability of clustered buds. The results will provide valuable information for further studies on the roles of WOX genes in regulating soybean growth, development and responses to abiotic stress, as well as a basis for the functional identification and analysis of WOX genes in soybean.
View Full-Text
►

▼

Figures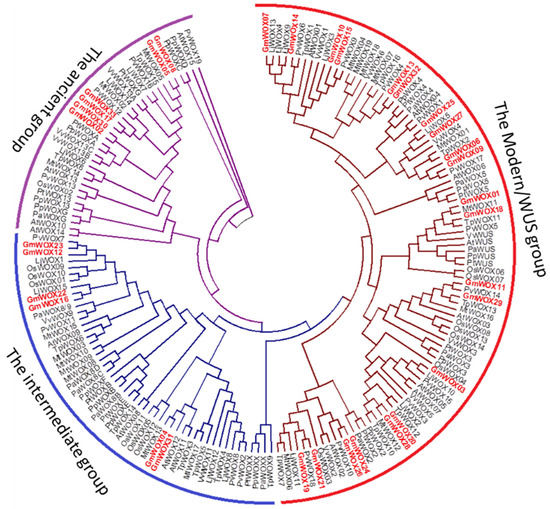 Figure 1
This is an open access article distributed under the
Creative Commons Attribution License
which permits unrestricted use, distribution, and reproduction in any medium, provided the original work is properly cited (CC BY 4.0).

Share & Cite This Article
MDPI and ACS Style
Hao, Q.; Zhang, L.; Yang, Y.; Shan, Z.; Zhou, X.-A. Genome-Wide Analysis of the WOX Gene Family and Function Exploration of GmWOX18 in Soybean. Plants 2019, 8, 215.
Note that from the first issue of 2016, MDPI journals use article numbers instead of page numbers. See further details here.
Related Articles
Comments
[Return to top]