Open Access This article is
freely available
re-usable
Article
Areal Interpolation Using Parcel and Census Data in Highly Developed Urban Environments
1
Department of Geography & Environment, San Francisco State University, San Francisco, CA 94132, USA
2
Department of Sociology, San Francisco State University, San Francisco, CA 94132, USA
*
Author to whom correspondence should be addressed.
Received: 28 May 2019 / Accepted: 12 July 2019 / Published: 16 July 2019
Abstract
:
Areal interpolation is routinely used when spatial data are unavailable at desired geographical units. While many methods are available, few of them were developed specifically for and tested in highly developed urban cores. Even fewer studied subpopulation or population characteristics. This paper explores both issues using parcel map and decennial census data as ancillary information. Using census blocks as intermediate zones, the method first disaggregates source-zone data to intermediate zones, then disaggregates data to parcel level in intermediate zones intersecting target zones, and finally aggregates intermediate-zone and parcel-level estimates to obtain target-zone estimates. Compared to areal weighting and residential proportion, the proposed method is significantly more accurate. All three methods perform the best on population count, and worst on spatially clustered subpopulations such as black/African American population. Quotient variables are more difficult to interpolate than count variables. The research demonstrates the utility of parcel and decennial census data for areal interpolation in highly developed urban cores, and calls for future research on subpopulation and population characteristics.
Keywords:
areal interpolation; dasymetric mapping; parcel data; cadastral data; census; population; subpopulation
2. Study Area and Data
San Francisco is a dense urban jurisdiction that is roughly seven by seven miles. As the urban core of the San Francisco-Oakland-Hayward metropolitan area in California, U.S.A., the city is characterized by complex land uses. The Mayor's Office of Neighborhood Services divides the city into 117 neighborhoods. Our research stems out of the need to build a database of the socioeconomic characteristics of each neighborhood, such as race/ethnicity, sex, education, employment, poverty, and insurance status, so that the impact of neighborhood resources on HIV/AIDS treatment outcomes can be assessed. To protect the confidentiality of HIV-positive population, neighborhoods with less than 500 residents or less than 10 alive HIV-positive cases in 2013 were merged with adjoining neighborhoods during data processing, resulting in 102 neighborhoods.
Our task is to estimate the demographic and socioeconomic characteristics of these 102 neighborhoods. The American Community Survey (ACS) has such data, but the data are not available at neighborhood level; thus, areal interpolation is necessary by using the 102 neighborhoods as the target zones. Three datasets were obtained to assist interpolation: the 2013 ACS data, the 2010 decennial census data, and the zoning and parcel data. The 2013 ACS data is our source data, the others ancillary data. The 2013 ACS data are publicly available by block groups and census tracts, but since block groups are more spatially detailed than census tracts, they are used as the source zones. Among the 579 block groups, only 15.7% fall completely in a single neighborhood. Nearly every neighborhood intersects several block groups, ranging from 4 to 25. The 2010 census data are also available by block groups and census tracts, but unlike the 2013 ACS data, they also have some data at census block level. The 2010 census blocks are used as intermediate zones.
Table 1
summarizes the spatial units used and their roles in the proposed areal interpolation method.
The zoning and parcel maps were obtained from SF OpenData [
42
]. The zoning data consist of zoning use districts in the city; each district has a zoning code that governs how land should be used. There are 13 residential land use classes in the zoning data, including one-family, two-family, three-family houses, mixed (apartments and houses) of low, medium, and high density, and residential and commercial combined of medium and high density. The parcel data are more detailed with information on each of the 216,269 parcels in the city, e.g., street address and zoning code. As in any highly developed urban cores, multiple-level lots such as condominium and live/work units are common in San Francisco. A condominium is a building or complex of buildings containing a number of individually owned apartments or houses. A live/work unit, e.g., studio or loft, is a space that consists of both a commercial/office and a residential component occupied by the same resident. Multi-level lots are described well in the parcel data with each property having its own record. This made the parcel data especially valuable for highly developed urban cores because they enable easy inference of the number of dwelling units in a building complex.
Figure 1
shows the source and target zones in our research. As it can be seen, the city's population density varies between 0 and 67,822 people/km
2
per block group, with a median of 9895 people/ km
2
. It is one of the most dense cities in the United States of America.
3. Areal Interpolation
To estimate population and subpopulations at neighborhood level, we developed a new method using parcel data and the 2010 decennial census data as ancillary information, and compared it with two other methods, areal weighting and residential proportion. Details of each method are explained below.
3.1. Areal Weighting
In this method, the population of each source zone is re-distributed according to the areal proportion of the source zone in each target zone. For a target zone made up by parts , , where each part falls in source zone ,, …, respectively, its value, denoted as , is estimated as:
where and are the area of and , respectively, and is the value of source zone . Areal weighting does not require any ancillary data, and its implementation is straightforward. It is often used as a benchmark to evaluate other methods. Areal weighting, however, assumes that population in a source zone is uniformly distributed, which is hardly true.
Figure 2
is an example where areal weighting will result in poor estimates by allocating majority of the population, 1755 in total in the two block groups, to the larger block group. In reality, the larger block group is Golden Gate Park with 39 residents only.
3.2. Residential Proportion
An improvement to areal weighting is to first differentiate residential versus non-residential areas, then assume that people live in residential areas only. This method is called binary dasymetric or residential proportion. During interpolation, the value of each source zone is allocated to its residential areas. The estimate for a target zone is then obtained by aggregating the population of each source zone falling in this target zone, i.e.,
where is the residential area in target zone that falls in source zone , is the total residential area in source zone , is the proportion of the residential area in target zone falling in source zone . Residential proportion is an improvement to areal weighting, but its assumption that people only live in residential areas is still not reasonable in urban cores. For example, the Golden Gate Park in
Figure 1
does not have a population of 0. Moreover, multi-level condominiums and single-family detached housing both appear as residential land use, but their population densities are markedly different.
3.3. Parcel and Census based Method
We developed a new method to estimate population and subpopulation counts using parcel data and decennial census data as ancillary information. There are three steps in the new method. The first is to disaggregate 2013 ACS data from block groups to census blocks. ACS 2013 does not have data at block level, but the 2010 decennial census has. Since block group boundaries did not change between 2010 and 2013, each 2010 census block is nested in a 2013 block group. To estimate block-level population in 2013, we make the assumption that population change occurred uniformly within each block group between 2010 and 2013. The 2013 ACS block-group population is allocated to 2010 census blocks using the growth rate of the corresponding block group. For example, if a block group has a population growth of 50% from 2010 to 2013, all blocks within it are assumed to experience that growth rate. A block with 50 people in 2010 is thus estimated as 75 in 2013.
Subpopulation variables fall in two categories depending on whether their data are available at block level in 2010. Race, ethnicity, age, and sex data are available; poverty, education, and unemployment data are not. When a variable's 2010 census data are unavailable at block level, its 2013 census value is allocated pro rata to blocks. For example, if a block accounts for 10% of the population of a block group in 2010, then 10% of the people in poverty in that block group in 2013 is allocated to the block, i.e.,
where and are the variable's value in 2013 at block and block group level, respectively, and are the population count in 2010 at block and block group level, respectively. For variables with values available in 2010 at block level, e.g., black/African American population count, there are two options to estimate their values in 2013 at block level. One is to apply the method in Equation (3) by assuming that black/African American population is distributed evenly among the population within a block group. The other is to use Equation (4) which assumes that blocks in the same block group experienced the same growth rate from 2000 to 2013. For example, if black population in a block group grew 20% from 2010 to 2013, a block with 5 black people in 2010 in this block group is estimated to have 6 black people in 2013. Intuitively, the method in Equation (4) should be more accurate since it recognizes the heterogeneity of subpopulation within a block group. We experimented both methods in order to identify the better one.
Once data are disaggregated from block groups to blocks, the next step is to identify the blocks intersected by neighborhoods. Such blocks, which account for only 3% of all blocks, are disaggregated using the parcel map. The number of housing units in each parcel is determined and aggregated to block level so that the average number of people or subpopulation in each unit can be calculated. A crosswalk file is then created to allocate blocks to neighborhoods. Using this crosswalk file, the final step is to aggregate block-level estimates to neighborhood level - astraightforward step using GIS.
4. Accuracy Assessment
To evaluate the new areal interpolation method, accuracy assessment must be conducted. Ideally, ground truth at neighborhood level is available and the output from each method in
Section 3
is compared with it. However, this is not feasible in our research. Were the neighborhood data available, areal interpolation would not be needed in the first place. In fact, the lack of ground truth is the primary reason why accuracy assessment has not been discussed in the literature as extensively as the technical implementation of areal interpolation methods. Instead, we evaluated the three methods using simulated data. The proposed method uses three sets of zones where intermediate zones nest in source zones but not necessarily in target zones. To conduct accuracy assessment, simulated source, intermediate, and target zones resembling the same relationship were created. The simulated target zones were ACS 2013 census tracts whose population and subpopulation values are available. Simulated source zones, 465 in total, were created by first identifying block groups whose nearest neighbor falls in a different census tract. Each such block group was merged with its nearest neighbor; the others remained intact. The same method was used to create 7258 simulated intermediate zones, each of which was either an original block or one created by merging a block with its nearest block. When identifying the blocks to merge, we required that a block's nearest neighbor must be in the same simulated source zone but a different simulated target zone. In this way, the simulated intermediate zones are guaranteed to nest in simulated source zones, but simulated source and intermediate zones do not always nest in simulated target zones, thus the need of areal interpolation.
The three interpolation methods were assessed using the simulated data. Their estimates were compared with census-reported values. Root Mean Squared Error (RMSE) was calculated to summarize the accuracy:
where is the number of simulated target zones, and are the census-reported value and the estimated value for simulated target zone . RMSE is equivalent to the standard error of a regression between the estimates and census data. Median absolute error was also calculated to supplement RMSE. Standard error percent, which is RMSE divided by the mean of the source zone values, was calculated to understand the overall error percentage. Standard error percent is not impacted by data unit and therefore appropriate to compare the accuracies between geographical areas. The absolute error percent of each target zone was also calculated whenever possible. Because several target zones had a , the denominator when calculating an error percentage, of 0, median was used to summarize the result.
5. Results and Discussion
Summarizing the results, we have several observations. First, while we have hypothesized that residential proportion is more accurate than areal weighting, the improvement gained by using residential land use information is rather minor. This is probably because San Francisco is so highly developed, nearly all of it has been developed with some residential uses except the east side which is characterized by commercial, and industrial land use therefore accounts for only a smaller portion of the city's total population. Overall, while residential proportion is an improvement over areal weighting, it is not much more effective in densely populated urban cores.
Our second observation is that, in all variables, areal interpolation using parcel and decennial census data result in higher accuracy. In particular, the use of decennial census data at block level, as in the case of black/African American count, results in significantly higher accuracy. However, the more spatially clustered a variable is, the more challenging it is to areal interpolation. In our study, the Moran's I of population count, black/African American count, and proportion of black/African American are 0.07, 0.29, 0.31, respectively. The black/African American count shows a much stronger spatial clustering than the population count. As a result, its areal interpolation is much less accurate. Similarly, the proportion of Black/African American is even more spatially clustered; its disaggregation is therefore most challenging. In the literature, most areal interpolation methods concern population count only. Our study suggests that methods effective for population count may not be equally effective for subpopulation count. An expansion of research to subpopulations, especially those that are spatially clustered, is necessary.
6. Conclusions
Areal interpolation is a classic research problem in Geographical Information Sciences. Given the reality that most socioeconomic data can only be obtained at certain geographical scales or units but research has to be conducted at other scales or units, effective areal interpolation is necessary. While many studies have been conducted on it, very few focused on highly developed urban environments characterized by complex land uses and high-rise developments. Even fewer explored interpolation of subpopulations. In this study, we developed a new areal interpolation method using parcel and decennial census data as ancillary information, and compared it with two other areal interpolation methods. By using two pieces of ancillary information, the proposed method produces significantly better accuracy than areal weighting and residential proportion, especially in subpopulation estimation. While parcel and census data are not universally available, they are available in many developing countries. In the U.S., with the Department of Housing and Urban Development's plan to build a standardized national database of parcels, it can be expected that parcel data like that used in this research will be available for the entire country in the future. The proposed areal interpolation method thus has the potential to be generalized to other metropolitan areas.
The proposed areal interpolation method has several notable advantages. The primary one is that it obtains residential data directly from the most authoritative source of county parcel maps, obviating the need of extracting physical structure information through urban remote sensing. Its relatively straightforward implementation also makes it accessible to analysts from demography, urban planning, epidemiology and public health who are familiar with vector GIS but have limited exposure to remote sensing. The proposed method is also pcychnolatic, meaning that source-zone values are preserved. Finally, there are some studies on using parcels and zoning data in areal interpolation, but decennial census data have been rarely explored as ancillary information. Furthermore, population is often assumed to reside in residential or commercial areas only. This is reasonable but not always accurate. As illustrated in
Figure 2
, even parks may have some residents. Decennial census data help correct such situations as shown in
Figure 4
. On the other hand, like all other methods using parcel data, our method also has to make certain assumptions. While other methods assume that population/subpopulation are equally distributed within parcels in a block group or census tract, our method assumes that the growth rate since a decennial census is the same for all blocks within the same block group. It also assumes that the proportion of a block's subpopulation in the corresponding block group remains the same since the latest decennial census. These assumptions certainly do not hold well for areas undergoing rapid changes. Further research is needed to compare the impact of different assumptions on areal interpolation accuracy.
Another contribution of our research is accuracy assessment. In the literature, an areal interpolation method is often described in sufficient details of its technical implementation, but its accuracy is not always assessed. There are two aspects in accuracy assessment: comparison between different areal interpolation methods so as to identify the most effective one; and testing an areal interpolation method in different study sites so as to evaluate its accuracy consistency. Like many other research on areal interpolation and dasymetric mapping, our study is only able to use San Francisco as a case study. However, it provides a method to systematically create simulated source, intermediate, and target zones so that the new method can be evaluated in other areas. In the future, perhaps benchmark datasets of varying degrees of settlement pattern complexity can be designed to compare the performance of different methods, as has been done in remote sensing [
43
].
While the proposed method is found more accurate than areal weighting and residential proportion, its effectiveness on interpolating spatially clustered variables needs further improvement. In our research, all three methods work the best on population count, which has the least spatial clustering. Parcel data are useful in disaggregating the population count and housing units, but decennial census data are more useful for subpopulation variables like the black/African American count. Identification of effective ancillary data to improve subpopulation estimation is a direction for future research. Another direction is to compare our proposed method with methods which also used parcel data but did not use decennial census data (e.g., [
32
,
44
]). In those methods, residential units of each block group are determined first based on the parcel map; block-group level data are then disaggregated to parcels within. This effectively creates a parcel-level dasymetric map. Our proposed method can also create such a parcel-level dasymetric map by disaggregating block-level estimates to the parcels within. A comparison between the two dasymetric maps should be conducted to identify the better one. The better dasymetric map will not only be useful for large target zones like neighborhoods, school districts, watersheds, and flood plains, but also small ones like buffers around highways or transportation oriented developments. There are many directions for future research on areal interpolation; developments of methods for highly developed urban cores and subpopulation are two among them.
Author Contributions
XiaoHang Liu and Alexis Martinez conceptualized the research; XiaoHang Liu designed and implemented the research; Alexis Martinez contributed materials; XiaoHang Liu wrote the paper.
Funding
This research was funded by the National Institute of Allergy and Infectious Disease, grant number R15AI106466.
Conflicts of Interest
The authors declare no conflict of interest.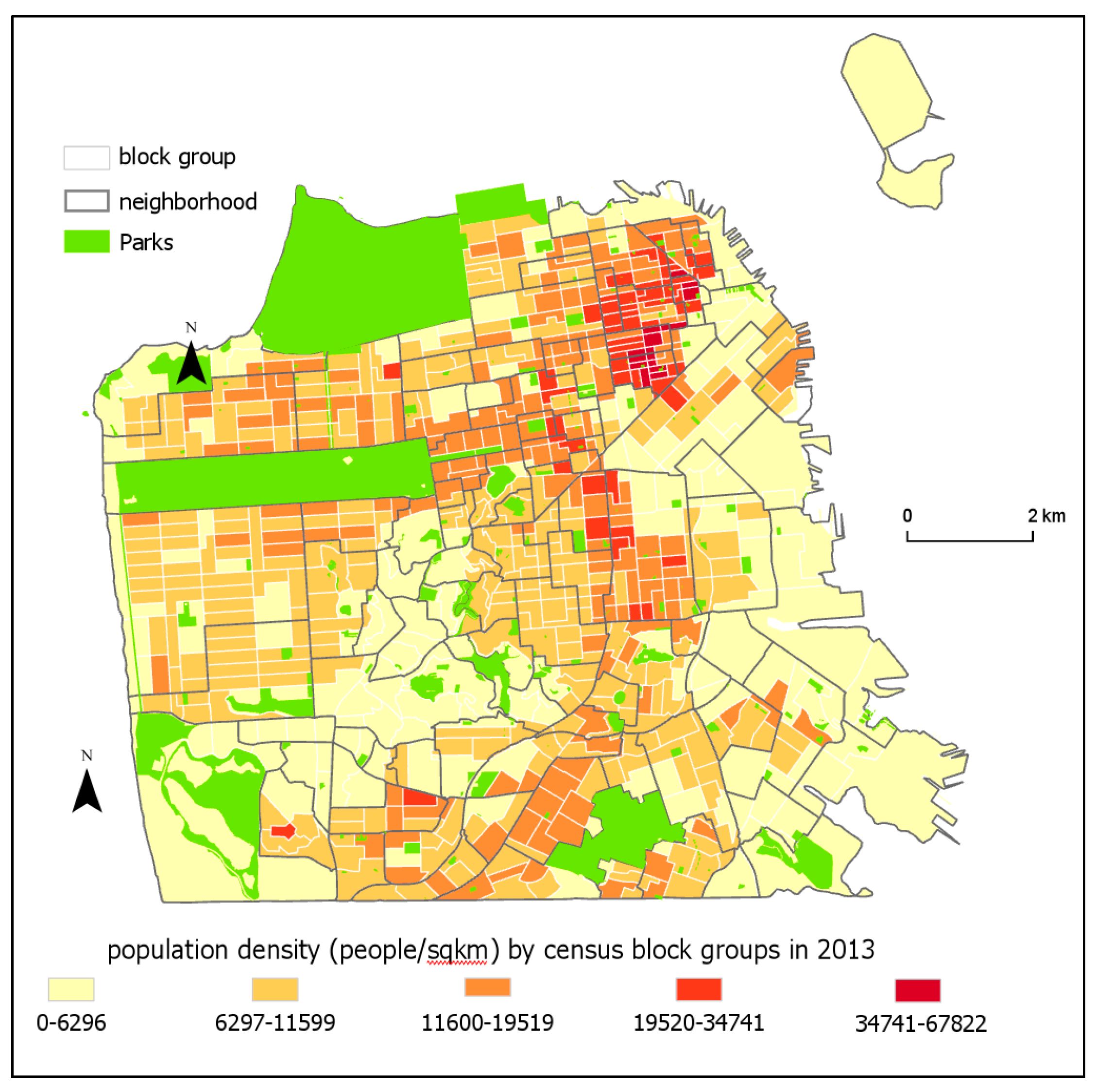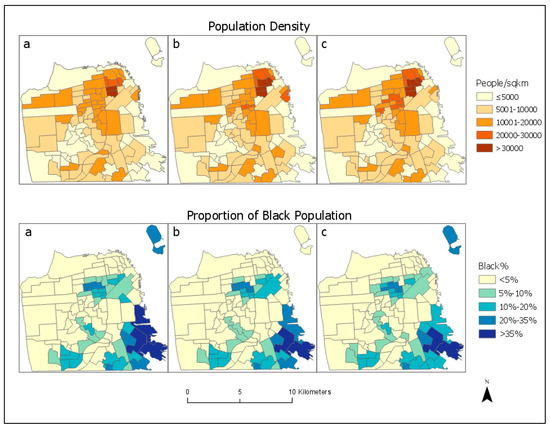 Figure 3. Areal interpolation using three methods: (a) areal interpolation, (b) residential proportion, and (c) parcel and decennial census data as ancillary information.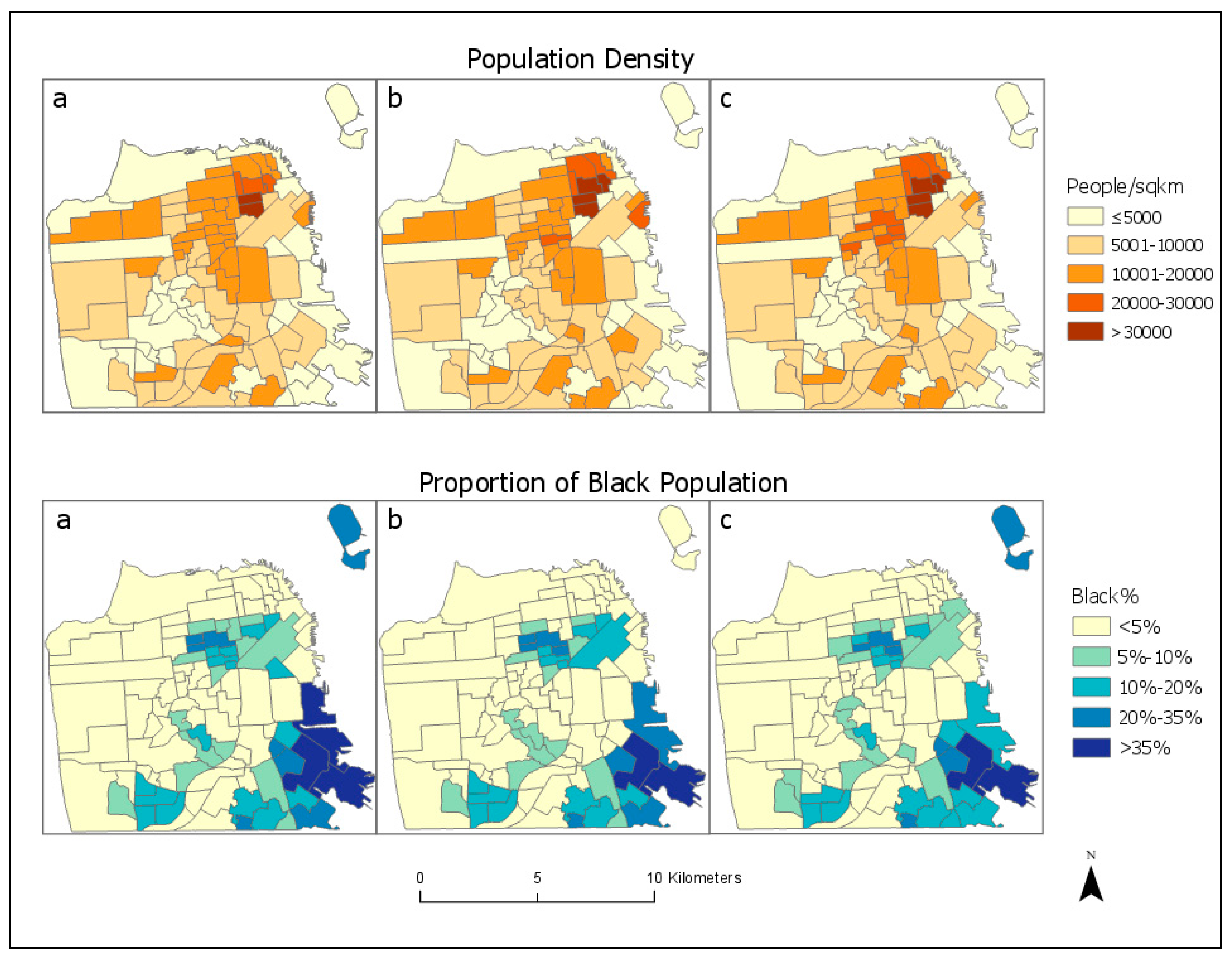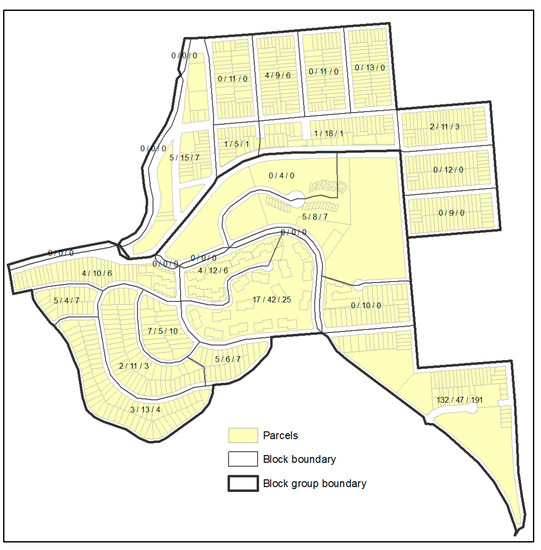 Figure 4. A case where the use of decennial census data results in improved accuracy. Parcel data are used to allocate 285 black residents to the blocks, with and without decennial census data. A label such as '132/47/191' means the block has 132 black residents in 2010; it is estimated to have 47 black residents in 2013 when decennial data are used, and 191 when not.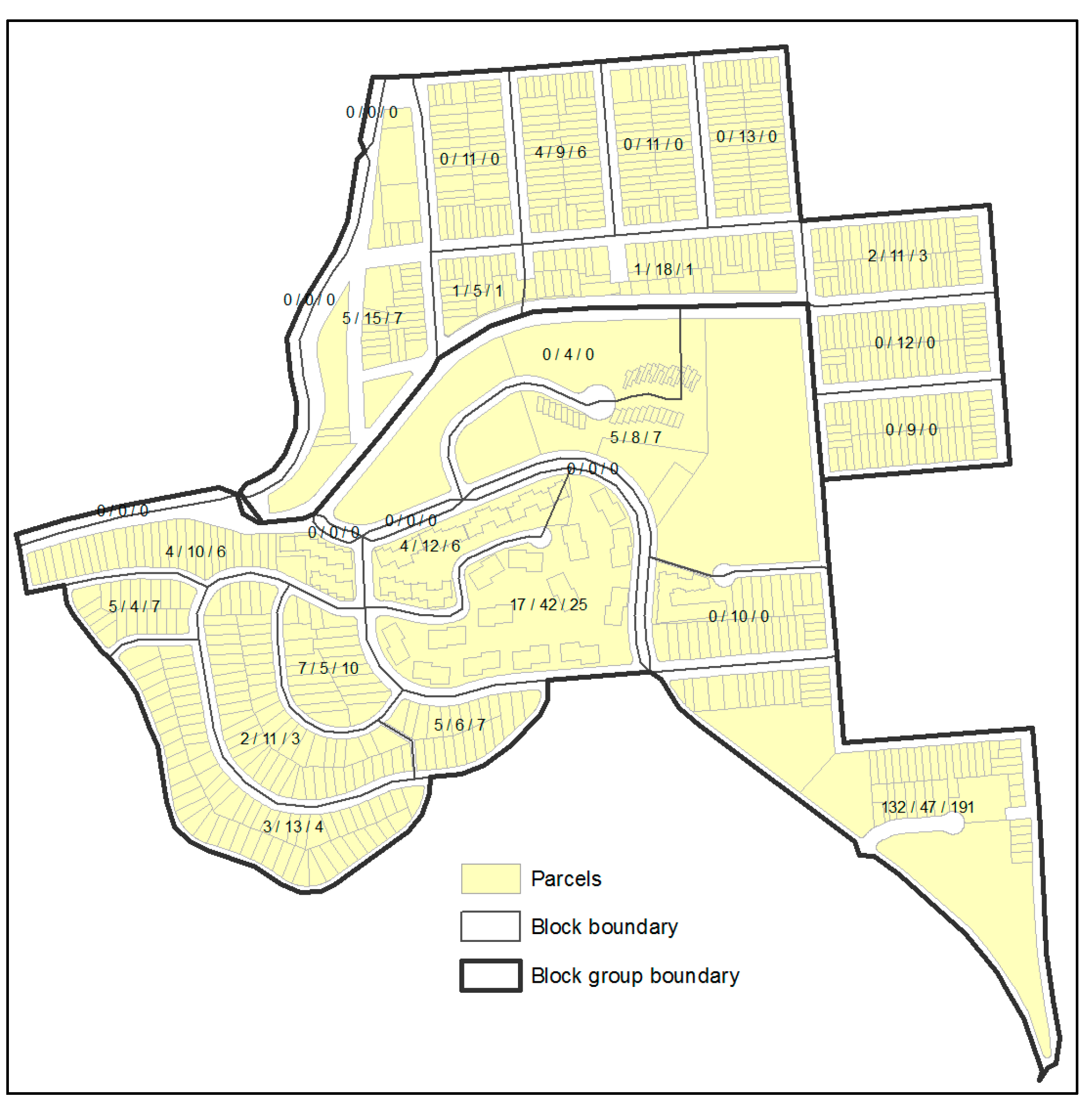 | Spatial Unit | Number | Average Number of Parcels | Role |
| --- | --- | --- | --- |
| Neighborhoods | 102 | 2059 | Target zones |
| Census tracts (2013 ACS) | 196 | 1071 | |
| Census blocks groups (2013) | 579 | 362 | Source zones |
| Census block groups (2010) | 579 | 362 | |
| Census blocks (2010) | 7361 | 28 | Intermediate zones |
| Parcels | 216,269 | 1 | |
Areal
Weighting
Residential
Proportion
Parcel and Decennial Census
Equation (3)
Equation (4)
Total population
Mean = 4192, median = 4012, Moran's I = 0.07
RMSE/standard error
476
424
202
Standard error percent
0.11
0.10
0.05
Median absolute error
171
164
16
Median percent absolute error
4.2%
4.1%
2.3%
Black/African American
Mean = 246, median = 97, Moran's I = 0.29
RMSE/standard error
103
77
73
67
Standard error percent
0.42
0.31
0.30
0.27
Median absolute error
13
11
0
0
Median percent absolute error
13.1%
12.1%
0.97%
0.1%
Proportion of Black/African American
Mean = 6.3%, median = 2.3%, Moran's I = 0.31
RMSE/standard error
2.97%
2.17%
1.96%
1.95%
Standard error percent
0.47
0.34
0.31
0.31
Median absolute error
0.25%
0.27%
0%
0%
Median percent absolute error
14.2%
13.4%
4.3%
0.4%

© 2019 by the authors. Licensee MDPI, Basel, Switzerland. This article is an open access article distributed under the terms and conditions of the Creative Commons Attribution (CC BY) license (http://creativecommons.org/licenses/by/4.0/).