Open Access This article is
freely available
re-usable
Article
Corporate Editors in the Evolving Landscape of OpenStreetMap
1
Department of Computer Science, University of Colorado Boulder, Boulder, CO 80309, USA
2
Department of Geography, National University of Singapore, Singapore 119077, Singapore
3
Department of Information Science, University of Colorado Boulder, Boulder, CO 80309, USA
*
Author to whom correspondence should be addressed.
Received: 18 April 2019 / Accepted: 14 May 2019 / Published: 18 May 2019
Abstract
:
OpenStreetMap (OSM), the largest Volunteered Geographic Information project in the world, is characterized both by its map as well as the active community of the millions of mappers who produce it. The discourse about participation in the OSM community largely focuses on the motivations for why members contribute map data and the resulting data quality. Recently, large corporations including Apple, Microsoft, and Facebook have been hiring editors to contribute to the OSM database. In this article, we explore the influence these
corporate editors
are having on the map by first considering the history of corporate involvement in the community and then analyzing historical quarterly-snapshot OSM-QA-Tiles to show where and what these corporate editors are mapping. Cumulatively, millions of corporate edits have a global footprint, but corporations vary in geographic reach, edit types, and quantity. While corporations currently have a major impact on road networks, non-corporate mappers edit more buildings and points-of-interest: representing the majority of all edits, on average. Since corporate editing represents the latest stage in the evolution of corporate involvement, we raise questions about how the OSM community—and researchers—might proceed as corporate editing grows and evolves as a mechanism for expanding the map for multiple uses.
Keywords:
OpenStreetMap; corporations; geospatial data; open data; Volunteered Geographic Information
Author Contributions
Conceptualization, Jennings Anderson, Dipto Sarkar, and Leysia Palen; Methodology, Jennings Anderson and Dipto Sarkar; Software, Jennings Anderson; Validation, Jennings Anderson and Dipto Sarkar; Formal Analysis, Jennings Anderson and Dipto Sarkar; Data Curation, Jennings Anderson and Dipto Sarkar; Writing-Original Draft Preparation, Dipto Sarkar and Jennings Anderson; Writing-Review & Editing, Leysia Palen, Jennings Anderson, and Dipto Sarkar; Visualization, Jennings Anderson and Dipto Sarkar.
Funding
This work is made possible by the U.S. National Science Foundation, Grant IIS-1524806.
Acknowledgments
The authors thank colleagues both at the University of Colorado Boulder and in the OSM community for their valuable feedback and deeper understanding of the long, nuanced history of corporate involvement in OSM. Additionally, we thank the various custodians of data-team user lists that made conducting this research possible and their willingness to help gather and curate a master list of corporate editors. Additional thanks to colleague Kenneth M. Anderson and the U.S. National Science Foundation for funding support.
Conflicts of Interest
Anderson was a research fellow with Mapbox in 2016 and 2017 but is not currently employed by the company.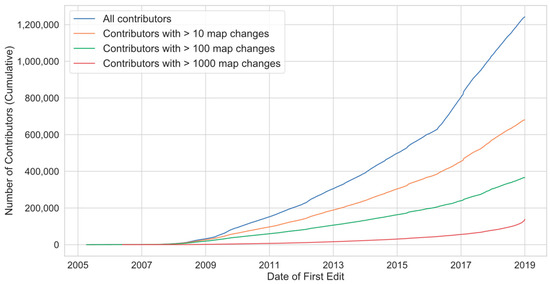 Figure 1.
OpenStreetMap Contributors: Over 1 million users have made at least 1 change to the map. Far fewer contributors have contributed more than 10, 100, or 1000 times. Results calculated from an OSM changeset database, created from the OSM changeset files by the open source tool:
github.com/toebee/changesetmd
.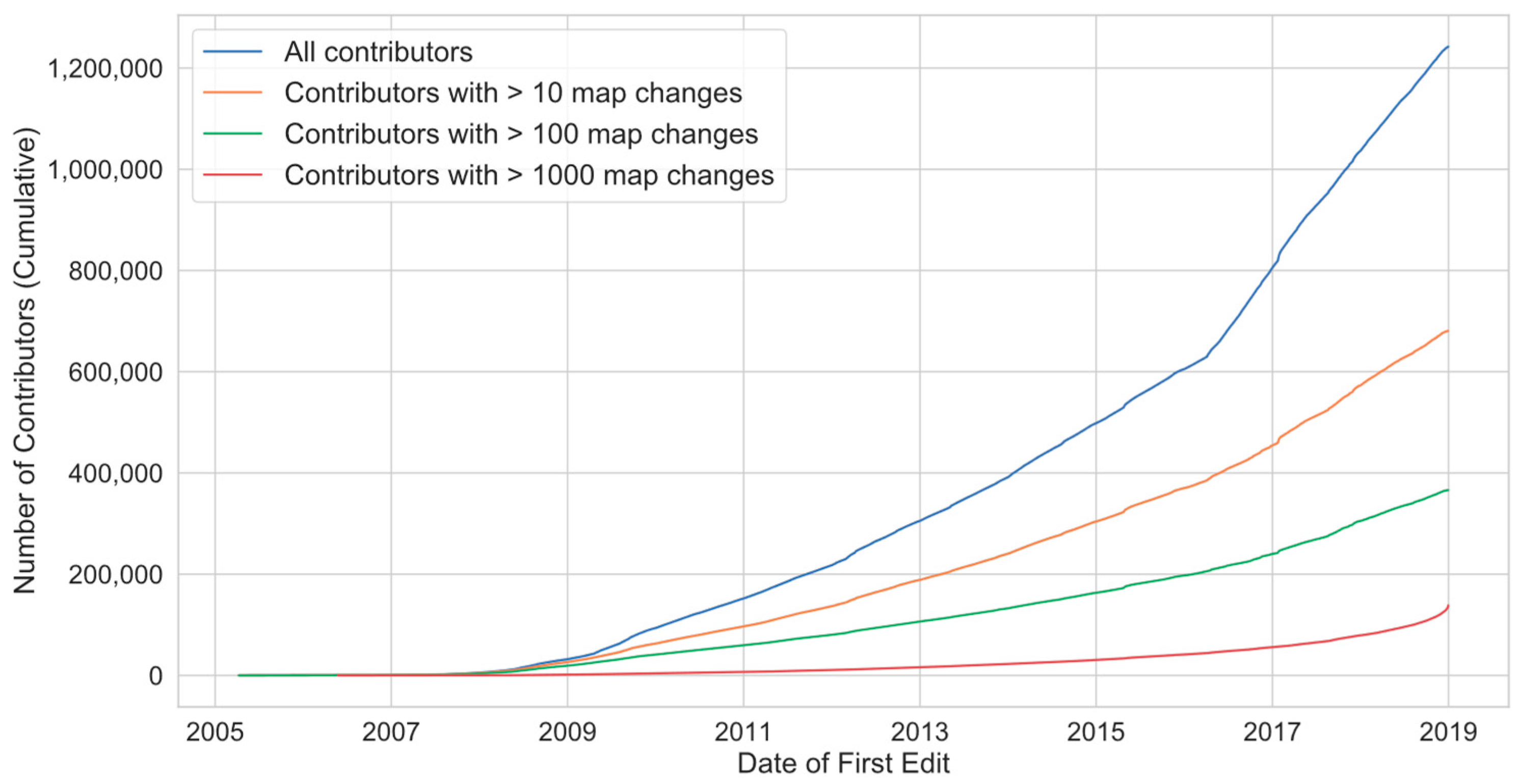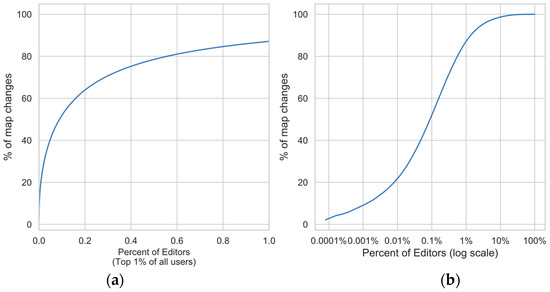 Figure 2.
(
a
) The top 1% of users are responsible for 87% of all the changes to the map; (
b
) OSM adheres to the 1% rule: a very small percentage of the editing community contributes the majority of the data. Results calculated from the OSM changeset database described in
Figure 1
.
Figure 3. Where corporate editors are editing. The main map shows an aggregated view for all 10 companies. The sub figures show where each company is editing. In this map, we have combined the Mapbox and Development Seed teams because they merged in late 2017.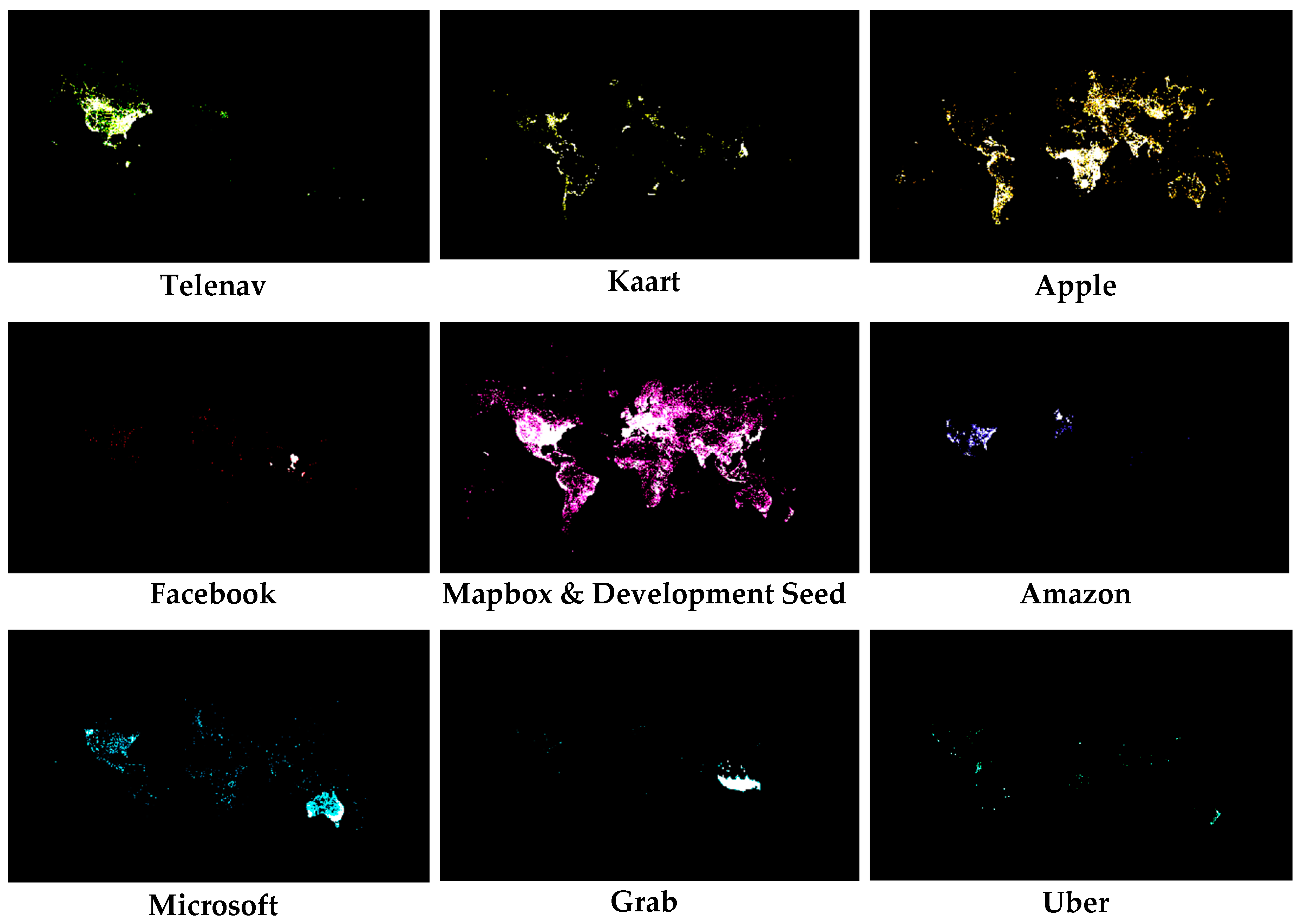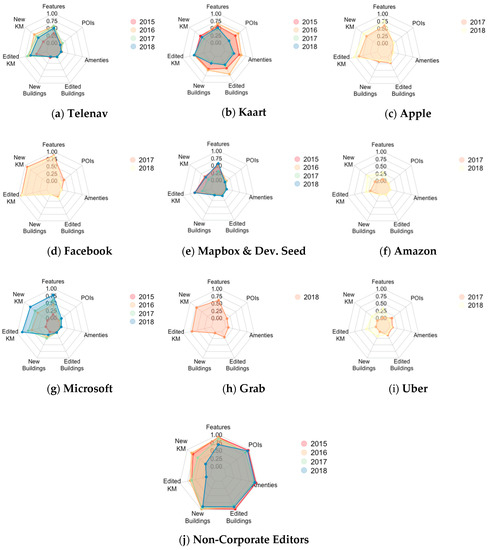 Figure 4. Each figure shows the types of edit these companies performing, relative to the total editing activity where they are active. These are annual averages over all of the zoom level 12 map tiles where a company is active. "Features" refers to editing any feature (all types of edits). The final figure (j) represents the activity of non-corporate editors in areas where (any) corporate-editors are active.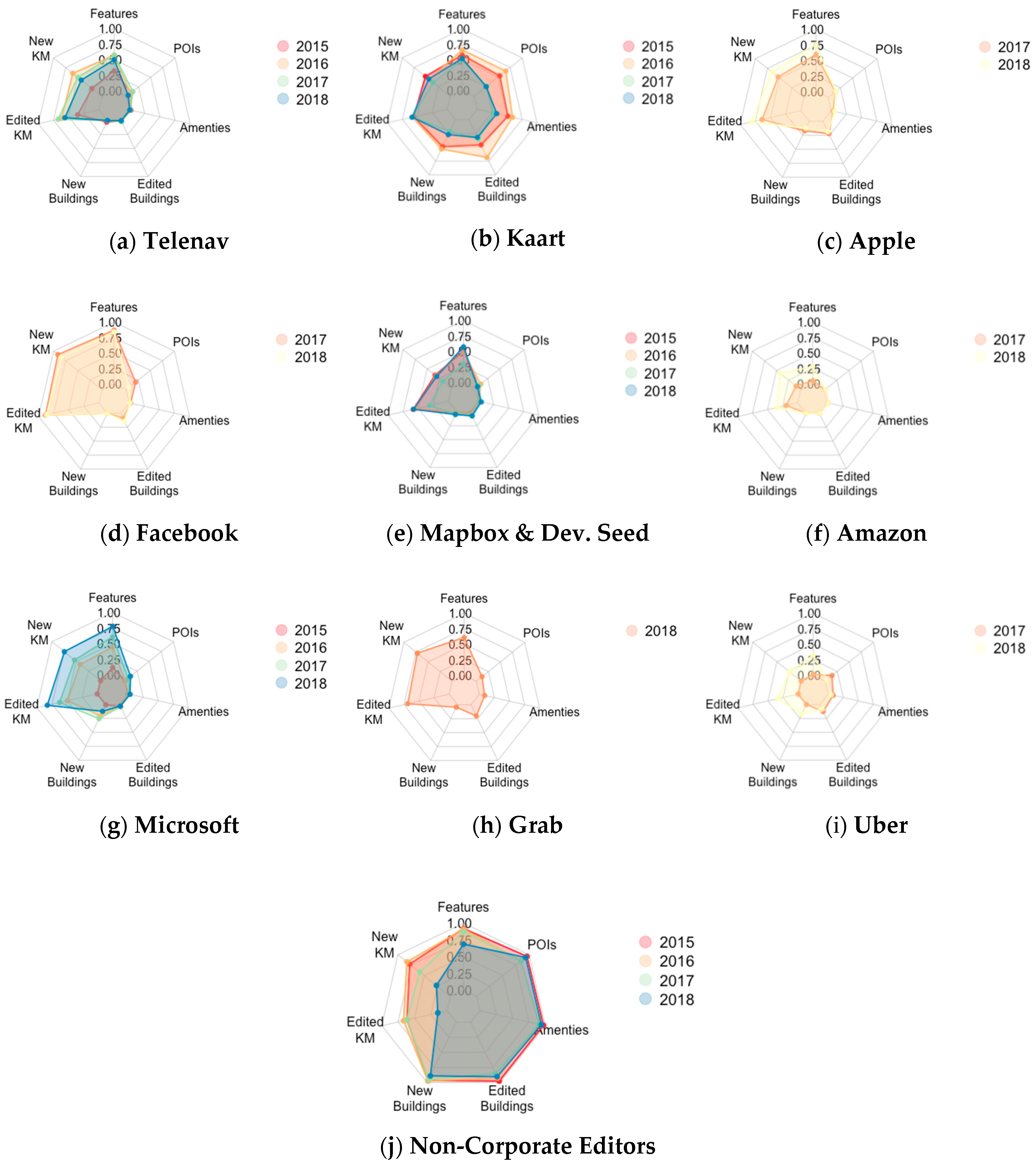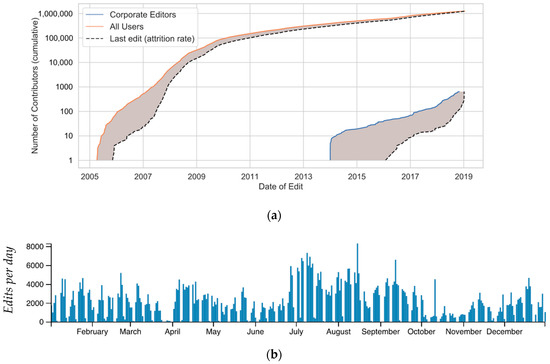 Figure 5. Characteristics of Corporate editors: (a) The rate of growth of all OSM editors compared to corporate editors. The solid lines represent number of contributors denoted by the day of their first edit. The dotted lines represent the number of users denoted by the day of their last edit. The shaded area between the solid lines and the dotted lines could be thought of as the relative size of the "active" community. These two lines converge at the end because those are the most recent edits in our data. The steep slope in the corporate-editors dotted line shows that these editors have been active recently (not one-time contributors); (b) Edits per day by the Facebook team in 2018. Consistent activity throughout the year showing 52 weeks of relatively consistent work five days of the week, with no editing on weekends. This pattern of consistent weekday editing is present across all of the data teams we have examined.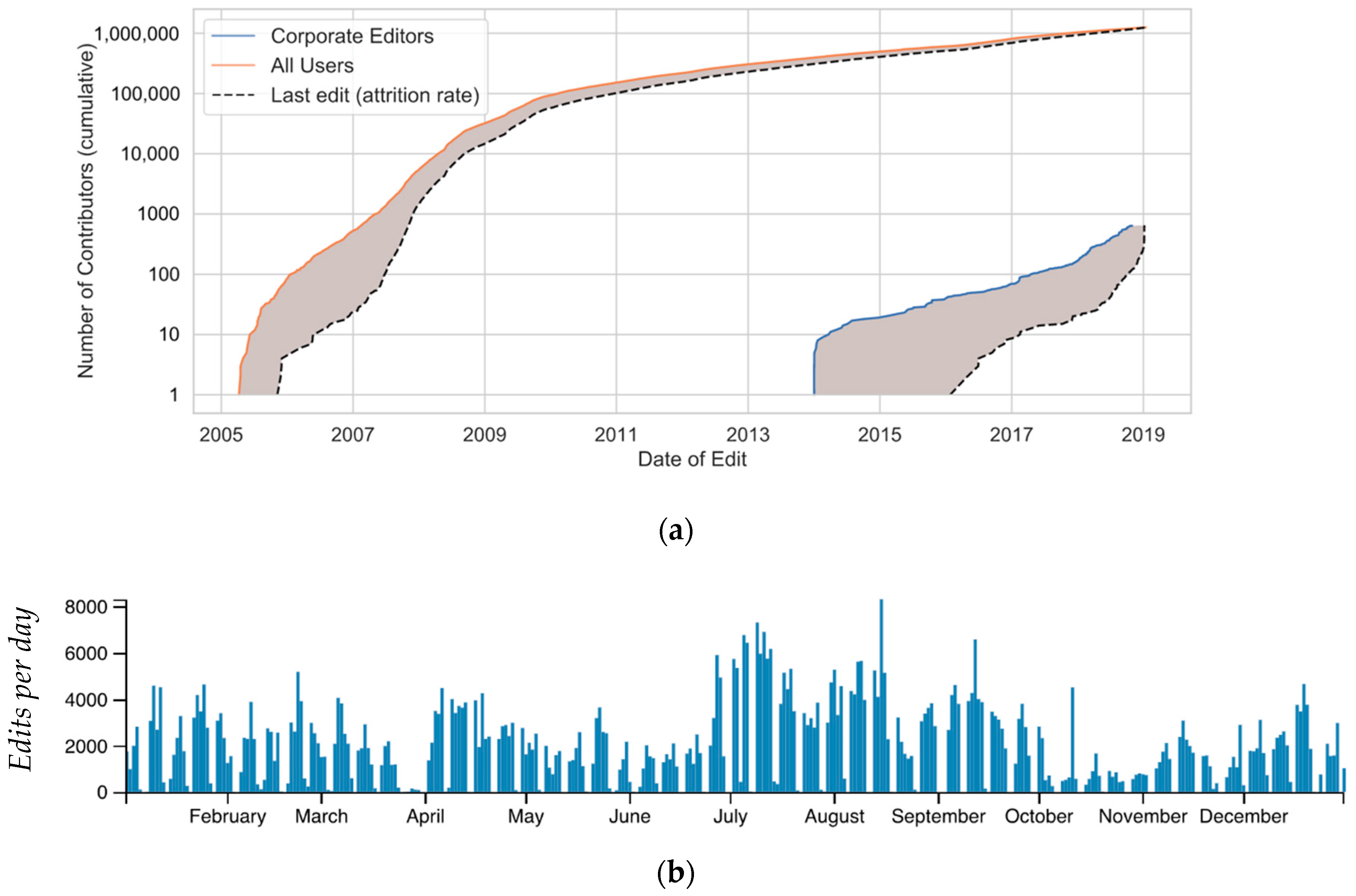 Table 1.
Known Corporate editing teams active in OSM. The column
OSM Foundation Engagements
shows the current affiliation with OSM Foundation and their sponsorship of State of the Map conferences. Data for edits as of January 2019 (since 2014), rounded to the nearest thousand.
Corporation
OSM Foundation Engagement
Team URL
Team Size
Number of Edits
km of Roads Edited
Buildings Edited
Amazon

Gold Corporate Sponsor (Amazon Web Services)- State of the Map 2013

wiki.openstreetmap.org/wiki/Amazon_Logistics
110
388,000
120,000
1000
Apple
github.com/osmlab/appledata/wiki/Data-Team
342
3,944,000
1,643,000
1,156,000
Development Seed
wiki.openstreetmap.org/wiki/DevSeed-Data
8
488,000
62,000
269,000
Facebook

Gold Corporate

Member Gold Sponsor-State of the Map 2018

Silver Sponsor-State of the Map 2017

Bronze Sponsor-State of the Map 2016

wiki.openstreetmap.org/wiki/AI-Assisted_Road_Tracing
87
1,106,000
821,000
1000
Grab
github.com/GRABOSM/Grab-Data
124
1,593,000
300,000
63,000
Kaart

Bronze Corporate Member

Bronze Sponsor- State of the Map 2018

wiki.openstreetmap.org/wiki/Kaart#Kaart_Data_Team
93
2,887,000
484,000
702,000
Mapbox

Gold Corporate Member

Gold Sponsor- State of the Map 2018, 2017, 2016, 2014, 2013

Silver Sponsor- State of the Map 2012

wiki.openstreetmap.org/wiki/Mapbox#Mapbox_Data_Team
40
4,483,000
1,694,000
1,088,000
Microsoft (Bing)

Gold Corporate Member

Gold Sponsor- State of the Map 2018, 2017

Platinum Sponsor- State of the Map 2011, 2010

github.com/Microsoft/Open-Maps/wiki/Open-Maps-Team-at-Microsoft
29
643,000
458,000
52,000
Telenav

Silver Sponsor- State of the Map 2018, 2017, 2016

Platinum Sponsor- State of the Map 2012

wiki.openstreetmap.org/wiki/Telenav#Telenav_folks_on_OSM
30
963,000
336,000
5000
Uber
github.com/Uber-OSM/DataTeam
91
464,000
32,000
349,000

Table 2. Total number of features, kilometers of roads, number of buildings, amenities, and points of interest edited per year by all corporate editors. The increase in number of features edited since 2015 shows the overall rise in corporate editing.
| Year | Features | New KMs of Road | KM of Existing Roads | New Buildings | Edits to Existing Buildings | Amenities | POIs |
| --- | --- | --- | --- | --- | --- | --- | --- |
| 2015 | 1,703,107 | 96,604 | 660,591 | 321,535 | 47,730 | 13,892 | 40,096 |
| 2016 | 2,251,615 | 87,321 | 677,795 | 308,785 | 198,366 | 69,949 | 214,087 |
| 2017 | 3,121,727 | 179,256 | 591,627 | 632,859 | 305,665 | 58,616 | 178,887 |
| 2018 | 9,925,463 | 682,938 | 2,982,248 | 1,709,935 | 176,113 | 33,845 | 61,238 |

© 2019 by the authors. Licensee MDPI, Basel, Switzerland. This article is an open access article distributed under the terms and conditions of the Creative Commons Attribution (CC BY) license (http://creativecommons.org/licenses/by/4.0/).