Open Access This article is
freely available
re-usable
Article
The Implications of Field Worker Characteristics and Landscape Heterogeneity for Classification Correctness and the Completeness of Topographical Mapping
Department of Geography, University of Tartu, Vanemuise 46, 51014 Tartu, Estonia
*
Author to whom correspondence should be addressed.
Received: 6 April 2018 / Accepted: 27 May 2018 / Published: 29 May 2018
Abstract
:
The quality of spatial data may vary spatially. If mapping (interpretation of orthophotos) is done during fieldwork, this variation in quality may occur as a result of differences in the complexity of the landscape, differences in the characteristics of individual field workers, and differences in their perception of the landscape. In this study, we explored the interaction between the characteristics of these workers, including their gender and years of experience (as a proxy for their mapping skills), and landscape heterogeneity. There was no significant difference between male and female workers. Although field workers with more years of experience generally had higher mapping quality, the relationship was not statistically significant. We found differences in the rates of misclassification, omission, and commission errors between workers in different landscape types. We conclude that the error rates due to misclassification, omission, and commission were the lowest in more diverse landscapes (high number of different land use types) with a relatively high amount of buildings, whereas the error rates were the highest in mainly forested landscapes with larger and more complex shaped patches.
Keywords:
classification correctness; commission; landscape metrics; omission; spatial data quality; thematic accuracy; topographical mapping; volunteered geographic information
1. Introduction
However, to our knowledge, the interaction between the impact of gender, years of experience, and landscape heterogeneity has not yet been investigated.
The main aims of the present study were to determine whether and how MCO errors differed among field workers and whether any differences were influenced by landscape heterogeneity. We hypothesised that mapping quality would decrease in heterogeneous landscapes and landscapes with relatively closed viewsheds, and that it would be affected by the worker's characteristics.
4. Discussion and Conclusions
Based on the factor and cluster analysis, we divided the study sites into three different landscape types: built-up-diverse, open-simple, and closed-complex. We found that the rates of MCO errors in these different landscape types differed significantly. The lowest error rates were in the built-up-diverse landscapes. This is likely a result of the fact that buildings are very distinctive features of the landscape and are very easy to recognize in the field. At the same time, buildings increase the landscape diversity, which might increase the attention of the field worker, leading to fewer mistakes. In addition, built-up-diverse landscapes had high openness, which increases the visibility of features such as buildings and thus eases mapping. The variation of error rates was also lowest in this landscape type, which in turn might be caused by the lower number of sites in this landscape type (i.e., fewer workers are required to map a smaller number of sites, leading to decreased variation).
However, when we compared the five field workers who mapped all three landscape types, we found that four out of the five field workers had the lowest error rates in built-up-diverse landscapes and that most of them also had the highest error rates in closed-complex landscapes. We could not identify a statistically significant relationship, but there was still a visible trend that more open and simple landscapes are mapped with higher quality, most likely because they often are easier to access and because their better visibility enables higher mapping quality.
In conclusion, we found that the quality of mapping varied among the landscape types. Some landscape types show higher correctness (built-up-diverse) than others (open-simple and closed-complex). This is most likely because man-made objects are easier to identify than natural vegetation, where the similarity of species composition between different vegetation types might be confusing and where drawing clear borders between different vegetation types is harder. The mapping quality was also generally higher in more open landscapes because better visibility decreases the risk of MCO errors. Interestingly, there was no statistically significant difference in mapping quality between men and women. However, although there was a trend of decreasing error rates with increasing years of experience, it was also not statistically significant because the field worker with the fewest years of experience had among the lowest error rates, whereas field workers with average experience showed the poorest results, and field workers with the most extensive experience showed improved mapping quality. In the current study, it was impossible to clearly differentiate the effect of the individual characteristics of field workers on the mapping quality from the effect of landscape, partially because the number of field workers was limited, and because these effects are interrelated and it is inherently hard to separate them. Our results suggest that mapping quality can be improved if field workers can choose their preferred landscape. In addition, it will be beneficial if the mapping guidelines are improved for forested areas to reduce potential errors that can be avoided by proper fieldwork. Monitoring fieldwork to detect errors, so that workers can be trained to avoid such errors in the future, would also improve mapping accuracy.
Author Contributions
K.M. and E.U. conceived and designed the study; K.M. performed the spatial and statistical analysis; E.U., K.M., and T.O. wrote the paper.
Acknowledgments
The study was supported by funding from the Marie Skłodowska-Curie Actions individual fellowships offered by the Horizon 2020 Programme under Research Executive Agency grant agreement number 660391, by the Ernst Jaakson memorial stipend by the University of Tartu Foundation, and by institutional grant No. IUT 2-16 funded by the Estonian Ministry of Education and Research. The field-mapping quality control was supported by the Estonian Land Board. We also thank Kalle Remm, Ants Kaasik, and Ain Kull for their advice on our statistical analyses, and Geoff Hart for language editing and useful tips. We thank all the anonymous reviewers for insightful comments on the paper, as these comments led us to an improvement of the work.
Conflicts of Interest
The authors declare no conflict of interest.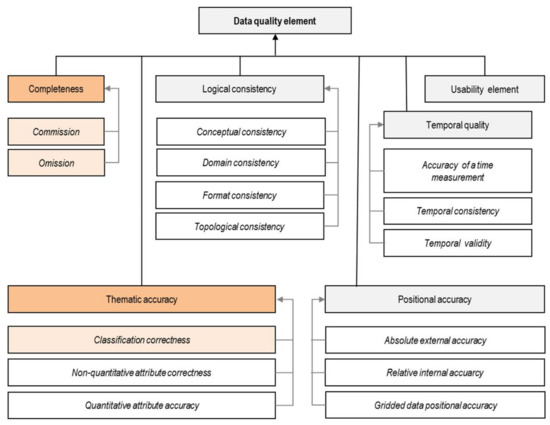 Figure 1.
Overview of the ISO 19157:2013 data quality elements modified [
14
]. The focus of the present study is highlighted.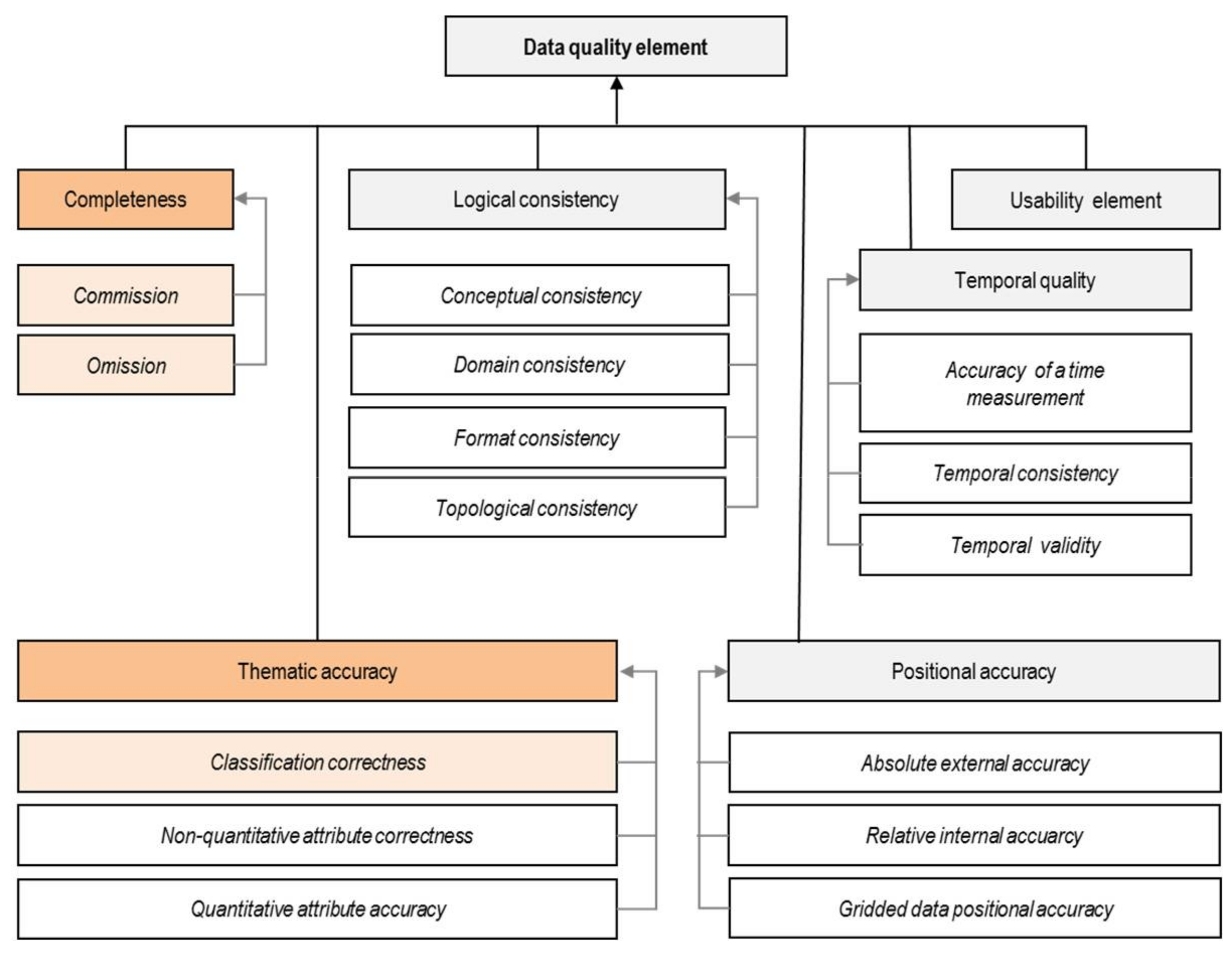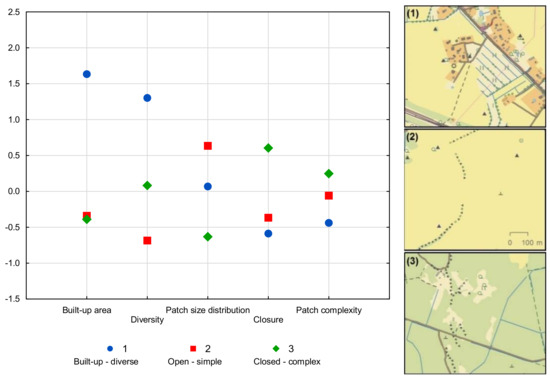 Figure 3. Plot of the mean factor values of landscape factors and built-up areas for the three landscape clusters (types) and examples of maps for those landscape clusters: (1) built-up-diverse landscape; (2) open–simple landscape; and (3) closed-complex landscape.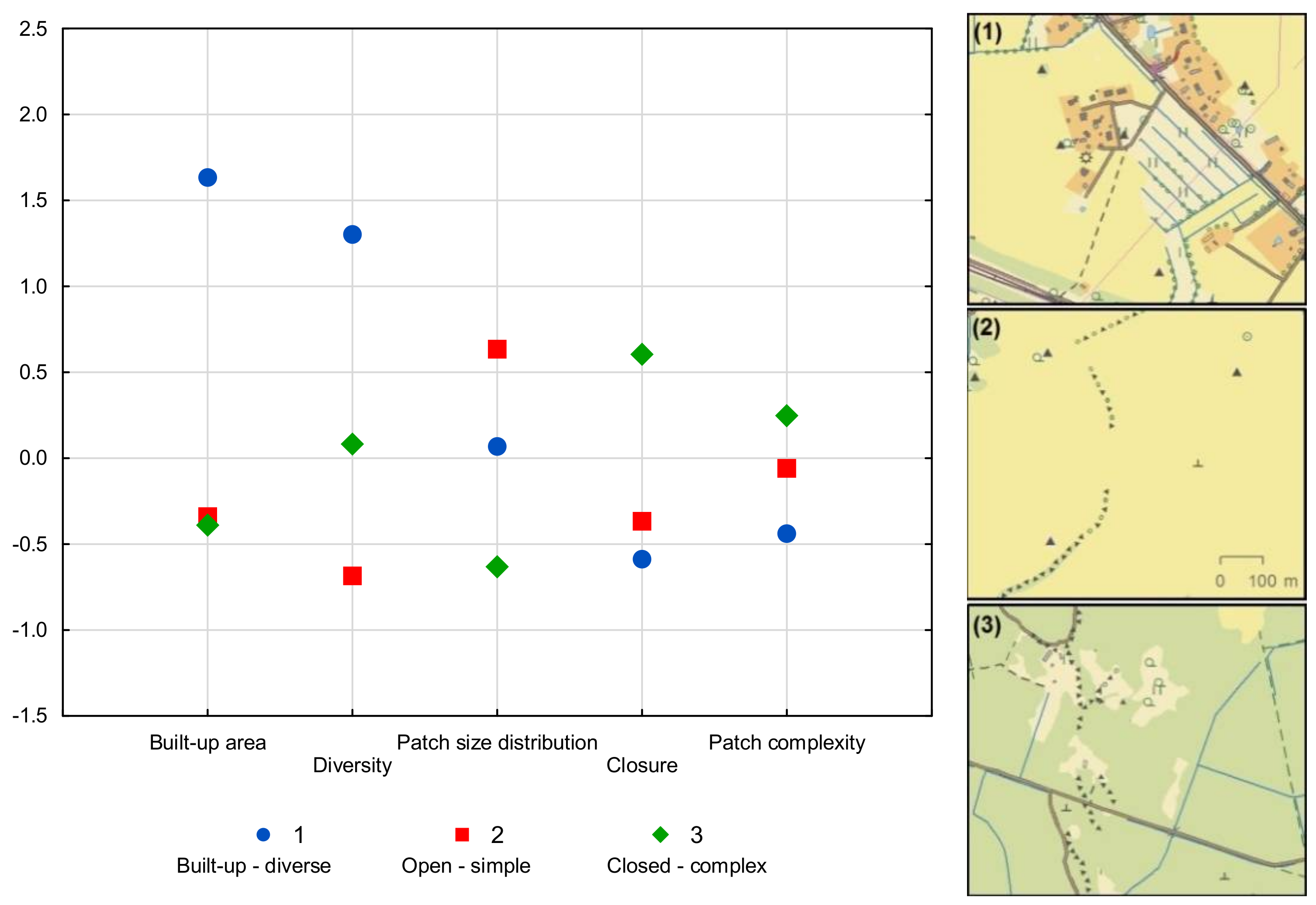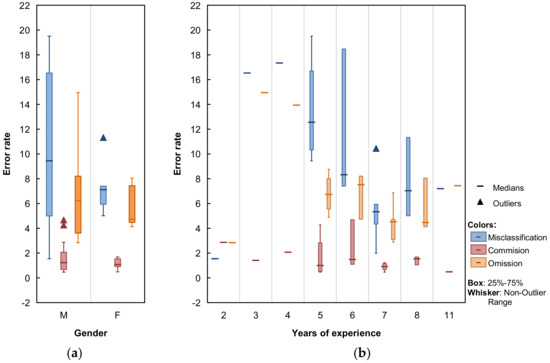 Figure 4. Box plots of the error rates by field workers based on (a) gender (M—male; F—female) and (b) years of experience. For each fieldworker, we calculated the median value across the sites they examined.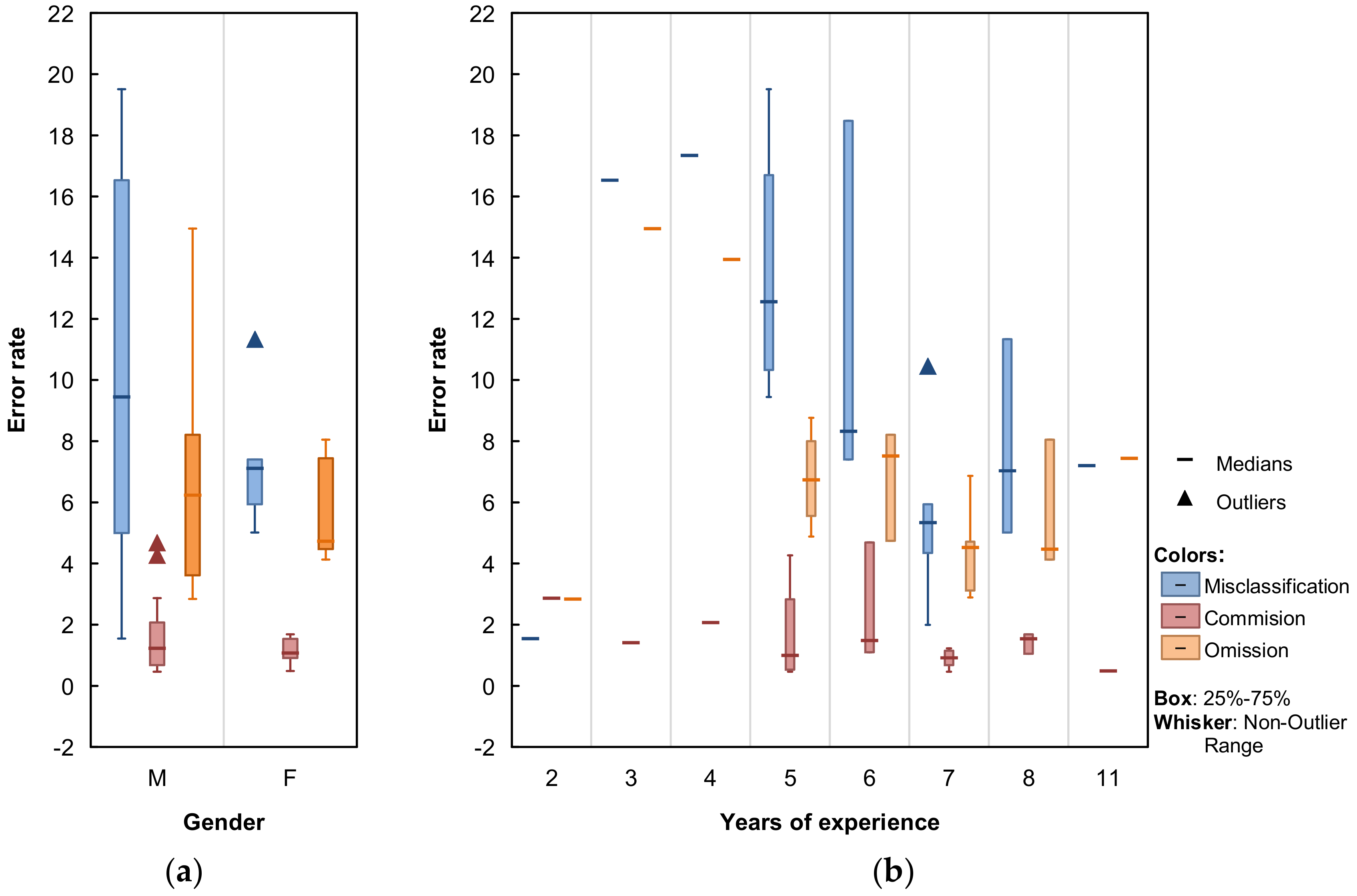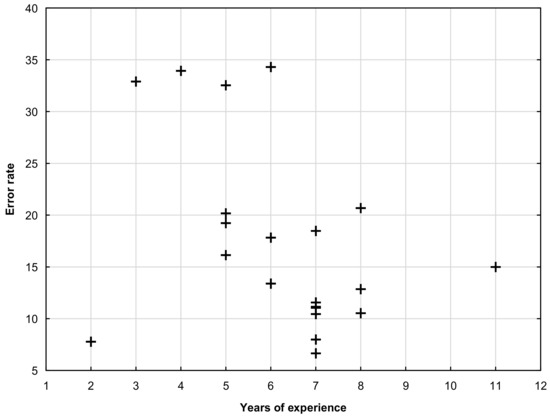 Figure 5.
Relationship between the field worker's (
n =
21) years of experience and their median misclassification, commission, and omission (MCO) error rate across sites (all error types summed for one site).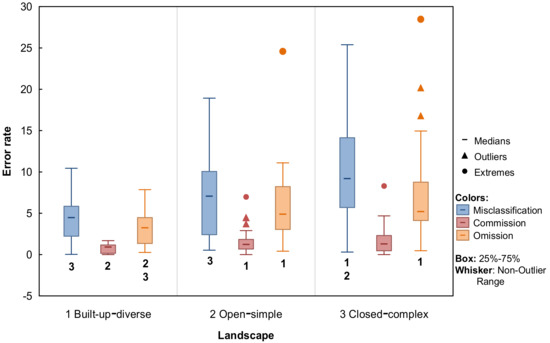 Figure 6.
Box plots for the rates of misclassification, commission, and omission errors in the different landscapes defined in
Table 4
. For a given error type, based on the Kruskal–Wallis multiple comparison of mean ranks for all groups: 1 = statistically significant difference from built-up-diverse, 2 = statistically significant difference from open-simple, 3 = statistically significant difference from closed-complex.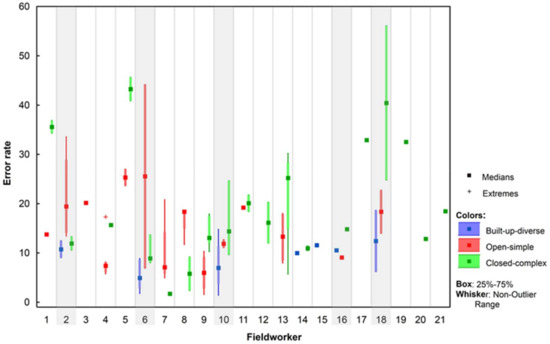 Figure 7.
Box plots of the summed values of MCO error rates (all three categories combined) by field workers in the three landscape types defined in
Table 4
. Field workers who mapped all three landscape types are shaded grey.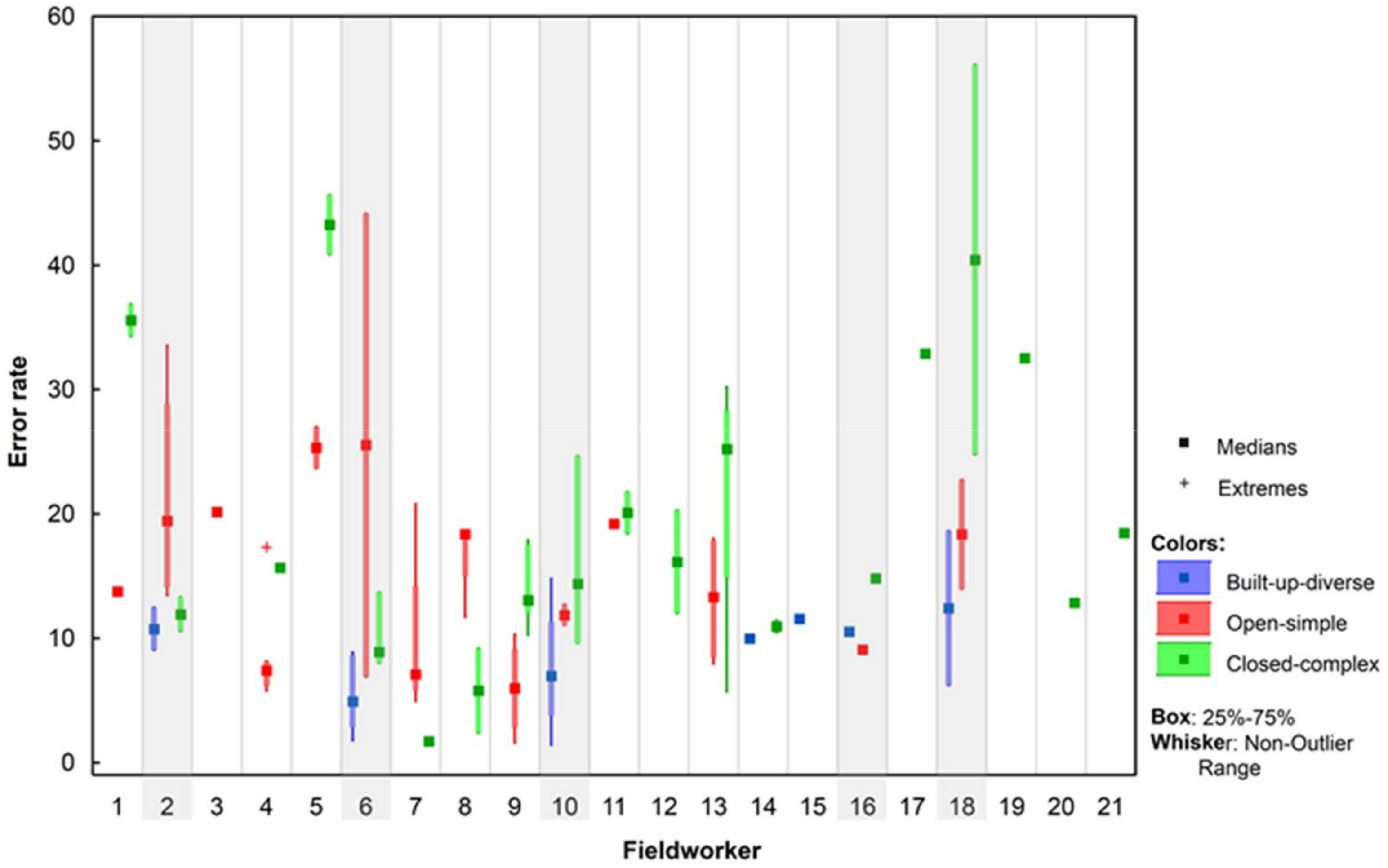 Table 1.
Quality elements and measures of each element according to the ISO 19157 [
14
] standard used in the study.
Quality Element
Quality Measure
Misclassification
Error rate of lines
Error rate of points
Error rate of polygons
Omission
Error rate of lines
Error rate of points
Commission
Error rate of lines
Error rate of points

Table 2.
Landscape indicators used in the study. For a more detailed description, see Rempel et al. [
48
].
Landscape Indicator Type
Landscape Indicator
Diversity metrics

SDI

: Shannon's diversity index

SEI

: Shannon's evenness index
Shape metrics

AWMSI

: area-weighted mean shape index

MSI

: mean shape index

MPAR

: mean perimeter–area ratio

MPFD

: mean patch fractal dimension

AWMPFD

: area-weighted mean patch fractal dimension
Edge metrics

ED

: edge density

MPE

: mean patch edge
Patch density and size metrics

MPS

: mean patch size

PD

: patch density

PRD

: patch richness density

MedPS

: median patch size

PSCoV

: patch size coefficient of variance

PSSD

: patch size standard deviation
Land use composition

OV

: proportion of land use creating open viewsheds in the landscape

CV

: proportion of land use creating closed viewsheds in the landscape

BU

: proportion of built-up areas in the landscape

Table 3.
Results of the factor analysis using the varimax rotation. Significant values are in bold (
p
< 0.05).
Factor Number
1
2
3
4
Diversity
Patch Size Distribution
Closure
Patch Shape Complexity
Eigenvalue
6.93
4.39
2.43
1.06
Cumulative % of variance
38.52
62.92
76.41
82.32
% Total variance
38.52
24.40
13.49
5.91
Factor Loadings (after Varimax Rotation)

SDI

0.92
0.12
−0.07
0.11

SEI

0.90
0.04
0.01
0.17

AWMSI

0.41
0.56
0.10
−0.04

MSI

−0.07
0.09
0.30
0.90

MPAR

−0.10
−0.78
0.00
0.51

MPFD

0.22
0.86
0.29
−0.06

AWMPFD

0.83
−0.34
0.14
−0.22

ED

0.94
0.17
0.15
−0.05

MPE

−0.36
0.71
0.40
0.37

MPS

−0.76
0.43
0.10
0.26

MedPS

−0.32
0.38
0.46
0.21

PSCoV

−0.03
0.92
−0.04
0.07

PSSD

−0.51
0.75
0.06
0.20

PRD

0.15
−0.74
−0.03
−0.31

PD

0.92
−0.14
−0.13
−0.23

OV

−0.15
−0.10
−0.94
−0.08

CV

0.65
−0.02
−0.45
−0.33

BU

−0.10
0.08
0.92
0.19

Table 4.
Means, standard deviations, and variances of factor values for the landscape clusters.
N
is number of sites, and
FW
is the number of field workers who mapped sites in that cluster. Landscape factors were derived from the factor analysis (
Table 3
).
Landscape Indicator or Factor
Cluster 1
Cluster 2
Cluster 3
Built-Up-Diverse
Open-Simple
Closed-Complex
(

N

= 17;

FW

= 7)
(

N

= 37;

FW

= 14)
(

N

= 39;

FW

= 19)
Mean
St.Dev.
Variance
Mean
St.Dev.
Variance
Mean
St.Dev.
Variance
Built-up area
1.63
1.19
1.41
−0.34
0.44
0.2
−0.39
0.42
0.18
Diversity
1.3
1.01
1.02
−0.68
0.67
0.45
0.08
0.58
0.34
Patch size distribution
0.07
0.98
0.96
0.63
0.99
0.97
−0.63
0.54
0.29
Closure
−0.59
0.51
0.26
−0.37
0.81
0.66
0.6
1.01
1.03
Patch complexity
−0.44
0.84
0.71
−0.06
0.74
0.54
0.25
1.21
1.46

Table 5.
Field workers' gender, years of experience in field mapping, and number of mapped sites they investigated in the different landscape types described in
Table 4
. M—male; F—female.
Field Worker ID
Gender
Years of Experience
Total Number of Inspected Sites
Number of Sites in the Landscape
Built-Up-Diverse
Open-Simple
Closed-Complex
1
M
6
3
0
1
2
2
F
6
8
2
4
2
3
M
5
1
0
1
0
4
M
2
6
0
5
1
5
M
4
4
0
2
2
6
M
7
11
6
2
3
7
M
7
5
0
4
1
8
F
11
6
0
4
2
9
M
7
10
0
4
6
10
M
7
9
4
2
3
11
M
5
3
0
1
2
12
M
5
2
0
0
2
13
M
6
8
0
4
4
14
M
7
3
1
0
2
15
F
7
1
1
0
0
16
F
8
3
1
1
1
17
M
3
1
0
0
1
18
F
8
6
2
2
2
19
M
5
1
0
0
1
20
F
8
1
0
0
1
21
M
7
1
0
0
1

© 2018 by the authors. Licensee MDPI, Basel, Switzerland. This article is an open access article distributed under the terms and conditions of the Creative Commons Attribution (CC BY) license (http://creativecommons.org/licenses/by/4.0/).