Open Access This article is
freely available
re-usable
Article
The Elephant in the Room: Informality in Tanzania's Rural Waterscape
1
Department of Political Science and Public Administration, University of Dar es Salaam, P.O. BOX 35042, Dar es Salaam, Tanzania
2
Department of Urban and Regional Planning and Geo-Information Management, ITC Faculty, University of Twente, Hengelosestraat 99, 7514 AE Enschede, The Netherlands
*
Author to whom correspondence should be addressed.
Received: 19 September 2018 / Accepted: 27 October 2018 / Published: 8 November 2018
Abstract
:
Informality is pervasive in Tanzania's rural waterscape, but not acknowledged by development partners (donors and beneficiaries), despite persistent warnings by development scholars. Informality is thus the proverbial elephant in the room. In this paper, we examine a case of superior rural water access in two geographical locales—Hai and Siha districts—in Tanzania, where actors not only acknowledge, but actively harness informality to provide access to water to rural populations. We employ concepts from organization and institutional theory to show that when informal programs and related informal sanctions/rewards complement their formal counterparts, chances for achieving the Sustainable Development Goals (SDG) target 6.1 '
By 2030, achieve universal and equitable access to safe and affordable drinking water for all
' are significantly increased.
Keywords:
informality; formality; programs; Sustainable Development Goals (SDGs); SDG Target 6.1; rural water supply; Community Based Management (CBM); sustainability
1. Introduction
In this paper, we examine a case of superior rural water access in two Tanzanian districts, where actors not only acknowledge, but actively harness informality to provide access to water to rural populations. We employ concepts from organization and institutional theory on (in)formality and show that when informal programs and related informal sanctions/rewards complement their formal counterparts, chances for achieving the SDG target 6.1 are significantly increased. We use the compound word (in)formality to suggest that formality and informality are not separate categories, but mutually constitutive and operate simultaneously in the same locale to produce rural water supply outcomes.
Our data consists in interviews (conducted in Kiswahili) with several actors in the rural water sector—bureaucrats, politicians, village and religious leaders. We collected data in two phases: between 2012 and 2016 during the execution of a large interdisciplinary research program and in late 2017. We used a semi-structured interview guide, organized around the themes of rural water supply in such a way as to accurately convey the meaning to the respondents and to motivate them to participate.
We identified 20 actors purposively using the snowballing sampling technique. We made sure that our sample was representative enough to cover all groups at all organisational levels in the rural water supply in Hai and Siha. Informed consent was obtained from each respondent who participated in the interviews, including respondents whose photos appear in the text. Finally, we used Kühl's programs and Helmke and Levitsky's typology to analyze the data and generate meaningful themes relevant for result presentation and discussion.
2. (In)formality: From "Either-Or" to "Both-And"
In terms of its origin and trajectory over time, informality is a rare concept in the social sciences. It was used first in the 1970s with a limited scope (labour markets) and a limited geographic reach (Ghana) to eventually become attached to a dizzying number of phenomena—politics, arrangements, networks, institutions, organisations, norms, rules, practices—in the global North and South. In 2018, informality acquired its own global encyclopaedia, an online resource for the world's unwritten rules and invisible practices [
12
,
13
]. Informality can be defined broadly as 'ways of getting things done', in contrast to formality, which encompasses written rules and visible practices, or the 'ways of how things ought to be done'.
The analytical differentiation between formality and informality has shaped a binary
"
either-or" view of the social world [
8
]. For instance, in the water sector, small-scale, artisanal, community-run systems are considered informal, are often associated with backwardness and inefficiency and are commonly attributed to developing countries. Large-scale, piped, utility-run systems are considered formal, are often associated with modernity and efficiency, and are commonly attributed to developed countries. The colours of
Figure 1
[
14
] capture the
"
either-or" view of (in)formality while the two circles imply that "
water sectors transform from being highly informal in poorly developed economies to more formalized ones as the national economies grow
" [
14
] (p. 2).
This simple analytical differentiation suggests that not just formality and informality, but also developing and developed countries are separate categories [
9
]. However, the empirical reality suggests a much more complex view, with formality and informality operating simultaneously in the same space and affecting both affluent and poor citizens [
8
,
10
,
15
]. In major Tanzanian cities, small towns and villages, the formal and informal water sectors are deeply enmeshed [
16
,
17
]. For instance, DAWASCO, the utility that runs Dar es Salaam's piped network, is unable to offer adequate salaries and motivating working conditions to its employees. As a result, informal practices among the employees are widespread. "
Most illegal connections appear to be performed by DAWASCO employees and many […] are thought to be earning money this way today. Water bill embezzlement and excessive charging also continue to be reported.
" [
18
] (p. 44). Further, affluent and poor citizens are equally affected by informality, albeit in different ways—the affluent in Dar es Salaam deal with so-called five-star water thieves, the poorer with thieves of lesser stars. About 40 five-star water thieves in Dar es Salaam, locally known as tycoons, typically:
"steal water from a main pipe of 24–30 inches, connect a smaller pipe of 3–4–6 inches length up to 4 km to the main, until they reach their residence. The water goes to an underground tank that has a capacity of 100,000 L. Some tycoons live very close to the main (300 m), and tend to sell to the affluent or to hotels who need larger water quantities. Lesser stars water thieves are too many to count. They are registered users of DAWASCO with a meter. They tamper with the meter, collect water from their tap and sell it to communities in 20 L buckets. They are very popular (a kind of Robin Hoods) with poor people and the poor get angry when their providers are caught in police raids"

.

[interview with water official, 2016]
Ranganathan [
9
] reports similar findings. In Bangalore, India "
informality suffuses the entirety of the urban waterscape [and] is as likely to be found in elite, gated complexes and high-end real estate projects sanctioned by the state as it is in slums
." (p. 6). The so-called water mafias in Bangalore and the water thieves in Dar es Salaam may engage in profiteering but also increase the reach of water into less serviceable areas, and enjoy significant popular support. Thus, the analytical "either-or" binary does not match the empirical reality. Instead, conceptualising (in)formality as "both-and" is empirically more powerful in capturing the mutual constitution of formal and informal elements in human activities in the water sector. Organization theorists [
19
] and institutional theorists [
20
] provide just such a view of (in)formality.
Organization theorists view informality as an indispensable complement to an organization's formality and distinguish three types of (in)formal structures—programs, communication channels and members [
19
]. Formal
programs
determine which actions of members are to be viewed as right or wrong, and rewarded or sanctioned, respectively. For instance, district water officials must provide information on the status of water services to the district government. District councillors must access district public records and raise questions in water-related council meetings. Informal programs take the form of well-established, customary routines and dictate informal actions such as councillors contributing their personal funds to water projects to improve their chances of re-election. Formal
communication channels
govern the information flows among organisational members and are meant to prevent everybody communicating with everybody else.
Informal communication channels develop when formal hierarchies are routinely bypassed, or when informal hierarchies are set up based on political party or tribal affiliations. An example is Community Water Supply Organisation (COWSO) leaders bypassing the formal village assembly, and instead reporting their performance to leaders of grassroots associations during village feasts. Another example is citizens contacting political figures or central government public officials to pressure district officials to respond to their needs. Finally, who the
members
are affects the decisions the organization makes. A COWSO or village leader who belongs to the ruling political party may decide differently on rural water supply from a leader who leans towards the opposition party. Further, members can be formal, e.g., COWSOs, or informal, e.g., grassroots associations of villagers with a goal to improve water services by bypassing government entirely [
16
]
Institutional theorists view informal institutions—defined as "
socially shared rules, usually unwritten, that are created, communicated and enforced outside officially sanctioned channels
"—as either reinforcing or substituting formal institutions [
20
] (p. 729). On one hand, formal and informal institutional outcomes converge or diverge depending on whether informal rules produce a substantively similar/different result from that expected from a strict and exclusive adherence to formal rules. On the other hand, effective formal institutions constrain or enable political actors' choices, while when formal rules and procedures are ineffective, actors believe the probability of enforcement (and hence the expected cost of violation) will be low. The two dimensions, outcomes and effectiveness, yield four ideal types of informal institutions: complementary, competing, accommodating and substitutive (
Table 1
).
Complementary informal institutions
'fill in the gaps' left by formal institutions, by addressing problems not explicitly dealt with in the formal rules, but without violating them. For example, the ruling party Chama Cha Mapinduzi (CCM)—meaning a revolutionary party—has a socially shared rule that the presidential candidate representing CCM in general elections becomes the party chairperson after the election. This informal rule is not prescribed in the party's formal constitution but is used to ensure stability within the party and the government under the ruling party.
Accommodating informal institutions
are enacted when actors who dislike the outcomes generated by formal rules are unable to change or openly break them. They often help reconcile key actors' interests with existing formal institutions. For instance, councilors may approve a water budget that serves not their constituents' but their personal interests, including their chances of re-election.
Competing informal institutions
co-exist with weak or ineffective formal institutions, and have antagonistic goals. They structure actors' incentives in ways that are incompatible with the formal rules: to follow one rule, actors must violate another. For instance, politicians must serve their constituents by providing services such as education, health and water through public resources. However, when public resources are not readily available, they use clientelistic networks from friends, relatives and business elites.
Substitutive informal institutions
combine weak formal institutions and compatible actor goals. They are created or employed by actors seeking to achieve outcomes that formal institutions were expected, but have failed, to generate [
20
] (p. 729). A good example is community policing. Following increasing crime rates in major cities of Tanzania and the failure of the police force to protect people and their properties, communities established their own ways of protecting themselves. Youth groups (called Sungusungu) protecting the community from criminal threats are compensated with monthly community contributions and are still operational in relatively poor peri-urban and rural areas.
The two theories outlined above espouse the mutual constitution of formality and informality, the "both-and" view of (in)formality, despite the differences in terminology. Kühl's formal and informal
programs
are similar for all practical purposes to Helmke and Levitsky's formal and informal
rules
. Both theories mention
communication channels
, albeit more explicitly in the first case. Helmke and Levitsky [
20
] separate the actors (or "players") from the rules they follow and focus on the rules themselves, while Kühl [
19
] considers
members
a key organizational structure. Finally, both theories highlight the importance of rewards and sanctions for following or not following programs or rules, whether formal or informal. In what follows, we use Kühl's [
19
] programs (as a synonym of rules) as well as the concepts of rewards and sanctions present in both theories. We analyze the actions of actors in rural water supply as effective or ineffective, and producing convergent or divergent outcomes, using Helmke and Levitsky's [
20
] typology in
Table 1
.
3. Empirical Context
3.1. The Rural Water Supply Organization
Organizationally, rural water supply in Hai and Siha is modelled along the Community Based Management (CBM) scheme, officially introduced in Tanzania through two interrelated policy frameworks: the National Water Policy (NAWAPO) of 1991 and its revised version of 2002. The two policy frameworks give citizens formal responsibilities for the design, operation and maintenance (O&M) of rural water projects, and the professional management and revenue collection through billing systems [
1
] (pp. 31–33). The CBM rationale is that rural water supply can only be improved if the community takes ownership of the water projects in terms of design, operation and maintenance [
1
] (p. 33).
CBM schemes for rural water supply come in several variants and different names depending on the type of management model. One of these variants is the Community Water Supply Organization (COWSO), a single management model for rural water supply management recognized in the sector policies and strategies [
1
]. Another variant is the Water Service Facility Trust (WSFT), consisting of a number of water user associations or water groups which join to form a federation of Water Trusts (WTs)—allowing the bundling and economies of scale of a larger overall management unit [
31
]. Other organizational models are relatively small-scale and not widely documented [
31
]. Our analysis will focus on Water Trusts under a WSFT, the model adopted in Hai and Siha.
CBM schemes are lauded as 'best practices' for sustaining rural water supply in developing countries [
32
] and the organisational model par excellence for achieving the SDG water target 6.1 [
33
]. Sustainability of rural water supply is also highlighted in the NAWAPO of 2002, which provides seven pre-requisites: "
(i) adopting the principle of managing water schemes at the lowest appropriate level; (ii) the beneficiaries themselves establishing, owning and managing their water schemes; (iii) ensuring full cost-recovery for operation and maintenance, and replacement; (iv) facilitating availability of spare parts and know-how for timely repair and maintenance of the schemes through standardization of equipment and promotion of private sector involvement; (v) protection of water sources areas; (vi) reconciling the choice of technology and the level of service with the economic capacity of the user groups; and (vii) recognizing women as being among the principal actors in the provision of rural water supply services.
" [
1
] (pp. 31–32). In practice, however, donors and the government concerned with sustaining the rural water supply sector are doing less to sustain it [
32
].
The rural water sector in Hai and Siha is organized in five levels (see
Figure 2
). The highest level is the
regional government,
which oversees the sector wide performance of the water sector both rural and urban.
The second level is the
District Council(s)
consisting of water departments headed by District Water Engineers (DWEs). The DWEs are responsible for the design, monitoring, coordination and implementation of water projects. The third level is the
Water Service Facility (WSF)
. The WSFT is a legally established organization under the Hai and Siha Districts Councils and cooperates with the water supply trusts as a non-profit professional service provider facility. It is headed by a manager supported by two departments—a technical and a commercial department—assisted by a small team of full-time professionals. The vision of the Water Service Facility is "
to make sure that the water supply trusts established during the project implementation are sustainable and can meet the requirement of supplying clean and safe drinking water to the targeted beneficiaries efficiently
". The constitutions of all Water Trusts ascertain the WSFT as the provider of technical and advisory support.
The fourth level is the
Board of Trustees
formed by DWEs, representatives of water trusts from villages and representatives of village water committees and users. The fifth level is the
Management Team
, formed by a manager/chief engineer, a chief technical supervisor, a pipeline attendant, chief accountant and assistant accountant, office attendants and watch-men. Each organisational level has formal roles and responsibilities in rural water supply and associated rewards and sanctions in case of good or bad performance (see
Table 2
).
3.2. Performance of Rural Water Supply
Like most districts in rural Tanzania, Hai and Siha experienced serious water problems until the early 1980s and 1990s. Senior rural water officials mentioned to us "
an aged and dilapidated water supply schemes built in 1960s and 1970s; pollution and contamination of traditional furrows by animals and human wastes, fertilizers and pesticides. As a result there were outbreak of diseases such as cholera, typhoid, amoeba, induced by the polluted and contaminated water sources
" [interview WSFT engineer]
.
Other problems were financial constraints, poor technology for storing and treating the water, absence of a billing system, a fragmented water distribution network, absence of community management schemes for rural water supply and frequent vandalism of water pipes.
In response, a few community members organized themselves through the local Church, the Evangelical Lutheran Church of Tanzania Northern Diocese (ELCT-ND), and initiated the first community water project at Uroki village and its neighbouring villages in the year 1990. To secure funding, the local Church presented a project proposal successfully to their sister Lutheran (protestant) Church in Germany and the German government. The latter agreed to finance the project jointly with the Government of Tanzania and the local church (ELCT-ND) in four phases: 1991–1996; 1998–2000; 2001–2004; 2005–2013. In this agreement, the German government provided a whopping €27 million, the German protestant church contributed €230,000 and the European Union offered an additional €3.5 million. The Government of Tanzania contributed €790,000 while community contribution through self-help was valued to the tune of €935,000 [fieldwork data].
Table 3
summarizes the activities, financial allocations and target populations for each water project per each phase.
Compared to the 52% of the population in rural areas lacking improved water in Tanzania (World Bank Group, 2017), the performance of Hai and Siha along the five dimensions underpinning the SDG target 6.1 and indicator 6.1.1. [
34
] is impressive.
Table 4
summarizes the rural drinking water situation against five sustainability dimensions.
The sustainability dimensions in
Table 4
are articulated in the mission statements of all seven water trusts in
Table 2
, for instance: "
To supply clean and safe drinking water, twenty four hours in a day, three hundred and sixty five days in a year, for at least next fifty years at affordable costs.
" Supply of water on a 24/7 basis is true only for house connections. Public standpipes do not supply water at night, because the water seller is not available at night. However, all citizens are aware of when to expect water at public standpipes. Each standpipe has a sign with a timetable for citizens to collect water. Hence, even in this case, the provision of water through public standpipes does not take away reliability. Most importantly, citizens who are using the public standpipes can opt for a higher level of service—a house connection that provides water on 24/7 basis [
16
].
According to the WSFT director, the investments by donors, the church, community members and the government resulted in "
a network of 1314 km of pipeline constructed for distributing water to the targeted population (feeder mains, trunk mains, distribution mains and service mains). 25,043 customers were connected with piped water, including domestic, commercial and institutional customers. 1682 public taps were constructed for the beneficiaries or water users who could not afford private house connections. 142 storage tanks of different capacities were constructed to store water for peak consumptions. All points of abstraction became metered to enable customers to pay according to consumption. Total cash collection through water bills and other services for the year 2013 for all seven water supply trusts was Tsh Billion 2.311 and total expenditure for operation, maintenance and sustainability for the year 2013 for all seven water supply trusts were Tsh Billion 1.758
".
4. Formality and Informality in Hai and Siha Districts
The superior performance summarized in
Table 4
motivated our fieldwork. We set out to identify the sources of informality at work that explain why similar formal programs in other Tanzanian districts produces such different outcomes in Hai and Siha. In other words, we wondered why money and water flows in these two districts, while money flows and water only trickles in most others [
35
].
4.1. Formal Programs and Rewards/Sanctions
Formal programs include: (i) the billing system with pre-determined tariffs for customers; (ii) the Operation and Maintenance (O&M) of rural water infrastructure; (iii) recruitment, training, promotion, and retaining staff and interactions between donors and the leaders of WSFT and WTs. Formal sanctions include not being elected or allowed to compete for election in the WTs and VWC, not being selected in the next round of appraisal, formal warning for poorly performing WTs payment of fines for those who pollute water sources and vandalise water projects. Formal rewards include certificates of recognition, prize money and a trophy. We present the formal programs first followed by the rewards/sanctions.
4.2. Informal Programs and Rewards/Sanctions
Informal programs entail socially shared rules, norms and 'practices', usually unwritten, that are created, communicated and enforced outside officially sanctioned channels and include: shaming those who fail to pay water bills by reading their names in church or mosque; prayers to God that those who vandalize and do harm to water projects do not succeed in life. The rewards include: recognition during a public mass; and special prayers for continued good service (
Figure 5
).
4.2.1. Religion as an Instrument for Creating Socially Shared Values
The Evangelical Lutheran church and some local mosques use religion as an instrument to create socially shared values in the rural water supply sector. Public mass sessions in churches and mosques make direct reference to rural water services [
Figure 5
]. The leaders of WSFT, WTs and VWC accompany church leaders to sensitise local communities regularly on issues related to paying water bills on time, maintaining water infrastructure, protecting sources of water and refraining from engaging in vandalism. They frame their message using biblical and Quran references related to water in general. According to a respondent from Lewatefuke Trust, the most cited reference in the Holy Quran is chapter 56 verse 68–70: "
Have you observed the water you drink? Do you bring it down from the rainclouds? Or do we? If it were our will, we could make it salty. Then why are you not thankful?"
"
The leaders would then proceed to contextualize the message into the daily workings of the communities related to water in general while appealing to super natural powers
"
,
notes one of the respondents from the local Lutheran Church.
Biblical and Quran references are used in community radio interviews about water. In one of the radio presentations, the WSFT engineer talked about "
paying water bills [as] a sacred good, those who do not pay water bills go against God's Ten Commandments
". He urged customers connected to water facilities managed by water trusts to "
pay their water bills in time because it will not only make God happy but improve the revenue collection of the water trusts which can then help to improve the delivery of water services
". He further suggested "
customers who do not pay the water bills will be punished by God, they will not succeed in whatever endeavors they will pursue in their lives because failing to pay for water while they are capable to do so amounts to denying somebody a right to live because water is life.
"
As part of its outreach programme to the less fortunate, the Lutheran church pays some water bills of its members, if it can be assured that they cannot afford to pay them themselves, liaising with the tap attendants. Commenting on this practice, a senior pastor of the Lutheran church said: "
We believe in sharing spirit. There is no better way to share the little that we have than helping the poor. Even in the Holy Bible it is written help your neighbour in times of trouble. But we don't just help anybody. We help the needy. We assess the person in question and satisfy ourselves that they really need the help. If we don't do that we will have hundreds of people capable of helping themselves seeking help
".
4.2.2. The Chagga Diaspora's Contributions to the Water Bills of Their Kin
The Chagga diaspora comprises Chagga population residing in cities such as Dar es Salaam, Arusha, Mwanza, Dodoma, Mbeya and abroad. They form a network of business elites in the hotel industry, mining, real estate, malls, garages, bars and restaurants and in the public service, including financial institutions and universities. They regularly visit their ancestral homes in Kilimanjaro during Christmas and New Year's Eve.
The Chagga diaspora plays an important role in water supply in Hai and Siha districts by indirectly facilitating their parents and relatives financially to acquire a house water connection: "
I just wanted to relieve my mother from the burden of carrying a bucket of water from the public water point a few meters from home. I am happy that my mother can access water at her own homestead" (Citizen, Hai district). "Some [Chagga diaspora] have houses in the village but they live in urban centres. Their houses are connected with water, however, but it is only consumed for a short period of the year when the owners are visiting the village
," says a water technician. There is a special connection between the Chagga diaspora and their ancestral homes. According to the WSFT director: "
the feeling of attachment to home is an underlying feature among the Chagga. The Chagga people love their ancestral homes. This connection originates across generations and is like a ritual passed on from generation to generation
" The connection to an ancestral home "
without having the financial capacity to travel during Christmas holidays and pay the bills is ridiculed by most Chagga,
" explains a director of WSFT. It is through the trading activities and capitalist ventures that they can cover the costs of water bills in their ancestral homes.
4.2.3. Solidarity, Self-Help and Volunteerism as Socially Embedded Norms and Values among the Chagga
The Chagga solidarity extends to paying water bills to committee members. The village water committees are formally responsible for making sure all water users pay water bills, including the individuals who are members of a VWC. However, if the water attendant (who is a member of a water committee) fails to pay the water bills, the water committee members pay the bill themselves to avoid shame: "
one public tap attendant did not pay a water bill and the water board wanted to disconnect water. We were concerned that people [who were paying money when collecting water at the tap] would miss out water, we collected money and paid the bill on his behalf
" (Water committee member). The committee felt "
it would be a shame for the water board to disconnect water while people are paying their bills
". A delay of payment would suggest that they are poor and cannot afford to pay for water. Appearing destitute is highly discouraged among the Chagga.
5. Discussion
The implications of our study are twofold: first, development agencies, governments, and NGOs searching for new ways to meet SDG6 should acknowledge the elephant in the room by harnessing and nurturing useful informality in their development interventions in the rural water sector. Second, lesson learning and lesson drawing can be taken by other parts of the country and indeed other countries in sub-Saharan Africa to harness productive informality and improve rural water supply.
Author Contributions
J.K. and Y.G. analyzed, conceptualized the data and wrote the paper.
Funding
We acknowledge the financial support of the research programme "Sensors, Empowerment and Accountability (SEMA) in Tanzania" funded by the Netherlands Organisation for Scientific Research—Science for Global Development (NWO-WOTRO). The first author received additional financial support as a visiting scholar at the ITC Faculty, University of Twente to conduct fieldwork between September and November 2017, also from NWO-WOTRO.
Acknowledgments
We are thankful to our informants in Hai and Siha districts who provided us with invaluable information in rural water governance and to the three anonymous reviewers for insightful comments that improved the manuscript. We also acknowledge the contribution of Dr. Kapongola Nganyanyuka, who collected part of the data used in this paper.
Conflicts of Interest
The authors declare no conflict of interest.
Abbreviations
| | |
| --- | --- |
| CBM | Community Based Management |
| COWSO | Community Water Supply Organization |
| DAWASCO | Dar es Salaam Water and Sewerage Corporation |
| DED | District Executive Director |
| GoT | Government of Tanzania |
| IWMI | International Water Management Institute |
| JMP | Joint Monitoring Program |
| MDG | Millennium Development Goals |
| NAWAPO | National Water Policy |
| O & M | Operation and Maintenance |
| PO-RALG | President's Office Regional Administration and Local Government |
| SDGs | Sustainable Development Goals |
| URT | United Republic of Tanzania |
| VEO | Village Executive Officer |
| WEO | Ward Executive Officer |
| WSDP | Water Sector Development Program |
| WSFT | Water Service Facility Trust |
| WT | Water Trust |
| VWC | Village Water Committee |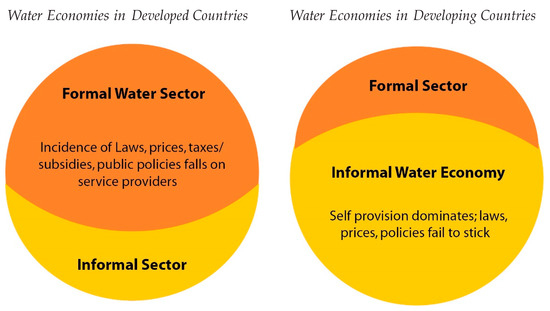 Figure 1.
An "either-or" view of (in)formality and development, reproduced from [
14
].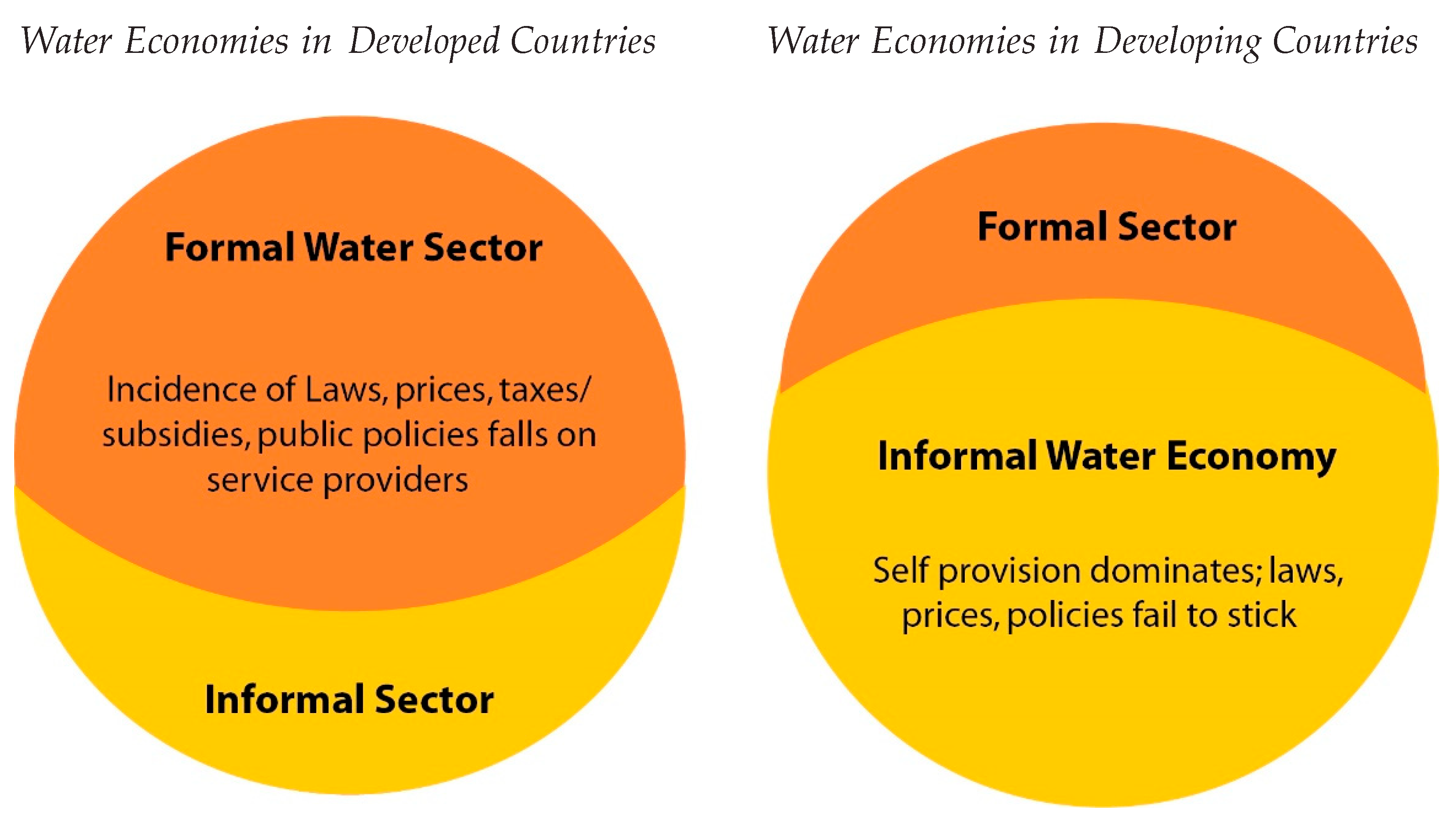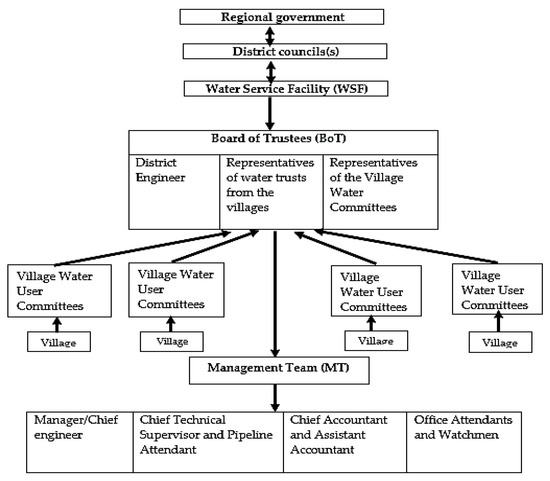 Figure 2. Organisational levels in the rural water supply in Hai and Siha (Source: Fieldwork data, 2017).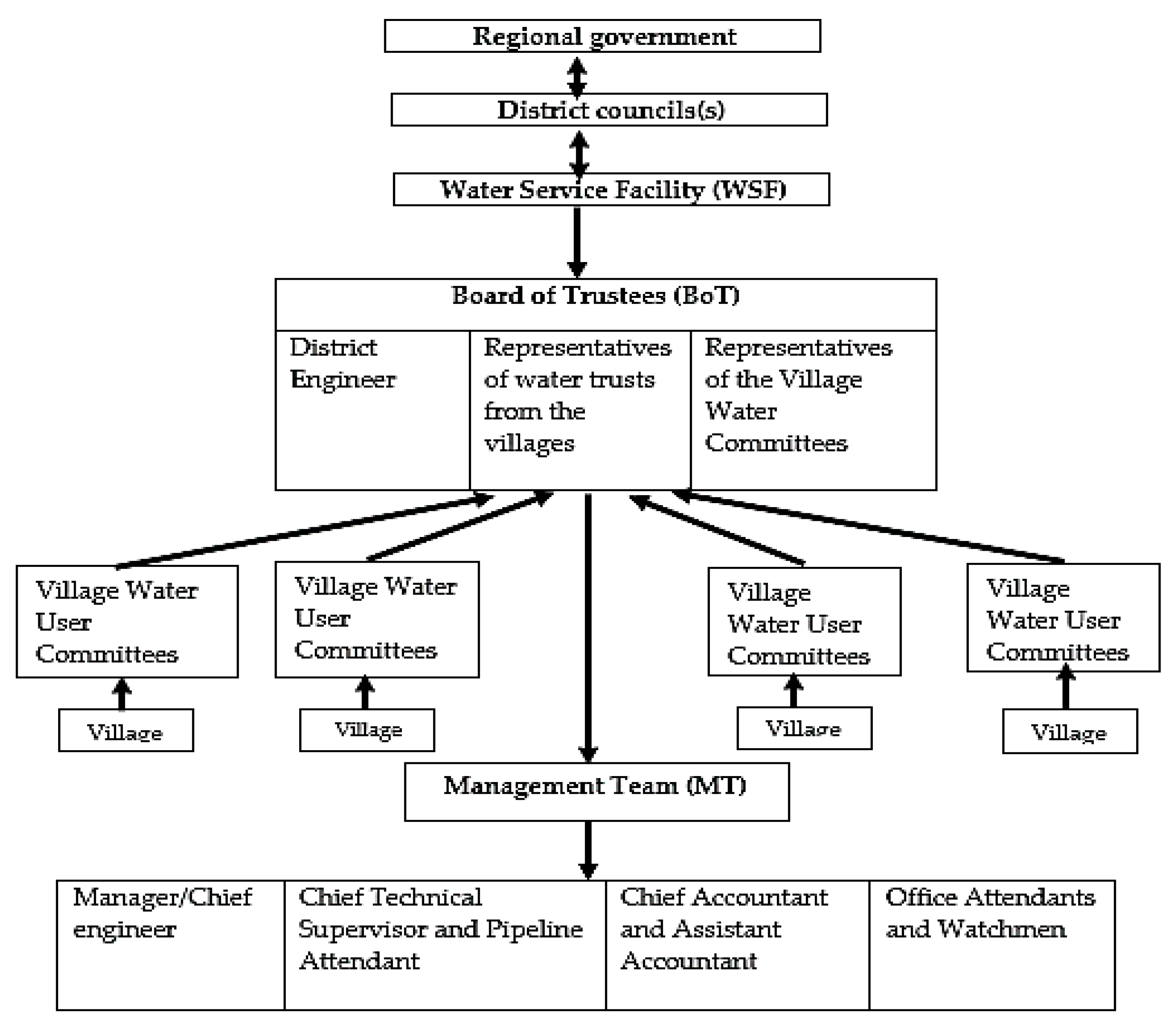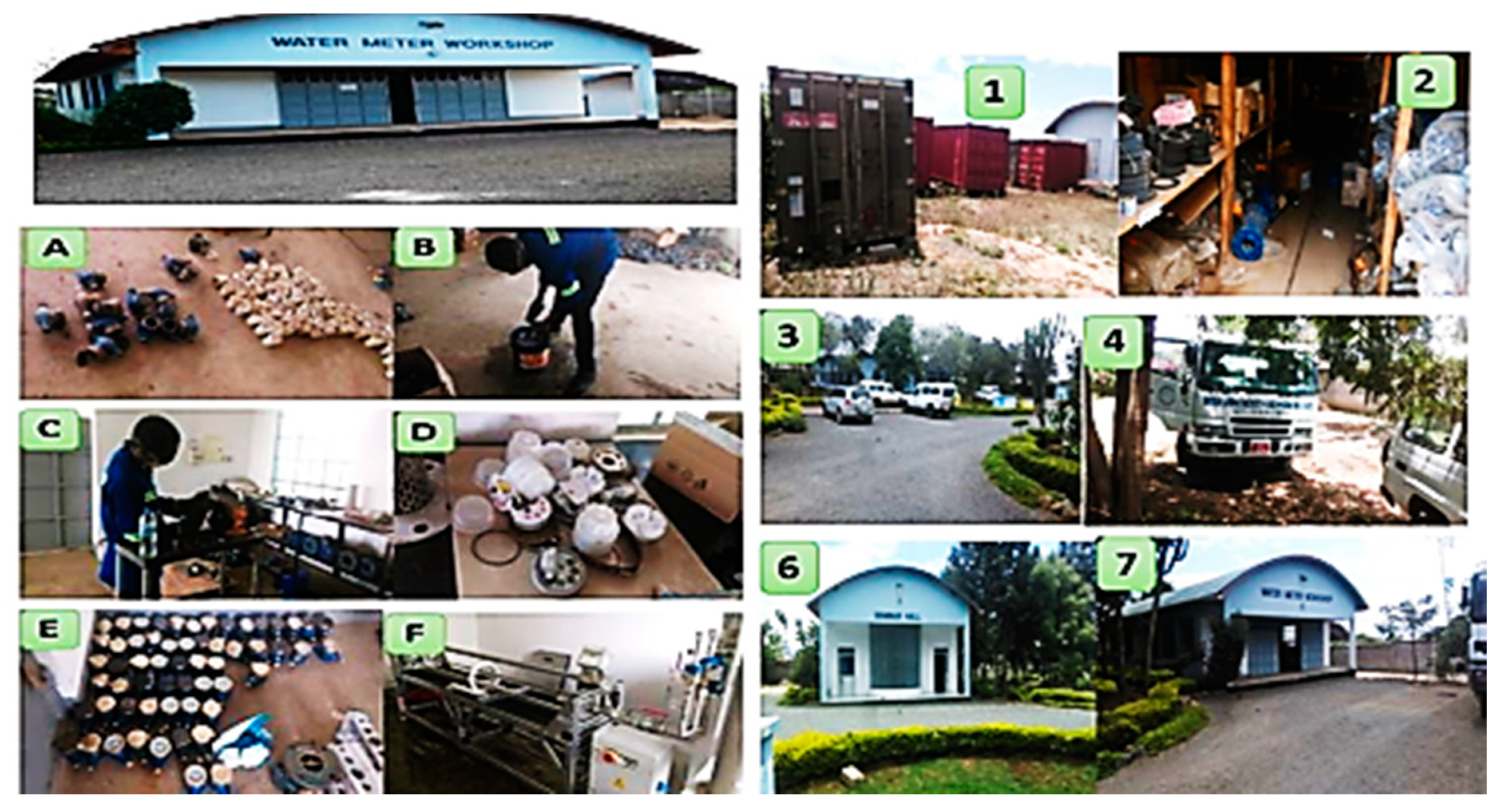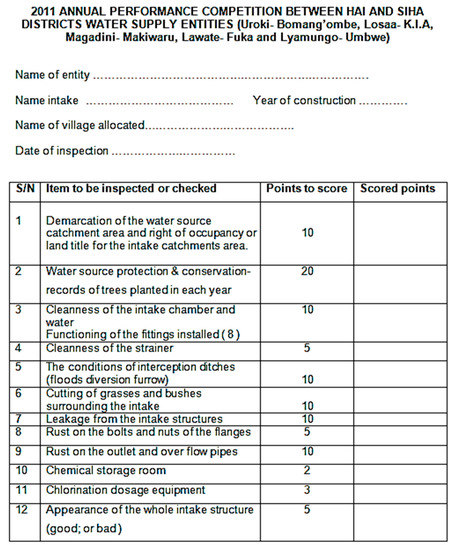 Figure 4.
Appraisal form used to evaluate the WTs [
37
].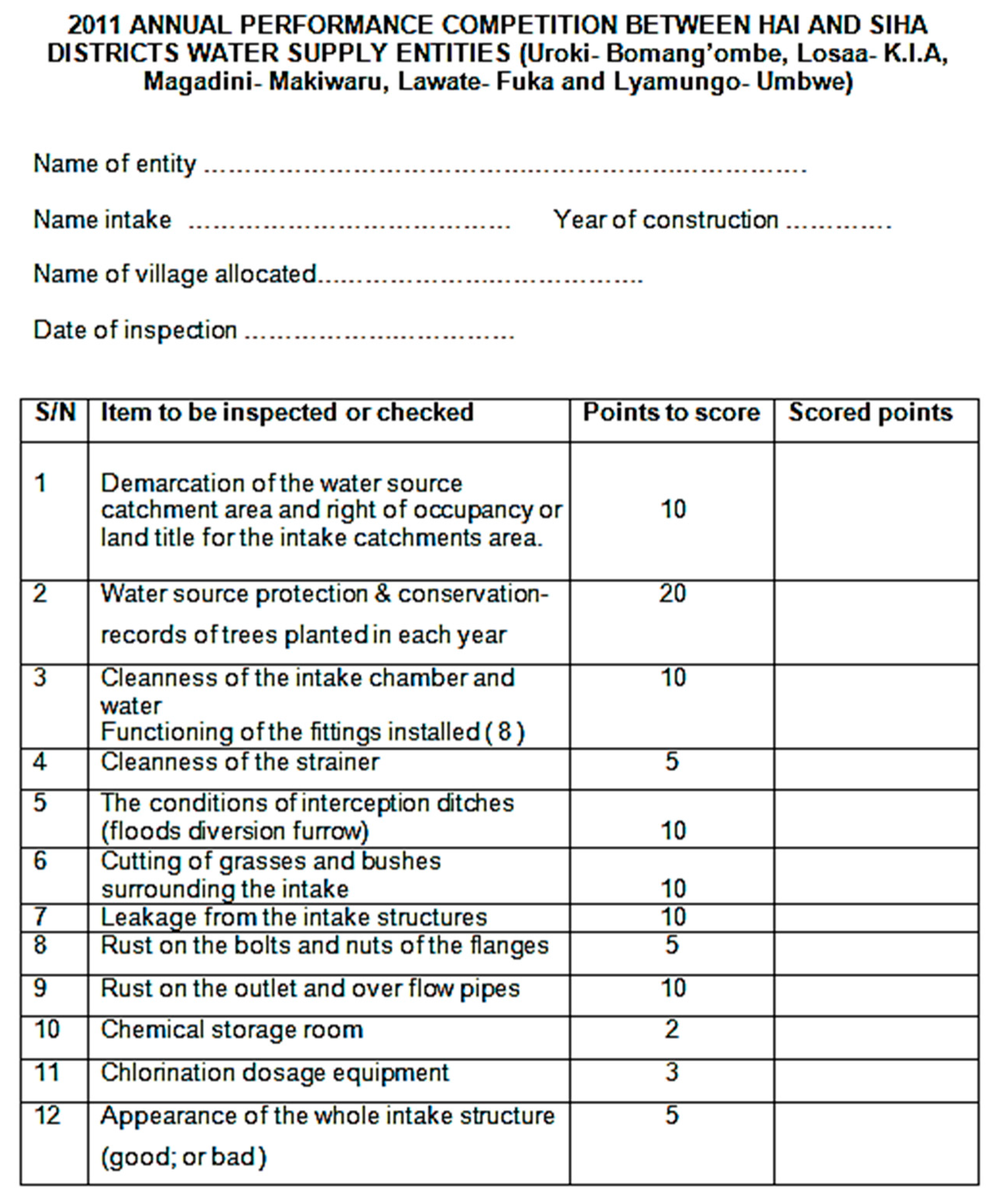 Figure 5.
The Chief engineer of Hai and Siha pictured left, in the middle and right engaging Islamic and evangelical church leaders on rural water supply issues [Fieldwork data, 2017] [
37
].


Table 1.
A typology of informal institutions [
20
] (p. 728).
| Outcomes | Effective Formal Institutions | Ineffective Formal Institutions |
| --- | --- | --- |
| Convergent | Complementary | Substitutive |
| Divergent | Accommodating | Competing |

Table 2. A summary of formal responsibilities and sanctions of various organisational levels in Hai and Siha (Source: Fieldwork data, 2017).
Organisation
Formal Responsibilities/Roles
Sanctions
Regional government
Oversee the rural and urban water supply sector across the region.
Member of steering committee, formed to execute water projects in Hai and Siha.
Resolve conflicts and enforce regulations.
Transfer, demotion, termination of employment (for administrative staff) Termination of appointment (for political appointees)
District councils
Design, monitor, implement and evaluate water projects.
Provide land for the water projects.
Water Service Facility Trust
Supports and sustains Water Trusts.
Cooperates with the independent existing water supply trusts as a non-profit professional service provider facility.
Cancellation of funds and technical assistance from donors
Board of trustees
Supreme decision-making organ
Policy making and planning
Directing, managing and supervising the management team
Sustain, safeguard, operate and maintain the water project on behalf of the stakeholders or beneficiaries
Termination of appointment to serve as a member of the board
Management team
Carry out the day-to-day operation and maintenance of the Water Trusts
Demotion, termination of employment
Water Trusts and Village Water Committees
Oversees the quality of water supply in the villages
Ensures the timely payment of water fees.
Not being elected or allowed to compete for election in the WTs and VWC.
Formal warning for poorly performing WTs and VWC.

Table 3. Historical trajectory of the financing and implementation of seven Water Trusts in Hai and Siha [Source: Fieldwork data].
| Phase | Name of Water Supply Schemes | Physical Implementation | Scheme Completion | Cost in Euros (million) | Cost in Billion Tshs | Target Population by Year 2015 |
| --- | --- | --- | --- | --- | --- | --- |
| I | Uroki Bomangombe Water Supply Trust (WST) | 1991 | 1996 | 7.17 | 14.3 | 62,000 |
| II | Losaa Kilimanjaro International Airport (KIA) WST | 1998 | 2000 | 4.40 | 8.8 | 65,000 |
| III | Magadini Makiwaru WST | 2001 | 2002 | 1.715 | 3.43 | 22,000 |
| III | Lawakate Fuka WST | 2002 | 2003 | 1.815 | 3.36 | 42,000 |
| III | Masama Extension WST | 2003 | 2004 | 1.375 | 2.74 | - |
| III | Rundungai extension WST | 2003 | 2004 | 0.96 | 1.92 | - |
| IV-1 | Lyamungo Umbwe WST | 2005 | 2008 | 8.01 | 16.02 | 75,000 |
| IV-2 | Five schemes: Machame, Mkalama, West Kilimanjaro, North west Kilimanjaro WST | 2008 | 2013 | 8.21 | 16.42 | 97,000 |

Table 4.
Sustainability dimensions ascribed in SDG water target 6.1 on drinking water [
34
].
| Dimensions of SDG Water Target 6.1 | Hai and Siha Districts |
| --- | --- |
| Universality | Access extends from households to schools, health care facilities and work places. |
| Equity | Progressive reduction and elimination of inequalities among population sub-groups. |
| Access | Seven piped gravity water supply schemes managed by seven trusts serving a population of around 366,696. Sufficient water to meet domestic needs and reliably available close to home. 92% percent of the population has access to water. |
| Safety | Safe drinking water, free from pathogens and toxic chemicals at all times. State of the art technology to purify and treat water |
| Affordability | Payment does not restrict rural communities from meeting basic water needs. The poor and less privileged pay according to their level of income, often receiving subsidies from the Chagga diaspora and local churches and mosques. |

Table 5. Summary of formal and informal programs/sanctions and rewards in Hai and Siha (Source: Fieldwork data, 2017).
Formal Programs
Informal Programs
Standardized billing system with pre-determined tariffs for customers.
Formalized operation and maintenance of the rural water infrastructure.
Recruitment, training, promotion, and retaining staff.
Interactions between donors and the leaders of WSFT and WTs.
Prayer sessions in every Monday morning to strengthen team work and work ethic; leaders of the WSFT addressing church and mosque congregations on how to maintain the rural water supply by protecting water sources, doing away with vandalism, and paying water bills on time; church and mosque leaders preaching the sanctity of water.
Chagga diaspora paying for the water bills of their tribal kin.
Solidarity, self-help and volunteerism as Chagga values
Formal Sanctions/Rewards
Informal Sanctions/Rewards

Sanctions


Not being elected or allowed to compete for election in the WTs and VWC
Not being selected in the next round of appraisal
Formal warning for poorly performing WTs
Payment of fines for polluters and vandals

Sanctions


Shaming those who fail to pay water bills by reading their names in church or mosque.
Prayers to God that those who vandalize and do harm to water projects do not succeed in life.

Rewards


A trophy, a certificate of recognition, prize money

Rewards


Recognition during a public mass.
Special prayers for continued good service.

© 2018 by the authors. Licensee MDPI, Basel, Switzerland. This article is an open access article distributed under the terms and conditions of the Creative Commons Attribution (CC BY) license (http://creativecommons.org/licenses/by/4.0/).