Open Access This article is
freely available
re-usable
Article
Conceptual Architecture and Service-Oriented Implementation of a Regional Geoportal for Rice Monitoring
1
Geospatial Technologies Research Group (GEOTEC), Universitat Jaume I, Av. Vicente Sos Baynat s/n, 12071 Castellón de la Plana, Spain
2
Institute on Remote Sensing of Environment, Italian National Research Council (CNR-IREA), Via Corti, 12, 20133 Milano, Italy
*
Authors to whom correspondence should be addressed.
Academic Editors: Tao Cheng, Eugene Genong Yu and Wolfgang Kainz
Received: 3 April 2017 / Accepted: 19 June 2017 / Published: 23 June 2017
Abstract
:
Agricultural monitoring has greatly benefited from the increased availability of a wide variety of remote-sensed satellite imagery, ground-sensed data (e.g., weather station networks) and crop models, delivering a wealth of actionable information to stakeholders to better streamline and improve agricultural practices. Nevertheless, as the degree of sophistication of agriculture monitoring systems increases, significant challenges arise due to the handling and integration of multi-scale data sources to present information to decision-makers in a way which is useful, understandable and user friendly. To address these issues, in this article we present the conceptual architecture and service-oriented implementation of a regional geoportal, specifically focused on rice crop monitoring in order to perform unified monitoring with a supporting system at regional scale. It is capable of storing, processing, managing, serving and visualizing monitoring and generated data products with different granularity and originating from different data sources. Specifically, we focus on data sources and data flow, and their importance for and in relation to different stakeholders. In the context of an EU-funded research project, we present an implementation of the regional geoportal for rice monitoring, which is currently in use in Europe's three largest rice-producing countries, Italy, Greece and Spain.
Keywords:
rice crop monitoring; geospatial services; service-oriented architecture; data integration; geoportals; remote sensing for agriculture; web mapping for agriculture
Acknowledgments
This work is partly funded by the European Union Seventh Framework Programme (FP7-SPACE/2007-2013) project ERMES (grant agreement 606983). Sven Casteleyn and Carlos Granell are funded by the Ramón y Cajal Programme of the Spanish government (grant numbers RYC-2014-16606 and RYC-2014-16913, respectively). Ignacio Miralles is funded by the Spanish Ministry of Education, Culture and Sports (FPU grant reference FPU14/00020).
Author Contributions
All the authors contributed to the design, development, deployment, and testing of the Regional Geoportal for Rice Monitoring. Carlos Granell and Ignacio Miralles wrote the first draft of the manuscript. All the authors edited the manuscript in its final form.
Conflicts of Interest
The authors declare no conflict of interest.
Abbreviations
The following abbreviations are used in this manuscript:
| | |
| --- | --- |
| API | application programming interface |
| CAP | Common Agriculture Policy |
| CRUD | create, read, update and delete |
| CSV | comma-separated value |
| EO | Earth observation |
| ERMES | Earth obseRvation Model based ricE information Service |
| GIS | geographic information systems |
| HTTP | hypertext transfer protocol |
| ISPRS | International Society for Photogrammetry and Remote Sensing |
| LAI | leaf area index |
| LRS | Local Rice Service |
| MODIS | moderate resolution imaging spectroradiometer |
| NDVI | normalized difference vegetation index |
| ORM | object relation mapping |
| REST | Representational State Transfer |
| SDI | spatial data infrastructures |
| SAR | synthetic aperture radar |
| RRS | Regional Rice Service |
| VHR | very-high resolution |
| WARM | Water Accounting Rice Model |
Figure 1.
Overall conceptual architecture of the ecosystem of the Earth obseRvation Model-based ricE information Service (ERMES) tools (updated from Busetto et al. [
32
]). The shadow rectangle denotes the focus of this paper. EO: Earth observation; GIS: geographic information systems; MODIS: moderate resolution imaging spectroradiometer; WARM: Water Accounting Rice Model; LAI: leaf area index.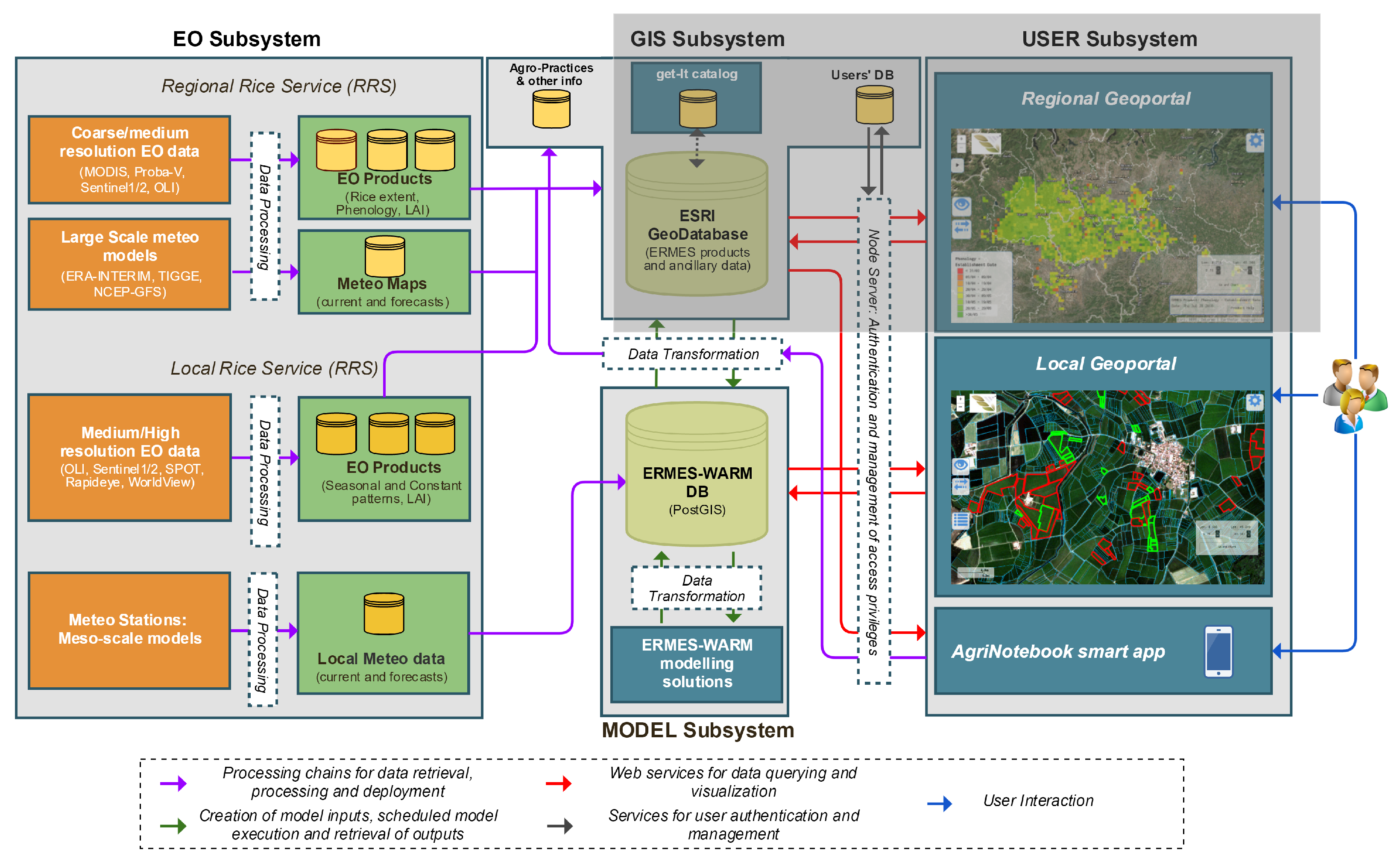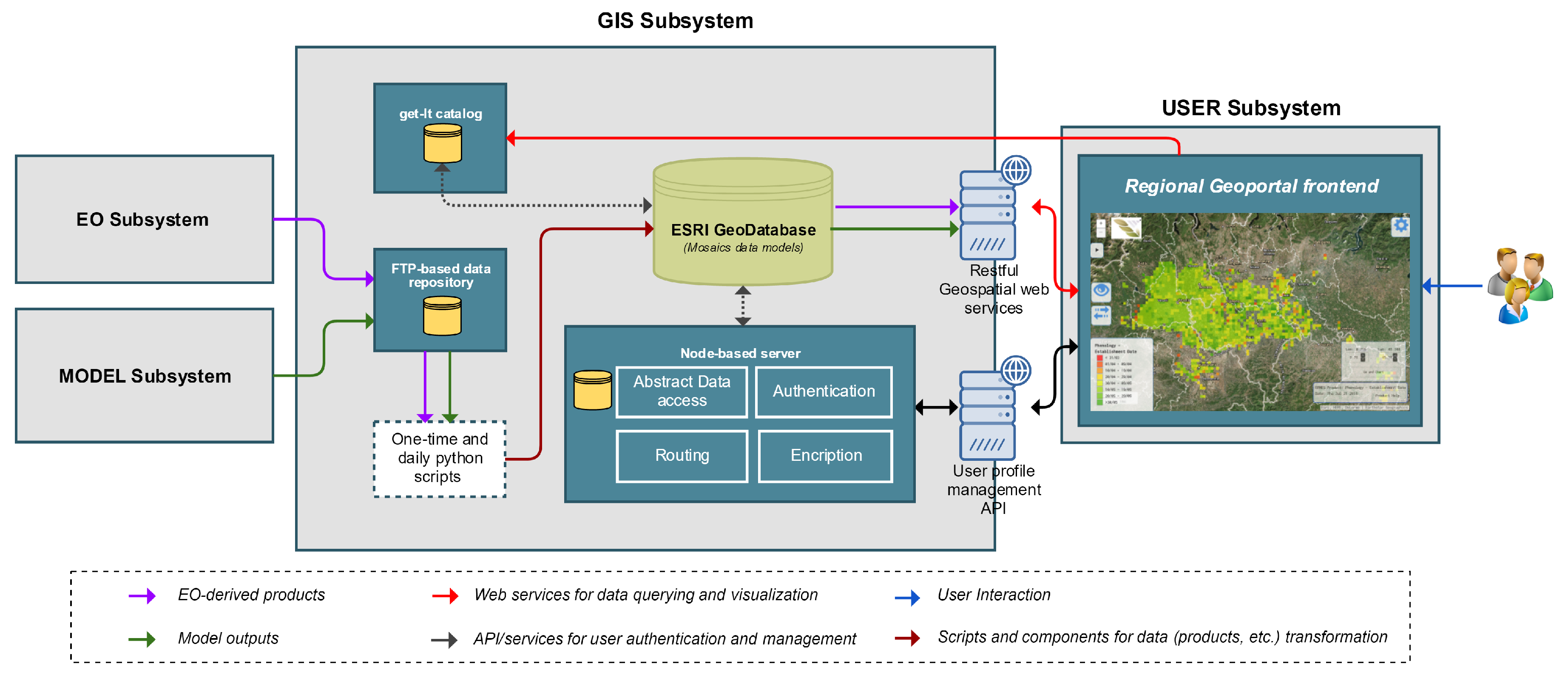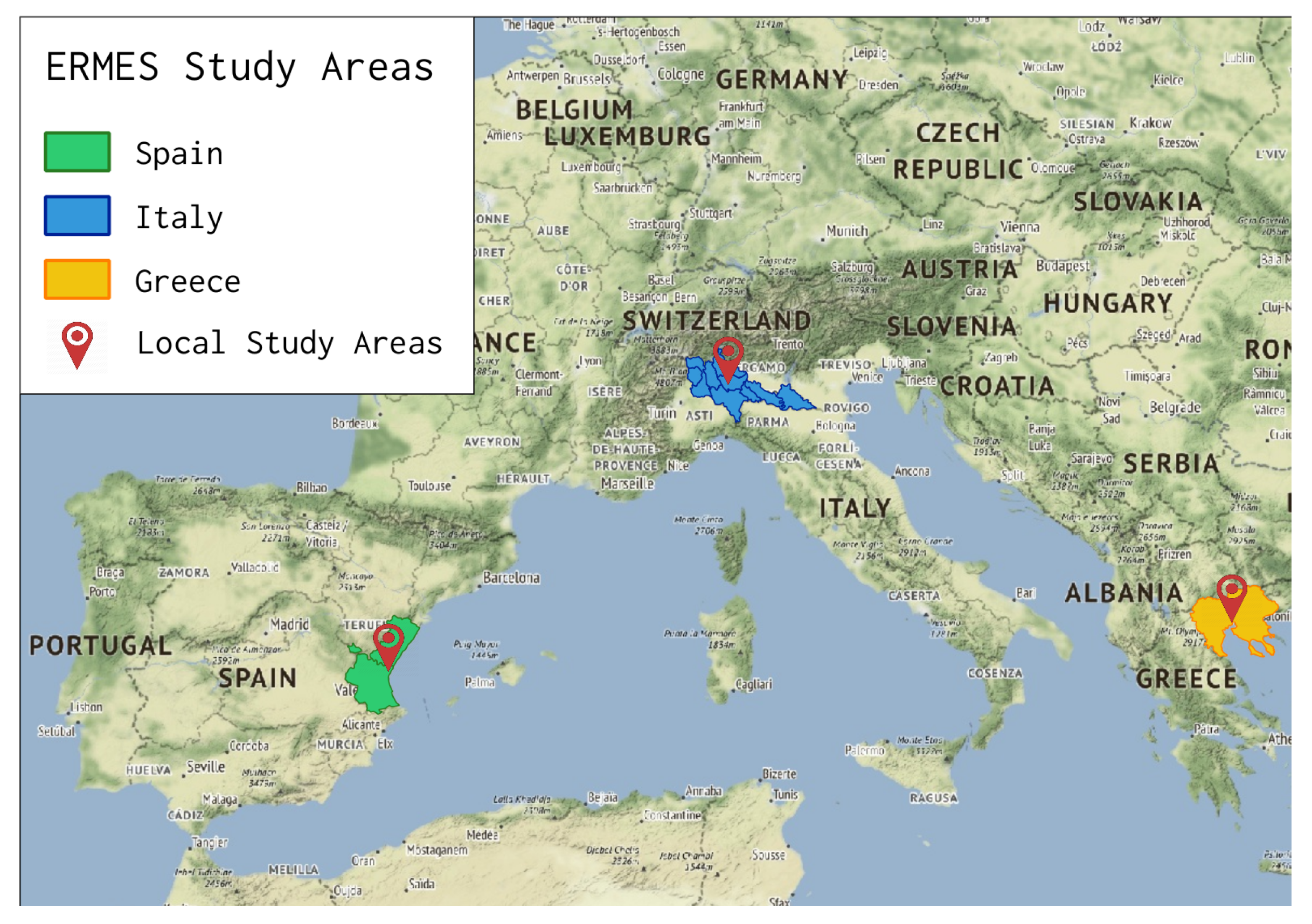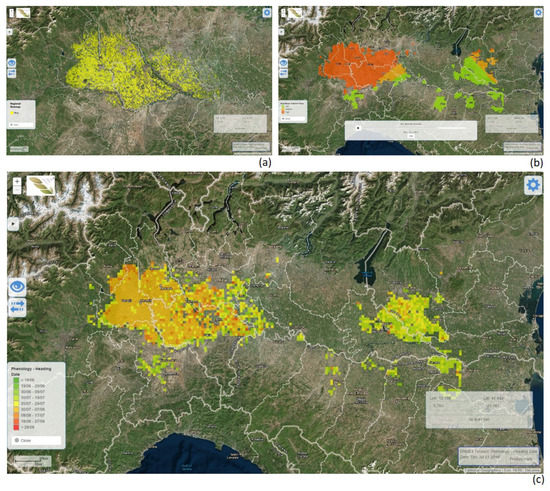 Figure 4. Examples of data products visualization of the Italian study area: (a) rice crop map (2016); (b) rice blast infection risk map (11 July 2016); (c) dates of flowering map (21 July 2016).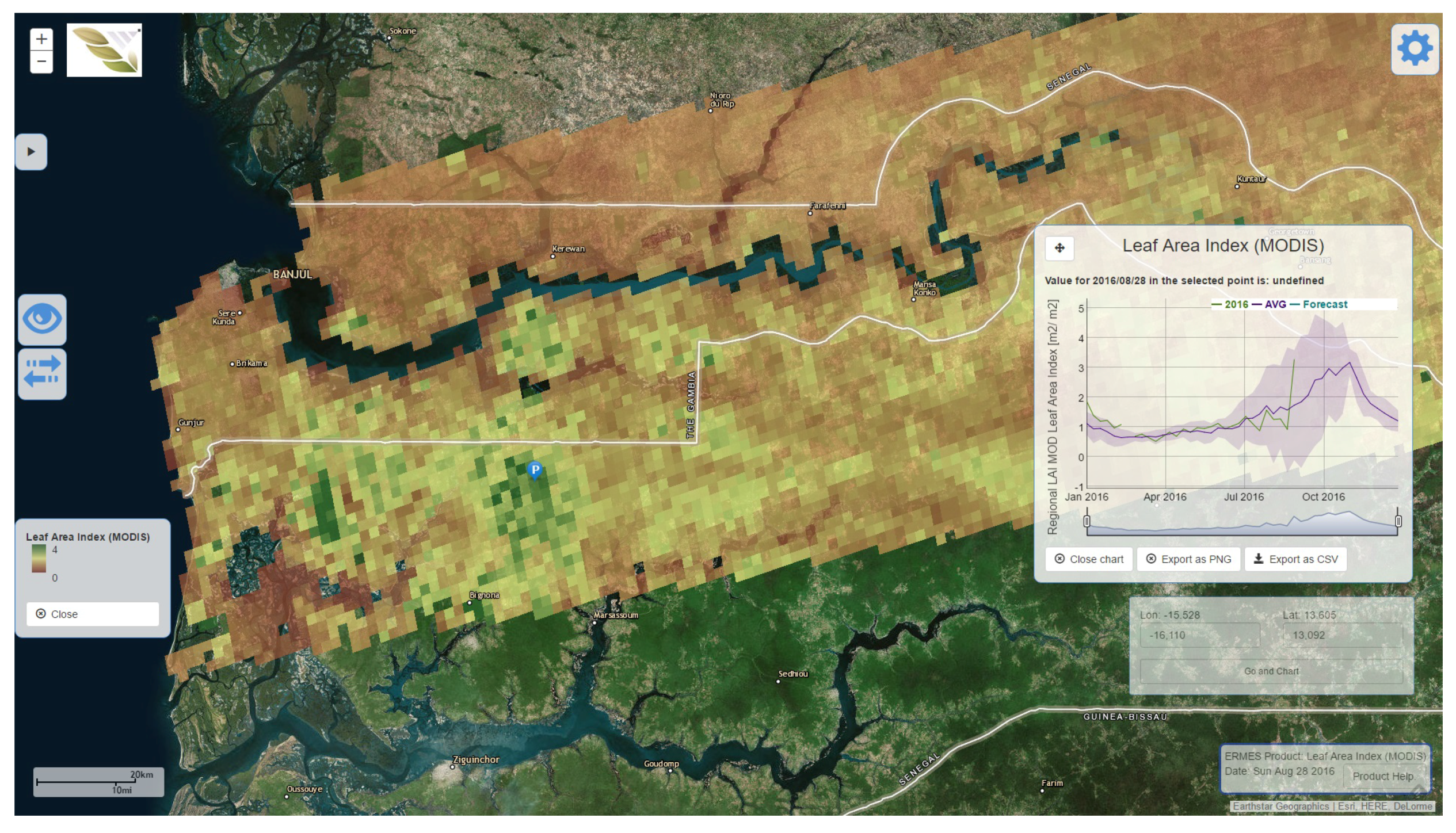 Figure 6. Examples of temporal profile charts of the Italian study area (2016): (a) maximum air temperature; (b) solar radiation; (c) daily rainfall; (d) maximum relative humidity; (e) leaf area index; (f) simulated risk of potential rice blast infection. Green line corresponds to the 2016 season, blue line is the 2003–2015 average, plus and minus one standard deviation (gray area).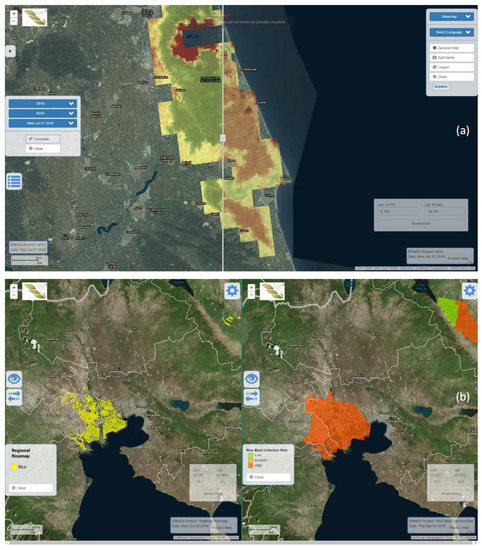 Figure 7. (a) Comparing NDVI maps at different acquisition dates in Spain (left: July 2016; right: January 2016) in Swipe mode; (b) Comparing a rice crop map (left: September 2016) versus a risk blast infection risk map (right: 1 September 2016) in Greece in Split mode.
| Code | Description | Possible Values |
| --- | --- | --- |
| CC | Country code | IT/ES/GR/SN/GM |
| Product | Product identifier (folders only) | EP_L4_LAI |
| YYYY | Year to which the folder/file refers to | 2014, 2015, 2016 |
| YYYY_ZZZZ | Year range for average calculation | 2000_2013, 2000_2014 |
| Param | Variable name to which the folder/file corresponds | MOD, OLI, TMAX |
| DDD | Day of the year (DOY) of production | 001, 002, 003 |

Table 2. Technologies and libraries for the implementation of the front-end of the regional geoportal.
| Functionality | Technology | Version |
| --- | --- | --- |
| User experience | HTML5/CSS/Bootstrap | 5/3/3.3.2 |
| Server connection | JQuery | 1.11.2 |
| Map handling | ArcGIS API for JavaScript | 3.12 |
| Mosaic model management | Dojo Toolkit | 1.1.11 |
| Charts | Dygraphs | 1.1.1 |
| Internal data management | Lodash | 4.3.0 |
| Form generator | Html2Canvas | 0.5.0 |

© 2017 by the authors. Licensee MDPI, Basel, Switzerland. This article is an open access article distributed under the terms and conditions of the Creative Commons Attribution (CC BY) license (http://creativecommons.org/licenses/by/4.0/).