Differential Effects of Yeast NADH Dehydrogenase (Ndi1) Expression on Mitochondrial Function and Inclusion Formation in a Cell Culture Model of Sporadic Parkinson's Disease
1
Neuroscience Graduate Program, University of Virginia, P.O. Box 801392, Charlottesville, VA 22908, USA
2
Parkinson's and Movement Disorders Center, Virginia Commonwealth University, P.O. Box 980539, Richmond, VA 23298, USA
3
Department of Molecular and Experimental Medicine, The Scripps Research Institute, 10550 North Torrey Pines Road, La Jolla, CA 92037, USA
4
Department of Anatomy and Neurobiology, Box 980709, Virginia Commonwealth University, Richmond, VA 23298, USA
*
Author to whom correspondence should be addressed.
Received: 4 February 2019 / Revised: 14 March 2019 / Accepted: 16 March 2019 / Published: 27 March 2019
Abstract
Parkinson's disease (PD) is a neurodegenerative disorder that exhibits aberrant protein aggregation and mitochondrial dysfunction. Ndi1, the yeast mitochondrial NADH dehydrogenase (complex I) enzyme, is a single subunit, internal matrix-facing protein. Previous studies have shown that Ndi1 expression leads to improved mitochondrial function in models of complex I-mediated mitochondrial dysfunction. The trans-mitochondrial cybrid cell model of PD was created by fusing mitochondrial DNA-depleted SH-SY5Y cells with platelets from a sporadic PD patient. PD cybrid cells reproduce the mitochondrial dysfunction observed in a patient's brain and periphery and form intracellular, cybrid Lewy bodies comparable to Lewy bodies in PD brain. To improve mitochondrial function and alter the formation of protein aggregates, Ndi1 was expressed in PD cybrid cells and parent SH-SY5Y cells. We observed a dramatic increase in mitochondrial respiration, increased mitochondrial gene expression, and increased PGC-1α gene expression in PD cybrid cells expressing Ndi1. Total cellular aggregated protein content was decreased but Ndi1 expression was insufficient to prevent cybrid Lewy body formation. Ndi1 expression leads to improved mitochondrial function and biogenesis signaling, both processes that could improve neuron survival during disease. However, other aspects of PD pathology such as cybrid Lewy body formation were not reduced. Consequently, resolution of mitochondrial dysfunction alone may not be sufficient to overcome other aspects of PD-related cellular pathology.
View Full-Text
►

▼

Figures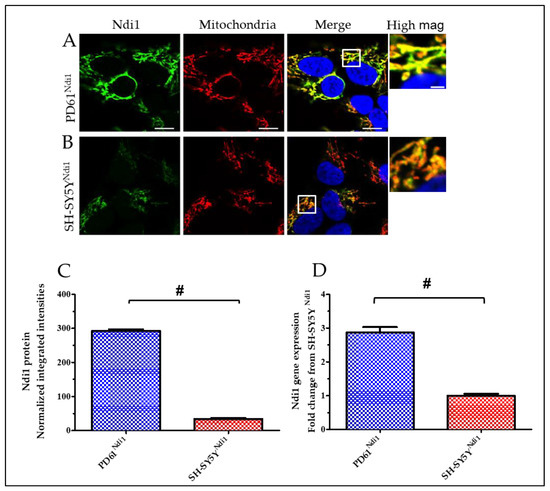 Figure 1
This is an open access article distributed under the
Creative Commons Attribution License
which permits unrestricted use, distribution, and reproduction in any medium, provided the original work is properly cited (CC BY 4.0).

Share & Cite This Article
MDPI and ACS Style
Cronin-Furman, E.N.; Barber-Singh, J.; Bergquist, K.E.; Yagi, T.; Trimmer, P.A. Differential Effects of Yeast NADH Dehydrogenase (Ndi1) Expression on Mitochondrial Function and Inclusion Formation in a Cell Culture Model of Sporadic Parkinson's Disease. Biomolecules 2019, 9, 119.
Note that from the first issue of 2016, MDPI journals use article numbers instead of page numbers. See further details here.
Related Articles
Comments
[Return to top]