Comparison of the Neuroprotective Effects of Aspirin, Atorvastatin, Captopril and Metformin in Diabetes Mellitus
1
Department of Physiology, School of Medicine, Mashhad University of Medical Sciences, Mashhad 9177948564, Iran
2
Student Research Committee, Faculty of Medicine, Mashhad University of Medical Sciences, Mashhad 9177948564, Iran
3
Neurogenic Inflammation Research Center, Mashhad University of Medical Sciences, Mashhad 9177948564, Iran
4
Department of Academic Diabetes, Endocrinology and Metabolism, Hull York Medical School, University of Hull, Hull HU3 2RW, UK
5
Biotechnology Research Center, Pharmaceutical Technology Institute, Mashhad University of Medical Sciences, Mashhad 9177948564, Iran
6
School of Pharmacy, Mashhad University of Medical Sciences, Mashhad 9177948564, Iran
*
Author to whom correspondence should be addressed.
Received: 21 February 2019 / Revised: 13 March 2019 / Accepted: 21 March 2019 / Published: 27 March 2019
Abstract
Objective: The aim of this study was to investigate the effect of combined intake of a high dose of aspirin, atorvastatin, captopril and metformin on oxidative stress in the brain cortex and hippocampus of streptozotocin (STZ)-induced diabetic rats. Material and methods: Rats were randomly divided into the following 11 groups: control and diabetic (D), as well as 9 groups that were treated with metformin (M, 300 mg/kg) or aspirin (ASA, 120 mg/kg) alone or in different combinations with captopril (C, 50 mg/kg) and/or atorvastatin (AT, 40 mg/kg) as follows: (D + M), (D + ASA), (D + M + ASA), (D + M + C), (D + M + AT), (D + M + C + ASA), (D + M + C + AT), (D + M + AT + ASA) and (D + M + C + AT + ASA). The rats in treatment groups received drugs by gavage daily for six weeks. Serum lipid profile and levels of oxidative markers in the brain cortex and hippocampus tissues were evaluated. Results: The levels of malondialdehyde in the brain cortex and hippocampus in all the treated groups decreased significantly (
p
< 0.05). There was a significant increase in the total thiol concentration as well as catalase activity in treated rats in (M + AT), (M + C + ASA), (M + C + AT), (M + AT + ASA) and (M + C + AT + ASA) groups in cortex and hippocampus in comparison with the diabetic rats (
p
< 0.05). Also, the superoxide dismutase activity in all treated rats with medications was significantly increased compared to the diabetic rats (
p
< 0.05–0.01). Conclusion: Our findings showed that the combined use of high-dose aspirin, metformin, captopril and atorvastatin potentiated their antioxidant effects on the brain, and hence could potentially improve cognitive function with their neuroprotective effects on hippocampus.
View Full-Text
►

▼

Figures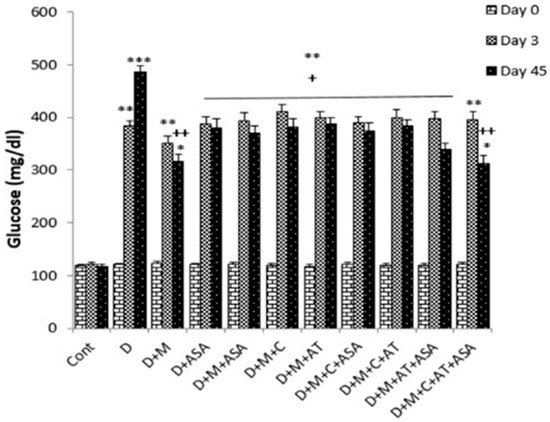 Figure 1
This is an open access article distributed under the
Creative Commons Attribution License
which permits unrestricted use, distribution, and reproduction in any medium, provided the original work is properly cited (CC BY 4.0).

Share & Cite This Article
MDPI and ACS Style
Paseban, M.; Mohebbati, R.; Niazmand, S.; Sathyapalan, T.; Sahebkar, A. Comparison of the Neuroprotective Effects of Aspirin, Atorvastatin, Captopril and Metformin in Diabetes Mellitus. Biomolecules 2019, 9, 118.
Note that from the first issue of 2016, MDPI journals use article numbers instead of page numbers. See further details here.
Related Articles
Comments
[Return to top]