Molecular Antioxidant Properties and In Vitro Cell Toxicity of the
p

-Aminobenzoic Acid (PABA) Functionalized Peptide Dendrimers §

1

Institute of Organic Chemistry Polish Academy of Sciences, 01-224 Warsaw, Poland

2

Mossakowski Medical Research Centre Polish Academy of Sciences, 02-106 Warsaw, Poland

*

Author to whom correspondence should be addressed.

§

Dedicated to Professor Donald Tomalia, great scientist and visionary on the occasion of his 80th birthday.

Received: 31 January 2019 / Revised: 25 February 2019 / Accepted: 26 February 2019 / Published: 5 March 2019
Abstract
Background:
Exposure to ozone level and ultraviolet (UV) radiation is one of the major concerns in the context of public health. Numerous studies confirmed that abundant free radicals initiate undesired processes, e.g. carcinogenesis, cells degeneration, etc. Therefore, the design of redox-active molecules with novel structures, containing radical quenchers molecules with novel structures, and understanding their chemistry and biology, might be one of the prospective solutions.
Methods:
We designed a group of peptide dendrimers carrying multiple copies of p-aminobenzoic acid (PABA) and evaluated their molecular antioxidant properties in 1,1′-diphenyl-2-picrylhydrazyl (DPPH) and 2,2′-azino-bis(3-ethylbenzothiazoline-6-sulphonic acid) (ABTS) tests. Cytotoxicity against human melanoma and fibroblast cells as well as against primary cerebral granule cells (CGC) alone and challenged by neurotoxic sodium glutamate and production of reactive oxygen species (ROS) in presence of dendrimers were measured.
Results:
PABA-terminated dendrimers express enhanced radical and radical cation scavenging properties in relation to PABA alone. In cellular tests, the dendrimers at 100 μM fully suppress and between 20–100 μM reduce proliferation of the human melanoma cell line. In concentration 20 μM dendrimers generate small amount of the reactive oxygen species (<25%) but even in their presence human fibroblast and mouse cerebellar granule cells remain intact Moreover, dendrimers at 0.2–20 µM concentration (except one) increased the percentage of viable fibroblasts and CGC cells treated with 100 μM glutamate.
Conclusions
: Designed PABA-functionalized peptide dendrimers might be a potential source of new antioxidants with cationic and neutral radicals scavenging potency and/or new compounds with marked selectivity against human melanoma cell or glutamate-stressed CGC neurons. The scavenging level of dendrimers depends strongly on the chemical structure of dendrimer and the presence of other groups that may be prompted into radical form. The present studies found different biological properties for dendrimers constructed from the same chemical fragments but the differing structure of the dendrimer tree provides once again evidence that the structure of dendrimer can have a significant impact on drug–target interactions.
View Full-Text
►

▼

Figures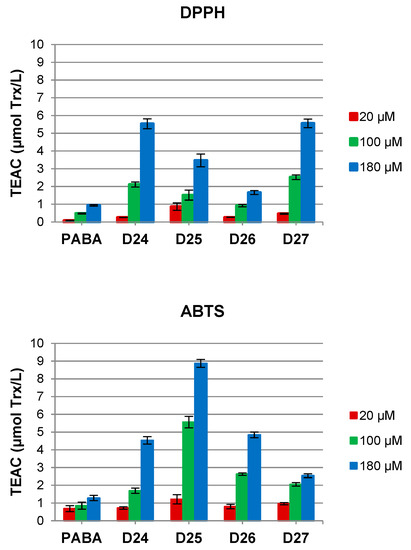 Figure 1
This is an open access article distributed under the
Creative Commons Attribution License
which permits unrestricted use, distribution, and reproduction in any medium, provided the original work is properly cited (CC BY 4.0).

Share & Cite This Article
MDPI and ACS Style
Sowinska, M.; Morawiak, M.; Bochyńska-Czyż, M.; Lipkowski, A.W.; Ziemińska, E.; Zabłocka, B.; Urbanczyk-Lipkowska, Z. Molecular Antioxidant Properties and In Vitro Cell Toxicity of the p-Aminobenzoic Acid (PABA) Functionalized Peptide Dendrimers §. Biomolecules 2019, 9, 89.
Note that from the first issue of 2016, MDPI journals use article numbers instead of page numbers. See further details here.
Related Articles
Comments
[Return to top]