Spontaneous Switching among Conformational Ensembles in Intrinsically Disordered Proteins
1
Department of Molecular and Cellular Physiology, Department of Neurology and Neurological Sciences, Department of Structural Biology, Department of Photon Science, Howard Hughes Medical Institute, Stanford University, Stanford, CA 94305, USA
2
Department of Physics and Astronomy, Clemson University, Clemson, SC 29634, USA
3
Department of Chemistry, North Carolina State University, Raleigh, NC 27695, USA
4
Department of Physiology and Biophysics, Stony Brook University, Stony Brook, NY 11794, USA
5
Department of Physics, North Carolina State University, Raleigh, NC 27695, USA
*
Authors to whom correspondence should be addressed.
Received: 17 January 2019 / Revised: 14 March 2019 / Accepted: 15 March 2019 / Published: 22 March 2019
Abstract
The common conception of intrinsically disordered proteins (IDPs) is that they stochastically sample all possible configurations driven by thermal fluctuations. This is certainly true for many IDPs, which behave as swollen random coils that can be described using polymer models developed for homopolymers. However, the variability in interaction energy between different amino acid sequences provides the possibility that some configurations may be strongly preferred while others are forbidden. In compact globular IDPs, core hydration and packing density can vary between segments of the polypeptide chain leading to complex conformational dynamics. Here, we describe a growing number of proteins that appear intrinsically disordered by biochemical and bioinformatic characterization but switch between restricted regions of conformational space. In some cases, spontaneous switching between conformational ensembles was directly observed, but few methods can identify when an IDP is acting as a restricted chain. Such switching between disparate corners of conformational space could bias ligand binding and regulate the volume of IDPs acting as structural or entropic elements. Thus, mapping the accessible energy landscape and capturing dynamics across a wide range of timescales are essential to recognize when an IDP is acting as such a switch.
View Full-Text
►

▼

Figures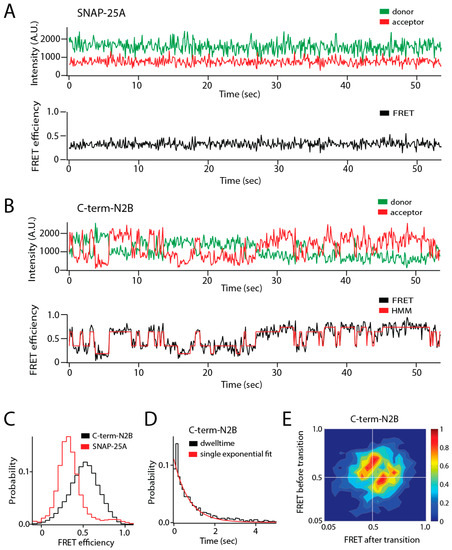 Figure 1
This is an open access article distributed under the
Creative Commons Attribution License
which permits unrestricted use, distribution, and reproduction in any medium, provided the original work is properly cited (CC BY 4.0).

Share & Cite This Article
MDPI and ACS Style
Choi, U.B.; Sanabria, H.; Smirnova, T.; Bowen, M.E.; Weninger, K.R. Spontaneous Switching among Conformational Ensembles in Intrinsically Disordered Proteins. Biomolecules 2019, 9, 114.
Note that from the first issue of 2016, MDPI journals use article numbers instead of page numbers. See further details here.
Related Articles
Comments
[Return to top]