The ROMP: A Powerful Approach to Synthesize Novel pH-Sensitive Nanoparticles for Tumor Therapy
1
Institut de Chimie des Milieux et Matériaux de Poitiers, UMR CNRS 7285, 4 rue Michel Brunet, TSA 51106, B28, 86073 Poitiers CEDEX 09, France
2
CRCINA, INSERM, Université d'Angers, Université de Nantes, 44007 Nantes, France
3
Laboratoire de Chimie des Polymères Organiques, CNRS, UMR 5629, Bordeaux, 16 Avenue Pey-Berland, F-33607 Pessac, France
*
Authors to whom correspondence should be addressed.
Received: 29 November 2018 / Revised: 19 December 2018 / Accepted: 11 February 2019 / Published: 12 February 2019
Abstract
Fast clearance, metabolism, and systemic toxicity are major limits for the clinical use of anti-cancer drugs. Histone deacetylase inhibitors (HDACi) present these defects, despite displaying promising anti-tumor properties on tumor cells in vitro and in in vivo models of cancer. The specific delivery of anti-cancer drugs into the tumor should improve their clinical benefit by limiting systemic toxicity and by increasing the anti-tumor effect. This paper deals with the synthesis of the polymeric nanoparticle platform, which was produced by Ring-Opening Metathesis Polymerization (ROMP), able to release anti-cancer drugs in dispersion, such as histone deacetylase inhibitors, into mesothelioma tumors. The core-shell nanoparticles (NPs) have stealth properties due to their poly(ethylene oxide) shell and can be viewed as universal nano-carriers on which any alkyne-modified anti-cancer molecule can be grafted by click chemistry. A cleavage reaction of the chemical bond between NPs and drugs through the contact of NPs with a medium presenting an acidic pH, which is typically a cancer tumor environment or an acidic intracellular compartment, induces a controlled release of the bioactive molecule in its native form. In our in vivo syngeneic model of mesothelioma, a highly selective accumulation of the particles in the tumor was obtained. The release of the drugs led to an 80% reduction of tumor weight for the best compound without toxicity. Our work demonstrates that the use of theranostic nanovectors leads to an optimized delivery of epigenetic inhibitors in tumors, which improves their anti-tumor properties in vivo.
View Full-Text
►

▼

Figures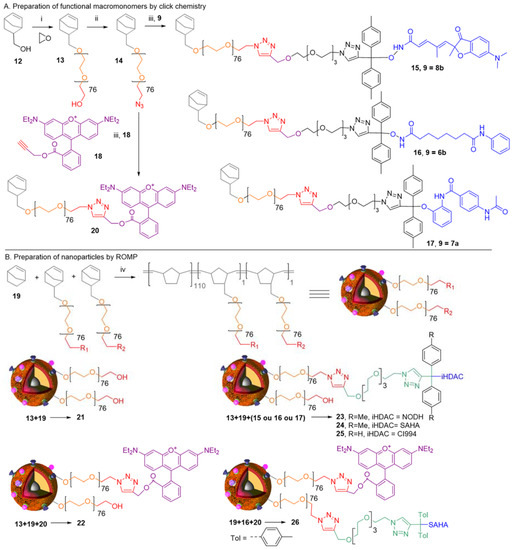 Figure 1
This is an open access article distributed under the
Creative Commons Attribution License
which permits unrestricted use, distribution, and reproduction in any medium, provided the original work is properly cited (CC BY 4.0).

Share & Cite This Article
MDPI and ACS Style
Bertrand, P.; Blanquart, C.; Héroguez, V. The ROMP: A Powerful Approach to Synthesize Novel pH-Sensitive Nanoparticles for Tumor Therapy. Biomolecules 2019, 9, 60.
Note that from the first issue of 2016, MDPI journals use article numbers instead of page numbers. See further details here.
Related Articles
Comments
[Return to top]