Generation of Lamprey Monoclonal Antibodies (Lampribodies) Using the Phage Display System
1
Department of Molecular and Cell Biology, University of California-Merced, Merced, CA 95343, USA
2
U.S. Geological Survey, Western Fisheries Research Center, Seattle, WA 98115, USA
3
Department of Pathology and Laboratory Medicine, Emory University, Atlanta, GA 30322, USA
*
Authors to whom correspondence should be addressed.
Received: 1 November 2019 / Revised: 5 December 2019 / Accepted: 9 December 2019 / Published: 12 December 2019
The variable lymphocyte receptors (VLRs) consist of leucine rich repeats (LRRs) and comprise the humoral antibodies produced by lampreys and hagfishes. The diversity of the molecules is generated by stepwise genomic rearrangements of LRR cassettes dispersed throughout the VLRB locus. Previously, target-specific monovalent VLRB antibodies were isolated from sea lamprey larvae after immunization with model antigens. Further, the cloned VLR cDNAs from activated lamprey leukocytes were transfected into human cell lines or yeast to select best binders. Here, we expand on the overall utility of the VLRB technology by introducing it into a filamentous phage display system. We first tested the efficacy of isolating phage into which known VLRB molecules were cloned after a series of dilutions. These experiments showed that targeted VLRB clones could easily be recovered even after extensive dilutions (1 to 109). We further utilized the system to isolate target-specific "lampribodies" from phage display libraries from immunized animals and observed an amplification of binders with relative high affinities by competitive binding. The lampribodies can be individually purified and ostensibly utilized for applications for which conventional monoclonal antibodies are employed.
Supplementary Materials
The following are available online at
https://www.mdpi.com/2218-273X/9/12/868/s1
, Figure S1: Schematic presentation of the screening method of the VLRB phage display library from the typhlosole of unimmunized animals by biopanning for lysozyme. Figure S2: Distribution of the insert size of the phage clones examined and the corresponding ELISA signals after 2nd panning of the naïve VLRB library with lysozyme bait. Figure S3: ELISA test of the tentative competitor positive VLRB clones. Figure S4: Schematic presentation of the screening method of the driver VLRB.HEL21 phage in the subtraction experiment. Figure S5: Insert size and ELISA signal intensity plots of the candidate phage clones of the subtraction experiment after 3rd panning. Figure S6: Alignment of the VLRB.HEL clones. Figure S7: Alignment of the DNA and putative protein sequences of the anti-human IgM VLRBs identified by phage display screening. Table S1: Primer sequences used in this study. Table S2: Analysis of the full length VLRB molecules found in the library from naïve sea lampreys. Table S3: ELISA result of the screening of the naïve VLRB phage display library for lysozyme. Table S4: ELISA positive clones from VLRB phage library from naïve sea lamprey with lysozyme bait along with OD at screening. Table S5: ELISA result of the screening of subtraction experiment. Table S6: Recovery percentage and category of the randomly screed phages in subtraction experiments. Table S7: Sequencing of 10 ELISA positive anti-IgM phages.
Author Contributions
K.M.A.H., C.T.A., J.D.H. and B.R.H. designed the experiments, K.M.A.H., J.D.H. and B.R.H. collected the data, K.M.A.H. and C.T.A. analyzed the data, and K.M.A.H. and C.T.A. wrote the paper with input from J.D.H. and B.R.H.
Funding
Initial parts of this work were carried out at the Benaroya Research Institute, Seattle, Washington. This work was funded, in part, by the Washington Research Foundation and discretionary funds from the Benaroya Research Institute and University of California-Merced. Research at Emory University was funded by NIH grant R01AI072435 (to Cooper). Any use of trade names is for descriptive purposes only and does not imply endorsement by the U.S. Government.
Acknowledgments
We thank Max Cooper, Emory University, for contributing to this project intellectually and for providing resources towards this work.
Conflicts of Interest
The authors declare no conflict of interest.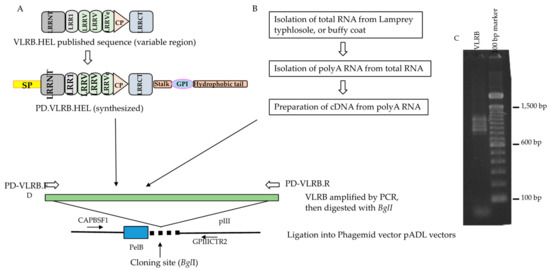 Figure 1.
Cloning of anti-lysozyme VLRB, VLRB.HEL in a phagemid vector and construction strategy of VLRB library. (
A
) Three full-length anti-HEL VLRBs, diversity region mRNA, partial coding sequences were extracted from GenBank and conserved regions were added to the 5′ and 3′ ends to construct full-length molecules. VLRB.HELs were then synthesized and amplified by PD-VLRB.F (forward) and PD-VLRB.R (reverse) primers for directional cloning into the phagemid vector. (
B
) Unimmunized (also for immunized) lamprey larvae were euthanized, and organs harvested. Total RNA and then polyA RNA was isolated from the typhlosole of unimmunized (buffy coat of immunized animals). PolyA RNA was converted to cDNA which was used as a template for preparation of VLRB amplicon library by PCR with PD-VLRB.F and PD-VLRB.R primers. (
C
) Agarose gel (1.5%) electrophoresis of VLRB amplicons from typhlosole from unimmunized animals mentioned above. A ladder pattern ranging from 0.8 to 1.2 kb was seen. (
D
) The VLRB amplicon libraries from the typhlosole and each of the VLRB.HELs were digested with
Bgl
I and directionally cloned in phagemid vectors, pADL10b or pADL23c. The sequence of the insert was determined using a forward primer (CAPBSF1) and a reverse primer (GPIIICTR2) located upstream and downstream of the cloning site respectively. Approximately 70% of the single colonies had inserts ranging from 0.5 to more than 1.0 kb, the remaining colonies either possessing small inserts or no inserts. The number of recombinants in the library was approximately 7 × 10
5
(7.0 × 10
6
cfu/μg of insert DNA). A small number of the phagemid clones with estimated inserts ≥0.7 kb was sequenced to see if the library had full-length VLRB, and to assess their sequence diversity. Sequences for 27 clones were obtained, all of which were full length and encompassed unique VLRBs. Their putative protein sequences showed extensive homology with the reported VLRBs in the non-redundant protein sequences database (data not shown).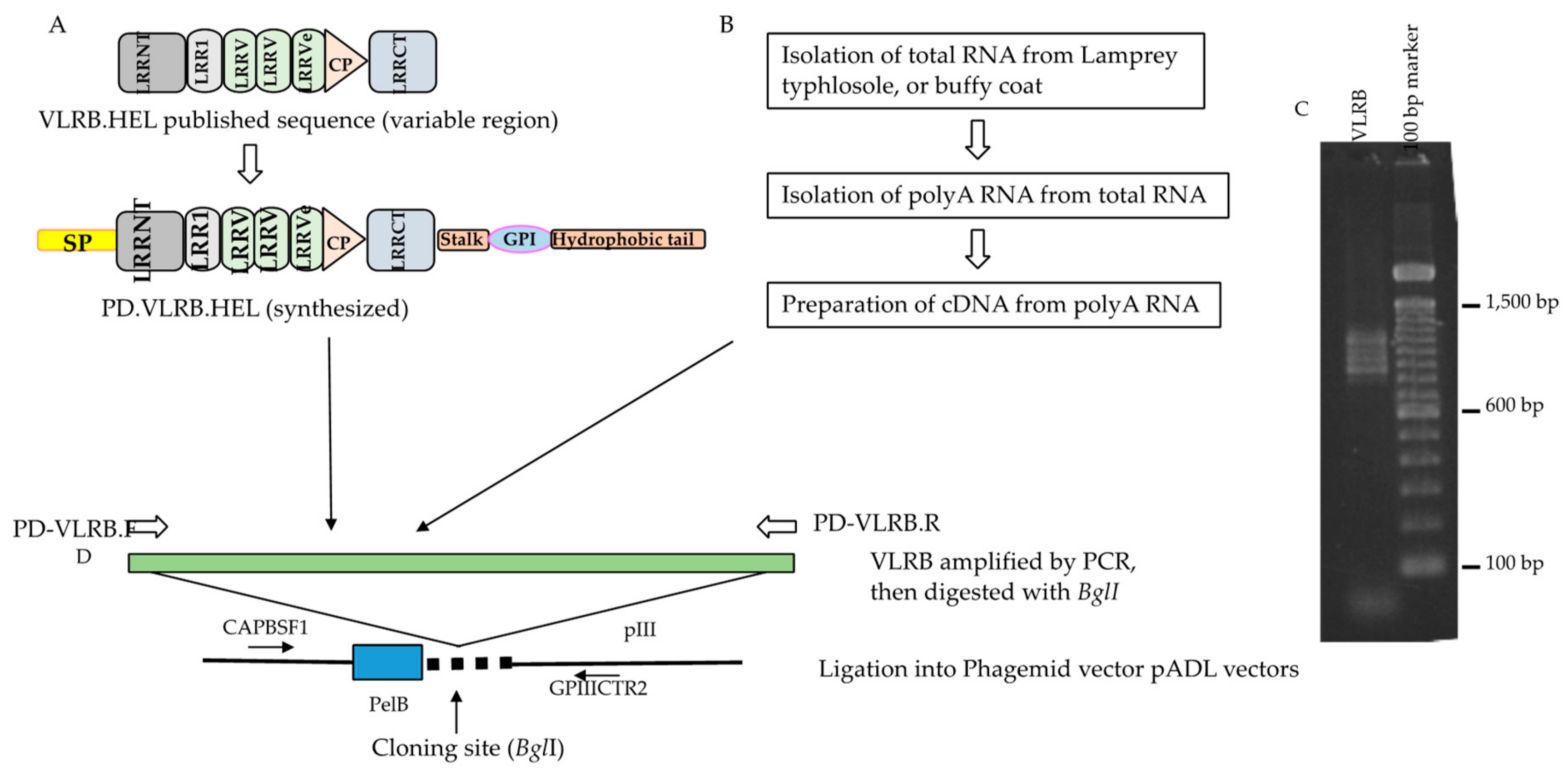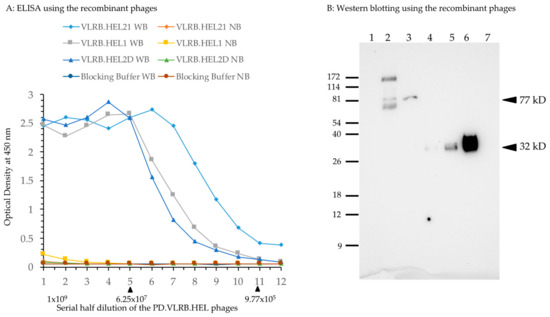 Figure 2.
VLRB.HEL recombinant M13 phage preparation and ELISA test for its binding to lysozyme. (
A
) Each well of an ELISA plate was coated with 50 ng of biotinylated hen egg lysozyme to which 100 μL of blocking buffer was added. To prepare two-fold serial dilutions of the phage, 100 μL of phage (2 × 10
9
PFU) was transferred to the first well, mixed, and then 100 μL solution from the first well was transferred to the second well and mixed. The series of two-fold serial dilutions was continued for the rest of wells in the same row, with and without the bait. WB: with bait; NB: no bait in the wells in a particular row. ELISA was carried out using standard procedures. Optical density at 450 nm was plotted against the number of phage PFUs per respective well. Blocking buffer alone was used to assess background binding of the phages as well as for control experiments employing the primary antibody only (no phages). The arrowhead on the right underneath the X-axis marks the phage concentration at which the binding became appreciable; that on the left marks the phage concentration at which the binding reached a plateau for all the phages. Numbers in X-axis denotes serial half dilution of the phage solutions from 1 × 10
9
to 4.88 × 10
5
PFU. (
B
) Phages prepared from VLRB.HEL21 and VLRB.HEL2D were examined for the expression of VLRB-pIII fusion protein. Approximately 4 × 10
9
PFUs were heated to 95 °C for 5 min in reducing buffer and run in an SDS-PAGE gel. His-tagged VLRB.HEL21 protein was isolated by cloning the full-length fragment into pET28+ vector and expressed in
E. coli
BL21. Serial concentration of His-tagged eluate of VLRB.HEL21 was used to demonstrate the presence of the protein. Lane assignments: 1, ProSieve Color Protein Marker in kD; 2, VLRB.HEL21 phage; 3, VLRB.HEL2D phage; 4–6, His-tagged VLRB.HEL21 protein 1, 2, and 4 μg respectively; 7. Zebrafish protein, 5 μg (used as a negative control. Arrowheads indicate the position of the bands with estimated molecular weights of VLRB-pIII fusion protein and bacterially expressed His-tagged VLRB.HEL21 protein in the blot.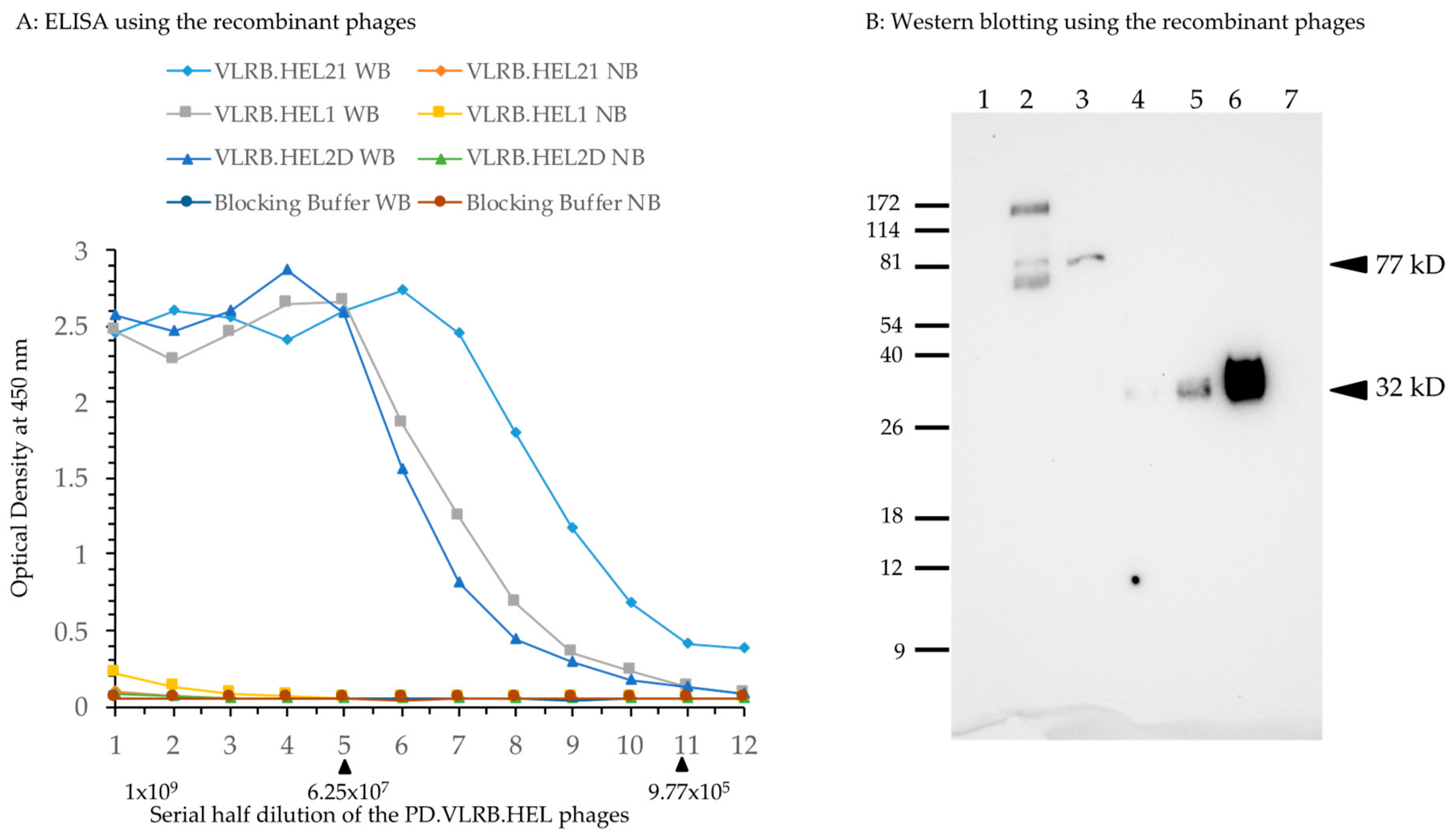 Figure 3.
ELISA results of the plasma from three lysozyme-immunized sea lampreys showing reactivity against biotinylated bait and no bait. Serial ten-fold dilutions of the plasma were added to wells with and without the bait. A1, A2, and A3 are the individual animals, WB: with bait, NB: with no bait in the wells. Solid triangle underneath the
X-
axis marks the lowest limit of appreciable OD. Numbers in
X-
axis denotes serial half dilution of the phage solutions from 10
−1
to 10
−12
. WB denotes with bait, and NB no bait in the wells in that row.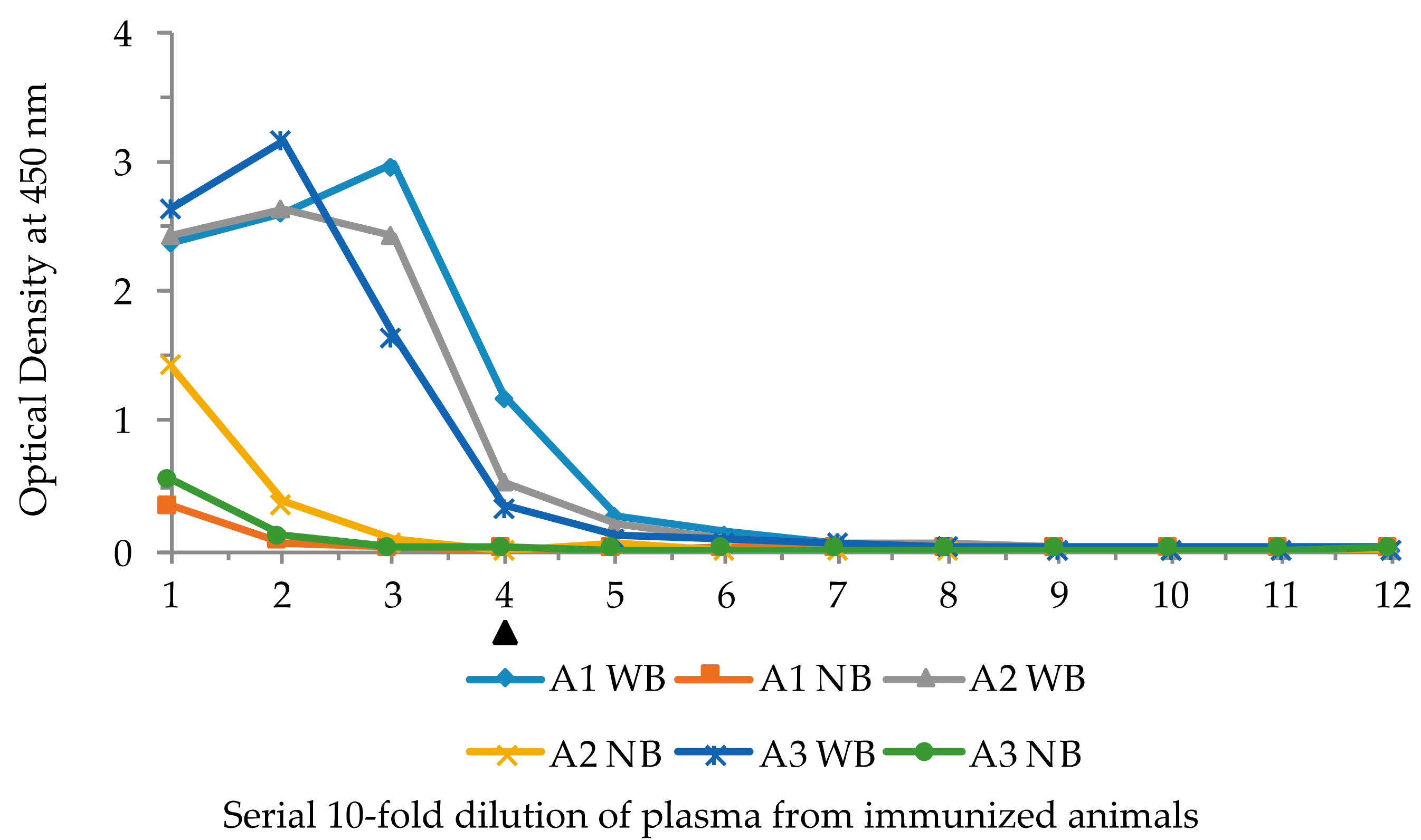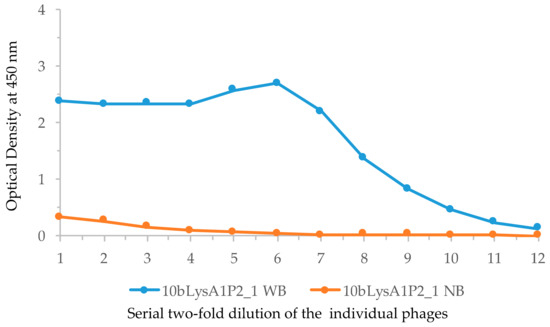 Figure 4.
Confirmation of lysozyme binding by purified clone from the screening experiment. Lysozyme binding of one VLRB clone isolated from the immunized animal (A1), 10bLysA1P2_1 was examined by making phage from log phase culture by ELISA. Serial half dilutions beginning with 10
9
PFU were added to wells in a microtiter plate coated with biotinylated lysozyme. Wells without biotinylated lysozyme were used as negative controls. WB, with bait; NB, no bait in the wells. Numbers in
X-
axis denotes serial half dilution of the phage solutions from 1 × 10
9
to 4.88 × 10
5
PFU.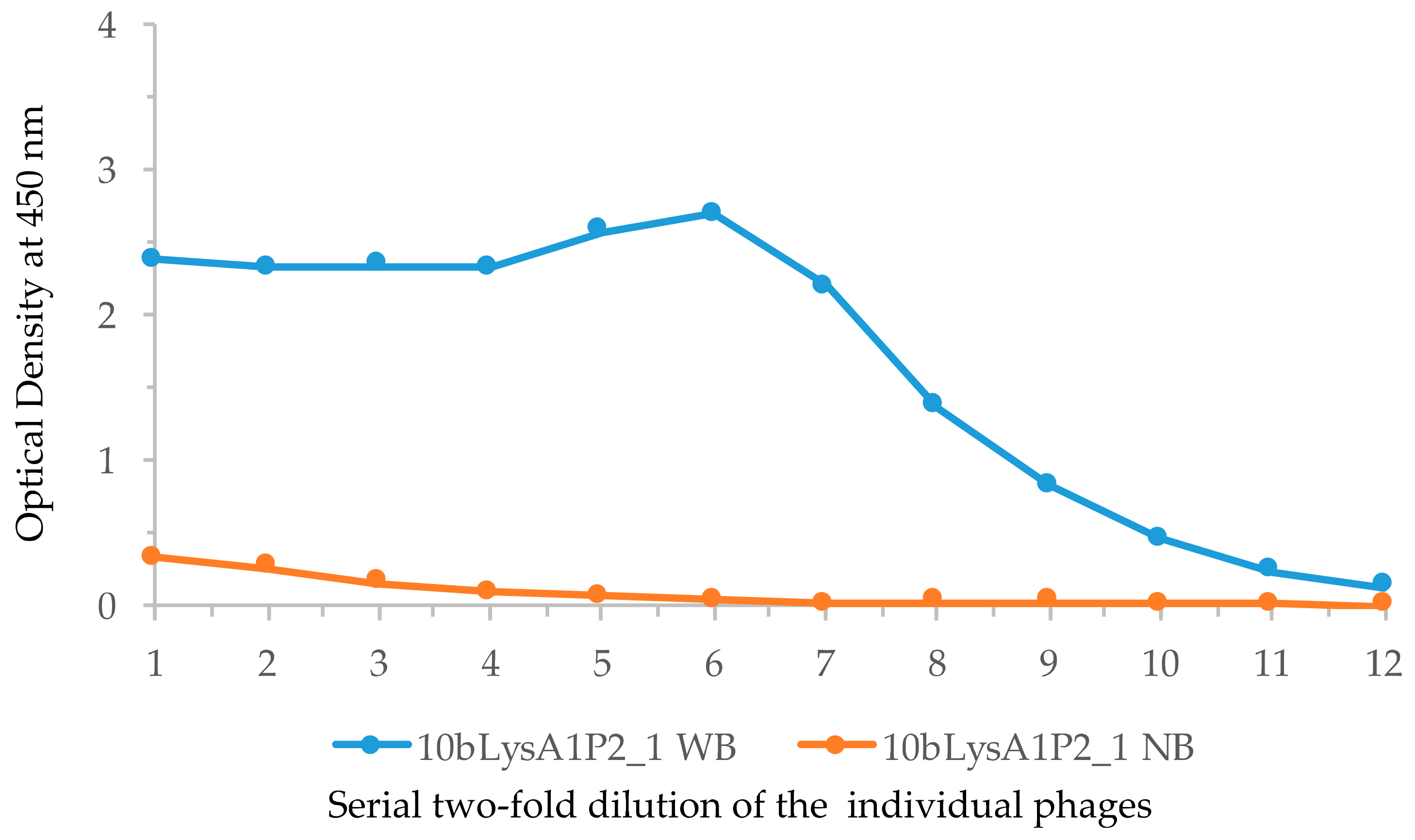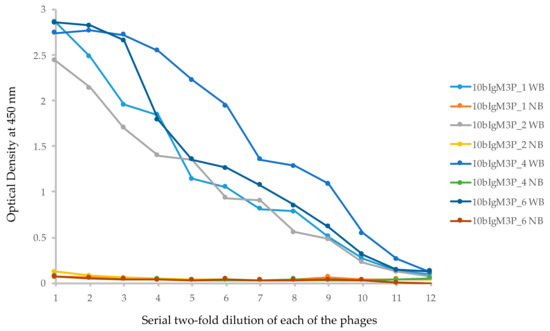 Figure 5.
ELISA result of the four non-redundant VLRB clones against human IgM isolated by phage display screening. Each well of an ELISA plate was coated with 75 ng of biotinylated human IgM. Serial two-fold dilution of 10
10
PFU of each of the phages was used. Each sample was used with and without bait. WB: with bait; NB: no bait in the wells. Numbers in
X-
axis denotes serial half-dilution of the phage solutions from 1 × 10
9
to 4.88 × 10
5
PFU.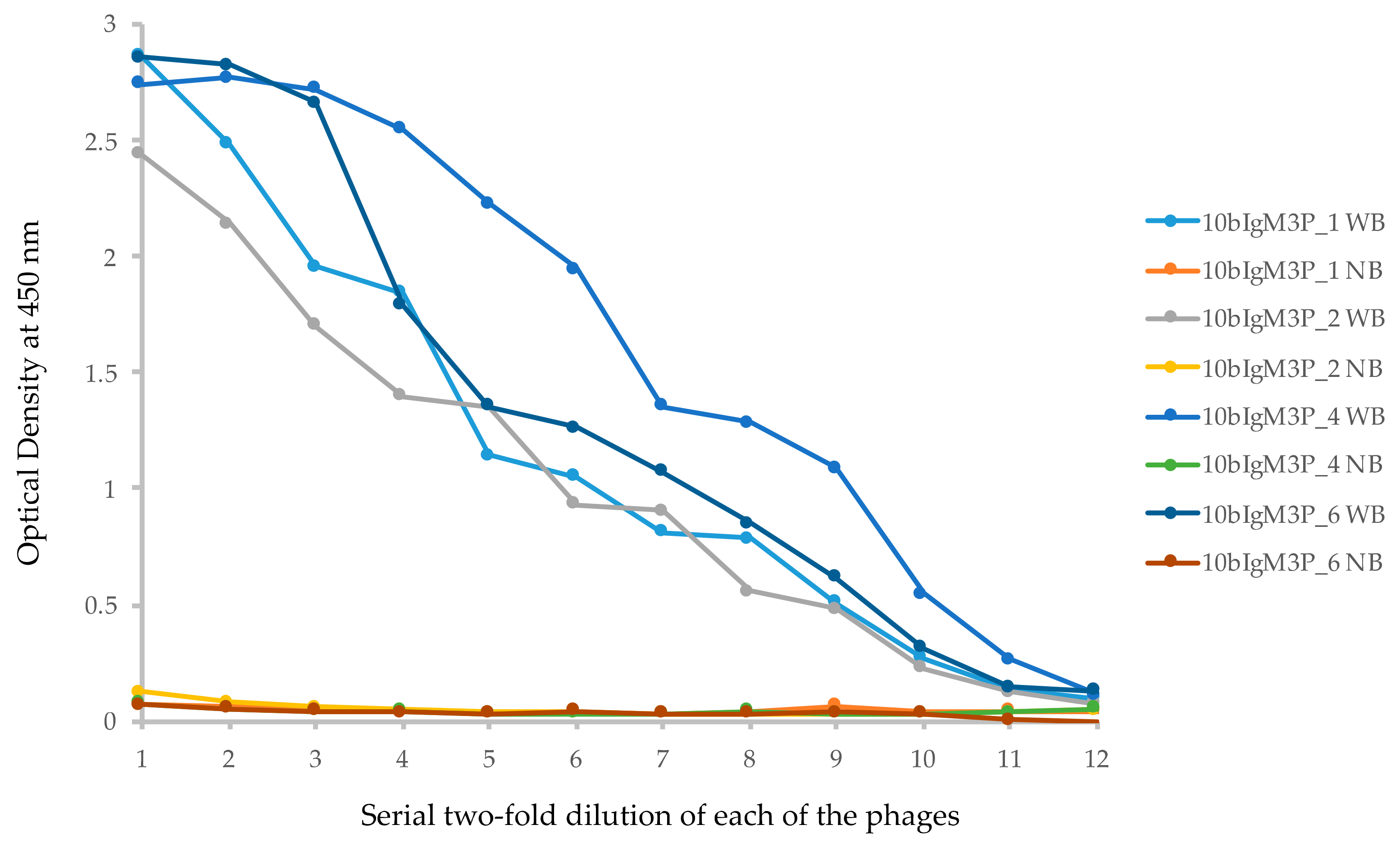 Figure 6. SDS-PAGE and Western blot analysis of the bacterially expressed anti-IgM VLRB lampribody. (A) Approximately 2 mg of pooled His-tag eluate of VLRB.IgM3P_4 was run and stained with Coomassie brilliant blue (CBB). Lanes: M, ProSieve Color Protein Marker in kD; 1, 5 mg of cell lysate after induction with IPTG; 2, 2 mg of pooled VLRB.IgM3P_4 protein; 3, 5 mg of Zebrafish muscle protein for comparison; 4, 2 mg of His-tagged VLRB.HEL21 protein. (B) An identical gel was run for Western blotting. Zebrafish protein and and VLRB.HEL21 protein were used as negative and positive controls for the primary antibody, 4C4.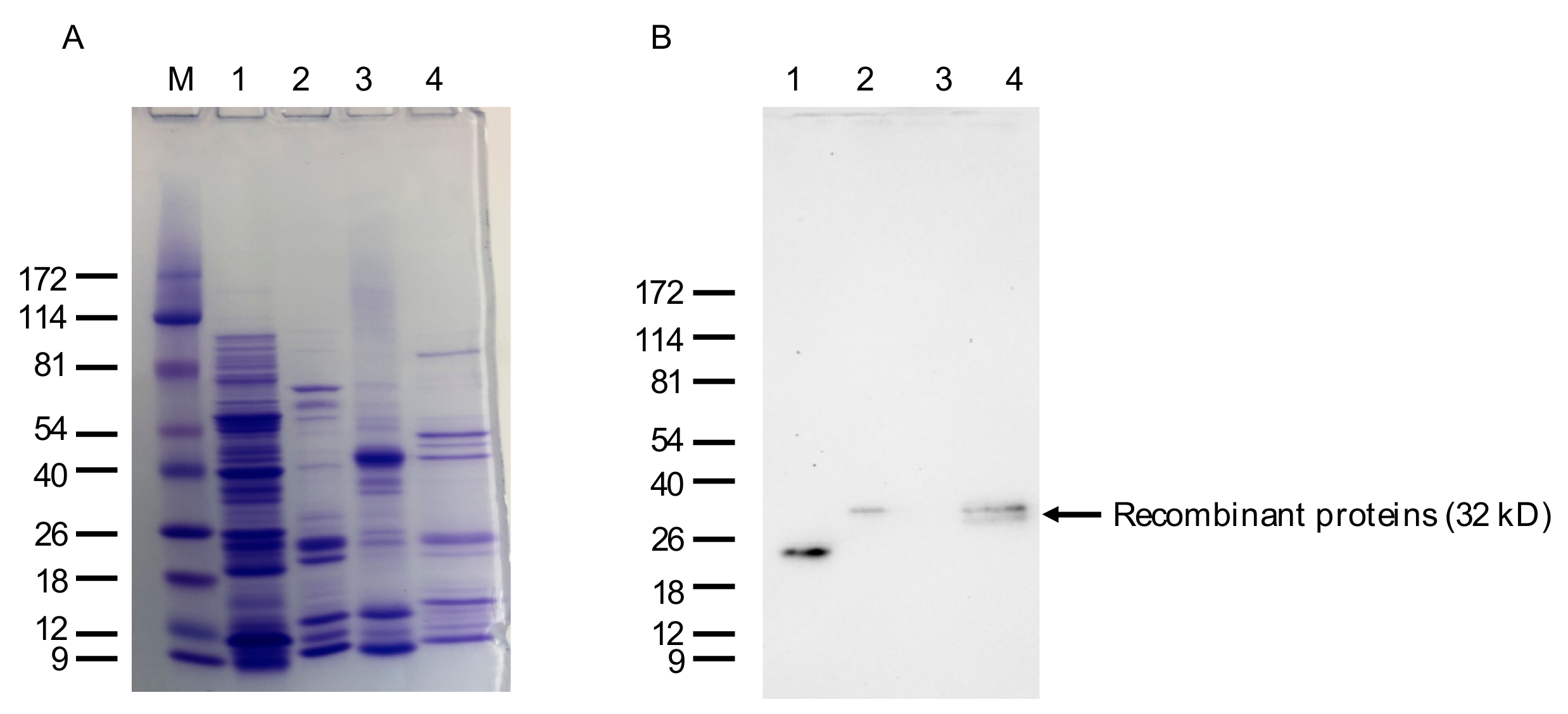 Figure 7. Immunohistochemistry using anti-IgM lampribody. Histological sections of human tonsil (lymphoid) tissue were stained with (A) lampribody, VLRB.IgM3P_4 or (B) mouse IgG anti-human IgM antibody. The detection of the VLRB was done using anti-cMyc antibody. The final detection was done with HRP-conjugated rabbit anti-mouse IgG secondary and using diaminobenzidine (DAB) substrate. Cells reacting positively with the lampribody (A) and the IgG reagent (B) were stained dark brown. (C) Negative control was stained similarly except without any primary antibody.


© 2019 by the authors. Licensee MDPI, Basel, Switzerland. This article is an open access article distributed under the terms and conditions of the Creative Commons Attribution (CC BY) license (http://creativecommons.org/licenses/by/4.0/).