Modulation of Measles Virus NTAIL Interactions through Fuzziness and Sequence Features of Disordered Binding Sites
1
CNRS and Aix-Marseille Univ Laboratoire Architecture et Fonction des Macromolecules Biologiques (AFMB), UMR 7257 Marseille, France
2
Istituto Pasteur—Fondazione Cenci Bolognetti, Dipartimento di Scienze Biochimiche 'A. Rossi Fanelli' and Istituto di Biologia e Patologia Molecolari del Consiglio Nazionale delle Ricerche, Sapienza Università di Roma, 00185 Rome, Italy
*
Authors to whom correspondence should be addressed.
Received: 22 November 2018 / Revised: 10 December 2018 / Accepted: 18 December 2018 / Published: 27 December 2018
Abstract
In this paper we review our recent findings on the different interaction mechanisms of the C-terminal domain of the nucleoprotein (N) of measles virus (MeV) N
TAIL
, a model viral intrinsically disordered protein (IDP), with two of its known binding partners, i.e., the C-terminal X domain of the phosphoprotein of MeV XD (a globular viral protein) and the heat-shock protein 70 hsp70 (a globular cellular protein). The N
TAIL
binds both XD and hsp70 via a molecular recognition element (MoRE) that is flanked by two fuzzy regions. The long (85 residues) N-terminal fuzzy region is a natural dampener of the interaction with both XD and hsp70. In the case of binding to XD, the N-terminal fuzzy appendage of N
TAIL
reduces the rate of α-helical folding of the MoRE. The dampening effect of the fuzzy appendage on XD and hsp70 binding depends on the length and fuzziness of the N-terminal region. Despite this similarity, N
TAIL
binding to XD and hsp70 appears to rely on completely different requirements. Almost any mutation within the MoRE decreases XD binding, whereas many of them increase the binding to hsp70. In addition, XD binding is very sensitive to the α-helical state of the MoRE, whereas hsp70 is not. Thus, contrary to hsp70, XD binding appears to be strictly dependent on the wild-type primary and secondary structure of the MoRE.
View Full-Text
►

▼

Figures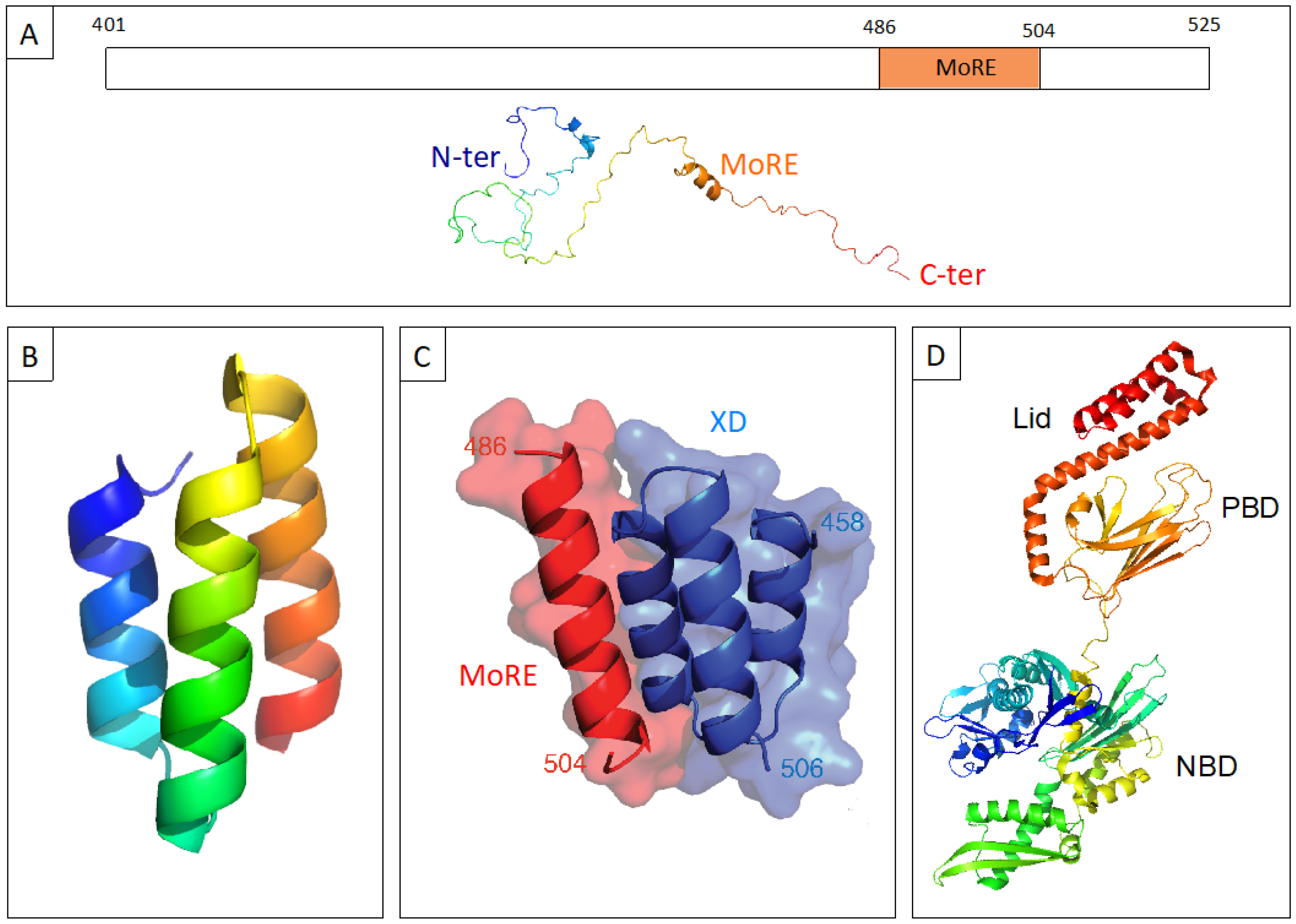 Figure 1
This is an open access article distributed under the
Creative Commons Attribution License
which permits unrestricted use, distribution, and reproduction in any medium, provided the original work is properly cited (CC BY 4.0).

Share & Cite This Article
MDPI and ACS Style
Bignon, C.; Troilo, F.; Gianni, S.; Longhi, S. Modulation of Measles Virus NTAIL Interactions through Fuzziness and Sequence Features of Disordered Binding Sites. Biomolecules 2019, 9, 8.
Note that from the first issue of 2016, MDPI journals use article numbers instead of page numbers. See further details here.
Related Articles
Comments
[Return to top]