Annatto (
Bixa orellana

) δ-TCT Supplementation Protection against Embryonic Malformations through Alterations in PI3K/Akt-Cyclin D1 Pathway

1

Faculty of Pharmacy, Universiti Teknologi MARA (UiTM) Puncak Alam Campus, Selangor 42300, Malaysia

2

Maternofetal and Embryo Research Group (MatE), Universiti Teknologi MARA (UiTM), Selangor 40450, Malaysia

3

Faculty of Medicine, Universiti Teknologi MARA (UiTM) Sg. Buloh Campus, Selangor 47000, Malaysia

*

Author to whom correspondence should be addressed.

Received: 31 October 2018 / Revised: 20 December 2018 / Accepted: 20 December 2018 / Published: 10 January 2019
Abstract
Protective action by annatto-derived delta-tocotrienol (δ-TCT) and soy-derived alpha-tocopherol (α-TOC) through the regulation of the PI3K/Akt-cyclin D1 pathway against nicotine-induced DNA damage is the focus of the present study. Nicotine, which has been widely reported to have numerous adverse effects on the reproductive system, was used as a reproductive toxicant. 48 female balb/c mice (6–8 weeks) (23–25 g) were randomly divided into eight groups (Grp.1–Grp.8;
n
= 6) and treated with either nicotine or/and annatto δ-TCT/soy α-TOC for seven consecutive days. On Day 8, the females were superovulated and mated before euthanization for embryo collection (46 h post-coitum). Fifty 2-cell embryos from each group were used in gene expression analysis using Affymetrix QuantiGene Plex2.0 assay. Findings indicated that nicotine (Grp.2) significantly decreased (
p
< 0.05) the number of produced 2-cell embryos compared to the control (Grp.1). Intervention with mixed annatto δ-TCT (Grp.3) and pure annatto δ-TCT (Grp.4) significantly increased the number of produced 2-cell embryos by 127% and 79%, respectively compared to Grp.2, but these were lower than Grp.1. Concurrent treatment with soy α-TOC (Grp.5) decreased embryo production by 7%. Supplementations with δ-TCT and α-TOC alone (Grp.6-Grp.8) significantly increased (
p
< 0.05) the number of produced 2-cell embryos by 50%, 36%, and 41%, respectively, compared to control (Grp.1). These results were found to be associated with alterations in the PI3K/Akt-Cyclin D1 genes expressions, indicating the inhibitory effects of annatto δ-TCT and soy α-TOC against nicotinic embryonic damage. To our knowledge, this is the first attempt in studying the benefits of annatto δ-TCT on murine preimplantation 2-cell embryos.
View Full-Text
►

▼

Figures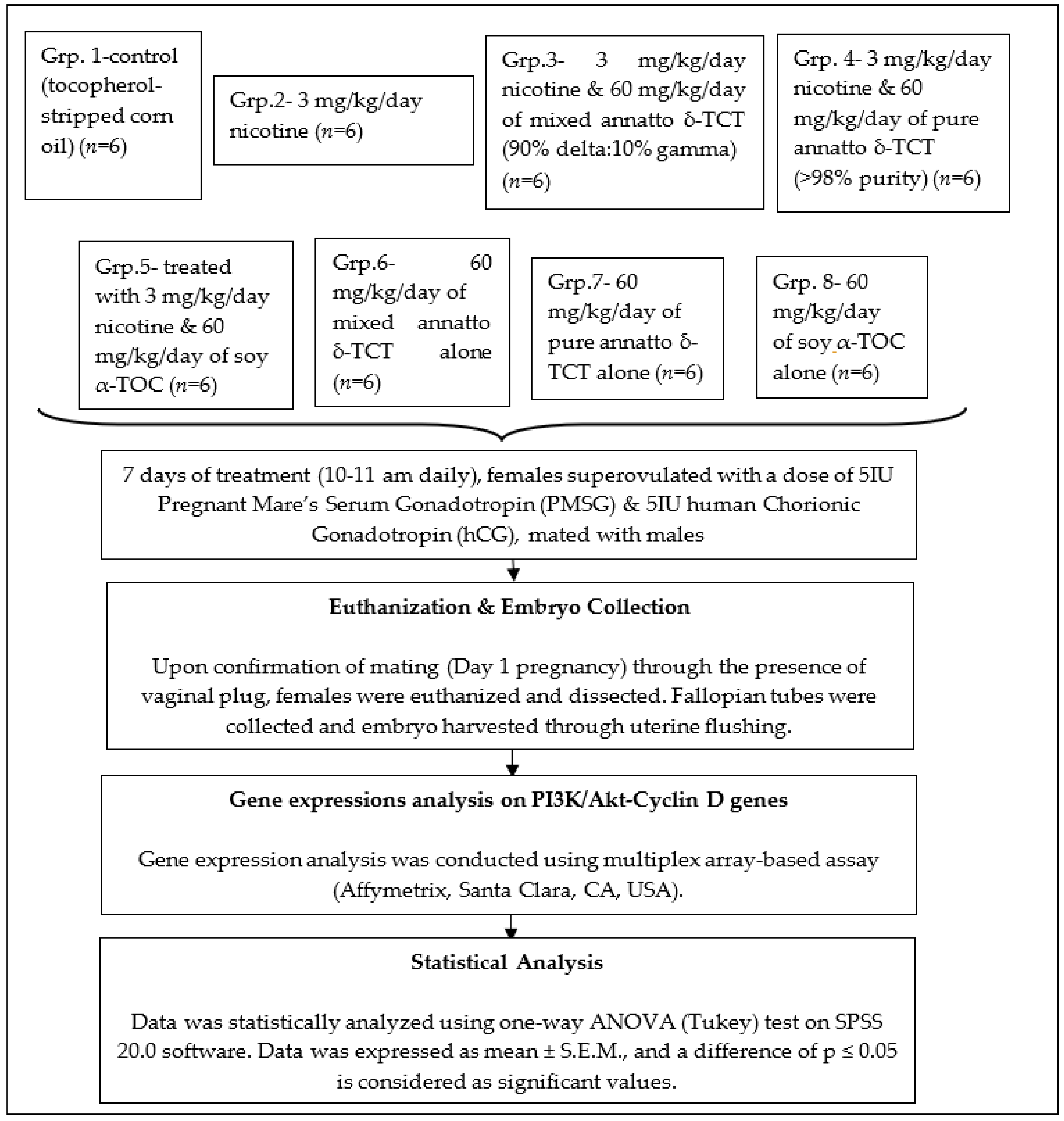 Figure 1
This is an open access article distributed under the
Creative Commons Attribution License
which permits unrestricted use, distribution, and reproduction in any medium, provided the original work is properly cited (CC BY 4.0).

Share & Cite This Article
MDPI and ACS Style
Mohd Mutalip, S.S.; Rajikin, M.H.; Ab Rahim, S.; Mohamed Noor Khan, N.-A. Annatto (Bixa orellana) δ-TCT Supplementation Protection against Embryonic Malformations through Alterations in PI3K/Akt-Cyclin D1 Pathway. Biomolecules 2019, 9, 19.
Note that from the first issue of 2016, MDPI journals use article numbers instead of page numbers. See further details here.
Related Articles
Comments
[Return to top]