High Glucose Represses the Anti-Proliferative and Pro-Apoptotic Effect of Metformin in Triple Negative Breast Cancer Cells
1
Department of Physiology and Biophysics, Weill Cornell Medicine-Qatar, Education City, Qatar Foundation, Doha 24144, Qatar
2
Department of Medical Biology, Jessenius Faculty of Medicine, Comenius University in Bratislava, 03601 Martin, Bratislava, Slovakia
†
These authors contributed equally.
*
Author to whom correspondence should be addressed.
Received: 20 November 2018 / Revised: 26 December 2018 / Accepted: 3 January 2019 / Published: 8 January 2019
Abstract
Metformin, the most widely prescribed anti-diabetic drug, is shown to possess anti-cancer potential in treatment of cancers, including breast cancer; decreases breast cancer risk; and improves overall survival. However, reports suggest that higher glucose concentrations may negatively impact the anti-cancer efficacy of metformin. Therefore, we examined the anti-cancer potential of metformin in triple-negative breast cancer cells (TNBCs) exposed to different glucose (25 mM, 5.5 mM and zero glucose/glucose-starved) conditions. Our data indicates that a high glucose (25 mM) concentration (mimicking diabetes) significantly abrogated the effect of metformin on cell proliferation, cell death and cell cycle arrest in addition to loss of efficacy in inhibition of the mTOR pathway, a key metabolic pathway in TNBC cells. The mTOR pathway is activated in TNBCs compared to other subtypes of breast cancer, regulates the synthesis of proteins that are critical for the growth and survival of cancer cells and its activation is correlated to poor outcomes among TNBC patients, while also contributing to metastatic progression and development of resistance to chemotherapy/radiotherapy. Our studies were performed in two different types of TNBCs, MDA-MB-231 cells (mesenchymal stem cell-like (MSL)) and MDA-MB-468 (basal like-1 (BL-1)). Interestingly, lower concentrations of metformin (50, 100, 250, and 500 μM) significantly increased cell proliferation in 25 mM glucose exposed MDA-MB-231 cells, an effect which was not observed in MDA-MB-468 cells, indicating that the effective concentration of metformin when used as anti-cancer drug in TNBCs may have to be determined based on cell type and blood glucose concentration. Our data indicates that metformin treatment was most effective under zero glucose/glucose-starved conditions in MDA-MB-468 with a significant increase in the apoptotic population (62.3 ± 1.5%;
p
-value < 0.01). Under 5.5 mM glucose conditions in both MDA-MB-231 and MDA-MB-468 cells our data showed reduced viability of 73.56 ± 2.53%;
p
-value < 0.05 and 70.49 ± 1.68%;
p
-value < 0.001, respectively, along with a significant increase in apoptotic populations of both cell types. Furthermore, metformin (2 mM) inhibited the mTOR pathway and its downstream components under zero glucose/glucose-starved conditions indicating that using metformin in combination with agents that inhibit the glycolytic pathway should be more beneficial for the treatment of triple-negative breast cancers in diabetic individuals.
View Full-Text
►

▼

Figures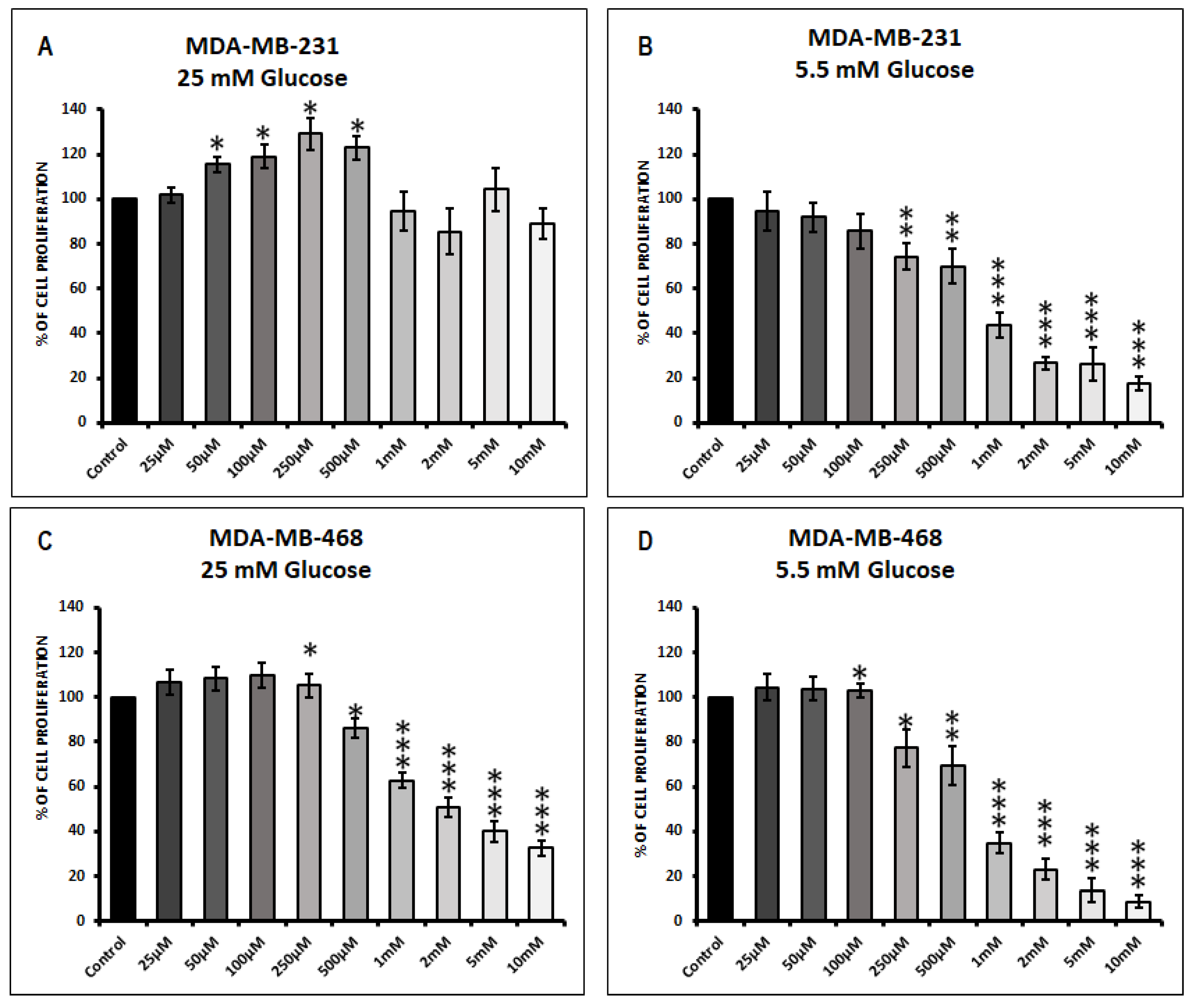 Figure 1
This is an open access article distributed under the
Creative Commons Attribution License
which permits unrestricted use, distribution, and reproduction in any medium, provided the original work is properly cited (CC BY 4.0).

Share & Cite This Article
MDPI and ACS Style
Varghese, S.; Samuel, S.M.; Varghese, E.; Kubatka, P.; Büsselberg, D. High Glucose Represses the Anti-Proliferative and Pro-Apoptotic Effect of Metformin in Triple Negative Breast Cancer Cells. Biomolecules 2019, 9, 16.
Note that from the first issue of 2016, MDPI journals use article numbers instead of page numbers. See further details here.
Related Articles
Comments
[Return to top]