Antioxidants: Positive or Negative Actors?
1
Medical Ethics and Law Research Center, Shahid Beheshti University of Medical Sciences, Tehran 88777539, Iran
2
Student Research Committee, Shahid Beheshti University of Medical Sciences, Tehran 22439789, Iran
3
Department of Nutrition and Dietetics, Faculty of Pharmacy, University of Concepcion, Concepcion 4070386, Chile
4
Department of Dermatology, Emory University School of Medicine, Atlanta Veterans Administration Medical Center, Winship Cancer Institute, Atlanta, GA 30322, USA
5
Research Group on Community Nutrition and Oxidative Stress (NUCOX) and CIBEROBN (Physiopathology of Obesity and Nutrition CB12/03/30038), University of Balearic Islands, E-07122 Palma de Mallorca, Balearic Islands, Spain
6
Faculty of Medicine, University of Porto, Alameda Prof. Hernâni Monteiro, 4200-319 Porto, Portugal
7
Institute for Research and Innovation in Health (i3S), University of Porto, 4200-135 Porto, Portugal
8
Amity Institute of Biotechnology, Amity University, Uttar Pradesh, Noida 201303, India
9
Zabol Medicinal Plants Research Center, Zabol University of Medical Sciences, Zabol 61615585, Iran
10
Department of Forestry, North Eastern Regional Institute of Science and Technology, Nirjuli 791109, Arunachal Pradesh, India
11
Phytochemistry Research Center, Shahid Beheshti University of Medical Sciences, Tehran 11369, Iran
12
Department of Chemistry, Richardson College for the Environmental Science Complex, The University of Winnipeg, Winnipeg, MB R3B 2G3, Canada
*
Authors to whom correspondence should be addressed.
Received: 14 September 2018 / Revised: 16 October 2018 / Accepted: 17 October 2018 / Published: 25 October 2018
Abstract
The term "antioxidant" is one of the most confusing definitions in biological/medical sciences. In chemistry, "antioxidant" is simply conceived "a compound that removes reactive species, mainly those oxygen-derived", while in a cell context, the conceptual definition of an antioxidant is poorly understood. Indeed, non-clinically recommended antioxidants are often consumed in large amounts by the global population, based on the belief that cancer, inflammation and degenerative diseases are triggered by high oxygen levels (or reactive oxygen species) and that through blocking reactive species production, organic unbalances/disorders can be prevented and/or even treated. The popularity of these chemicals arises in part from the widespread public mistrust of allopathic medicine. In fact, reactive oxygen species play a dual role in dealing with different disorders, since they may contribute to disease onset and/or progression but may also play a key role in disease prevention. Further, the ability of the most commonly used supplements, such as vitamins C, E, selenium, and herbal supplements to decrease pathologic reactive oxygen species is not clearly established. Hence, the present review aims to provide a nuanced understanding of where current knowledge is and where it should go.
View Full-Text
►

▼

Figures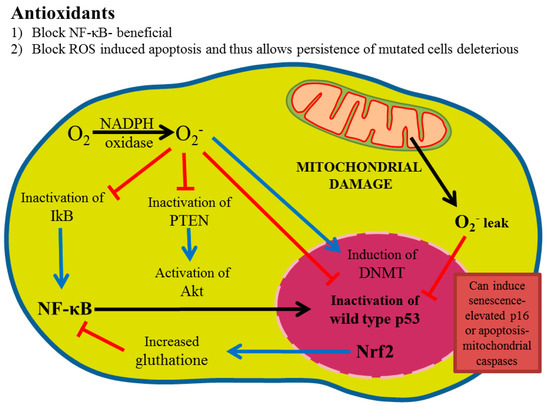 Figure 1
This is an open access article distributed under the
Creative Commons Attribution License
which permits unrestricted use, distribution, and reproduction in any medium, provided the original work is properly cited (CC BY 4.0).

Share & Cite This Article
MDPI and ACS Style
Salehi, B.; Martorell, M.; Arbiser, J.L.; Sureda, A.; Martins, N.; Maurya, P.K.; Sharifi-Rad, M.; Kumar, P.; Sharifi-Rad, J. Antioxidants: Positive or Negative Actors? Biomolecules 2018, 8, 124.
Note that from the first issue of 2016, MDPI journals use article numbers instead of page numbers. See further details here.
Related Articles
Comments
[Return to top]