Open Access This article is
freely available
re-usable
Review
Mineralocorticoid Receptor and Aldosterone-Related Biomarkers of End-Organ Damage in Cardiometabolic Disease
1
Laboratory of Cardiovascular Endocrinology, IRCCS San Raffaele Pisana, Via di Val Cannuta 247, 00166 Rome, Italy
2
Department of Human Sciences and Promotion of the Quality of Life, San Raffaele Roma Open University, 00166 Rome, Italy
*
Author to whom correspondence should be addressed.
Received: 3 August 2018 / Accepted: 12 September 2018 / Published: 18 September 2018
Abstract
:
The mineralocorticoid receptor (MR) was first identified as a blood pressure regulator, modulating renal sodium handling in response to its principal ligand aldosterone. The mineralocorticoid receptor is also expressed in many tissues other than the kidney, such as adipose tissue, heart and vasculature. Recent studies have shown that MR plays a relevant role in the control of cardiovascular and metabolic function, as well as in adipogenesis. Dysregulation of aldosterone/MR signaling represents an important cause of disease as high plasma levels of aldosterone are associated with hypertension, obesity and increased cardiovascular risk. Aldosterone displays powerful vascular effects and acts as a potent pro-fibrotic agent in cardiovascular remodeling. Mineralocorticoid receptor activation regulates genes involved in vascular and cardiac fibrosis, calcification and inflammation. This review focuses on the role of novel potential biomarkers related to aldosterone/MR system that could help identify cardiovascular and metabolic detrimental conditions, as a result of altered MR activation. Specifically, we discuss: (1) how MR signaling regulates the number and function of different subpopulations of circulating and intra-tissue immune cells; (2) the role of aldosterone/MR system in mediating cardiometabolic diseases induced by obesity; and (3) the role of several MR downstream molecules as novel potential biomarkers of cardiometabolic diseases, end-organ damage and rehabilitation outcome.
Keywords:
mineralocorticoid receptor; aldosterone; PBMC; NGAL; Gal-3; PTGDS; adipose tissue
1. Introduction
This review discusses the global pathophysiological relevance of aldosterone and MR-related pathways in cardiometabolic disease and obesity. In this context, we discuss the role of potential novel biomarkers related to the aldosterone/MR system, that could help identify early stages of end-organ damage (heart, vessels, kidney, and adipose tissue) in cardiometabolic diseases, as well as the outcome of therapeutic intervention and rehabilitation.
2. Cardio-Metabolic Effects of Altered Mineralocorticoid Receptor Activation
3. Contribution of Different Immune Cells Subsets to Aldosterone-Induced Inflammation
A precise characterization of cardiovascular inflammation is extremely important to gain more insight into the pathophysiology of aldosterone-related end-organ damage. Indeed, plasma cytokine levels may represent a less-sensitive index of the underlying disease when compared to detailed immunophenotyping in the context of heart and vascular tissue. Therefore, a thorough description of immune cell populations in plasma and tissues might represent a more valuable approach to characterize chronic inflammation states that are dependent on the alteration of the MR/aldosterone pathway.
4. Aldosterone as a Novel Marker of Obesity
Excessive activation of MR in adipose tissue contributes to several metabolic alterations often observed in obesity and metabolic syndrome. Obesity is determined by an excess of adipose tissue, in order to store excess lipids and calories, which results in white adipose tissue (WAT) expansion through two possible mechanisms: increase in cell number (hyperplasia) and/or cell size (hypertrophy) [
84
]. In turn, dysfunctional adipocytes promote macrophage recruitment within WAT through the production of several chemokines (e.g., monocyte chemoattractant protein-1 (MCP-1) and IL-8) [
85
,
86
]. This then contributes to several obesity-related complications, in particular low-grade chronic inflammation, fat mass expansion and insulin resistance [
87
,
88
,
89
]. In obesity states, infiltrating macrophages undergo a polarization shift from an anti-inflammatory phenotype (M2) to a proinflammatory one (M1) [
90
]. Several studies have shown that MR activation triggers adipose tissue inflammation [
91
]. In particular, aldosterone determines an up-regulation of several proinflammatory adipokines (e.g., tumor necrosis factor alpha (TNFα), MCP-1, IL-6, and leptin) and reduces adiponectin expression. The mineralocorticoid receptor pharmacological blockade is able to reduce the total number of hypertrophic adipocytes in murine models of obesity, with a subsequent modification of adipocyte secretory capacity [
92
]. The mineralocorticoid receptor is also able to affect macrophages polarization. Indeed, aldosterone promotes a classic proinflammatory profile in human monocyte-derived macrophages (M1), whereas the MR antagonist eplerenone elicits a switch to the anti-inflammatory profile (M2) [
93
]. Moreover, aldosterone favors an increase in intracellular ROS levels in murine preadipocytes, whereas MR blockade reverses such increase and reduces ROS production in the adipose tissue of obese mice [
92
]. Finally, MR antagonism in mice fed a high-fat diet has been shown to improve glucose tolerance and to prevent white fat expansion and body weight gain [
72
,
94
]. Altogether, these data demonstrate that MR activity plays a relevant role in the pathogenesis of the chronic low-grade inflammatory state and adipocyte dysfunction observed in obesity [
95
].
Our research group has characterized the effects of aldosterone and MR on adipocytes. We first demonstrated that MR expression in murine preadipocytes gradually increases along differentiation, driving the acquisition of the mature adipocyte phenotype via increased expression of peroxisome proliferator-activated receptor-gamma (PPARγ) [
96
], the "master gene" of adipogenesis in mammals [
97
]. Pharmacological MR antagonism determines a marked antiadipogenic effect in both murine and human preadipocytes by decreasing the expression of PPARγ [
98
]. Accordingly, MR mRNA and protein have been both detected in human visceral adipose tissue (VAT) [
99
] and specific MR knockdown in primary human visceral preadipocytes significantly reduced PPARγ expression and disrupted adipose differentiation process [
100
]. Importantly, adipocyte MR expression is higher in obese subjects, as well as in VAT when compared with subcutaneous adipose tissue [
101
]. These findings strongly indicate that adipocyte MR is more abundant in obese subjects, and its excessive activation contributes to adipocyte hypertrophy and dysfunction, which are frequently observed in obesity states [
11
].
Obesity and metabolic syndrome are strictly associated with an increased risk of cardiovascular disease, including left ventricular hypertrophy, coronary artery disease, hypertension, congestive heart failure, and vascular stiffness [
102
]. A large body of evidence indicates an important contribution of aldosterone/MR system into development of metabolic syndrome [
103
,
104
]. A higher prevalence of metabolic syndrome and increased cardiovascular events have been observed in patients affected by primary aldosteronism, when compared to essential hypertension [
39
,
105
]. Recently, Min et al. observed that aldosterone levels were higher in sera from patients with metabolic syndrome, and directly correlated to waist circumference, blood pressure and plasma triglycerides [
106
]. Obese subjects are characterized by high aldosterone and normal or low cortisol plasma levels [
107
,
108
]. This evidence supports the hypothesis that hyperaldosteronism and obesity could be linked by a mechanistic relationship, and the aldosterone/MR system may represent a mediator for cardiometabolic disease induced by obesity [
108
,
109
,
110
]. It is well established that unknown molecules secreted by adipose tissue are able to directly stimulate aldosterone production by the adrenal glands, and this effect is independent of renin-angiotensin-aldosterone system (RAAS) activation [
111
,
112
]. Recently, leptin has been proposed as one of the adipose tissue-derived products able to induce aldosterone synthesis. Huby et al. showed that leptin increases aldosterone synthase expression and function [
113
]. Leptin overexpression in obesity is able to directly stimulate the adrenals, leading to an increased production of aldosterone, which in turn binds and activates MR at the adipocyte level. Such a vicious cycle leads to adipose expansion, chronic inflammation, oxidative stress and subsequent increase of aldosterone-releasing factors production by adipocytes [
110
] (
Figure 2
). In consideration of these findings and in line with elevated aldosterone plasma levels observed in obese subjects [
106
], aldosterone plasma levels can be considered as a novel biomarker of obesity, as its secretion is correlated with WAT expansion and inflammatory state.
5. Mineralocorticoid Receptor Downstream Molecules: Novel Biomarkers of Cardiometabolic Diseases?
Cardiac remodeling secondary to hypertension is characterized by inflammation and fibrosis. It is considered as a major risk factor for cardiovascular morbidity and mortality, and represents a leading cause of chronic heart failure [
114
]. Cardiac remodeling begins with an inflammatory state, which promotes changes in ECM, resulting in myocardial fibrosis [
115
,
116
]. A dysregulated expression of metalloproteases (MMPs) determines an altered ECM remodeling during fibrosis. Activation of MMPs induces both the degradation of ECM structural components and the activation of growth factors able to promote inflammation [
117
]. Aldosterone has long been considered an important trigger for organ damage in hypertension [
118
]; in fact, its levels are increased in hypertensive patients and in spontaneously hypertensive rats (SHR) [
119
,
120
]. Mineralocorticoid receptor activation leads to cardiac inflammation and fibrosis [
121
] and podocyte injury: it is now clear that the proinflammatory effects of aldosterone are mediated by NLPR3 inflammasome at the level of podocytes [
71
]. Most importantly, MR antagonism reduces mortality and morbidity in clinical trials [
53
,
122
,
123
].
Given the central role of MR in the development of cardiometabolic disease, we focused on three MR downstream molecules that recently emerged as specific mediators of MR activation.
5.1. Neutrophil Gelatinase-Associated Lipocalin Protein
The neutrophil gelatinase-associated lipocalin protein (NGAL) has been identified as a novel MR target in the cardiovascular system [
124
]. The neutrophil gelatinase-associated lipocalin protein is a 25-kDa glycoprotein of the lipocalin superfamily [
125
] expressed by several cell types, including renal cells [
126
], ECs and SMCs [
127
,
128
], cardiomyocytes [
124
] and some immune cells subpopulations, such as neutrophils, macrophages, and DCs [
128
,
129
,
130
,
131
]. This protein is a marker of renal injury [
132
]. Elevated NGAL plasma levels have also been associated to increased mortality in patients with heart failure [
133
] independently from kidney dysfunction [
134
]. Accordingly, a recent study demonstrated that NGAL plays an important role in cardiovascular injury induced by aldosterone [
135
], and represents a mediator of cardiac inflammation and fibrosis in post myocardial infarction [
136
]. However, cell types involved in NGAL production in mineralocorticoid-induced organ damage have not yet been clearly determined. We previously discussed the role of immune cells MR expression in the progression of cardiometabolic diseases. Interestingly, elevated NGAL plasma levels have been detected in animal models in response to proinflammatory stimuli, as well as in patients affected by acute/chronic inflammatory states [
137
,
138
]. The secretion of NGAL by immune cells may play an important role in mediating mineralocorticoid-induced hypertension and cardiac injuries, since NGAL is a direct MR target [
137
,
138
]. In accordance, Buonafine et al. recently demonstrated that NGAL secretion by immune cells plays a pivotal role in mediating mineralocorticoid-induced cardiac injuries [
139
]. Mice lacking NGAL in their immune cells were protected against cardiac inflammation and fibrosis induced by nephrectomy-aldosterone (NAS) 200 μg/kg/day-salt 1% challenge [
139
]. In consideration of these data, NGAL could be an eligible biomarker in cardiovascular diseases due to altered mineralocorticoid activation, besides its well-known relevance as a biomarker of renal injury.
5.2. Galectin-3
Hyperaldosteronism worsens fibrosis through the increase in the production of several proinflammatory molecules [
140
]. Galectin-3 (Gal-3) is a 29–35-kDa protein, member of the β-galactoside-binding lectin family, and it is expressed in several cell types such as fibroblasts [
141
], ECs [
142
], and inflammatory cells [
143
]. Recent evidence shows that Gal-3 mediates aldosterone-induced vascular remodeling and cardiac fibrosis [
144
,
145
]. Hypertensive aldosterone salt-treated rats showed increased Gal-3 expression at both mRNA and protein levels in the heart. Cotreatment with spironolactone or modified citrus pectin (MCP), a Gal-3 inhibitor [
146
], abolished cardiac Gal-3 mRNA and protein up-regulation. Interestingly, cardiac hypertrophy and dysfunction were prevented by spironolactone or MCP co-treatment [
145
].
In addition, pharmacological blockade of Gal-3 prevents the aldosterone-induced increase in inflammatory markers and in MMP activities, indicating Gal-3 as a possible novel mediator in cardiac inflammation. In human cardiac fibroblasts, Gal-3 inhibition was able to prevent the increase in inflammatory and fibrotic markers (MMP activities, and ECM components) induced by aldosterone [
147
]. These observations suggest a major role of Gal-3 in mediating aldosterone-induced cardiac remodeling due to myocardial inflammation and fibrosis, which in turn determines the development of HF. Accordingly, clinical studies show increased levels of Gal-3 in patients with HF [
148
]. Moreover, plasma levels of Gal-3 are correlated with serum ECM markers, and Gal-3 represents a prognostic factor in patients affected by coronary artery disease, given its role in plaque destabilization [
149
].
Cardiac fibrosis is also associated to obesity. High fat diet-fed animals show cardiac hypertrophy, fibrosis and an increase in superoxide anion and proinflammatory molecules production [
150
]. Ex vivo studies showed that aldosterone-activated MR promotes adipocyte differentiation and secretion of proinflammatory adipokines and leptin [
96
,
151
]. In obese subjects, MR expression is increased when compared with lean individuals, which has been shown in several preclinical models of obesity and metabolic syndrome [
92
,
95
,
152
]. In line with this, Gal-3 inhibition was recently found to prevent adipose tissue remodeling in obesity [
153
]. Ectopic fat in obese individuals shares some functional features with visceral adipose tissue, including leptin secretion. Interestingly, leptin secreted by epicardial fat can exert its action directly on the heart since epicardial fat leans closely against the myocardium [
154
]. Leptin is directly involved in cardiac fibrosis, exerting prooxidant and profibrotic effects, inducing cardiomyocytes hypertrophy [
155
,
156
,
157
], and affecting collagen turnover, as observed in high fat diet-fed mice. Galectin-3 is expressed in many tissues, including the heart, and its circulating levels significantly increase in obesity [
158
,
159
,
160
]. Given its ability to stimulate collagen deposition and exacerbate proinflammatory states, Gal-3 could be involved in leptin-induced cardiac collagen derangement [
143
,
159
]. To address this hypothesis, Martinez-Martinez et al. evaluated fibrosis and oxidative stress in cardiomyocytes from high fat diet-fed rats, as well as in vitro proliferation of cardiac fibromyoblasts extracted from rat heart exposed to elevated leptin levels. They showed that collagen synthesis induced by leptin is partly mediated by the production of Gal-3 [
141
]. Therefore, also taking into consideration that its plasma levels are increased in primary aldosteronism and obesity [
141
,
159
,
160
,
161
], Gal-3 emerges as a novel circulating biomarker of cardiac damage and cardiometabolic disfunction due to MR activation.
5.3. Lipocalin-Like Prostaglandin D2 Synthase
Experimental and clinical studies have clearly demonstrated that excess aldosterone is a risk factor for type-2 diabetes mellitus and metabolic syndrome [
39
]. Interestingly, pharmacological MR antagonism improves glucose tolerance and reduces insulin resistance in murine models [
92
,
94
,
95
,
152
]. A mouse model selectively overexpressing MR in adipocytes (adipo-MR) displayed all the characteristics of metabolic syndrome [
101
]. Importantly, these mice showed an increase in lipocalin-like prostaglandin D2 synthase (PTGDS) mRNA expression in VAT.
The PTGDS is an enzyme involved in adipose tissue pathophysiology [
162
,
163
,
164
,
165
,
166
]. The increase in its expression is abolished in the presence of the MR antagonist spironolactone. In addition, the increase in PTGDS mRNA levels in VAT and subcutaneous adipose tissue (SAT) from genetically obese db/db mice are significantly correlated to increased MR mRNA levels from the same adipose depots. Moreover, upon aldosterone treatment, differentiated SW872 human adipocytes show increased expression of PTGDS mRNA levels, which is prevented by coincubation with spironolactone. Finally, in obese patients, VAT shows higher expression of PTGDS mRNA levels when compared to SAT, and again a positive correlation between PTGDS and MR mRNA levels is observed [
101
]. Altogether, these data suggest a direct control of MR in PTGDS transcription in adipocytes. Lipocalin-like prostaglandin D2 synthase emerges as a novel MR target in both mice and human adipocytes, and it might represent a novel tissutal marker of MR activation in adipocytes.
6. Conclusions
Recent evidence shows that dysregulation of the aldosterone/MR system is strictly associated with several pathological states that are characterized by high cardiometabolic risk and end-organ damage, particularly at the level of the heart, vessels, kidney and adipose tissue. Diseases associated with an altered function of the aldosterone/MR system, such as hypertension, diabetes, chronic kidney diseases, obesity, heart failure, are distinguished by elevated mortality and costs.
To date, there are no validated clinical biomarkers of the aldosterone/MR system other than plasma circulating levels of aldosterone itself, plasma renin activity and electrolytes, in particular potassium [
167
]. However, plasma electrolytes only represent an indirect marker of the RAAS status, and can be affected by several factors other than MR activation, such as plasma volume, salt intake, adrenergic tone, etc. Moreover, these readouts are not necessarily associated with organ damage, therefore they cannot be considered as a veritable signature of cardiometabolic diseases, fully able to identify high risk patients, eligible to intensive lifestyle or pharmacological intervention for cardiovascular protection.
Therefore, there is an unmet need for novel biomarkers that are able to detect the early stages of selective organ damage, mediated by the aldosterone-MR pathway.
An ideal diagnostic biomarker has to respect several criteria, such as a reasonable balance between cost and benefit, which favors a rapid and correct diagnosis, and should provide information on the patient health status [
168
].
Recently, the field of biomarkers has shifted from purely diagnostic aspects to risk stratification, therapeutic indications and prognosis. Novel biomarkers should preferably be involved in specific pathophysiological pathways, leading to the initiation or exacerbation of the disease. In this context, aldosterone-MR pathway has been carefully explored in the last years, due to its intimate connections with several comorbidities, and recent studies yielded potentially interesting novel biomarkers. Of course, more studies are deemed necessary to confirm their actual prognostic value, their ability to provide useful information on the patient health status beyond signs and symptoms or other already available techniques.
Here, we have discussed the impact of potential novel biomarkers related to the aldosterone/MR system, which could help identify cardiovascular and metabolic detrimental conditions. Specifically, we focused on the effects of altered MR activation on distinct subpopulations of circulating and intra-tissue immune cells (
Figure 1
), and on MR downstream molecules (NGAL, Gal-3 and PTGDS), whose expression could represent a reliable biomarker of end-organ damage (
Figure 3
).
Author Contributions
S.G. and M.C. conceived and wrote the manuscript; C.M. prepared the figures and revised the manuscript; and V.M. and A.A. wrote, in part, and revised the manuscript.
Funding
This research was funded by the Italian Ministry of Health (Ricerca Corrente and Bando 2011–2012 Progetti Collaborazione Ricercatori Italiani all'Estero, to M.C.) and by MIUR (Progetti di Ricerca di interesse Nazionale 2015—project code 2015ZTT5KB, to M.C., work package leader).
Acknowledgments
The authors wish to thank Amy Taheri from University of Zurich (CH) for language editing and proofreading the manuscript.
Conflicts of Interest
The authors declare no conflicts of interest.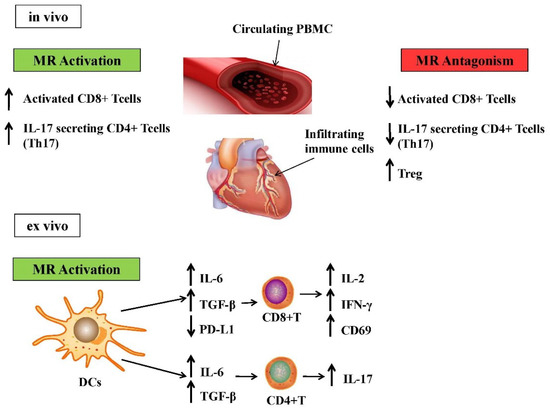 Figure 1. Effects of excess mineralocorticoid receptor (MR) activation on circulating and intra-tissue immune cells. Overactivation of MR upregulates CD8+ T cells and T helper 17 (Th17) cells in circulating peripheral blood mononuclear cells (PBMCs) and in immune cells infiltrating in the heart. On the other hand, MR antagonism is able to decrease Th17 polarization and to induce the T regulatory cell (Treg) phenotype. These cells subsets are primed by dendritic cells (DCs). Dendritic cells express MR and are induced by aldosterone to produce polarizing cytokines that are able to activate CD8+ T cells and to prime CD4+ T cells towards the Th17 phenotype. IL: interleukin; TGF-β: transforming growth factor-beta; PD-L1: programmed death-ligand 1; IFN-γ: interferon-gamma.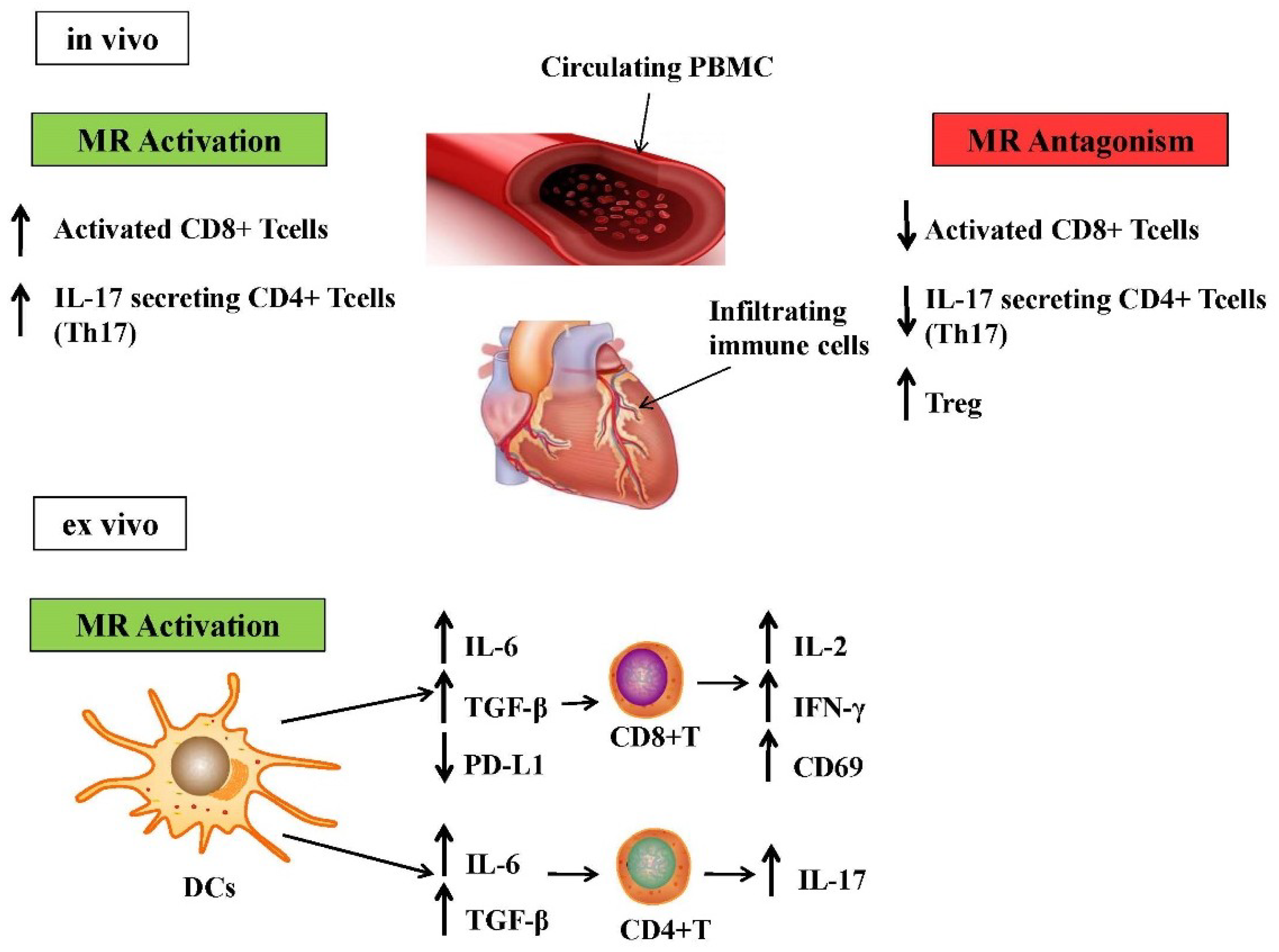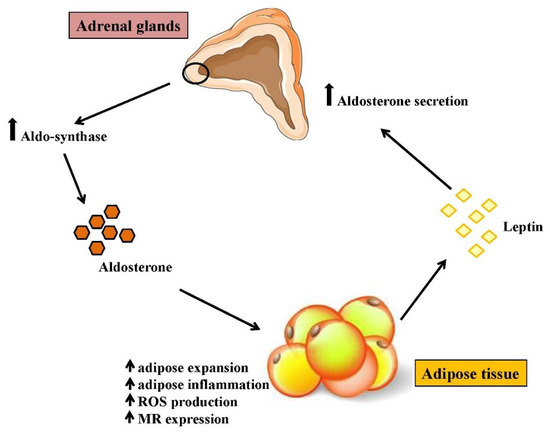 Figure 2. Cross-talk between adipose tissue and adrenocortical cell. Leptin secreted by adipose tissue stimulates aldosterone secretion from adrenal cortex increasing aldosterone synthase expression and aldosterone production in adrenal cells. Aldosterone in turn binds and activates MR at adipocyte level, favoring adipocyte differentiation, hypertrophy and inflammation. This vicious cycle leads to adipose tissue expansion and inflammation, reactive oxygen species (ROS) production and increase in MR expression.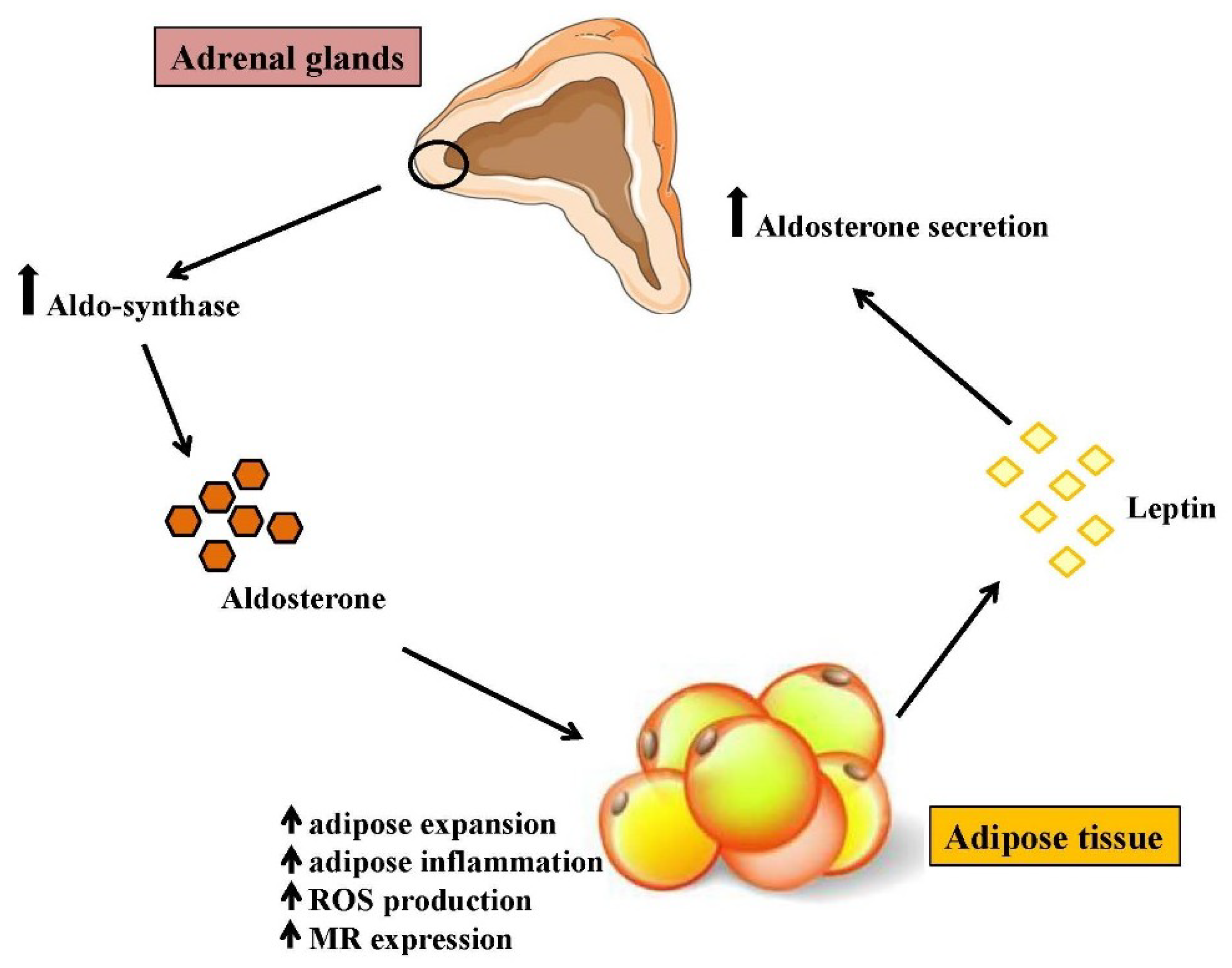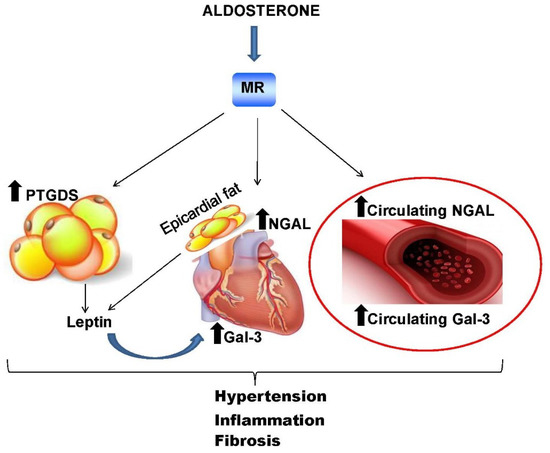 Figure 3. PTGDS, NGAL and Gal-3 as novel biomarkers in cardiovascular diseases induced by altered mineralocorticoid activation. MR activation by aldosterone induces the expression of different downstream molecules. PTGDS is expressed in adipose tissue, whereas NGAL and Gal-3 are expressed in the heart and vasculature; NGAL and Gal-3 are also detectable in the plasma. In obesity states, elevated leptin levels secreted by adipose tissue (in particular epicardial fat), directly activate heart MR, which in turn further promotes Gal-3 synthesis. All these molecules contribute to induce end-organ damage, through disarrangement of ECM and collagen. PTGDS: lipocalin-like prostaglandin D2 synthase; NGAL: neutrophil gelatinase-associated lipocalin; Gal-3: galectin-3.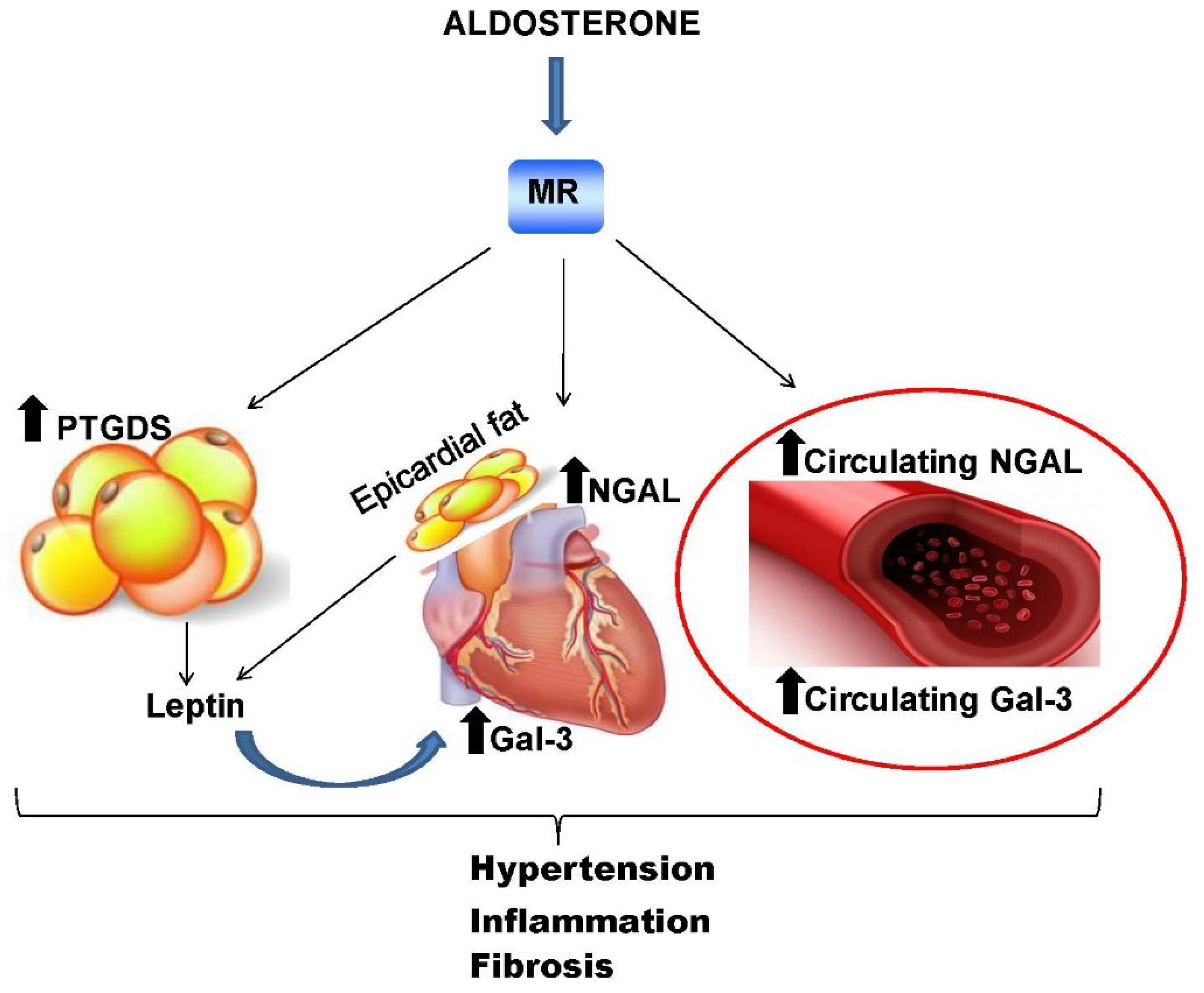 © 2018 by the authors. Licensee MDPI, Basel, Switzerland. This article is an open access article distributed under the terms and conditions of the Creative Commons Attribution (CC BY) license (http://creativecommons.org/licenses/by/4.0/).