Anandamide Revisited: How Cholesterol and Ceramides Control Receptor-Dependent and Receptor-Independent Signal Transmission Pathways of a Lipid Neurotransmitter
1
INMED, INSERM U1249, Parc Scientifique de Luminy, 163 Avenue de Luminy, BP13 13273 Marseille CEDEX 09, France
2
INSERM UMR_S 1072, Aix-Marseille Université, 13015 Marseille, France
3
Laboratory of Molecular Neurobiology, Biomedical Research Institute (BIOMED), UCA–CONICET, Av. Alicia Moreau de Justo 1600, C1107AFF Buenos Aires, Argentina
*
Author to whom correspondence should be addressed.
Received: 3 April 2018 / Revised: 2 May 2018 / Accepted: 16 May 2018 / Published: 22 May 2018
Abstract
Anandamide is a lipid neurotransmitter derived from arachidonic acid, a polyunsaturated fatty acid. The chemical differences between anandamide and arachidonic acid result in a slightly enhanced solubility in water and absence of an ionisable group for the neurotransmitter compared with the fatty acid. In this review, we first analyze the conformational flexibility of anandamide in aqueous and membrane phases. We next study the interaction of the neurotransmitter with membrane lipids and discuss the molecular basis of the unexpected selectivity of anandamide for cholesterol and ceramide from among other membrane lipids. We show that cholesterol behaves as a binding partner for anandamide, and that following an initial interaction mediated by the establishment of a hydrogen bond, anandamide is attracted towards the membrane interior, where it forms a molecular complex with cholesterol after a functional conformation adaptation to the apolar membrane milieu. The complex is then directed to the anandamide cannabinoid receptor (CB1) which displays a high affinity binding pocket for anandamide. We propose that cholesterol may regulate the entry and exit of anandamide in and out of CB1 by interacting with low affinity cholesterol recognition sites (CARC and CRAC) located in transmembrane helices. The mirror topology of cholesterol binding sites in the seventh transmembrane domain is consistent with the delivery, extraction and flip-flop of anandamide through a coordinated cholesterol-dependent mechanism. The binding of anandamide to ceramide illustrates another key function of membrane lipids which may occur independently of protein receptors. Interestingly, ceramide forms a tight complex with anandamide which blocks the degradation pathway of both lipids and could be exploited for anti-cancer therapies.
View Full-Text
►

▼

Figures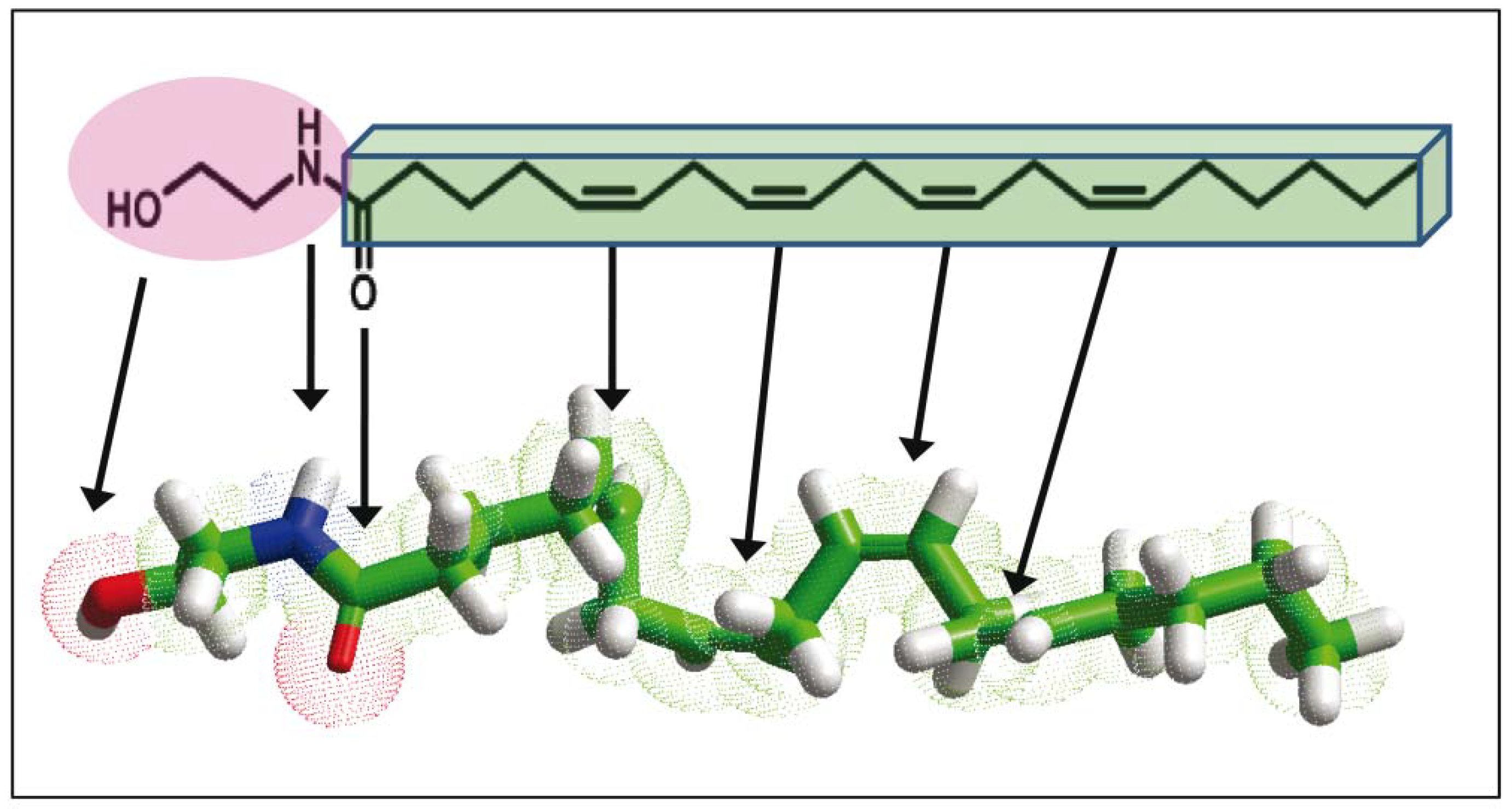 Figure 1
This is an open access article distributed under the
Creative Commons Attribution License
which permits unrestricted use, distribution, and reproduction in any medium, provided the original work is properly cited (CC BY 4.0).

Share & Cite This Article
MDPI and ACS Style
Scala, C.D.; Fantini, J.; Yahi, N.; Barrantes, F.J.; Chahinian, H. Anandamide Revisited: How Cholesterol and Ceramides Control Receptor-Dependent and Receptor-Independent Signal Transmission Pathways of a Lipid Neurotransmitter. Biomolecules 2018, 8, 31.
Note that from the first issue of 2016, MDPI journals use article numbers instead of page numbers. See further details here.
Related Articles
Comments
[Return to top]