Open Access This article is
freely available
re-usable
Meeting Report
Role of Nutrition in Alcoholic Liver Disease:
Summary of the Symposium at the ESBRA 2017 Congress
1
Research Service, Veterans Affairs Nebraska-Western Iowa Health Care System, Omaha, NE 68105, USA
2
Department of Internal Medicine, University of Nebraska Medical Center, Omaha, NE 68105, USA
3
Department of Biochemistry and Molecular Biology, University of Nebraska Medical Center, Omaha, NE 68105, USA
4
Department of Pharmacology and Experimental Therapeutics, Louisiana State University Health Sciences Center, New Orleans, LA 70112, USA
5
Department of Pharmaceutical Sciences, University of Colorado Anschutz Medical Campus, Denver, CO 80045, USA
6
Distilled Spirits Council, Washington, DC 20005, USA
7
Division of Gastroenterology, Hepatology, and Nutrition, Department of Medicine, University of Louisville, Louisville, KY 40202, USA
8
Division of Gastroenterology, Department of Pediatrics, University of California, San Diego, CA 92037, USA
9
Department of Pharmacology and Toxicology, University of Louisville, Louisville, KY 402202, USA;
10
University of Louisville Alcohol Center, University of Louisville School of Medicine, Louisville, KY 40202, USA
11
Robley Rex Veterans Medical Center, Louisville, KY 40202, USA
12
Hepatobiology and Toxicology Program, University of Louisville, Louisville, KY 402202, USA
*
Author to whom correspondence should be addressed.
Received: 16 March 2018 / Accepted: 20 March 2018 / Published: 26 March 2018
Abstract
:
The symposium, "Role of Nutrition in Alcoholic Liver Disease", was held at the European Society for Biomedical Research on Alcoholism Congress on 9 October 2017 in Crete, Greece. The goal of the symposium was to highlight recent advances and developments in the field of alcohol and nutrition. The symposium was focused on experimental and clinical aspects in relation to the role of different types of dietary nutrients and malnutrition in the pathogenesis of alcoholic liver disease (ALD). The following is a summary of key research presented at this session. The speakers discussed the role of dietary fats and carbohydrates in the development and progression of alcohol-induced multi-organ pathology in animal models of ALD, analyzed novel nutrition-related therapeutics (specifically, betaine and zinc) in the treatment of ALD, and addressed clinical relevance of malnutrition and nutrition support in ALD. This summary of the symposium will benefit junior and senior faculty currently investigating alcohol-induced organ pathology as well as undergraduate, graduate, and post-graduate students and fellows.
Keywords:
alcoholic liver disease; nutrition; fat; carbohydrates; betaine; malnutrition; zinc; nutritional support in ALD
1. Introduction
Alcohol-induced liver dysfunction is a significant health problem worldwide for which there is no current food and drug administration (FDA)-approved therapy. Alcoholic liver disease (ALD) refers to a wide histological spectrum of liver pathologies, including steatosis (fatty liver), steatohepatitis (characterized by a combination of hepatic fat accumulation and inflammation), liver fibrosis and cirrhosis. To date, alcohol abstinence is the most effective strategy to prevent, and/or to attenuate the disease. The cross-talk among multiple organs/tissues, e.g., the gut-liver, the gut-liver-brain, and the white adipose tissue (WAT)-liver axes, plays a significant role in the ALD pathogenesis. Overall, oxidative stress and inflammation are key mediators in ALD development [
1
,
2
,
3
].
Multiple factors are involved in the development of ALD, including genetic, epigenetic, and environmental factors, such as nutrition. Alcohol and nutrients can interact at multiple levels. Excessive alcohol ingestion alters the metabolism of most nutrients. Alcohol consumption activates enzymatic and non-enzymatic lipid oxidation contributing to hepatic oxidative stress. Ethanol-mediated alterations in methionine metabolism result in reduced levels of antioxidants,
S
-adenosyl-methionine (SAMe) and glutathione, leading to increased oxidative stress and liver injury [
4
]. Further, heavy alcohol consumption also can cause poor intestinal absorption of certain nutrients (e.g., zinc) or increase nutrient losses. Numerous dietary factors (e.g., Zn, SAMe and betaine supplements, dietary fat enriched in certain fatty acids) have demonstrated beneficial effects in clinical and experimental ALD [
5
,
6
,
7
]. Nutrition plays an important role as supportive therapy [
8
,
9
], as nutritional deficiencies commonly occur in patients with ALD, and patients with severe alcoholic hepatitis almost invariably demonstrate some form of malnutrition [
10
,
11
].
At this symposium, the speakers discussed the role of dietary fats in the development and progression of alcohol-induced liver pathology, focusing specifically on linoleic acid and its oxidized metabolites; discussed the importance of dietary fat/carbohydrate ratio; examined novel nutrition-related therapeutics (specifically, betaine) in the treatment of ALD, and addressed clinical relevance of malnutrition and nutrition support in ALD. All presentations at this symposium supported the notion that nutritional factors play important roles in alcohol-induced multi-organ pathology and could serve as potential preventive/therapeutic targets/options.
2. Summary of Presentations at the Symposium
2.1. Dietary Linoleic Acid and Its Oxidized Metabolites Exacerbate Liver Injury Caused by Ethanol via Induction of Hepatic Pro-Inflammatory Response
Dennis R. Warner, Ariel E. Feldstein, Craig J. McClain, and Irina A. Kirpich
Studies from our laboratory and others have demonstrated that dietary fats are important modulators of the toxic effects of ethanol in the liver [
12
]. It has been previously shown that rodents placed on diets high in unsaturated fat (USF, enriched predominantly in the polyunsaturated fatty acid (PUFA), linoleic acid (LA)) when combined with ethanol showed significantly greater liver injury compared to animals fed ethanol and other types of fat, e.g., saturated fat (SF), enriched in medium chain fatty acids [
6
,
13
,
14
]. This effect may be partially due to the oxidation of LA via the 12/15-lipoxygenase pathway or through non-enzymatic, free radical-mediated oxidation, to generate pro-inflammatory metabolites. In agreement with previously published studies [
15
,
16
], we found in two different animal models of ALD (chronic ad-libitum Lieber-deCarli and acute-on-chronic NIAAA models) that in comparison to mice fed SF and ethanol, animals fed USF and ethanol had a greater liver injury which was associated with the increased levels of oxidized LA metabolites (OXLAMs,
Figure 1
A,B, acute-on-chronic NIAAA model is shown). In addition, we also observed alterations in arachidonic acid (AA) metabolites (e.g., hydroxyeicosatetraenoic acids (HETEs)), many of which are known pro-inflammatory lipid mediators (
Figure 1
C). For example, 12-HETE induced
Tnf-α
,
Mcp-1
, and
Il-6
expression in macrophages [
17
,
18
]. Additionally, an increase in 12-HETE was observed in patients with ALD [
19
].
To explore the mechanisms by which oxidized linoleic acid metabolites (OXLAMs) may contribute to enhanced liver injury, we tested the hypothesis that ethanol-induced oxidation of LA and the subsequent increase in hepatic and circulating OXLAMs exacerbate liver injury via shifting hepatic macrophages toward the pro-inflammatory (M1) phenotype. To this end, RAW264.7 cells were treated with 5 μM 9- or 13-hydroxyoctadecadienoic acids (HODEs) with or without lipopolysaccharides (LPS) (100 ng/mL). Stimulation of RAW264.7 cells by 9-HODE alone, but not 13-HODE alone, led to a significant increase in
Tnf-α
expression. A similar pattern was observed for the expression of
Mip-2α
and
Mcp-1
, where 9-HODE alone or in combination with LPS enhanced their expression, but 13-HODE alone did not. In contrast, 13-HODE, but not 9-HODE, potentiated LPS-induction of
iNos
expression. These results demonstrate that 9- and 13-HODE have different, and even opposing, roles in regulating cytokine gene expression in RAW264.7 cells, with 9-HODE promoting a pro-inflammatory response (M1 response) to a greater extent than 13-HODE. There was no effect of either 9- or 13-HODE on the expression of M2 macrophage markers (
Arg-1
or
Tgf-β1
, anti-inflammatory response markers), suggesting that 9-HODE was primarily pro-inflammatory and that 13-HODE was mainly neutral or had some anti-inflammatory activity. There are three known receptors for HODES: GPR132, TRPV1, and PPARγ. GPR132 binds to 9-HODE but binds only very weakly to 13-HODE [
20
]. TRPV1 and PPARγ can bind to both 9- and 13-HODE [
21
,
22
]. RAW264.7 cells do not express
Trpv1
[
23
] and express only very low levels of
Pparγ
[
24
]. Therefore, the primary response to HODEs in RAW264.7 cells is likely mediated by GPR132 and explains the relative inactivity of 13-HODE in these cells. Future studies on HODE/receptor interactions are needed.
In summary, the results of the study support the concept that dietary LA, a ω-6-PUFA, exacerbates ethanol-induced liver injury and provides evidence that the increase in OXLAM production and promotion of an OXLAM-mediated pro-inflammatory response might be one of the underlying mechanisms. Of note, there is scant evidence regarding the potential role of metabolites generated from LA and other PUFAs through other metabolic pathways (e.g., the cytochrome p450/epoxide hydrolase pathway), as well as lipid mediators derived from ω-3 PUFAs, such as α-linolenic acid, eicosapentaenoic and docosahexaenoic acids. Given that the majority of PUFA metabolites are potent endogenous signaling molecules that function through multiple pathways, identification of changes in specific lipid mediators might shed new light into the mechanisms contributing to ALD pathogenesis and may reveal novel therapeutic targets and biomarkers of this disease. Further research is required to elucidate the specific role and mechanisms by which each PUFA-derived metabolite exerts its effect during ALD pathogenesis.
2.2. Role of Fat/Carbohydrate Ratio and Dietary Fat Type in Development of Alcoholic Liver Pathology
Martin J.J. Ronis, Colin T. Shearn, and Dennis R. Petersen
The development of liver pathology following alcohol consumption in experimental animals is highly dependent on dietary macromolecule composition. Rats were fed ethanol at 12–13 g/kg/day intragastrically via isocaloric liquid diets at a level of 187 kcal/kg/day. Ethanol diets high in simple carbohydrates (16% protein, 79% dextrose/maltodextrin, 5% corn oil) or polyunsaturated fats (16% protein, 39% dextrose/maltodextrin, 45% corn oil) were both observed to produce hepatic steatosis. However, this occurred much more rapidly in rats fed ethanol as part of the high carbohydrate diet, within 14 days of feeding, coincident with increased fatty acid synthesis and increased nuclear expression of the carbohydrate response element binding protein (ChREBP) [
25
]. In contrast to data from other laboratories [
26
], development of steatosis was not accompanied by any significant effects on serum concentrations of adiponectin, hepatic expression of the histone deacetylase, Sirt-1, or nuclear expression of the steroid regulatory element binding protein, SREBP-1c [
25
]. Chronic feeding of high carbohydrate control diets in the absence of ethanol for 65 days resulted in development of identical steatosis and liver injury to that seen in the ethanol-high carbohydrate diets [
25
]. These data are consistent with recent studies from David Crabb's laboratory [
27
] and suggest that ethanol is treated metabolically like a carbohydrate. The data also raise an important issue regarding use of dextrose/maltodextran to pair-feed control groups in chronic studies of alcoholic liver injury. Such "control" liquid diets, high in fat and simple carbohydrates are not benign. This is illustrated by the results of a recent chronic feeding study from our laboratory in which we examined the effects of gestational exposure to second hand smoke on alcoholic liver injury in adult male C57BL/6 mice. Pregnant mice were exposed to air or second-hand smoke for 4 h/day from gestational day 6–19. Pups were culled to 6 pups/litter with litters of equal average weight and fed chow diets ad libitum until post-natal day 65. At that time groups of
n
= 20 male pups either continued on chow or were switched to high fat Lieber DeCarli liquid diets and were fed ethanol up to a final concentration of 28% total calories or pair-fed diets in which the ethanol calories were matched by dextrose-maltodextrin for 16 weeks. As shown in
Figure 2
, no effects of gestational second-hand smoke on adult body weight or liver pathology were observed in any diet group. However, the pair-fed "controls" had significantly increased body weight >30%, increased % liver weight, increased liver triglycerides and had dramatically increased serum alanine aminotransferase (ALT) values (
p
< 0.05) indicative of development of non-alcoholic steatohepatitis (NASH). In contrast, the ethanol-fed group had lower weights than the pair-fed mice, consistent with reports that ethanol is treated as "empty calories" [
13
] and had smaller increases in % liver weight and serum ALTs relative to chow-fed mice, despite having higher levels of hepatic triglycerides than pair-fed mice (
p
< 0.05). Development of obesity and fatty liver pathology in the pair-fed controls makes interpretation of any alcohol effects in such studies very difficult.
Feeding of ethanol intragastrically to rats with diets high in polyunsaturated fat where carbohydrate calories are limited resulted in development of steatohepatitis and an increase in necroinflammatory injury relative to high fat controls [
25
,
28
]. Under these conditions, the increase in pathology appears to be associated with increased induction of the ethanol-inducible enzyme cytochrome P450 CYP2E1, which has been characterized as an important source of reactive oxygen species (ROS) [
26
,
28
]. In this model we have demonstrated that liver pathology including steatosis disappears when polyunsaturated fats are substituted with a mixture of medium and long chain saturated fats, even when dietary ethanol content is the same [
13
]. Reduction in liver pathology in rats fed this diet appeared to be due to a reduction in susceptibility to ROS-mediated membrane peroxidation and increases in peroxisome proliferator activated receptor alpha (PPARα)-mediated fatty acid oxidation [
13
]. More recent studies with double knockout mice lacking the enzymes, glutathione
S
-transferase A4-4 and PPARα, suggest that lipid peroxidation products such as 4-hydroxy-2-nonenal (4-HNE) derived from free radical degradation of polyunsaturated fatty acids are important in the progression of liver pathology beyond simple steatosis. The double knockout mice had increased 4-HNE protein adducts, higher serum ALT, increased production of inflammatory cytokines, including tumor necrosis factor alpha (TNF-α) and interferon gamma (IFN-γ), increased evidence of matrix remodeling, and more fibrosis than ethanol-fed wild type or single knockout mice [
29
]. 4-HNE adduction of hepatic proteins identified by immunohistochemistry and LC-MS/MS proteomics analysis, particularly in the mitochondria, appear to result in metabolic dysfunction including defects in fatty acid homeostasis and ammonia metabolism [
30
]. These protein adducts also appear to act as haptens stimulating autoimmune responses which may contribute to the development of necroinflammatory responses and progression of liver injury [
29
]. Interestingly, we have established a similar role for lipid peroxidation of polyunsaturated fatty acids in the progression of non-alcoholic fatty liver disease in both rat intragastric feeding and in GSTA4-4/PPARα double knockout mice models [
31
,
32
].
2.3. Betaine: A Promising Therapeutic in the Treatment of Alcohol-Induced Liver Injury
Kusum K. Kharbanda
2.4. Malnutrition and Nutrition Support in Alcoholic Liver Disease: Clinical Relevance
Samir Zakhari and Craig J. McClain
In summary, patients with ALD, especially those with advanced cirrhosis/alcoholic hepatitis, frequently have malnutrition that can impact outcome. Nutritional assessment and appropriate nutritional therapy can have a positive impact on nutritional status and quality of life and may improve survival.
Acknowledgments
The authors thank Marion McClain for manuscript proofreading. Grant Supports: The work presented in this study was supported by NIH grants R01AA024102 (IAK), U01AA022489 (AEF, CJM), U01AA021901 (CJM), U01AA021893 (CJM), R01AA023681 (CJM), R37AA009300 (MJJR, DRP), the Department of Veterans Affairs BX000350 (CJM), BX001155 (KKK), and the Intramural Programs of the National Institute on Alcohol Abuse and Alcoholism and National Institute on Aging (CER). Research reported in this publication was supported by an Institutional Development Award (IDeA) from the National Institute of General Medical Sciences of the National Institutes of Health under grant number P20GM113226 (CJM), and the National Institute on Alcohol Abuse and Alcoholism of the National Institutes of Health under Award Number P50AA024337 (CJM). The content is solely the responsibility of the authors and does not necessarily represent the official views of the National Institutes of Health.
Author Contributions
All authors contributed to the respective study design, data acquisition, results interpretation, and a manuscript preparation. I.A.K., K.K.K., M.J.J.R., S.Z. presented studies at the ESBRA 2017 meeting.
Conflicts of Interest
The authors declare no conflict of interest.
Abbreviations
AA
arachidonic acid
ALD
alcoholic liver disease
AH
alcoholic hepatitis
BIA
bioelectrical impedance
BHMT
betaine-homocysteine methyltransferase
BMI
body mass index
ChREBP
carbohydrate response element binding protein
HETEs
hydroxyeicosatetraenoic acids
HODEs
hydroxyoctadecadienoic acids
LA
linoleic acid
NASH
non-alcoholic steatohepatitis
4-HNE
4-hydroxynonenal
OXLAMs
oxidized linoleic acid metabolites
PUFA
polyunsaturated fatty acid
ROS
reactive oxygen species
SAH

S

-adenosylhomocysteine
SAM

S

-adenosylmethionine
SREBP-1c
steroid regulatory element binding protein 1c
SGA
Subjective global assessment
WAT
white adipose tissue
USF
unsaturated fat

Figure 1.
Elevated levels of polyunsaturated fatty acid (PUFA) metabolites in liver injury caused by acute-on-chronic ethanol administration. (
A
) Plasma alanine aminotransferase (ALT) levels were significantly higher in mice fed ethanol and unsaturated fat compared to ethanol and dietary saturated fat; (
B
) oxidized metabolites of linoleic acid; (
C
) oxidized metabolites of arachidonic acid. SF: saturated fat; EtOH: ethanol-fed; USF: unsaturated fat; HODE: hydroxyoctadecadienoic acids; HETE: hydroxyeicosatetraenoic acids; *
p
< 0.05.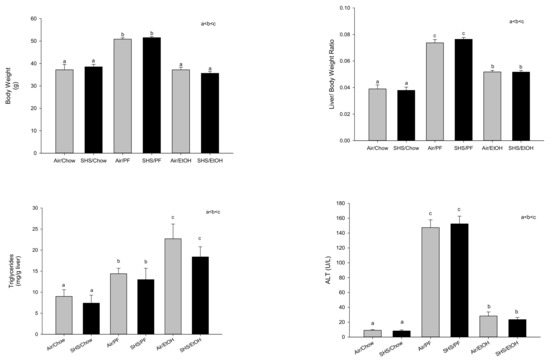 Figure 2.
Effects of gestational second-hand smoke (SHS) on body weight and liver pathology in male C57BL/6 mice fed chow or pair-fed Lieber DeCarli liquid diets at up to 28% ethanol calories for 16 weeks beginning on post-natal day 65. PF: pair-fed dextrose/maltodextran. a < b < c, significantly different at
p
< 0.05.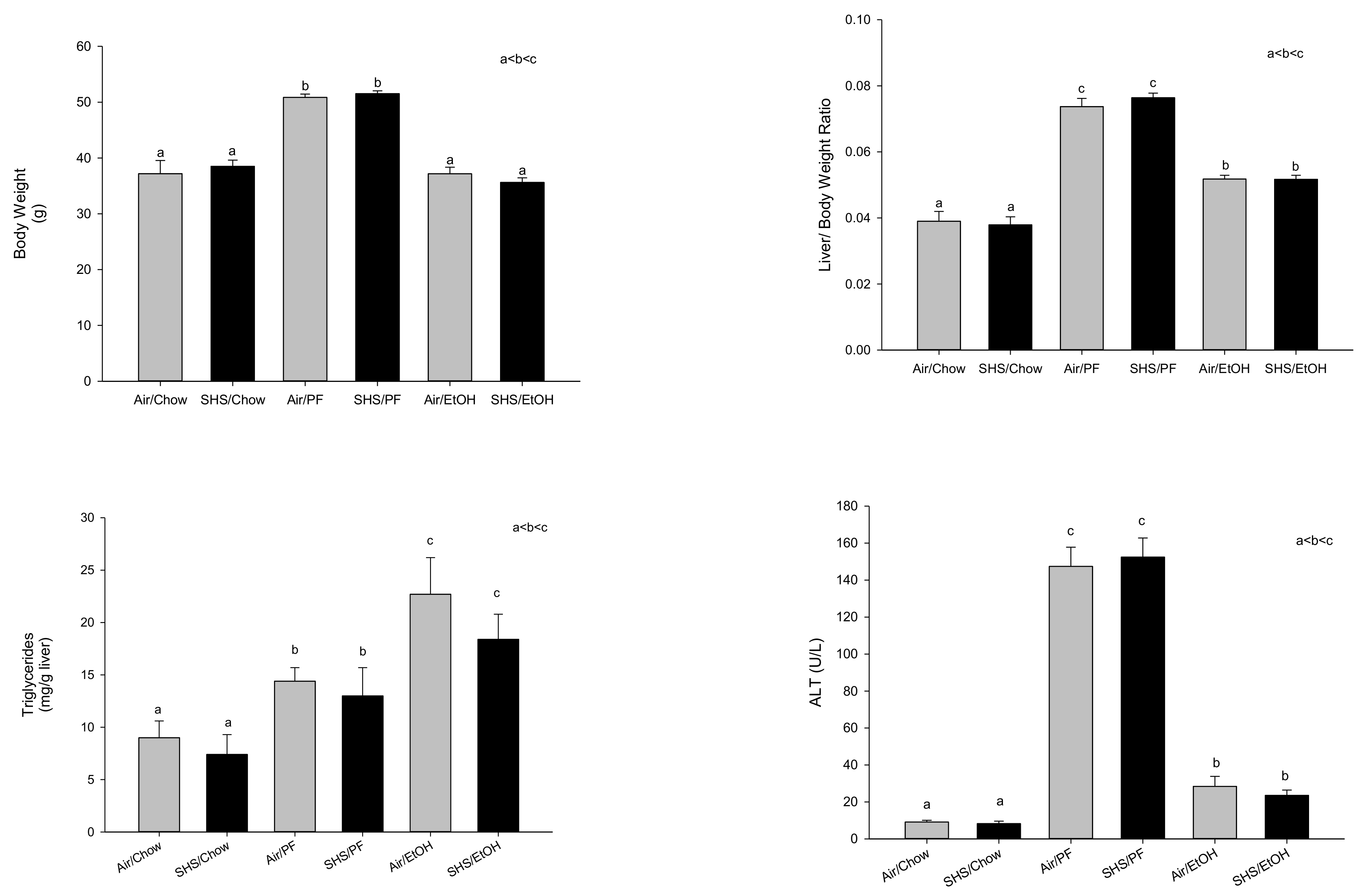 Figure 3. Time-course handgrip assessment in patient with moderate alcoholic hepatitis. (A) Correlation analysis between hand grip response and Model for End-Stage Liver Disease (MELD) score; (B) hand grip dynamometry.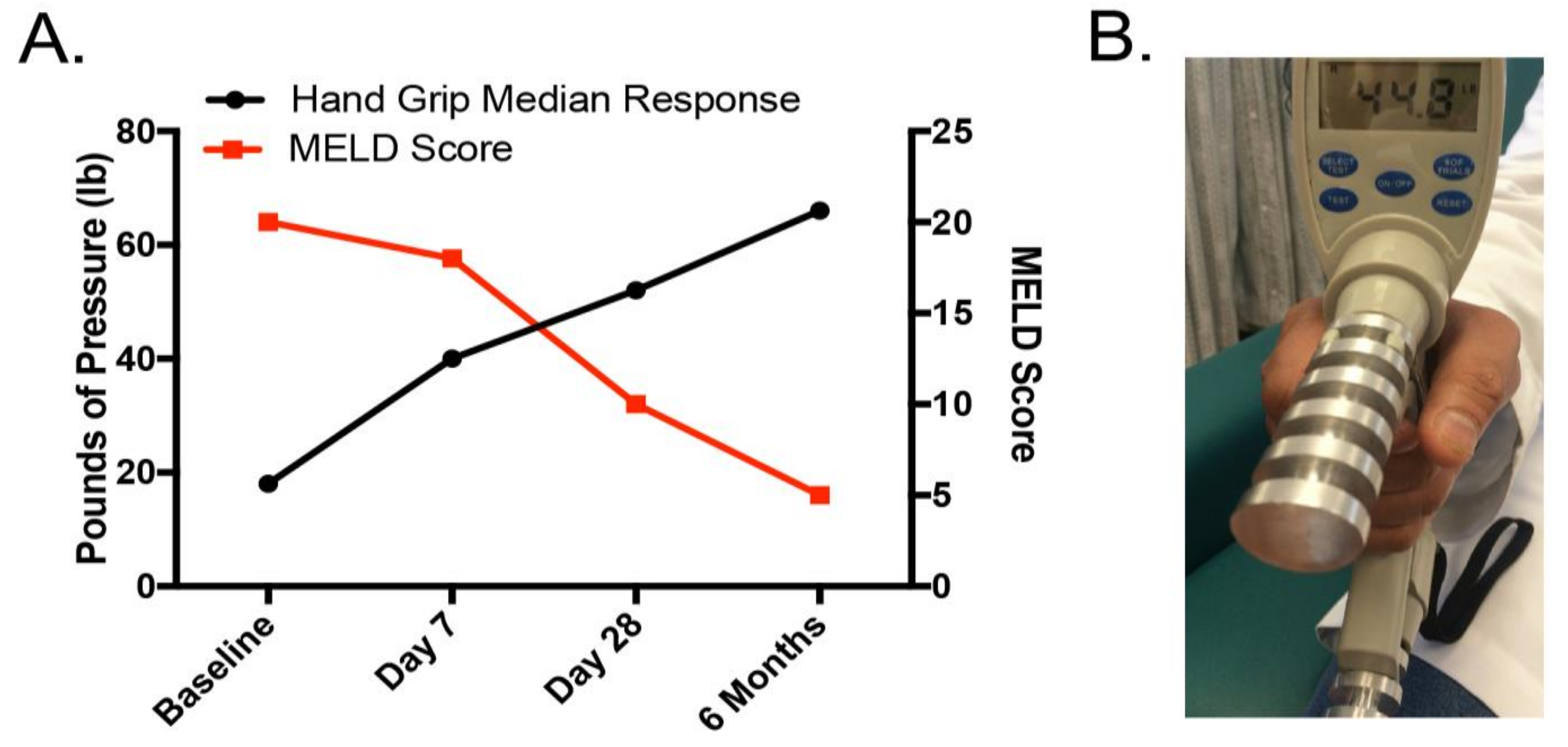 | | Methods |
| --- | --- |
| 1 | Anthropometry |
| 2 | Biologic Indicators |
| 3 | Creatinine Height Index |
| 4 | Muscle Strength |
| 5 | Bioelectrical Impedance |
| 6 | Air Displacement, Plethysmography |
| 7 | Imaging (DEXA, MRI, CT, etc.) |
| 8 | Subjective Global Assessment |
| 9 | Energy Balance |
| 10 | Metabolomics |
DEXA: dual-energy X-ray absorptiometry; MRI: magnetic resonance imaging; CT: computed tomography scan.

© 2018 by the authors. Licensee MDPI, Basel, Switzerland. This article is an open access article distributed under the terms and conditions of the Creative Commons Attribution (CC BY) license (http://creativecommons.org/licenses/by/4.0/).