Open Access This article is
freely available
re-usable
Review
The Role of Functional Amyloids in Multicellular Growth and Development of Gram-Positive Bacteria
1
Terrestrial Biofilms Group, Institute of Microbiology, Friedrich Schiller University Jena, 07743 Jena, Germany
2
Department of Biotechnology and Biomedicine, Technical University of Denmark, 2800 Lyngby, Denmark
3
Institute of Biology, Leiden University, 2333BE Leiden, The Netherlands
*
Authors to whom correspondence should be addressed.
Academic Editors: Margaret Sunde, Matthew Chapman and Daniel Otzen
Received: 7 July 2017 / Accepted: 3 August 2017 / Published: 7 August 2017
Abstract
:
Amyloid fibrils play pivotal roles in all domains of life. In bacteria, these fibrillar structures are often part of an extracellular matrix that surrounds the producing organism and thereby provides protection to harsh environmental conditions. Here, we discuss the role of amyloid fibrils in the two distant Gram-positive bacteria,
Streptomyces coelicolor
and
Bacillus subtilis
. We describe how amyloid fibrils contribute to a multitude of developmental processes in each of these systems, including multicellular growth and community development. Despite this variety of tasks, we know surprisingly little about how their assembly is organized to fulfill all these roles.
Keywords:
amyloid fiber;
Streptomyces
;
Bacillus subtilis
; chaplin; TasA; biofilm; extracellular matrix; development; multicellular growth
Acknowledgments
A.D. was supported by an Alexander von Humboldt Post-doctoral fellowship. Á.T.K. was supported by a Startup grant from the Technical University of Denmark. D.C. was supported by a VIDI grant from the Netherlands Organisation for Scientific Research (NWO) (grant number 12957).
Author Contributions
A.D., Á.T.K. and D.C. conceived and wrote the paper.
Conflicts of Interest
The authors declare no conflict of interest. The founding sponsors had no role in the design of the study, in the collection, analyses, or interpretation of data; in the writing of the manuscript, nor in the decision to publish the results.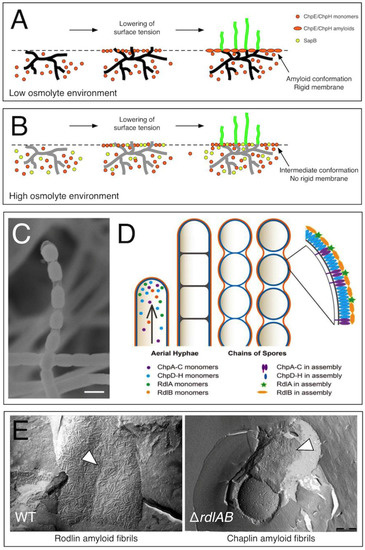 Figure 1.
The role of chaplins and rodlins in aerial growth in
Streptomyces coelicolor
. The chaplins ChpE and ChpH are secreted by vegetative hyphae, and accumulate at the medium–air interface. Initial assembly of chaplins into a non-amyloidal membrane coincides with the lowering of the surface tension. When more chaplins accumulate at the interface, the transition to the amyloid state is induced. (
A
) In low osmolyte environments, hyphae have sufficient turgor pressure to penetrate this rigid membrane and grow into the air. (
B
) In high osmolyte-containing environments, the surfactant spore-associated protein (SapB) is produced in addition to ChpE and ChpH. The surfactant molecule SapB may intercalate into the chaplin membrane at the medium–air interface, thereby delaying or even preventing chaplins from assembling into a rigid amyloid membrane. This allows hyphae to grow into the air, even when their turgor pressure is reduced. Vegetative hyphae with a high turgor pressure are shown in black (
A
), while those with a reduced turgor pressure are shown in grey (
B
). (
C
) Visualization of spore chains using scanning electron microscopy reveals the presence of a transparent, sheath-like structure enveloping the separating spores. (
D
) This suggests that developing spore chains are surrounded by two distinct surface layers, containing assembled chaplins (purple/blue) and rodlins (green/orange). (
E
) The rodlins are part of the outermost surface layer, which has a more robust appearance (left panel) compared to the layer formed by the chaplins (right panel).
Figure 1
A,B was reproduced from reference [
27
] with permission from Springer (2014), while
Figure 1
C,D was reproduced from reference [
28
] with permission from the Nature Publishing Group (2017).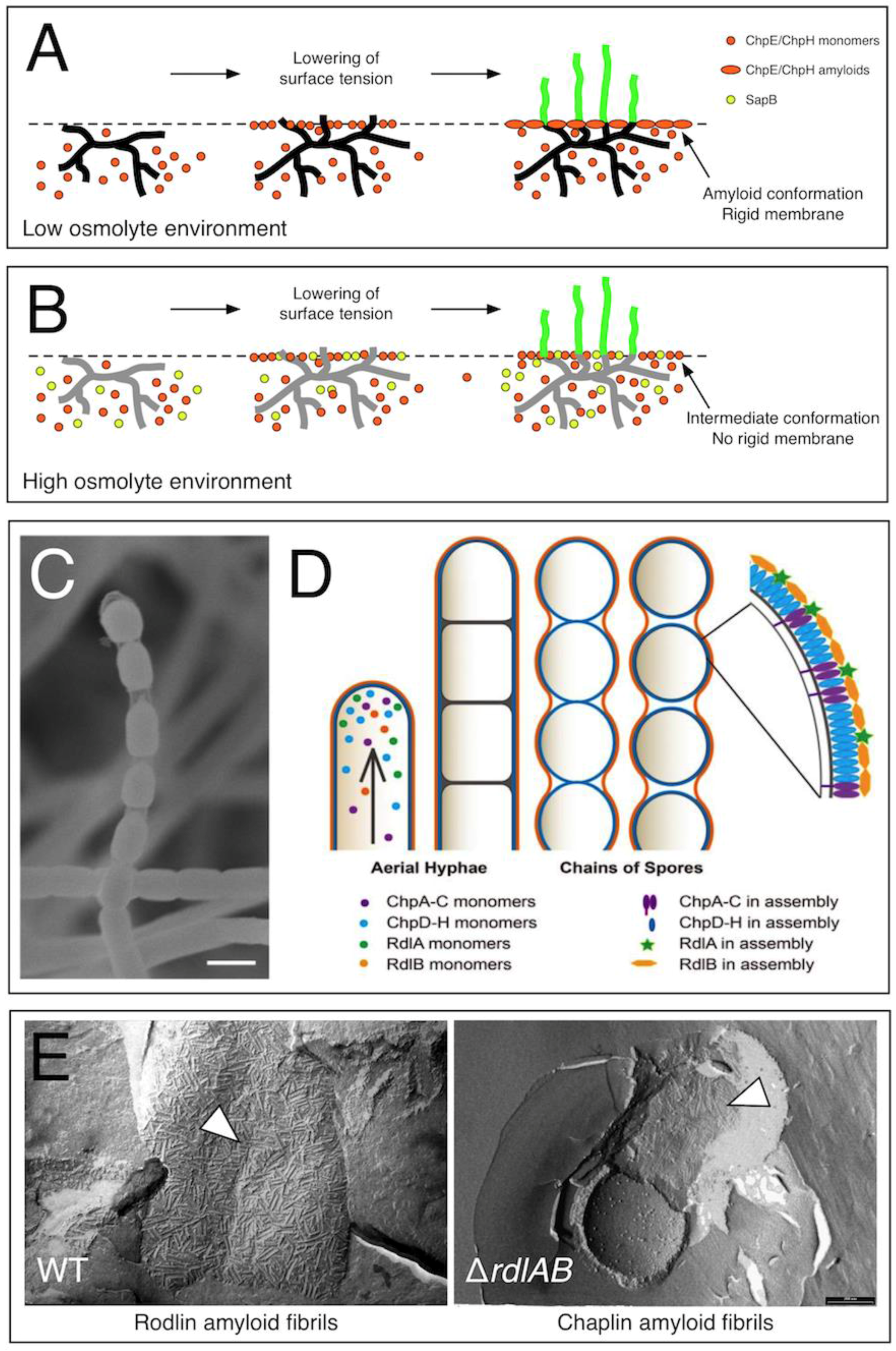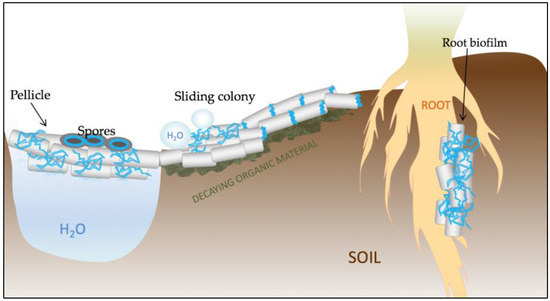 Figure 2.
Schematic representation of the various functions of TasA in
Bacillus subtilis
. TasA (represented in blue) is a key structural element of pellicle biofilms that form at the water–air interface. The protein is also important for proper spore architecture, probably by connecting the cortex with the inner coat. TasA also contributes to maintaining the non-wetting properties of colonies and to surface spreading. Finally, TasA is crucial for the establishment of root-associated biofilms and, due to its antimicrobial properties, it may play an important role in biocontrol.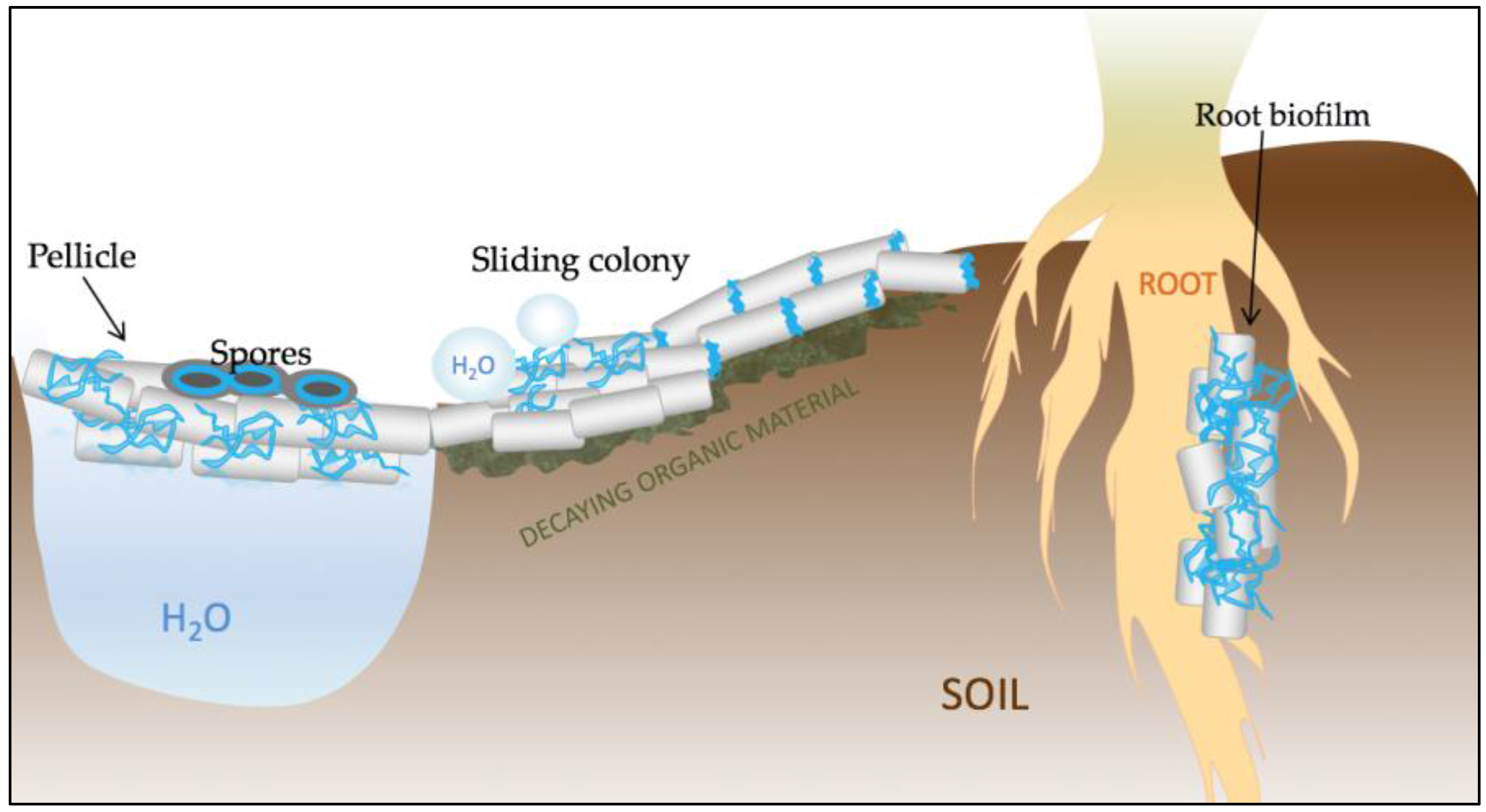 © 2017 by the authors. Licensee MDPI, Basel, Switzerland. This article is an open access article distributed under the terms and conditions of the Creative Commons Attribution (CC BY) license (http://creativecommons.org/licenses/by/4.0/).