Coupling TOR to the Cell Cycle by the Greatwall–Endosulfine–PP2A-B55 Pathway
1
Institute of Functional Biology and Genomics (IBFG), CSIC/University of Salamanca, 37007 Salamanca, Spain
2
Institute of Biomedical Research of Salamanca (IBSAL), University Hospital of Salamanca, 37007 Salamanca, Spain
*
Authors to whom correspondence should be addressed.
Academic Editors: Kazuhiro Shiozaki and Ted Powers
Received: 26 June 2017 / Revised: 31 July 2017 / Accepted: 2 August 2017 / Published: 4 August 2017
Abstract
Cell growth and division are two processes tightly coupled in proliferating cells. While Target of Rapamycin (TOR) is the master regulator of growth, the cell cycle is dictated by the activity of the cyclin-dependent kinases (CDKs). A long-standing question in cell biology is how these processes may be connected. Recent work has highlighted that regulating the phosphatases that revert CDK phosphorylations is as important as regulating the CDKs for cell cycle progression. At mitosis, maintaining a low level of protein phosphatase 2A (PP2A)-B55 activity is essential for CDK substrates to achieve the correct level of phosphorylation. The conserved Greatwall–Endosulfine pathway has been shown to be required for PP2A-B55 inhibition at mitosis in yeasts and multicellular organisms. Interestingly, in yeasts, the Greatwall–Endosulfine pathway is negatively regulated by TOR Complex 1 (TORC1). Moreover, Greatwall–Endosulfine activation upon TORC1 inhibition has been shown to regulate the progression of the cell cycle at different points: the G1 phase in budding yeast, the G2/M transition and the differentiation response in fission yeast, and the entry into quiescence in both budding and fission yeasts. In this review, we discuss the recent findings on how the Greatwall–Endosulfine pathway may provide a connection between cell growth and the cell cycle machinery.
View Full-Text
►

▼

Figures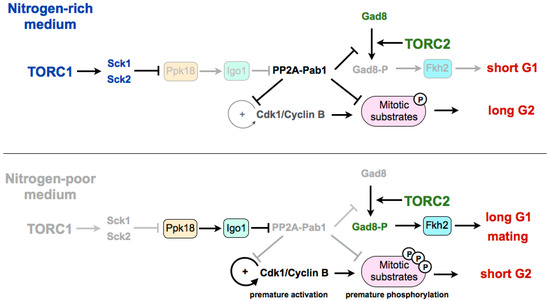 Figure 1
This is an open access article distributed under the
Creative Commons Attribution License
which permits unrestricted use, distribution, and reproduction in any medium, provided the original work is properly cited (CC BY 4.0).

Share & Cite This Article
MDPI and ACS Style
Pérez-Hidalgo, L.; Moreno, S. Coupling TOR to the Cell Cycle by the Greatwall–Endosulfine–PP2A-B55 Pathway. Biomolecules 2017, 7, 59.
Note that from the first issue of 2016, MDPI journals use article numbers instead of page numbers. See further details here.
Related Articles
Comments
[Return to top]