Role of Protein Quality Control Failure in Alcoholic Hepatitis Pathogenesis
1
Harbor-UCLA Medical Center, Department of Pathology, Torrance, CA 90509, USA
2
LA BioMed Research Institute, Torrance, CA 90502, USA
*
Author to whom correspondence should be addressed.
Academic Editor: Jürg Bähler
Received: 7 November 2016 / Revised: 26 January 2017 / Accepted: 30 January 2017 / Published: 8 February 2017
Abstract
The mechanisms of protein quality control in hepatocytes in cases of alcoholic hepatitis (AH) including ufmylation, FAT10ylation, metacaspase 1 (Mca1), ERAD (endoplasmic reticulum-associated degradation), JUNQ (juxta nuclear quality control), IPOD (insoluble protein deposit) autophagocytosis, and ER stress are reviewed. The Mallory–Denk body (MDB) formation develops in the hepatocytes in alcoholic hepatitis as a consequence of the failure of these protein quality control mechanisms to remove misfolded and damaged proteins and to prevent MDB aggresome formation within the cytoplasm of hepatocytes. The proteins involved in the quality control pathways are identified, quantitated, and visualized by immunofluorescent antibody staining of liver biopsies from patients with AH. Quantification of the proteins are achieved by measuring the fluorescent intensity using a morphometric system. Ufmylation and FAT10ylation pathways were downregulated, Mca1 pathways were upregulated, autophagocytosis was upregulated, and ER stress PERK (protein kinase RNA-like endoplasmic reticulum kinase) and CHOP (CCAAT/enhancer-binding protein homologous protein) mechanisms were upregulated. In conclusion: Despite the upregulation of several pathways of protein quality control, aggresomes (MDBs) still formed in the hepatocytes in AH. The pathogenesis of AH is due to the failure of protein quality control, which causes balloon-cell change with MDB formation and ER stress.
View Full-Text
►

▼

Figures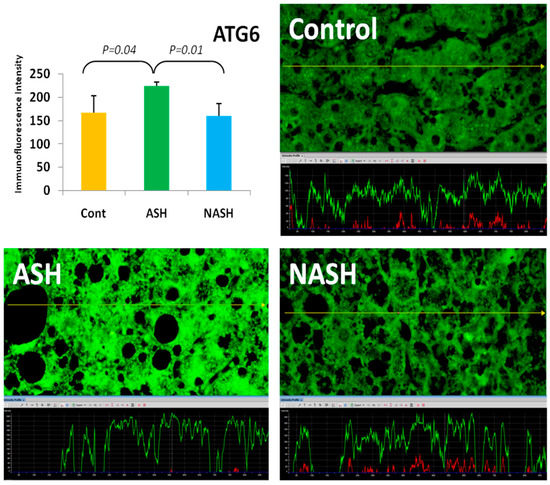 Figure 1
This is an open access article distributed under the
Creative Commons Attribution License
which permits unrestricted use, distribution, and reproduction in any medium, provided the original work is properly cited (CC BY 4.0).

Share & Cite This Article
MDPI and ACS Style
French, S.W.; Masouminia, M.; Samadzadeh, S.; Tillman, B.C.; Mendoza, A.; French, B.A. Role of Protein Quality Control Failure in Alcoholic Hepatitis Pathogenesis. Biomolecules 2017, 7, 11.
Note that from the first issue of 2016, MDPI journals use article numbers instead of page numbers. See further details here.
Related Articles
Comments
[Return to top]