Comparative Geometrical Analysis of Leucine-Rich Repeat Structures in the Nod-Like and Toll-Like Receptors in Vertebrate Innate Immunity
1
The Institute of Tandem Repeats, Sapporo 060-8556, Japan
2
Department of Information and Computer Science, School of Engineering and Applied Sciences, National University of Mongolia, Ulaanbaatar 210646/377, Mongolia
3
Department of Biology, University of Virginia, Charlottesville, VA 22904, USA
*
Author to whom correspondence should be addressed.
Academic Editor: Jürg Bähler
Received: 21 July 2015 / Revised: 10 August 2015 / Accepted: 11 August 2015 / Published: 18 August 2015
Abstract
The NOD-like receptors (NLRs) and Toll-like receptors (TLRs) are pattern recognition receptors that are involved in the innate, pathogen pattern recognition system. The TLR and NLR receptors contain leucine-rich repeats (LRRs) that are responsible for ligand interactions. In LRRs short β-strands stack parallel and then the LRRs form a super helical arrangement of repeating structural units (called a coil of solenoids). The structures of the LRR domains of NLRC4, NLRP1, and NLRX1 in NLRs and of TLR1-5, TLR6, TLR8, TLR9 in TLRs have been determined. Here we report nine geometrical parameters that characterize the LRR domains; these include four helical parameters from HELFIT analysis. These nine parameters characterize well the LRR structures in NLRs and TLRs; the LRRs of NLR adopts a right-handed helix. In contrast, the TLR LRRs adopt either a left-handed helix or are nearly flat; RP105 and CD14 also adopt a left-handed helix. This geometrical analysis subdivides TLRs into four groups consisting of TLR3/TLR8/TLR9, TLR1/TLR2/TRR6, TLR4, and TLR5; these correspond to the phylogenetic tree based on amino acid sequences. In the TLRs an ascending lateral surface that consists of loops connecting the β-strand at the C-terminal side is involved in protein, protein/ligand interactions, but not the descending lateral surface on the opposite side.
View Full-Text
►

▼

Figures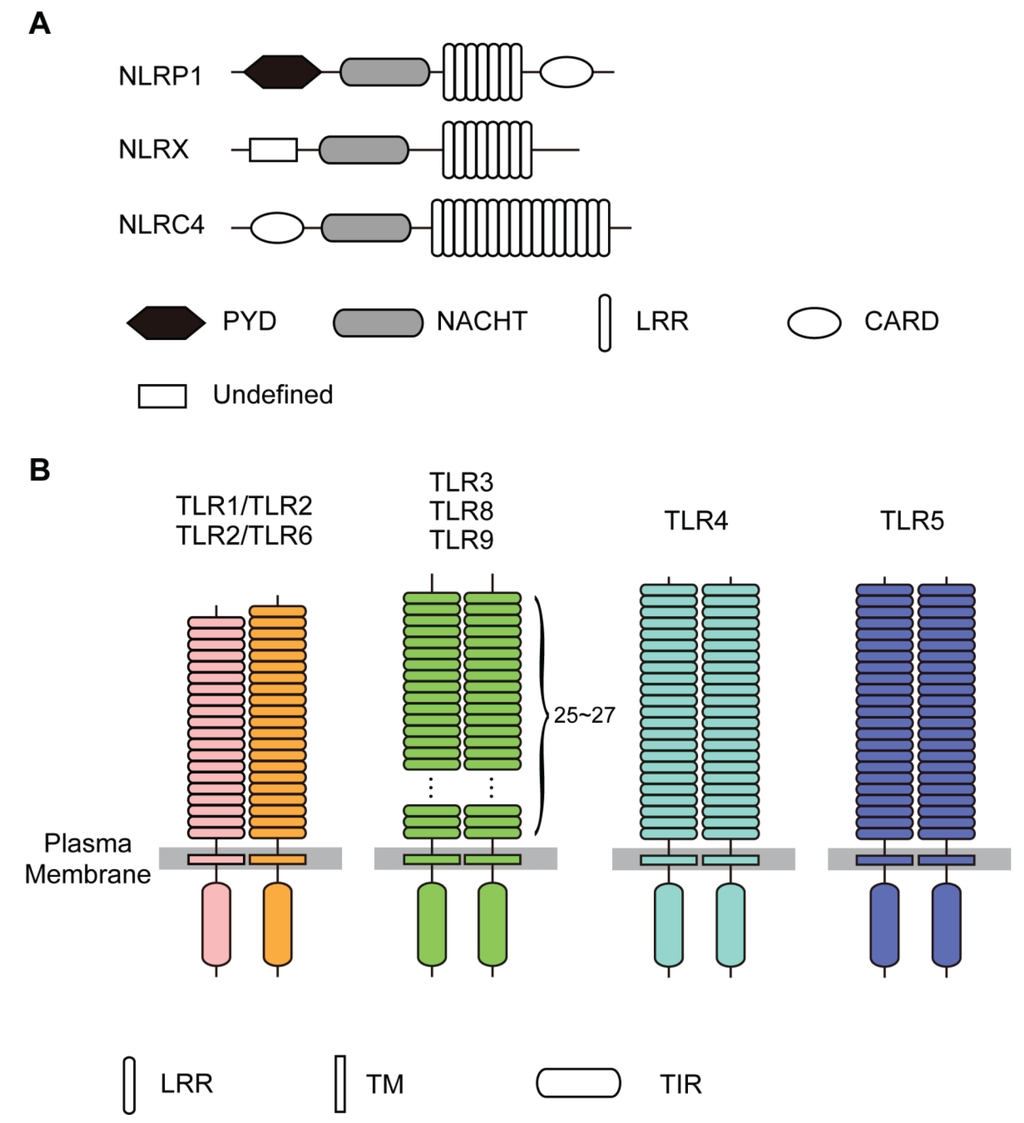 Figure 1
This is an open access article distributed under the
Creative Commons Attribution License
which permits unrestricted use, distribution, and reproduction in any medium, provided the original work is properly cited (CC BY 4.0).

Share & Cite This Article
MDPI and ACS Style
Matsushima, N.; Miyashita, H.; Enkhbayar, P.; Kretsinger, R.H. Comparative Geometrical Analysis of Leucine-Rich Repeat Structures in the Nod-Like and Toll-Like Receptors in Vertebrate Innate Immunity. Biomolecules 2015, 5, 1955-1978.
Related Articles
Comments
[Return to top]