A Thermolabile Phospholipase B from
Talaromyces marneffei

GD-0079: Biochemical Characterization and Structure Dynamics Study

1

School of Biology and Biological Engineering South China University of Technology 382 East Outer Loop Rd, University Park, Guangzhou 510006, China

2

School of Electronic Science and Engineering, University of Electronic Science and Technology of China, Chengdu 610054, China

3

School of Food Science and Engineering, Guangdong Research Center of Lipid Science and Applied Engineering Technology, State Key Laboratory of Pulp and Paper Engineering, South China University of Technology, Guangzhou 510641, China

*

Author to whom correspondence should be addressed.

†

These authors contributed equally to this work.

Received: 2 December 2019 / Revised: 20 January 2020 / Accepted: 28 January 2020 / Published: 4 February 2020
Phospholipase B (EC 3.1.1.5) are a distinctive group of enzymes that catalyzes the hydrolysis of fatty acids esterified at the
sn-1
and
sn-2
positions forming free fatty acids and lysophospholipids. The structural information and catalytic mechanism of phospholipase B are still not clear. Herein, we reported a putative phospholipase B (TmPLB1) from
Talaromyces marneffei
GD-0079 synthesized by genome mining library. The gene (TmPlb1) was expressed and the TmPLB1 was purified using
E. coli
shuffle T7 expression system. The putative TmPLB1 was purified by affinity chromatography with a yield of 13.5%. The TmPLB1 showed optimum activity at 35 °C and pH 7.0. The TmPLB1 showed enzymatic activity using Lecithin (soybean > 98% pure), and the hydrolysis of TmPLB1 by
31
P NMR showed phosphatidylcholine (PC) as a major phospholipid along with lyso-phospholipids (1-LPC and 2-LPC) and some minor phospholipids. The molecular modeling studies indicate that its active site pocket contains Ser125, Asp183 and His215 as the catalytic triad. The structure dynamics and simulations results explained the conformational changes associated with different environmental conditions. This is the first report on biochemical characterization and structure dynamics of TmPLB1 enzyme. The present study could be helpful to utilize TmPLB1 in food industry for the determination of food components containing phosphorus. Additionally, such enzyme could also be useful in Industry for the modifications of phospholipids.
1. Introduction
Phospholipase B (EC 3.1.1.5) are the unique group of enzymes that catalyzes the hydrolytic cleavage of fatty acids that are esterified both at the
sn-1
and
sn-2
positions. The hydrolysis reaction produces free fatty acids (FFAs) and lysophospholipids or glycerol-3-phosphodiesters [
1
,
2
,
3
]. Phospholipase B isolated from several fungi such as
S. cerevisiae
,
C. albicans, C. utilus
,
P. chrysogenum,
and
C. neoformans
showed hydrolase and acyltransferase activity. They showed high preference for substrate from lysophospholipids to diacylphospholipids and hydrolyzes diacylphospholipids without forming lysophospholipids. Some of the phospholipase B enzyme having lysophospholipase–transacylase activity which transfers free fatty acids to lysophospholipids and forms diacylphospholipid [
4
]. These enzymes are mostly found in animals and microbes. In animals, they are present in mammalian tissues and venom and have a potential role as virulence. They are also found in amoeba, bacteria, pathogenic, and nonpathogenic fungi. Their enzymatic activity has also been detected in some plants [
1
,
5
].
The structural features and catalytic mechanism showed that these enzyme contain C-terminal hydrophobic sequence with an extracellular domain and a signal peptide for secretion. They are usually glycosylated and termed as ecto-phospholipases. In animals, they possess huge extracellular domains that has four trails of similar repeats (I–IV) having II–IV with various GDSL and GXSXG motifs. The
serine
residues in domain II has the phospholipase B activity [
1
,
6
]. The GXSXG consensus sequence discovered in fungal phospholipase B have
Arg
,
Ser,
and
Asp
as catalytic triad [
1
,
7
].
The phospholipase B from different species prefers phosphatidylcholine as substrate, but PC also have an important action on lyso-phospholipids without any particular priority [
1
,
8
]. This substrate preference is important for industrial application, in food industry and oil degumming employing phospholipase B. Furthermore, the high selection to use phosphotiylcholine as substrate is the production of artificial phospholipids or the phospholipids that are not common in nature. Since phosphotiylcholine is abundantly found in nature and is used a starting material for industrial and research applications [
1
,
9
].
The large variety of Phospholipase B from fungi such as
Saccharomyces cerevisae
,
Fusarium oxysporum
,
Aspergillus fumigatus
,
Cryptococcus neoformans,
and
Cryptococcus gattii
have been reported to be expressed, characterized, and their applications mainly as oil degumming have been studied [
1
,
10
,
11
,
12
]. Apart from oil degumming as an important application, phospholipase B are also used to change or transform phospholipids. The change or modification includes hydrolysis of phospholipids, synthesis of particular phospholipids and changing one form of phospholipid to another. Such kind of hydrolysis reaction involves free fatty acids (FFAs) of phospholipids using phospholipase B [
1
].
Low temperature phospholipase B enzyme could be more economic and environmentally friendly. In the food industry they are preferred as they avoid changes in food ingredients. Although, vast applications of low temperature phospholipase B could be studied but this area has not been touched by most of the researchers as compared to thermotolerant phospholipases. These isolates shows optimal activity from 4–37 °C and gets inactive at 40–50 °C [
1
].
In the present work, a phospholipase B from
Talaromyces marneffei
TmPLB1 was synthesized and cloned. Further, the biochemical characterization and classification of various phospholipids was carried out using
31
P NMR to describe the potential use of this enzyme in food industry for the analysis of phosphorus compounds in foods at low temperature. We also performed structural modeling and dynamics studies to check the catalytic triads and conformational profile of TmPLB1. The overall secondary structure of TmPLB1 was found to be flexible and stable at its optimum conditions. This study establishes a primary foundation for understanding the role of low temperature phospholipase B for Industrial application.
3. Results and Discussion
The putative TmPlb1 gene sequence was collected from the genomic data of
Talaromyces marneffei strain
GD-0079 which is a dimorphic fungi. The gene consists of 732 bp ORF and encoded by 243 amino acids. The putative TmPLB1 shared higher similarity with other phospholipases enzyme carrying species such as
Talaromyces stipitatus
(91%),
Rasamsonia emersonii
(73%),
Aspergillus flavus
(67%),
Aspergillus fumigatus
(66%),
Saccharomyces cerevisiae
(40%), and with rats and humans (39%) (human acyl protein thioesterase 1 that have phospholipase and deacylation activity). In addition, secondary structure of TmPLB1 showed homogeneously distributed in helix and strand. However, due to lack of 3D structure of TmPLB1, we further performed structural analysis. Human acyl protein thioesterase 1(PDB: 1FJ2) was selected as suitable template with a 39.2% sequence identity. The template protein has a phospholipase and deacylation activity [
42
].
4. Conclusions
In this study, a putative phospholipase B from
Talaromyces marneffei
GD-0079 (TmPLB1) was biochemically characterized. The detailed structure analysis by computational approaches have been performed in order to study its conformational profile. TmPLB1 is a thermolabile enzyme with optimum activity at 35 °C and pH 7.0. The hydrolysis of TmPLB1 using Lecithin by
31
P NMR showed PC and lyso-PL as the major phospholipids. This work showed that the low temperature phospholipase B can be employed in food industry to determine phosphorus components in food. The phospholipids can also be modified from one form to another. This key factor can be employed in food industry for characterization of phospholipids.
Supplementary Materials
The following are available online at
https://www.mdpi.com/2218-273X/10/2/231/s1
. Figure S1. Purification of phospholipase B TmPLB1 by nickel-chelate chromatography and eluted with washing buffer 50 mM phosphate buffer (PB), (pH 7.4) that contained 500 mM imidazole.
KDa
(molecular weight of the protein marker in kilo daltons).
Lane M
(molecular weight of marker).
Lane 1
. Purified TmPlb1. Figure S2. Far-UV CD spectra of TmPLB1. The protein was incubated at 25 °C in 20 mM sodium phosphate buffer (pH 7.4) at a concentration of 0.5 mg/mL Unfolding was followed by monitoring the CD signal at 222 nm. Figure S3. Rapid Identification and classification of phospholipids in
31
P NMR by enzymatic reaction mechanism of TmPLB1 at three different time intervals (A) 24 hr, (B) 48 hr, and (C) 72 hr with internal standard Triphenyl Phosphate (TPP). Table S1. Overview of TmPLB1 purification.
Author Contributions
R.D.: Concepts and methodology, F.I.K.: Computational work, review, and editing, S.A.: Concepts and methodology, B.Y. and Y.W.: Review and editing. All authors have read and agreed to the published version of the manuscript.
Funding
This work was supported by International Collaboration Base for Molecular Enzymology and Enzyme Engineering (2017A050503001), Key-Area Research and development program of Guangdong province (2019B020209001) and Guangdong MEPP Fund (NO.GDOE [2019] A20).
Conflicts of Interest
The authors declare no conflict of interest.
Abbreviations
(FFAs) Free Fatty acids, (NMR) Nuclear magnetic resonance, (TmPLB1)
Talaromyces marneffei
phospholipase B1, (lyso-PLs) Lysophospholipids, IPTG (
Isopropyl β-D-1-thiogalactopyranoside
), (TPP) Triphenyl phosphate, (MD simulation) Molecular dynamics simulation, PC (phosphatidylcholine), (RMSD) Root mean square deviation, (RMSF) Root mean square fluctuation, (SASA) Solvent accessible area, (PCA) Principal component analysis.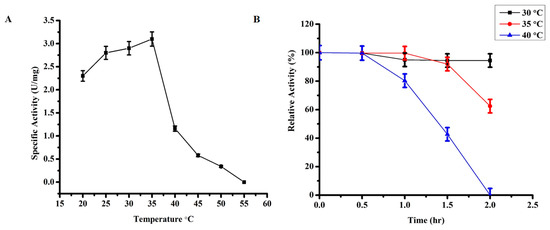 Figure 1.
Effect of Temperature and thermostability on phospholipase B activity. (
A
) Optimum temperature of putative phospholipase B was assessed at temperature from 20–55 °C. (
B
) The thermostability of putative phospholipase B was carried out at 30–40 °C. The enzyme was more stable at 30 °C. The activity were assessed after every 30 min and the activity at zero is taken as 100 and is the maximum activity. The error bars shows the mean ±SD of the experiments in triplicate (
n
= 3).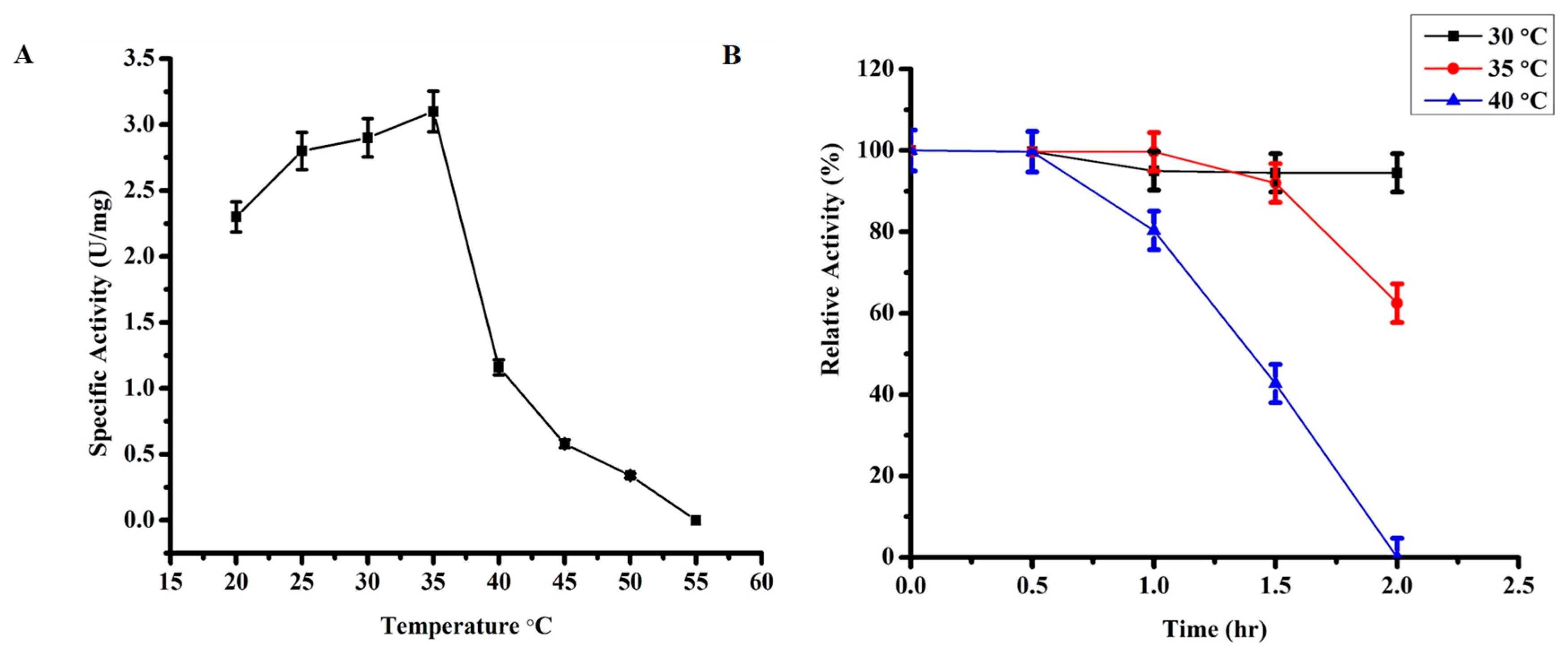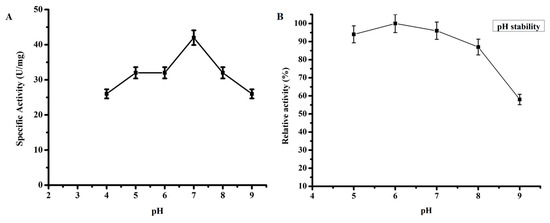 Figure 2.
Effect of pH and its stability on phospholipase activity of TmPLB1. (
A
) The optimum pH of the enzyme were investigated from pH 4–9 using the buffers 100 mM citric acid-sodium citrate (pH 4.0 and 5.0), 100 mM phosphate buffer (pH 6.0, 7.0), 100 mM Tris-HCl (pH 8.0), and 100 mM Gly-NaOH (pH 9.0). The enzyme showed activity at pH 7.0. (
B
) The pH stability was assessed by incubating the enzyme at pH 5–9 in the stated buffers above for 12 h at 4 °C. The enzyme showed maximum pH stability at pH 6.0. The error bars indicates the mean ± SD of the experiment in triplicate (
n
= 3).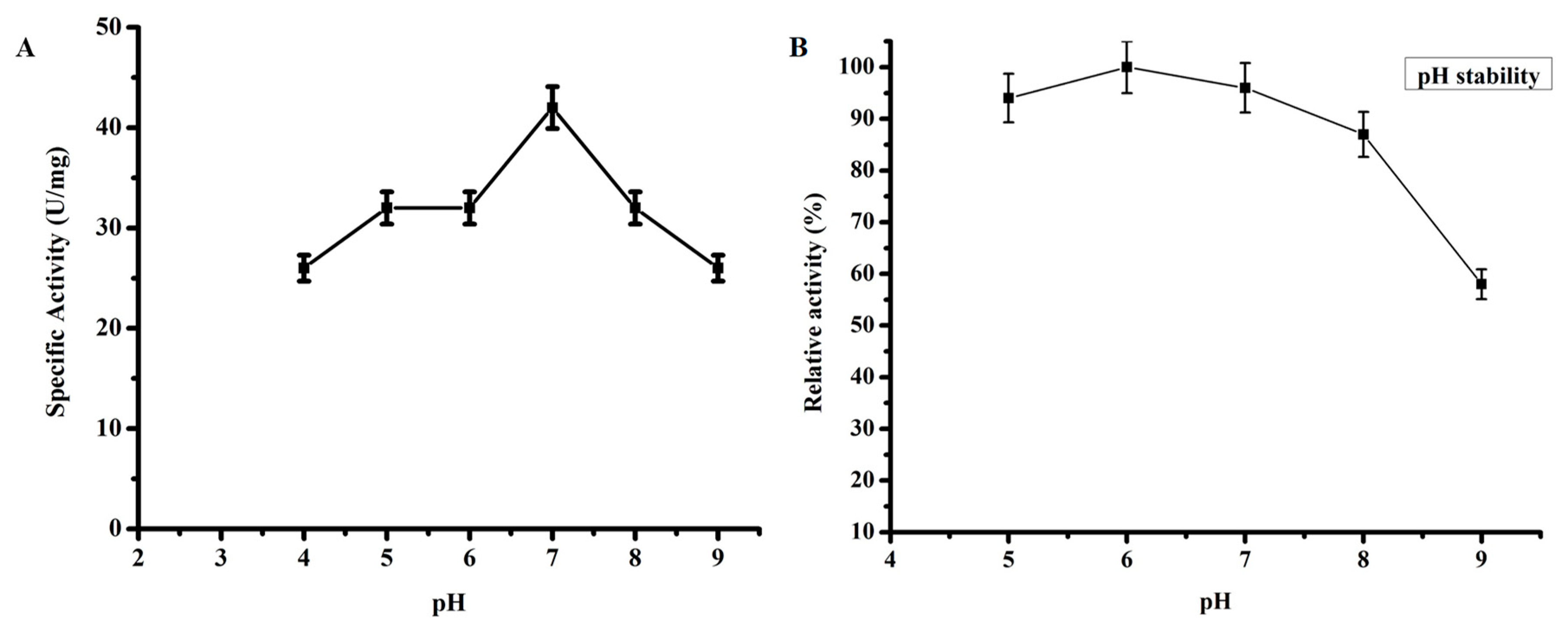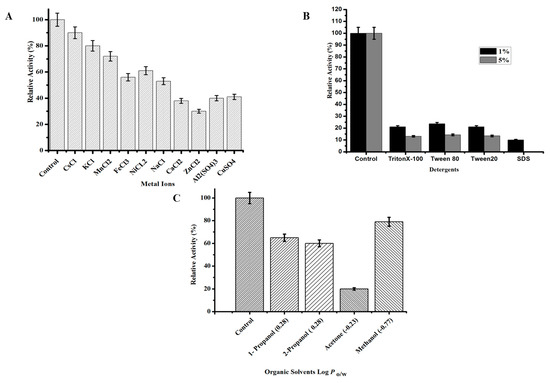 Figure 3.
Effect of various chemicals on the activity and stability of phospholipase B TmPLB1. (
A
) Effect of metal ions (1 mM) on enzyme activity. (
B
) Effect of detergents on enzyme activity (1% and 5%). The TmPLB1 activity were determined using Lecithin (Soybean PC Emulsion). (
C
) Effect of organic solvents (10%) on enzyme activity. Log
P
values are the coefficient of solvent among
n
-octanol and water. It is used quantitatively to measure the polarity of organic solvent. The Log
Po/w
values are shown in braces. The data presented shows the mean ± SD (
n
= 3) of the experiments performed triplicate with respect to non-treated control samples. The samples without addition of any chemical was used as control and its activity was taken as 100%.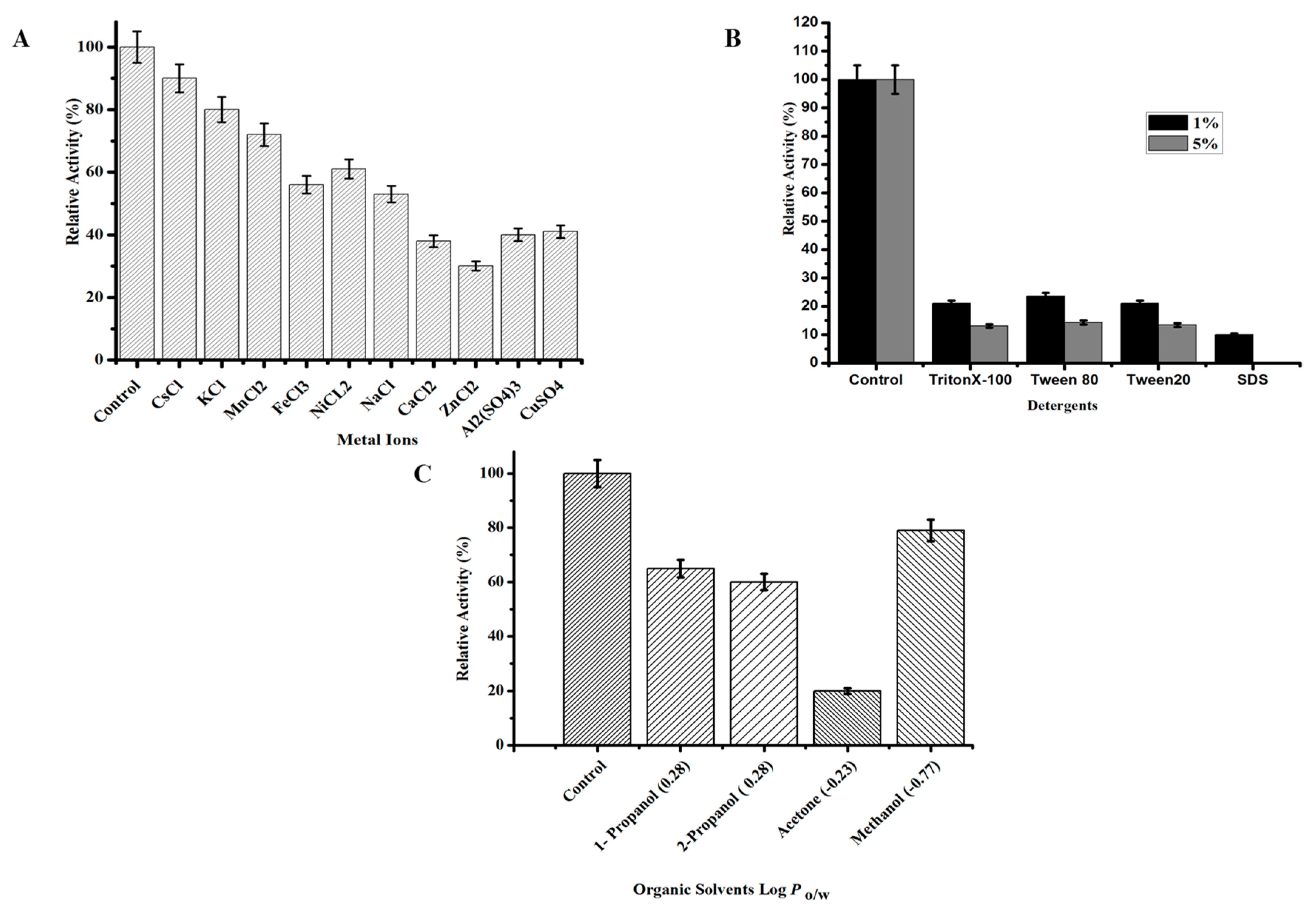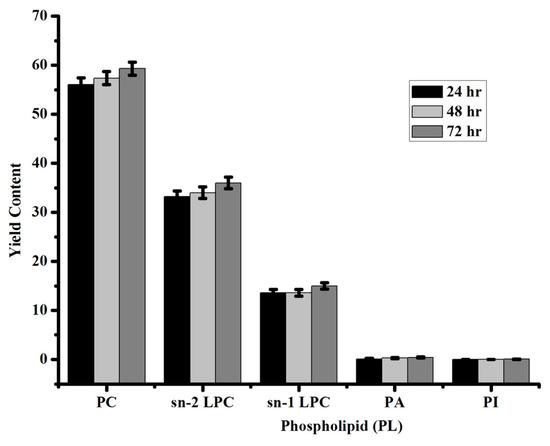 Figure 4.
Analysis of the enzymatic hydrolysis of phospholipase B using Lecithin (Soybean) by
31
P NMR. The experiment was done in triplicate at three different time intervals. The error bar represents the mean SD± of the experiment (
n
= 3).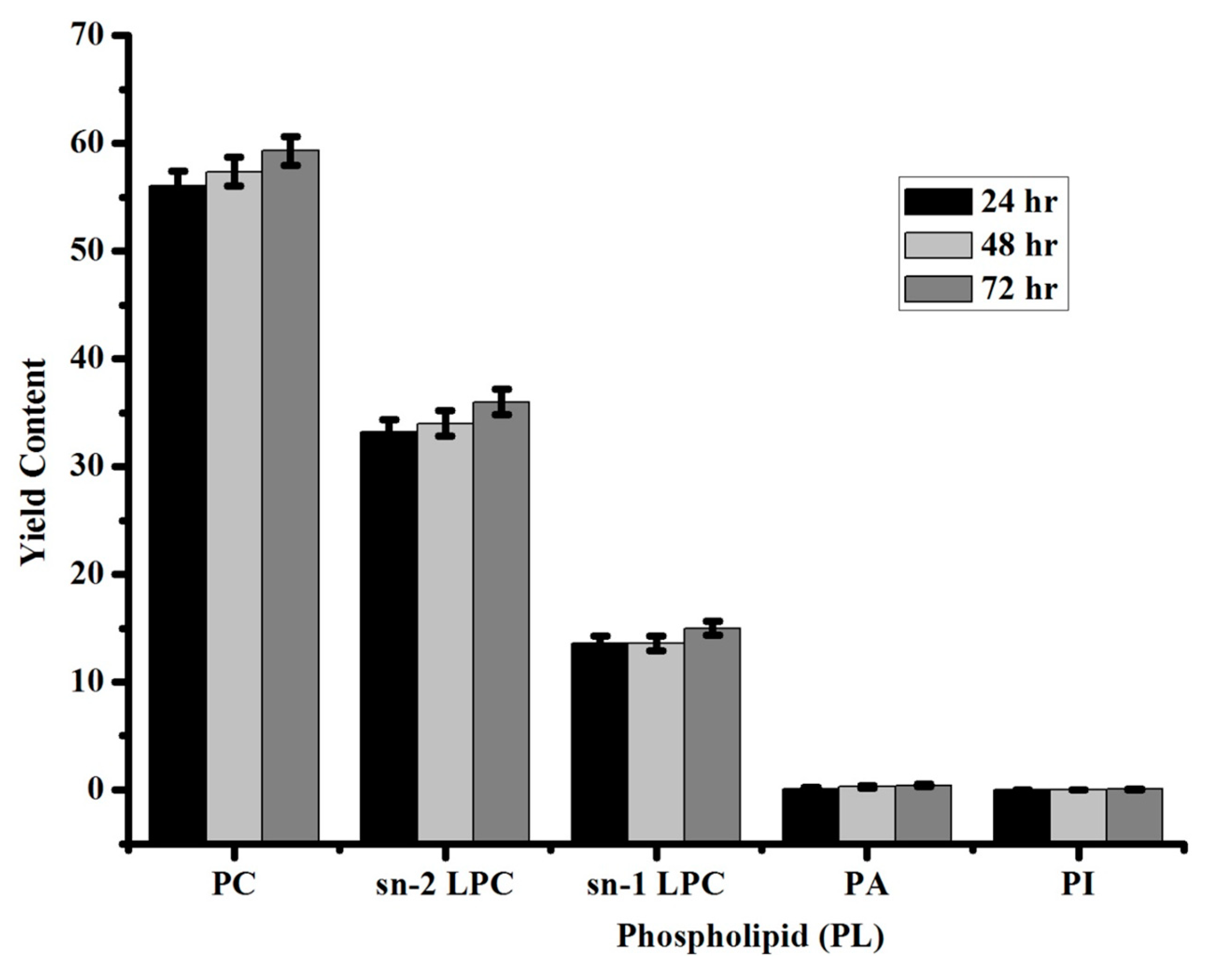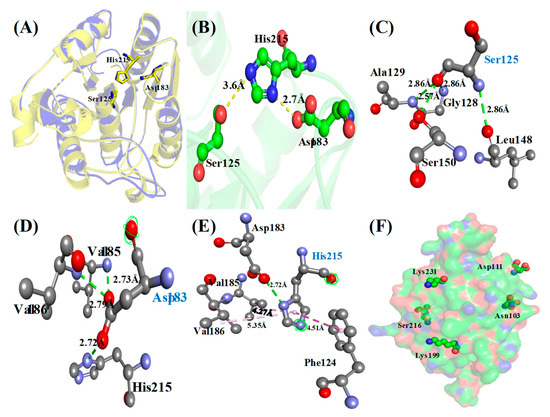 Figure 5. Homology model of TmPLB1 and identification of catalytic triads. (A) Homology model of TmPLB1 aligned with a template (PDB: 1FJ2). The proposed catalytic triad residues such as Ser125, Asp183, and His215 were shown in stick representation. (B) The arrangement of catalytic triads. The interactions of (C) Ser125, (D) Asp183, and (E) His215 with other amino acids near the active sites. Putative hydrogen bonds were indicated with green lines, while hydrophobic interactions were indicated with purple lines with distances labeled. (F) Putative phosphorylated sites on the surface of TmPLB1.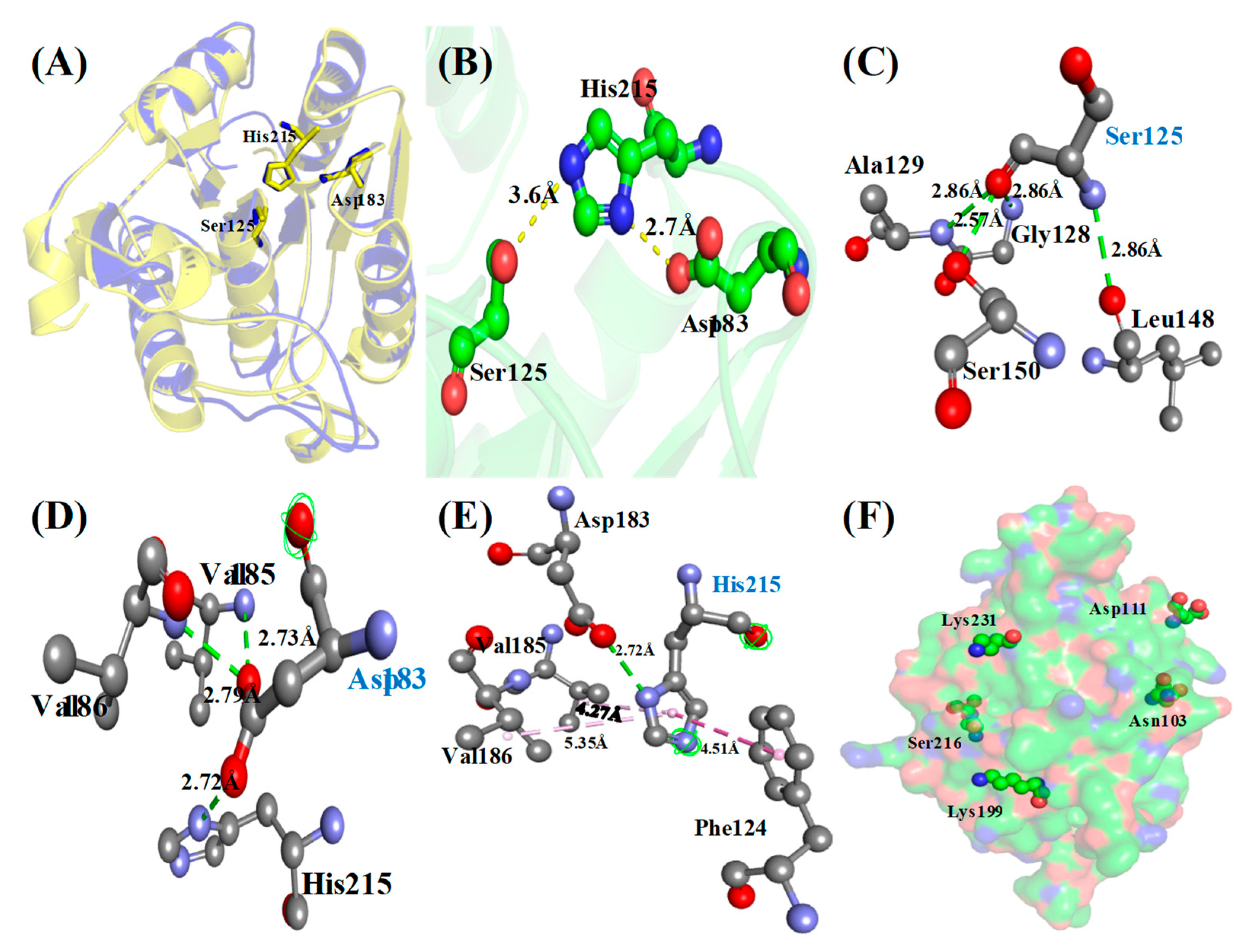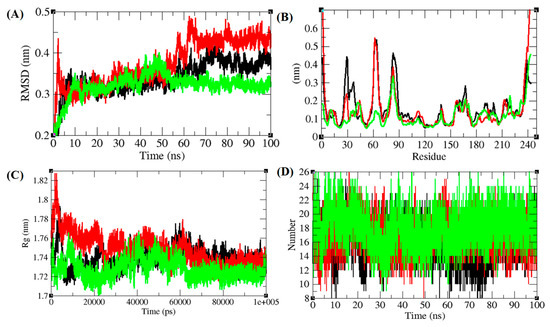 Figure 6.
The structure nonconformities and residual variations of TmPLB1. (
A
) RMSD (Root mean square deviation) of TmPLB1 respect with time. (
B
) The backbone residues fluctuations (RMSF) of TmPLB1. (
C
) Radius of gyration (
Rg
) calculated the compactness of TmPLB1. (
D
) H-bonds shown amongst main chain plus side chain of TmPLB1. The black, red and green colors were representing the respective temperatures at 30 °C, 35 °C, and 40 °C, respectively.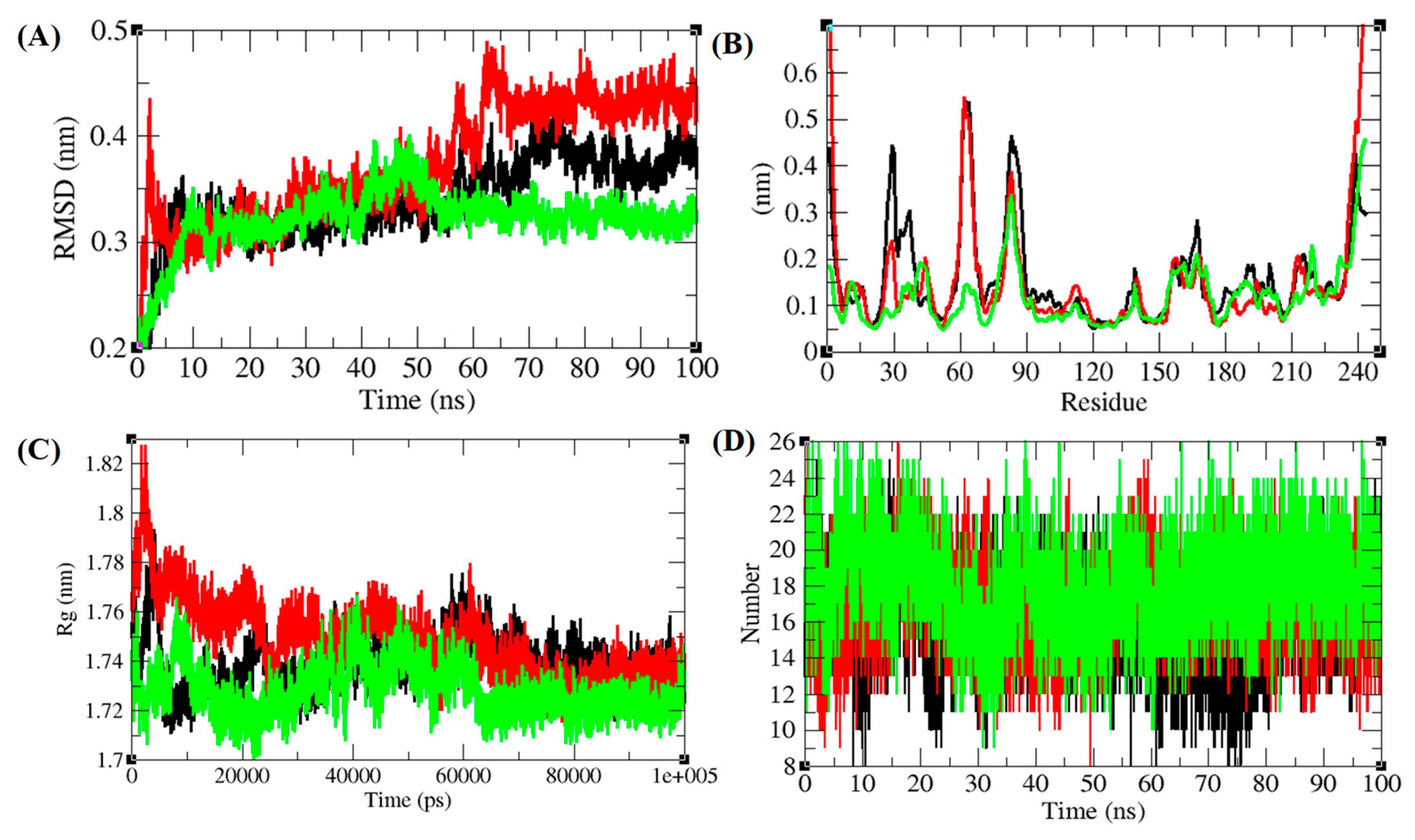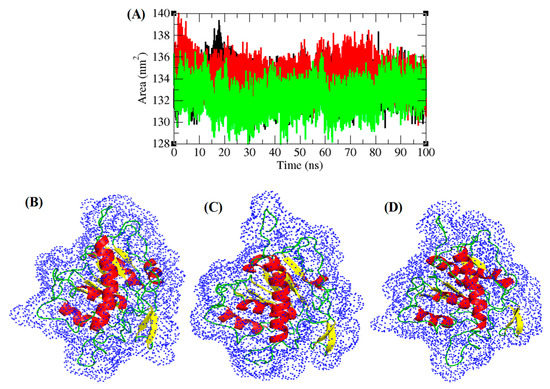 Figure 7. SASA (Solvent Accessible Surface Area) of TmPLB1. (A) SASA of TmPLB1 were represent in cartoon model (B) 30 °C, (C) 35 °C, and (D) 40 °C, respectively. Black, red, and green colors were depicted the 30 °C, 35 °C, and 40 °C, respectively.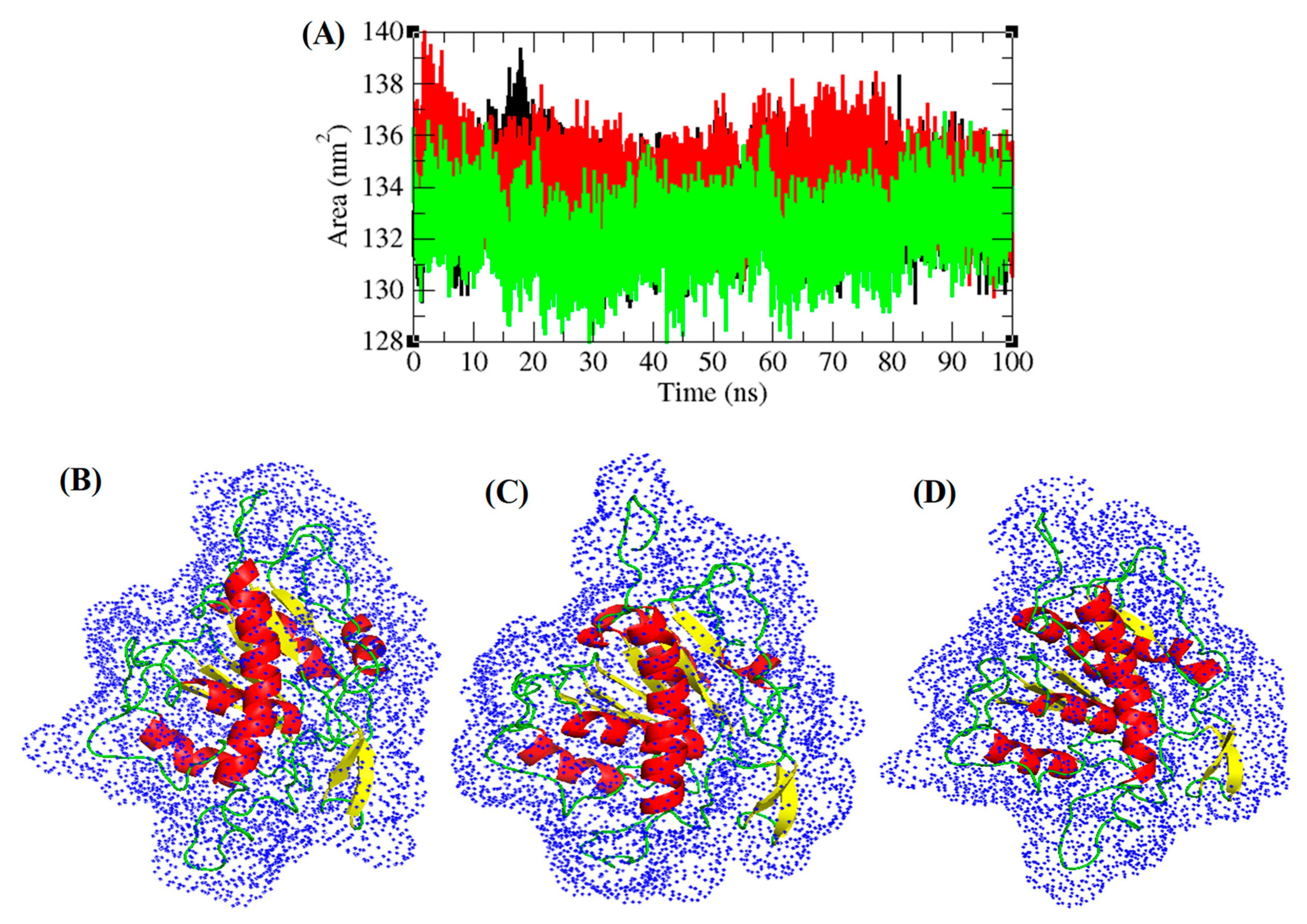 Figure 8. Secondary structure plot. Graphical representation indicating the structural elements present in the TmPLB1 during 100 ns MD simulations at (A) 30 °C, (B) 35 °C, and (C) 40 °C, respectively. The structure represents α-helices, β-sheets, β-bridge and turns. The black, red, green, blue, yellow, brown, grey, and violet color represent overall structure, coil, β-sheet, β-bridge, bend, turn, α-helix, and 3-helix, respectively.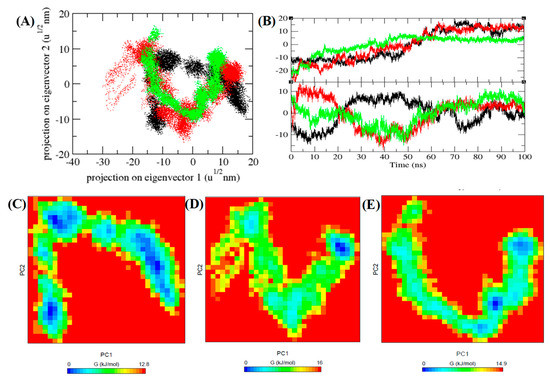 Figure 9. PCA and Gibbs free energy analysis. (A) Different estimates at different temperatures of eigenvectors. (B) The trajectories on eigenvectors with respect to time. The Gibbs energy plot obtained for TmPLB1 at different temperatures (C) 30 °C, (D) 35 °C, and (E) 40 °C, respectively.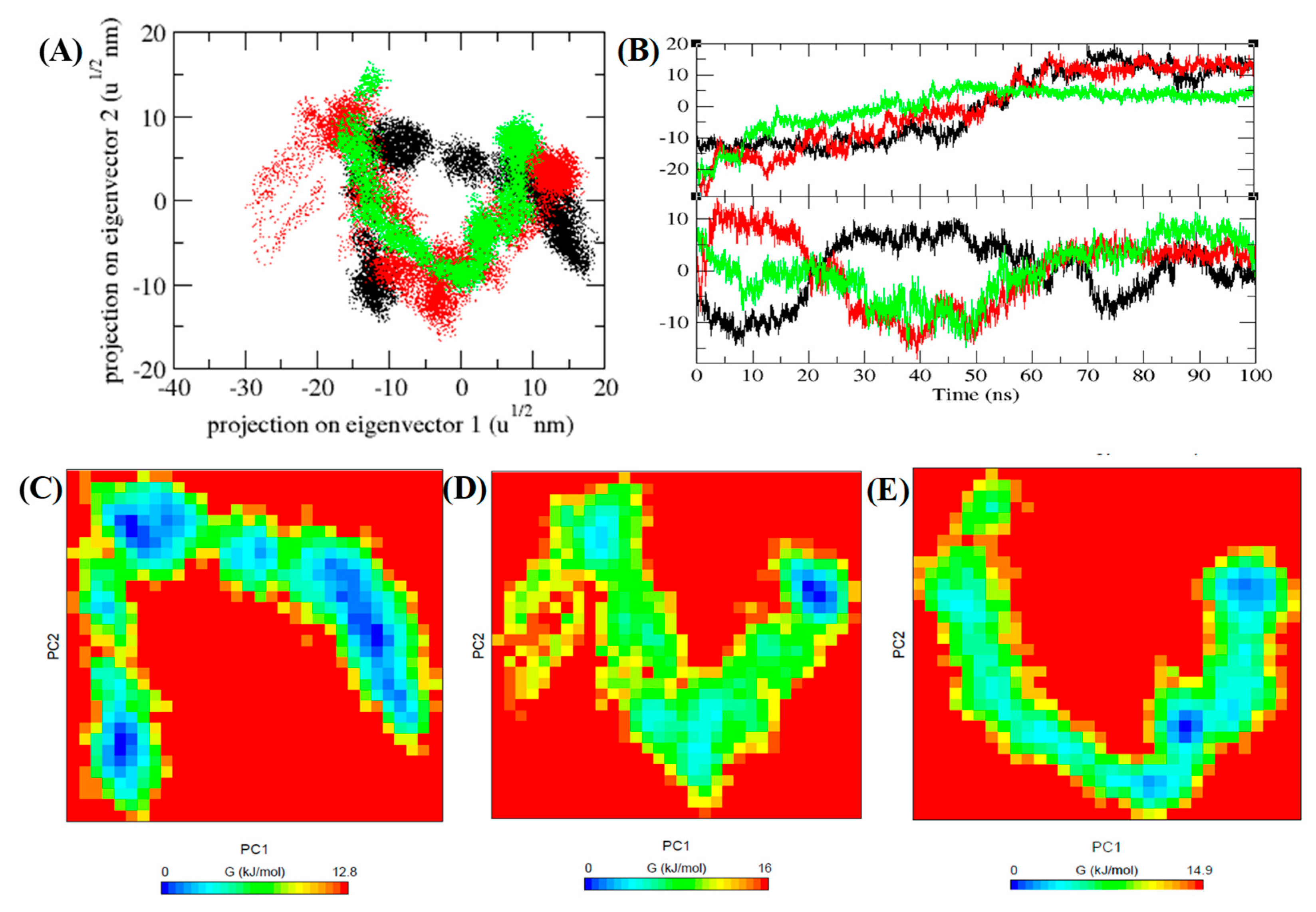 | | 185–260 nm | 190–260 nm | 195–260 nm | 200–260 nm | 205–260 nm | 210–260 nm |
| --- | --- | --- | --- | --- | --- | --- |
| Helix | 20 | 20 | 12 | 3 | 2 | 1 |
| Antiparallel | 2 | 1 | 8 | 15 | 16 | 22 |
| Parallel | 14 | 15 | 17 | 22 | 25 | 20 |
| β-turn | 10 | 10 | 13 | 13 | 15 | 18 |
| Random coil | 54 | 54 | 50 | 47 | 42 | 39 |
| Total Sum | 100% | 100% | 100% | 100% | 100% | 100% |
Phospholipid (PL)
Yield Content
Phosphotidylcholine (PC)
59 ± 1

sn-2

lysophosphatidylcholine (2-LPC)
36 ± 1

sn-1

lysophosphatidylcholine (1-LPC)
15 ± 0.6
Phosphatidic acid (PA)
0.4 ± 0.1
Phosphatidylinositol (PI)
0.05 ± 0.01
Secondary Structure (SS%)
Temp
Structure *
coil
β-Sheet
β-Bridge
Bend
Turn
α-Helix
3-Helix
30 °C
48%
31%
14%
2%
17%
12%
19%
4%
35 °C
49%
29%
14%
2%
19%
14%
20%
3%
40 °C
44%
30%
13%
4%
21%
10%
17%
5%
* Structure = α-helix + β-sheet + β-bridge + Turn.

© 2020 by the authors. Licensee MDPI, Basel, Switzerland. This article is an open access article distributed under the terms and conditions of the Creative Commons Attribution (CC BY) license (http://creativecommons.org/licenses/by/4.0/).