Open Access This article is
freely available
re-usable
Article
Spectral Modeling of Hydrogen Radiation Emission in Magnetic Fusion Plasmas
PIIM laboratory, Aix-Marseille Université and Centre national de la recherche scientifique (CNRS), F-13397 Marseille, France
*
Author to whom correspondence should be addressed.
Received: 11 December 2018 / Accepted: 1 February 2019 / Published: 12 February 2019
Abstract
:
Modeling of the spectral line and continuum radiation emitted by hydrogen isotopes in peripheral regions of magnetic fusion is presented through profiles of the Zeeman-Doppler broadened Hα/Dα line and those of the Stark broadened high-n Balmer lines extending beyond the series limit for recombining plasmas. The Hα/Dα line profiles should be modelled while accounting for several populations of neutrals to mimic real situations and analyze experimental data for isotopic ratio determination. On the other side, high-n Balmer lines of hydrogen are used for plasma electron density and temperature diagnostics. Moreover, modelling whole spectra including the continuum radiation contributes to the development of synthetic diagnostics for future magnetic fusion devices for which they can give predictive results through coupling to numerical simulation tools.
Keywords:
plasma spectroscopy; Stark broadening; plasma diagnostics; line shape modeling; Zeeman-Doppler broadening; Balmer line series; radiative recombination
Author Contributions
Equal contributions. Spectral calculations of the Balmer series of hydrogen were carried out by R.R.S. Calculations concerning the Ha/Da spectra were done by M.K. Writing of the draft and preparation done by M.K. R.R.S. wrote parts related to synthetic Balmer spectra.
Funding
This research received funding from EUROfusion WPEDU, MST1 and JET1.
Acknowledgments
This work has been carried out within the framework of the EUROfusion Consortium. The views and opinions expressed herein do not necessarily reflect those of the European Commission.
Conflicts of Interest
The authors declare no conflict of interest.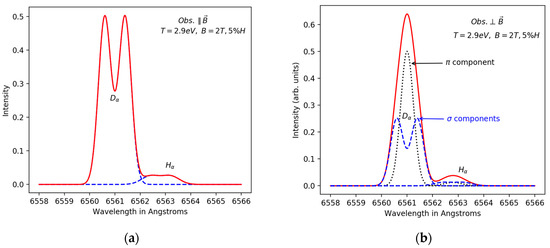 Figure 1. Theoretical profiles of the Balmer-α line emitted by neutrals distributed as 5% of hydrogen and 95% of deuterium atoms, having the same Maxwellian velocity distribution with a temperature of ~3 eV in a plasma where the magnetic field B = 2 T. The Dα/Hα line centers are separated by ~1.8 Å and the Doppler broadening of the Hα is higher than that of the Dα line because of its lower mass. (a) Parallel observation: Only the lateral σ components are seen; (b) perpendicular observation: Both the lateral σ and central π components are shown.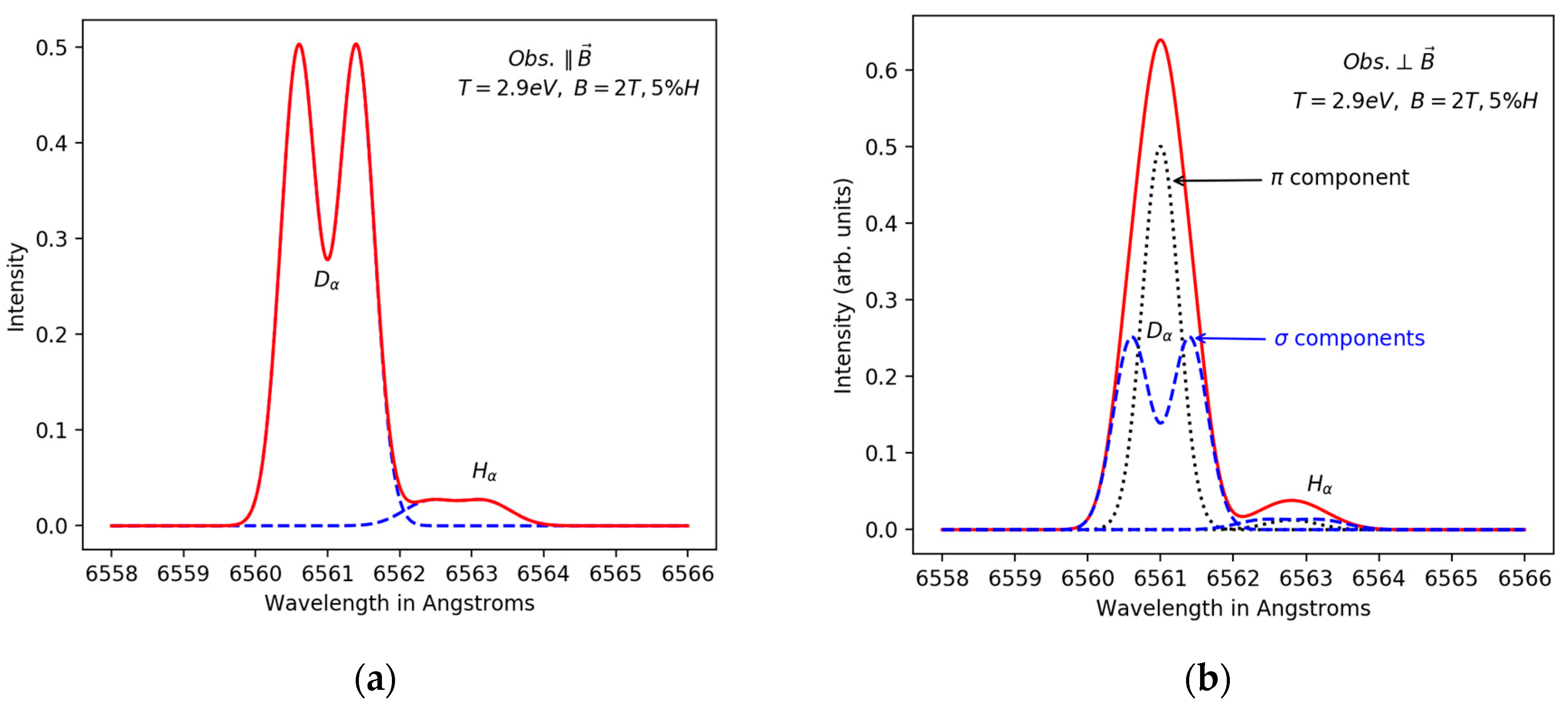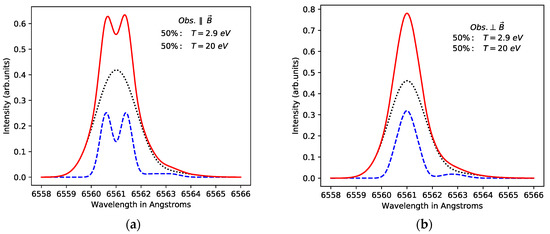 Figure 2. Total profiles (solid red line) of the Hα/Dα line resulting from two neutral populations with equal concentrations but different temperatures: 2.9 eV (blue dashed line) and 20 eV (black dotted line) for B = 2T. A fraction of 5% hydrogen is considered here. (a) Parallel observation; (b) perpendicular observation.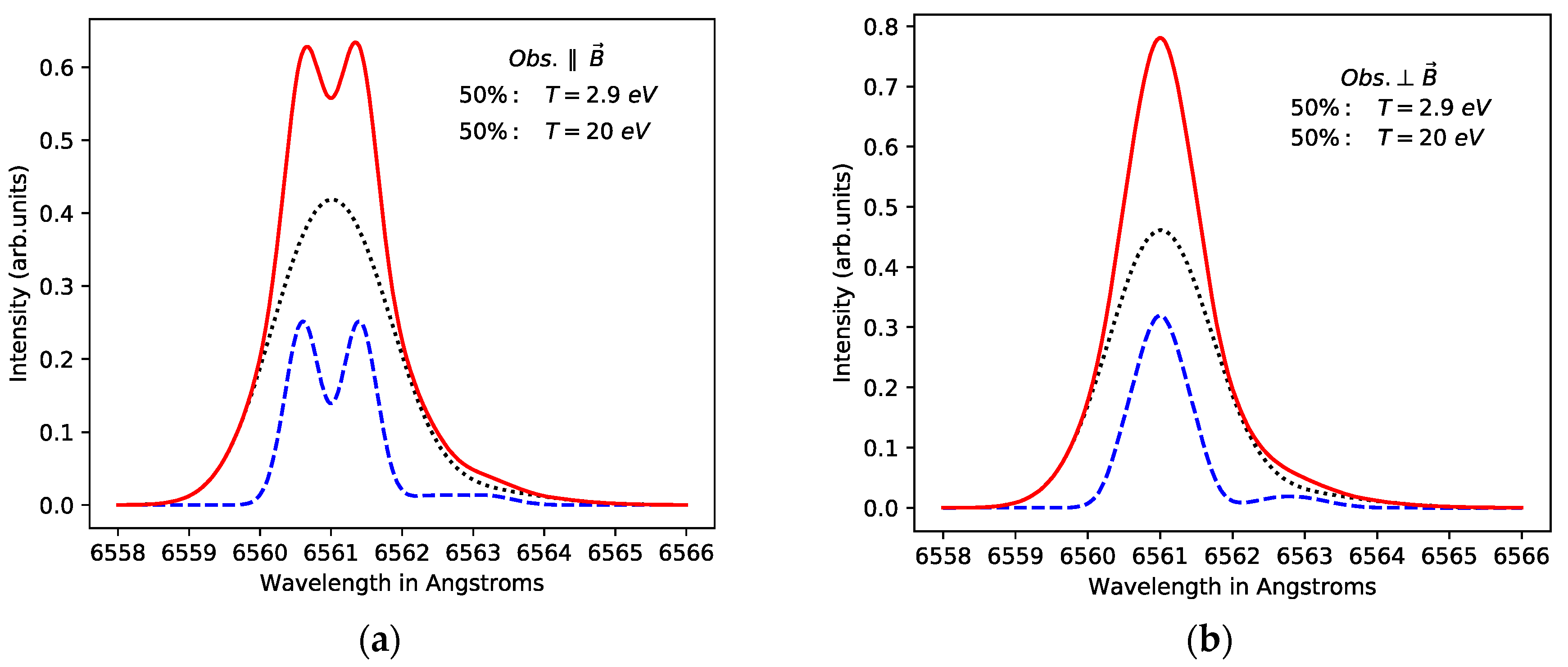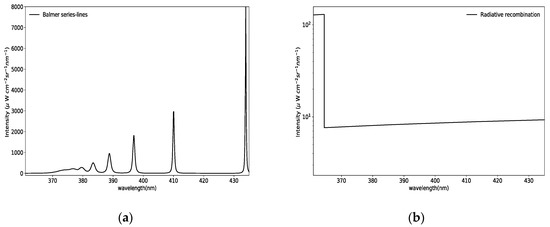 Figure 3. (a) Calculated profiles of some Balmer lines are calculated from n = 5 up to level n = 15 and are summed up together for the plasma condition ( = and = 1.1 eV). (b) Radiative recombination calculation for the same plasma conditions for an isolated atom.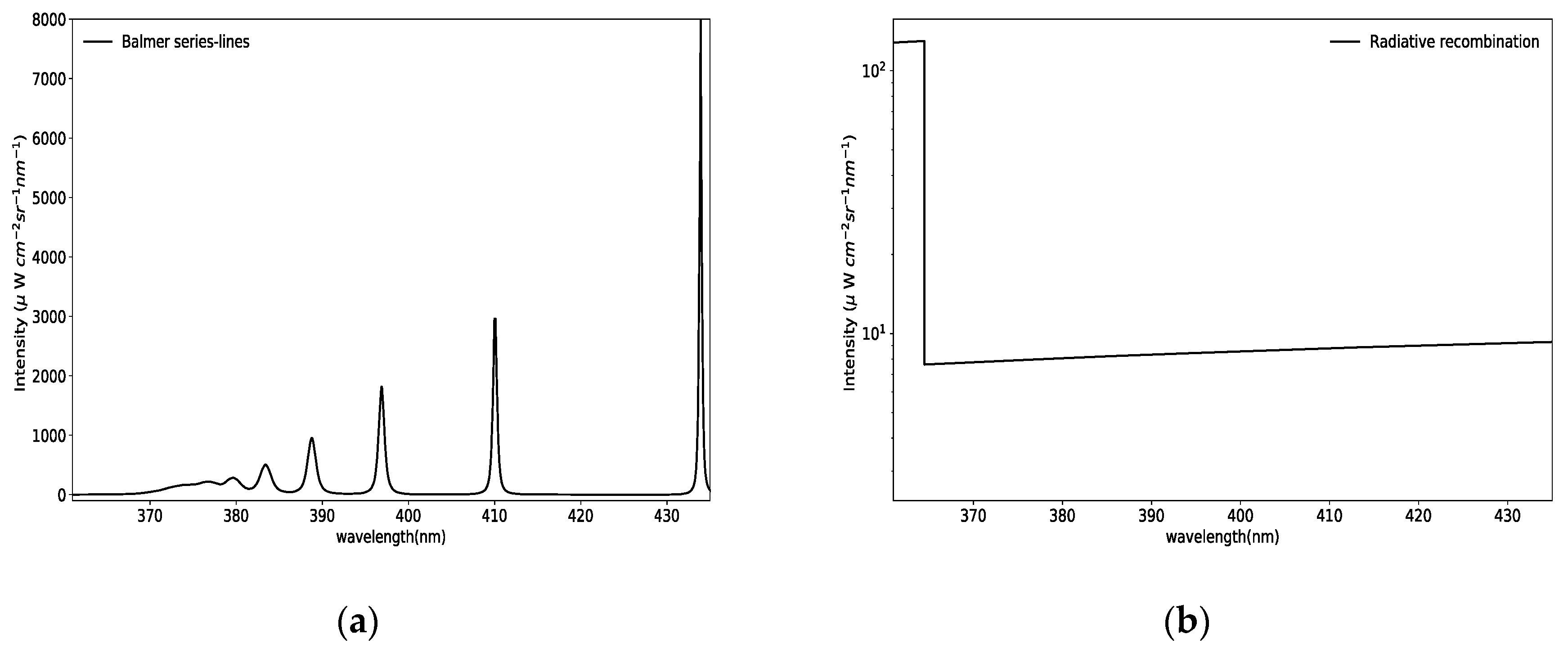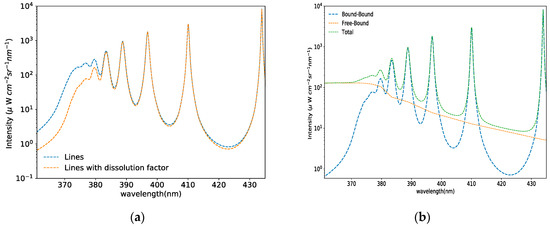 Figure 4. (a) Density effect (dissolution factor approach) on the Balmer lines as computed for = and = 1.1 eV. (b) Total spectrum for the same plasma conditions.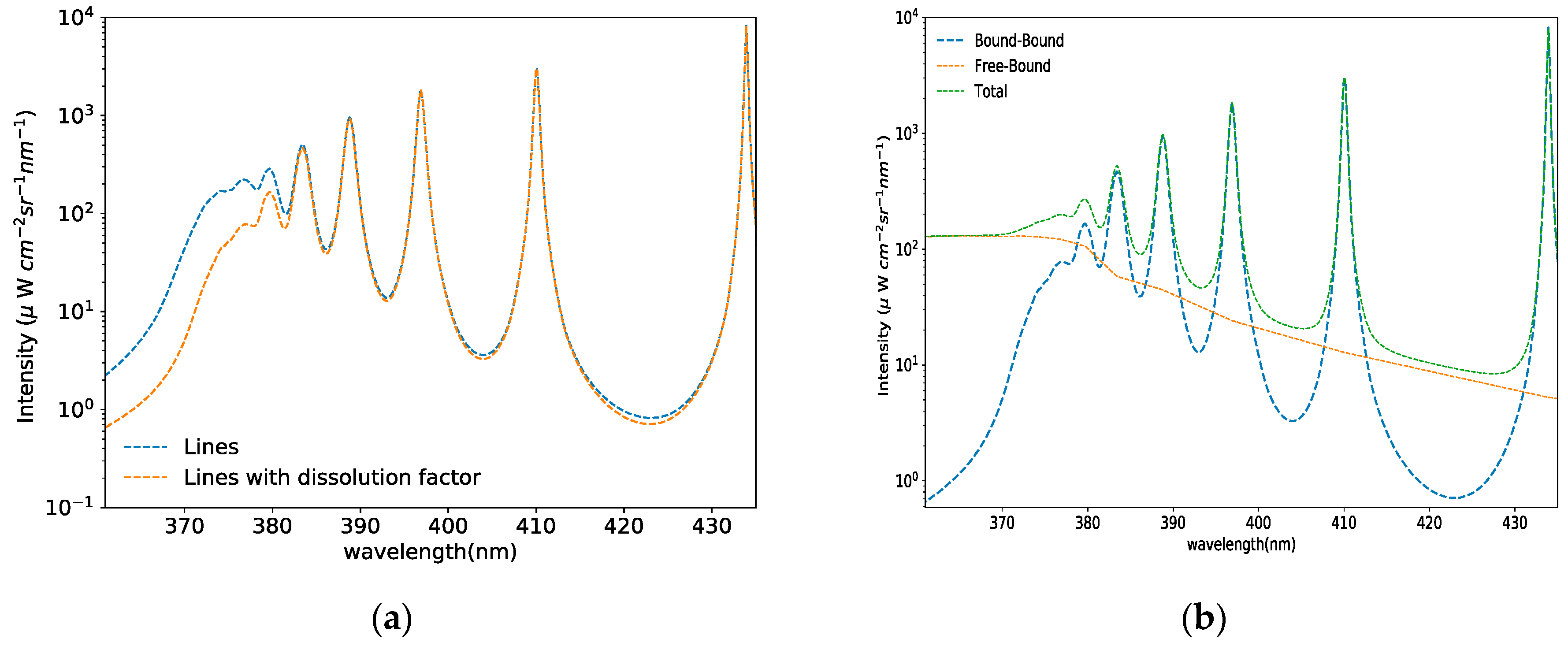 © 2019 by the authors. Licensee MDPI, Basel, Switzerland. This article is an open access article distributed under the terms and conditions of the Creative Commons Attribution (CC BY) license (http://creativecommons.org/licenses/by/4.0/).