Open Access This article is
freely available
re-usable
Review
NMR Spectroscopy for Metabolomics Research
1
Core Labs, King Abdullah University of Science and Technology (KAUST), Thuwal 23955-6900, Saudi Arabia
2
Centre of Biomedical Research, Formerly, Centre of Biomedical Magnetic Resonance, Sanjay Gandhi Post-Graduate Institute of Medical Sciences Campus, Uttar Pradesh 226014, India
3
Department of Chemistry, University of Alberta, Edmonton, AB T6G 2W2, Canada
4
Department of Experimental and Clinical Medicine, University of Florence, Largo Brambilla 3, 50134 Florence, Italy
5
Laboratory of Systems and Synthetic Biology Wageningen University & Research, Stippeneng 4, 6708 WE Wageningen, The Netherlands
6
Northwest Metabolomics Research Center, Department of Anesthesiology and Pain Medicine, University of Washington, 850 Republican St., Seattle, WA 98109, USA
7
Fred Hutchinson Cancer Research Center, 1100 Fairview Avenue, Seattle, WA 98109, USA
8
Department of NanoMedicine Research, Institute for Research and Medical Consultations (IRMC), Imam Abdulrahman bin Faisal University, Dammam 31441, Saudi Arabia
9
Division of Biological and Environmental Sciences and Engineering (BESE), King Abdullah University of Science and Technology (KAUST), Thuwal 23955-6900, Saudi Arabia
10
Department of Biological Sciences, University of Alberta, Edmonton, AB T6G 2E8, Canada
*
Author to whom correspondence should be addressed.
Received: 19 May 2019 / Accepted: 18 June 2019 / Published: 27 June 2019
Abstract
:
Over the past two decades, nuclear magnetic resonance (NMR) has emerged as one of the three principal analytical techniques used in metabolomics (the other two being gas chromatography coupled to mass spectrometry (GC-MS) and liquid chromatography coupled with single-stage mass spectrometry (LC-MS)). The relative ease of sample preparation, the ability to quantify metabolite levels, the high level of experimental reproducibility, and the inherently nondestructive nature of NMR spectroscopy have made it the preferred platform for long-term or large-scale clinical metabolomic studies. These advantages, however, are often outweighed by the fact that most other analytical techniques, including both LC-MS and GC-MS, are inherently more sensitive than NMR, with lower limits of detection typically being 10 to 100 times better. This review is intended to introduce readers to the field of NMR-based metabolomics and to highlight both the advantages and disadvantages of NMR spectroscopy for metabolomic studies. It will also explore some of the unique strengths of NMR-based metabolomics, particularly with regard to isotope selection/detection, mixture deconvolution via 2D spectroscopy, automation, and the ability to noninvasively analyze native tissue specimens. Finally, this review will highlight a number of emerging NMR techniques and technologies that are being used to strengthen its utility and overcome its inherent limitations in metabolomic applications.
Keywords:
metabolomics; NMR; MS; analytical platform; GC-MS; LC-MS; sensitivity; resolution
2. 1H NMR Spectroscopy for Metabolomics
For this review it is assumed that the reader is at least modestly familiar with NMR spectroscopy and its general principles. If not, there are a number of excellent reviews that have been written over the past two decades that provide an excellent introduction to the principles and practice of NMR [
28
,
61
,
62
]. In this section we will focus primarily on the description of proton (
1
H) NMR spectroscopy (
1
H NMR), which is employed in the vast majority of NMR-based metabolomics studies. This is because
1
H atoms are found in almost every organic compound and, therefore, almost every known metabolite.
Figure 3
illustrates an example of a one-dimensional (1D)
1
H NMR spectrum collected from a biofluid (human serum) that contains about 55 identifiable metabolites. As can be seen from this spectrum, there are hundreds of distinct signals arising for compounds that each contain one or more
1
H atoms in their chemical structures. In addition to their ubiquity,
1
H atoms exhibit, by far, the greatest NMR signal intensity (i.e., only
19
F atoms are close in sensitivity), have very high (~99%) isotopic natural abundance, and exhibit remarkably narrow line widths (often <1 Hz). These narrow line widths are what give the spectrum in
Figure 3
its exceptional resolution.
One-dimensional
1
H NMR spectra are particularly useful for metabolomic studies. This is because 1D
1
H NMR, as a technique, is highly automatable, very reliable, and very fast. Indeed, 1D
1
H NMR collection times for a single spectrum are often as short as a few minutes. With modern NMR equipment, NMR samples can be continuously loaded and removed with robotic sample exchangers that run for days or weeks at a time. Furthermore, the chemical information contained in a single 1D
1
H NMR spectrum of a biofluid or tissue extract is often sufficient to identify and quantify 50–100 metabolites at a time [
63
,
64
]. This identification process is greatly aided by the fact that many reference
1
H NMR spectra from hundreds of known metabolites have been compiled and stored in a number of public databases (see below). Additionally, many software tools exist to automatically or semi-automatically process and analyze 1D
1
H NMR spectra (offline) within minutes or seconds after the spectra have been collected [
65
,
66
,
67
,
68
]. These software tools can both identify [
68
,
69
,
70
] and quantify [
67
,
70
] metabolites. Because of its advantages in speed and reproducibility,
1
H NMR metabolomics has become the preferred technique for large-scale population studies where thousands or even tens of thousands of samples must be analyzed [
71
,
72
,
73
].
Compared to all other forms of NMR spectroscopy, simple 1D 1H NMR spectra are particularly useful for quantifying metabolites. This is because they are normally acquired under fully relaxed conditions and without polarization transfer techniques. Thus, 1H NMR signals acquired in this way provide a real representation of the distribution of proton nuclei within the molecules and the different concentration levels of the corresponding metabolites in a complex mixture. Of course, this assumes good instrument/magnet stability, consistent excitation pulse widths, appropriate experimental data acquisition intervals, and proper tune/match optimization. Also, quality controls have to be employed to maintain confidence in the spectrometer performance over the course of the study. Accurate quantitation is one of the hardest undertakings of NMR, but it is vital to the metabolomics data.
Because almost all 1D
1
H NMR spectra acquired for metabolomic studies are performed in water, solvent suppression is an important aspect of spectral acquisition that cannot be avoided. Depending on the nature of metabolites studied, different solvent suppression schemes or protocols may be used. For instance, if one is only interested in the non-exchanging protons in a sample, then the water suppression issue can be essentially avoided by the use of >99.9% deuterated solvents (D
2
O instead of H
2
O). In addition to solvent replacement methods, which often require lyophilization, there are also a variety of NMR pulse sequence techniques available for solvent suppression. Techniques used for effective and selective solvent suppression have been covered extensively by other reviews [
74
,
75
,
76
,
77
,
78
] and, therefore, will not be discussed in detail here.
While there are many efficient techniques to reduce the solvent's
1
H signal, most require careful preparation, exceptional patience or skill in their optimization, or are difficult to perform consistently for the inexperienced (or even modestly experienced) NMR spectroscopist. One method that is relatively simple to perform involves collecting the first increment of the 2D-
1
H,
1
H-nuclear Overhauser effect spectroscopy (NOESY) experiment. This method has been among the most often used, as it provides a reproducible and easy-to-implement experiment for recording 1D
1
H spectra of biological samples with good water suppression [
79
]. As a result, this pulse sequence has become the predominant approach used by NMR researchers in metabolomics, although it has been shown that there can be complications in its use [
80
,
81
,
82
].
Because NMR-based metabolomic studies typically involve the collection of dozens to hundred (even thousands) of spectra, consistency across experiments is a key factor that must be considered when implementing solvent suppression. This is because errors in solvent suppression can have substantial, detectable effects on downstream data analysis. Solvent suppression is heavily influenced by parameter changes, especially those involving pulse sequence timings and power level settings. The single largest challenge is the unintentional effect of any solvent suppression technique on neighboring resonances around the water peak or in exchange with water. No technique or techniques (to our knowledge) have been developed that has effective and complete isolation of the solvent (water) resonance position. The power level used during presaturation pulsing is critical. We have shown that even small changes in power levels can have dramatic effects to nearby resonances, thereby throwing off peak ratios and the performance of automatic assignment software [
80
,
83
,
84
]. Power levels must be carefully calibrated and consistently delivered when using different NMR instruments and probes. Even with careful calibration and near identical hardware, it is not sufficient to use the same parameter settings. For example, two "300 watt" amplifiers may have slightly different linearity or effective attenuation, cable lengths, tune/match parameters, or effecting probe performance (to name but a few possibilities). NMR instrument manufacturers often go to great lengths to achieve uniformity across their systems, but with so many components, different usage patterns (i.e., wear and tear), and vastly different hardware/software settings, there is only so much that can be done. Careful, meticulous, and repeated verification by the user on standard samples can alleviate these concerns and compensates for most, if not all, of the possible spectrometer complications. Calibration of the effective 90° pulse angle by the user, subsequent determination using calibration linearity, and application of a consistent (e.g., 80 Hz gammaB
1
effective) presaturation pulse eliminates the addition of a "confounder" to the results [
82
].
While careful instrumental calibration is key to excellent reproducibility for most NMR experiments, it is important to remember that the nondestructive nature of NMR also helps with experimental reproducibility. In particular, NMR samples can be repeatedly measured, stored, and remeasured to validate or confirm earlier findings. It is also possible to perform new types of NMR experiments on the same sample to answer questions that were not previously answered with an earlier experiment. This is because extended storage of biosamples at −80 °C and retesting after freeze/thaw cycles have little to no observable effect on the measured NMR results [
85
,
86
]. This fact greatly extends the exploratory potential of NMR, and it allows users to perform an initial quick evaluation of a sample and then to repeatedly return to the same sample for more detailed analysis. Remarkably few groups take advantage of this potential, as most NMR-based metabolomics researchers only conduct fast 1D-
1
H experiments without taking the time to reanalyze the sample using (lengthier) 2D correlation experiments. Indeed, it seems too many NMR users appear to be unaware of the fact that multidimensional NMR offers substantially more resolving power (e.g., 2D
1
H,
13
C-heteronuclear single quantum correlation spectroscopy (HSQC), heteronuclear multiple bond correlation (HMBC), correlation spectroscopy (COSY), total correlation spectroscopy (TOCSY), etc.) [
87
,
88
]. The authors of this article feel that there is an unnecessary push to only use very short, 1D NMR experiments in NMR-based metabolomics. While we certainly understand the desire for fast, cost-efficient experiments in studies involving many samples, one of the great strengths of NMR undoubtedly lies with longer, and/or more complex (i.e., multidimensional) experiments to positively identify known compounds, to characterize novel compounds, or to uncover previously undetected compounds.
Despite the many advantages of
1
H NMR spectroscopy, there are a few limitations that have to be considered when choosing the appropriate NMR techniques. For example, the relatively small chemical shift window or spectral width associated with
1
H NMR spectroscopy means that there is a greater likelihood of overlapping peaks. Overlapping peaks leads to greater ambiguity in compound identification and quantification. One way of addressing peak overlap is to perform NMR experiments with stronger magnets and higher magnetic fields. This increases spectral dispersion. In 1D NMR, resolution scales linearly with the magnetic field strength of the instrument. Unfortunately, the instrument cost often scales exponentially with the field strength. This cost-scaling reflects the vastly expanded complications and physical limitations of creating and stabilizing the powerful superconducting magnets used in ultra-high-field NMR spectrometers. As a general rule, the "sweet spot" for field strength, resolution, and cost in NMR-based metabolomics is the 600 MHz NMR spectrometer.
Figure 4
shows the gain in both sensitivity and resolution that comes with using higher magnetic fields for typical metabolomics samples.
Aside from using larger magnets to improve spectral resolution, selective excitation techniques combined with multidimensional NMR experiments, such as the selective TOCSY experiment, can also help to improve spectral resolution [
89
,
90
,
91
]. Indeed, most two-dimensional
1
H NMR spectroscopy experiments can assist in resolving overlapping peaks. This improved resolution means that certain 2D
1
H NMR experiments can potentially detect and identify more metabolites than any given 1D
1
H NMR experiment. However, substantial increases in instrument time are required to collect these kinds of 2D spectra. So too is the requirement for experienced NMR spectroscopists who are capable of processing and interpreting the acquired multidimensional data and performing the necessary metabolite identification and quantitation. These constraints have, until recently, limited the uptake of two-dimensional
1
H NMR in NMR-based metabolomic studies.
2.1. 13C NMR Spectroscopy for Metabolomics
2.2. 15N NMR Spectroscopy for Metabolomics
Like 13C NMR, 15N NMR spectra are characterized by a broad chemical shift dispersion (∼100 ppm) and relatively narrow line widths. However, the direct detection of 15N is challenging because of its very poor sensitivity. In particular, its low natural abundance (0.37%) and its low gyromagnetic ratio (7.62 MHz/T) conspire to make the 15N nucleus over 262,000 times less sensitive than the 1H nucleus. As a remedy, isotopic enrichment combined with 1H-mediated enhancement via indirect detection is often the only route to make 15N NMR practical.
Indirectly detected
15
N NMR spectroscopy is widely used in structural elucidation of proteins [
105
,
106
,
107
], RNA [
108
,
109
,
110
], and DNA [
111
,
112
,
113
,
114
], but it has not been commonly applied in metabolomics studies. The Raftery group has pioneered the development of
15
N isotope-based indirect detection for NMR-based metabolomics. Their ingenious concept is based on isotope tagging to expand the pool of quantifiable metabolites [
46
]. More specifically, Raftery's approach involves reacting carboxyl-containing metabolites with an
15
N-ethanolamine tag and then detecting the tagged molecules using
1
H-
15
N 2D NMR. This approach, like the
13
C tagging approach described earlier, allows selective tagging of certain metabolite classes that provides further spectral simplification. Typically, this selective tagging approach generates a single peak for each tagged metabolite, effectively suppresses the signal from nontagged metabolites, and significantly adds to the sensitivity and peak dispersion. This can enable the detection of over a hundred quantifiable metabolites from a single class of molecules (i.e., carboxylic acids) using a two dimensional
1
H-
15
N HSQC experiment (
Figure 5
). More recently, Raftery's team has developed a "smart" isotope tag (
15
N-cholamine) to exploit the combined strength of NMR and MS for unknown compound identification and quantitation.
15
N-cholamine possesses dual characteristics: a
15
N isotope that enables NMR detection of tagged metabolites with high sensitivity and good chemical shift dispersion as well as a permanent charge that improves MS sensitivity [
46
,
105
].
2.3. 31P NMR Spectroscopy for Metabolomics
While
31
P is nearly 100% abundant, has a relatively wide spectral dispersion and has a sensitivity of 6.6 × 10
−2
relative to
1
H. Its utility in metabolomics studies is limited because most metabolites do not contain phosphorus atoms. As a result,
31
P NMR spectroscopy in metabolomics has mainly been limited to studying a small number of important phosphorous-containing compounds such as phospholipids and nucleoside metabolites (ATP, GTP, NADP, etc.) involved in energy metabolism [
47
,
115
].
One approach that potentially expands the utility of
31
P NMR for metabolomics was recently provided by the Raftery group [
116
]. Like the
15
N tagging method described earlier, this approach uses isotope tagging to enable the detection of various hydrophobic compounds. More specifically, this method employs the
31
P reagent, 2-chloro-4,4,5,5-tetramethyldioxaphospholane (CTMDP), to tag lipid metabolites containing hydroxyl, aldehyde, and carboxyl groups. One-dimensional
31
P NMR then enables detection of the tagged metabolites with enhanced resolution. This method, which was applied to the detection of a number of metabolites in serum, was shown to be simple, reproducible, and highly quantitative.
3. Two-Dimensional (2D) NMR Spectroscopy
Two-dimensional NMR spectroscopy can be used for many applications including molecular identification, structural elucidation, and kinetic or energetic analysis [
117
,
118
,
119
]. In metabolomics, 2D NMR can be used to overcome the problem of overlapping resonances by spreading the peaks into a second dimension based on another "orthogonal" physical property of the atom or atoms of interest (e.g., a covalently attached neighbor, a relaxation time, a coupling constant, etc.). The additional resolution available through 2D NMR potentially allows one to detect and identify more metabolites than possible with 1D NMR. Indeed, different homonuclear 2D
1
H-
1
H-NMR experiments, including many variations by total correlation spectroscopy (TOCSY) [
120
], correlation spectroscopy (COSY) [
30
,
121
], and nuclear Overhauser effect (NOESY) experiments [
122
] along with heteronuclear
1
H,
13
C single quantum coherence (
1
H-
13
C-HSQC), and heteronuclear multiple bond correlation (HMBC) experiments have been routinely used in metabolomics studies for many years [
123
,
124
,
125
]. Diffusion ordered spectroscopy (DOSY) [
126
,
127
] and two-dimensional J-resolved NMR spectroscopy (J-Res) [
88
] are examples of other 2D NMR experiments that have also been used in several NMR-based metabolomics studies. In the following sections we will describe some of the more popular 2D NMR experiments for metabolomics in more detail.
3.1. Correlation Spectroscopy (COSY)
The single, relayed correlation spectroscopy (COSY) [
128
] experiment is the simplest of all 2D NMR experiments. It provides information on homonuclear correlations between coupled nuclei (
1
H-
1
H) and has been widely used for molecular identification and for structural elucidation [
129
,
130
,
131
,
132
]. The COSY pulse sequence consists of a 90° radio frequency (RF) pulse [
133
] followed by an evolution time (t
1
) then a second 90° pulse, which is followed by a measurement period time (t
2
). Fourier transformation in both the t
1
and t
2
dimensions yields a 2D spectrum, in which the cross peaks in the 2D spectrum indicate pairs of nuclei connected by through-bond (3JHH) couplings. The fact that the COSY experiment is relatively simple, fast (often a few minutes), easy to perform, and easy to interpret makes it particularly useful for metabolomics research [
134
,
135
,
136
,
137
,
138
]. Moreover, COSY cross peaks, which represent through-bond coupling between coupled nuclei, provide important clues for the identification of unknown metabolites in complex biological mixtures. In other words, COSY experiments (as well as other 2D NMR experiments) enable the identification of both known and unknown metabolites, while 1D NMR experiments are largely limited to the identification of known metabolites.
There are numerous variations or forms of the COSY NMR experiment [
139
,
140
,
141
]. As a result, one must be careful in choosing the proper COSY variant by carefully considering which type and what physical aspects one wants to observe. For example, the magnitude mode acquisition COSY reduces the complexity of the experiment, but it loses much of the coupling information that other COSY versions allow. It is also worth mentioning that, for very complex mixtures composed of many small molecules (such as urine), the spectral complexity due to spectral overlap is often so great that one quickly loses the inherent advantages of the 2D COSY.
3.2. Total Correlation Spectroscopy (TOCSY)
TOCSY (total correlation spectroscopy), also known as the homonuclear Hartmann–Hahn (HOHAHA) experiment, is an extension of the COSY experiment, wherein the chemical shift of a given nucleus is correlated with the chemical shift of other nuclei within the total (or near total) spin system of a given compound. The TOCSY spectrum shows the cross peaks not only for short-range (e.g., 3JHH) coupled protons but also for protons that are connected by a chain of scalar couplings (e.g., four or more covalent bonds away). For instance, if both proton A and C are coupled with proton B (but A and C do not directly couple with each other), then the TOCSY spectrum would show a correlation of A with both B and C, while the COSY spectrum would just show the coupling between A and B and that between B and C.
While the 2D TOCSY experiment takes a relatively long time to collect, the 1D TOCSY is very quick (often a minute or two) and produces a relatively simple 1D NMR spectrum that is more easily analyzed. The 1D TOCSY is characterized by a spectrum in which only signals appear from those nuclei that are in the same spin system as the excited signal or signals. The 1D TOCSY experiment is particularly useful when there is considerable overlap in the NMR spectrum or when one wishes to quantify highly overlapped metabolite species (100). The 1D TOCSY was first shown to be useful in a metabolomics setting with the analysis of low-concentration metabolites in honey samples where carbohydrate signals were extremely strong and dominated the NMR spectra [
91
]. Selective excitation TOCSY experiments are another variant of the TOCSY experiment that can be used to resolve the spectral overlapping problem and to aid in metabolite identification [
90
,
142
,
143
]
3.3. 2D J-Resolved Spectroscopy (J-Res)
The 2D J-resolved spectroscopy (J-Res) experiment is one of the oldest of all 2D NMR experiments. It was initially introduced by Ernst et al. as a means to display both J-couplings and chemical shifts in the same 2D NMR spectrum [
144
]. As with other 2D experiments, the J-Res experiment simplifies spectral assignments by increasing the peak dispersion compared with a conventional 1D NMR experiment [
145
].
Because of its speed relative to other 2D methods, 2D J-Res NMR spectroscopy has become a popular method for a wide range of NMR-based metabolomics studies [
88
,
146
]. For example, J-Res NMR spectroscopy has been employed to resolve overlapped resonances of metabolites and for metabolite identification in human biofluids such as urine, blood plasma, and cerebral spinal fluid [
147
,
148
,
149
]. It was reported that plasma J-Res NMR spectra were simpler and yet contained much more information than the corresponding 1D Hahn spin-echo spectra. J-Res NMR spectroscopy has also been shown to have similar advantages when employed with different types of biological samples such as hemolymph from tobacco hornworm larvae (
Manduca sexta
) [
150
]. The basic methodology of 2D J-Res NMR spectroscopy, along with optimized spectral acquisition parameters and specific recommendations for optimal data processing in the context of metabolomics applications, has recently been reviewed [
146
].
The extended experimental time is one of the main disadvantages of 2D NMR experiments, especially with metabolomic studies that involve a large number of samples. Several approaches have been developed to shorten the acquisition time of multidimensional NMR experiments, including the J-Res experiment [
30
,
151
,
152
]. For instance, Frydman et al. optimized and developed a single-scan 2D NMR method, called planar imaging [
153
,
154
], which has been integrated with the 2D J-Res experiment. This has reduced the J-Res acquisition time to less than one minute [
155
]. However, these experiments suffer from extremely low sensitivity and require very high metabolite concentrations that are not practical for most metabolomics studies. An alternative to the 2D J-Res experiment is the 1D J-Res. In particular, the proton-decoupled projected 1D J-Res experiment (p-JRES) offers some of the advantages of the 2D J-Res experiment along with the speed advantages of a typical 1D experiment [
156
].
3.4. Heteronuclear Single Quantum Correlation Spectroscopy (HSQC)
3.5. Heteronuclear Multiple Bond Correlation (HMBC) Spectroscopy
The HMBC is another common 2D heteronuclear experiment that correlates the chemical shifts of two different types of nuclei (i.e.,
13
C and
1
H) similar to HSQC or HMQC experiments. However, unlike HSQC or HMQC, the HMBC experiment reveals correlations between nuclei that are separated by two or more chemical bonds. To eliminate the single bond correlation, a low-pass filter is used, where only smaller J-couplings are optimized for detection. HMBC, thus, eliminates single C–H bond correlations and is useful for the assignment of signals from quaternary and carbonyl carbons that are not detected in HSQC and HMQC experiments. For molecular identification through complete signal assignments and for chemical structure elucidation, a combination of HMBC with HSQC or HMQC experiments is commonly used. The utility of
1
H-
13
C HMBC in metabolomics can be seen in a paper published by Bernin et al. [
163
]. Using a 900 MHz NMR, these authors acquired an HMBC spectrum of urine and were able to easily distinguish some of the aromatic peaks of hippurate, phenylacetylglycine, and histidine.
4. NMR Databases and Software for Metabolite Identification
5. New NMR Methods in Metabolomics
NMR is a constantly evolving field, and there are a number of new and exciting techniques that are finding their way into NMR-based metabolomics. In this section we will highlight a few of these including high-resolution magic-angle sample spinning (HRMAS), hyperpolarization methods. ultrafast 2D NMR methods, pure-shift NMR techniques, and hybrid NMR approaches.
6. New Developments with NMR Equipment
As highlighted in the previous section, NMR methods developed by chemists or physicists are constantly emerging to overcome some of inherent instrumental limitations of NMR. NMR engineers are also working to develop new NMR technologies that improve sensitivity, enhance resolution, or accelerate spectral acquisition. Some of the new NMR technologies that are emerging or just on the horizon include very high field magnets and substantially better NMR probes.
6.1. NMR Magnets
Sensitivity and resolution in NMR are intimately tied to magnetic field strength. In particular, signal-to-noise (S/N) or sensitivity increases with the field strength by a factor of ~B
o
3/2
. Additionally, resolution improves linearly with the field strength (for 1D NMR) and by the square of the field for 2D NMR. No matter which way one looks at it, higher fields lead to better results. As a result, considerable effort is going into the development of ultra-high-field NMR spectrometers. In particular, ultra-high-field spectrometers are currently being developed using new superconducting materials that not only increase the strength of NMR magnets but also reduce the need for costly helium pumped/refrigerated 2.2 K inner chambers. Presently, 1 GHz and 950 MHz are commercially available, and 1.2 GHz magnets are expected to be delivered in 2019 or 2020. These very high field magnets offer better resolution with higher sensitivity allowing the detection of more metabolites in a single experiment than lower field magnets (see
Figure 4
). Recent advances in magnet technology have also led to the development of maintenance-free cryostats (e.g., Bruker Aeon systems), where there is no liquid N
2
shield, and the liquid helium is recycled automatically. One drawback for such a maintenance-free system is the annual or semiannual costs of cold-head maintenance to support the helium recycling. However, for laboratories with unstable helium supplies and/or high delivery costs, these kinds of self-recycling systems can be a significant advantage.
The space required for NMR spectrometers (i.e., the magnet footprints) has also been substantially reduced with the introduction of actively and/or passively shielded magnets. Currently, all of the highest field instruments including 900 MHz, 950 MHz, and 1 GHz magnets are shielded. As a result, their footprints are greatly reduced. This situation is quite different from just 10–15 years ago when 800 MHz spectrometers often required their own building. While the advantages and appeal of ultra-high-field NMR instruments is quite significant, one does have to remember that instruments with ultra-high-field magnets are prohibitively expensive to acquire and expensive to maintain. As a result, most reported NMR-based metabolomics studies use 500 and 600 MHz NMR spectrometers. Instruments at these field strengths are affordable, commonly available, and offer a good compromise between resolution, sensitivity, and cost. The 500–600 MHz instruments are shielded and make their footprint small and robotic sample handling systems much more feasible (i.e., the stray field from higher field systems can make some sample handling systems unusable).
6.2. NMR Probes
The NMR probe contains all the electronics, transmitting and receiving coils, and other hardware such as shimming, locking, and tune/match systems needed to send and receive RF radiation into an NMR sample. Probe design and development has steadily improved, enabling new experiments to be implemented that can detect a wider range of nuclei with ever greater sensitivity. While probe developments were quite spectacular during the early 2000s, much of this has leveled off in terms of the rate and impact of the improvements. Indeed, most probe advancements over the past three to five years have been more incremental rather than truly "game-changing."
A number of probe advancements over the past decade have greatly improved the situation for NMR-based metabolomics. For example cryogenically cooled probes or cryoprobes [
100
] can increase signal sensitivity by a factor of three to four, while some of the latest microprobes or microcoil probes not only enhance sensitivity but also reduce the required sample size down to few microliters. Indeed, microcoil NMR probes have been used successfully in many metabolomics studies of urine and serum with significant improvements in mass sensitivity compared to standard 5 mm probes [
254
]. A few examples of common vertical geometry microprobes are the 1 mm TXI and 1.7 mm TXI probes from Bruker. Of course, the microcoil probes require special low-volume NMR tubes that need only 20–50 uL of sample. A challenge in working with such small-volume tubes is the placement and removal of liquid samples, removal of bubbles, and cleaning of the tubes. Given their fragility and the time necessary to clean these tubes, most labs now treat these small NMR tubes as single-use, disposable glassware products.
Recently, a double-tuned probe circuit has been developed to utilize heteronuclear hyperpolarization at low fields. This development now allows one to carry out double-resonance NMR with single-channel consoles [
255
]. In addition to standard static probes, which require NMR tubes to be dropped in and retrieved one at a time, the development of flow probes has opened the door to automated, direct-injection, NMR-based analyses [
256
]. Other probes developed over the past one or two decades that are commonly used in metabolomics include double-resonance broad band probes (often called BBO and BBFO probes), which are widely used in HMBC or HSQC experiments (see above), as well as triple resonance probes such as the Bruker triple-resonance broad band probe (TBO) and triple resonance probe (TXI) are also available. These probes are commonly found in many NMR labs (particularly protein NMR labs) and provide the opportunity to pulse up to three or four nuclei in a single experiment.
7. Limitations of NMR in Metabolomics
Low sensitivity has always been the primary limitation of NMR spectroscopy. While NMR has no theoretical limit in sensitivity, as one can always increase the number of acquisition scans, the realistic (time-dependent) detection limits are still in the low-micromolar to high-nanomolar range.
Although significant signal enhancement using higher magnetic fields, cryo-probes, and digital signal processing has improved the situation, many important, low-abundance metabolites still cannot be detected with today's NMR technology. For example, it is widely known and acknowledged that there are several thousand measurable or detectable metabolites in human biofluids, yet only a few hundred metabolites (the most abundant) have been reported as being reliably detected by NMR [
168
,
257
,
258
] using human urine, human CSF, and human serum metabolomes. While high-abundance metabolites are almost always physiologically important, low-concentration metabolites are often more important as diagnostic biomarkers. This means that NMR-based metabolomics are often unable to detect these important molecules or cannot be used in diagnostic clinical applications.
Overlapping resonances, especially for proton NMR spectra of biofluids, represent a continuing challenge in metabolite identification and quantification. Most NMR-based metabolomics studies are conducted using 1D 1H NMR spectroscopy, where the chemical shift dispersion is quite narrow, and most resonances are found in a small region between 1 to 4 ppm. This continues to cause significant challenges in peak assignment and compound identification, especially at lower magnetic field strengths. As mentioned above, 2D NMR experiments can be used to improve the reliability of peak assignments and reduce the spectral overlap problem. However, despite the continuous development of improved signal acquisition and processing methods in 2D NMR, a strong inertia still exists in the NMR community that limits its use in metabolomics studies. This likely is due to the continued (but not necessarily justifiable) concerns over data size and the relatively long acquisition times needed for 2D NMR.
In general, NMR spectrometers are quite expensive compared to mass spectrometers or many other common analytical tools. Moreover, NMR instruments require highly skilled operators as well as substantial laboratory space with nonvibrational floors and isolation from magnetic and radio frequency interference. These factors, in addition to the overriding issue of low sensitivity, have made it challenging for NMR to expand its user base in metabolomics. In terms of translational clinical applications, the same issues regarding space, cost, and personnel also make it difficult for NMR to replace existing clinical analyzers for routine measurements in hospitals or clinics. As a general rule, mass spectrometry has had more success than NMR in the clinical chemistry lab because of its lower costs, its smaller instrumental footprint, and its ability to measure low-concentration metabolite species that are more frequently used in diagnostic assays.
8. Concluding Remarks and Future Prospects
NMR spectroscopy plays important and multifaceted roles that have benefited and continue to benefit the field of metabolomics. These include biomarker discovery [
51
,
259
,
260
,
261
,
262
], kinetic and mechanistic metabolic studies [
263
,
264
,
265
,
266
,
267
], metabolite imaging [
268
,
269
,
270
], food and beverage characterization [
271
,
272
,
273
,
274
], environmental monitoring [
275
,
276
,
277
], and drug toxicity studies [
278
,
279
,
280
,
281
,
282
,
283
,
284
]. The unique characteristics of NMR, including its high level of reproducibility, its simplicity in sample preparation, its capacity to handle diverse sample types (liquids, solids, gels), its quantitative capabilities, and its utility in identifying unknown metabolites along with its nondestructive nature, have made it particularly useful in many diverse metabolomic disciplines. More recently, the advent of near total automation in the NMR workflow (including sample preparation, sample loading, spectral acquisition, and spectral deconvolution) means that NMR-based metabolomics is now becoming the preferred choice for many large-scale metabolomic studies. Near complete automation also opens the door to using NMR-based metabolomics in industrial, in clinical, in food production, and in food safety applications.
While low sensitivity will continue to be viewed as an inherent limitation of NMR spectroscopy compared to mass spectrometry, recent improvements in probe design, magnet design, magnet field strength, pulse sequences, and methods for sensitivity enhancement are bringing NMR closer and closer to the sensitivity reported by many MS platforms. Indeed, the volume requirements of many quantitative MS-based metabolomic studies are now about the same as those needed for a 1 mm NMR probe (20–40 μL). Likewise, the lower limit of detection for ultra-high-field NMR instruments (high nanomolar concentrations) is not too different than what is seen for quantitative metabolomic studies performed on triple quadrupole MS instruments. What is not often acknowledged in MS-based metabolomics is that sample concentration and chemical derivatization are routinely used to boost sensitivity. Certainly, if the same protocols (of sample concentration and chemical derivatization with "enhancers") were routinely used in NMR, it is possible that NMR experiments could claim sensitivity limits in the low-nanomolar level.
As highlighted in the previous sections, there are a number of interesting new NMR technologies and new NMR techniques that are emerging that suggest NMR-based metabolomics will only get better. For instance, 1.2 GHz spectrometers will soon be available. These instruments should significantly increase the number of metabolites that can be detected by simple 1D
1
H NMR spectroscopy. The appearance of liquid N
2
-cooled probes, while not as sensitive as their helium counterparts, should make cryoprobe costs substantially lower and, thereby, make cryoprobe use much more widespread in NMR laboratories. Low-cost DNP methods such as Sabre-sheath techniques [
215
,
224
,
285
,
286
] promise to make hyperpolarization sensitivity enhancement much more accessible and much more feasible for the average NMR lab. If routinely implemented, these hyperpolarization techniques could bring NMR sensitivity down to the low-nanomolar level. Fast acquisition methods represent another promising approach to improving NMR-based metabolomics, especially for well-studied biofluids such as serum or urine, where the location of the main spectral features and the composition of the biofluids are already well known.
Standardization of NMR methods and data continues to be a challenge. Two "camps" in NMR-based metabolomics continue to exist with one camp tending to use statistical spectroscopy techniques that are combined with classical cheminformatics methods and the other camp tending to use spectral deconvolution techniques to identify and quantify metabolites. The lack of a common approach to NMR-based metabolomics combined with the difficulty in sharing or exchanging NMR data has limited some of the progress in this field. The recent introduction of nmrML as a common data exchange standard [
287
], the creation of metabolomic data deposition resources such as MetaboLights [
288
] and the Metabolomics WorkBench [
289
], along with the appearance of more freely available spectral deconvolution/identification software tools suggest that these problems with a lack of standardization or a lack of commonality may soon disappear.
While some NMR spectroscopists have lamented the fact that NMR has been moved off its pedestal as one of the leading methods for structural biology or as the leading technology in metabolomics, we believe the future for NMR-based metabolomics is still very bright. Rather than viewing NMR as the only tool for metabolomics, it should be viewed as a vital, highly complementary tool to both LC-MS- and GC-MS-based metabolomics. It should also be noted that NMR still offers some unique advantages and fills some important holes that cannot be filled with other metabolomics technology platforms.
Author Contributions
A.-H.E. conceived the idea and contributed to the writing and organization of the initial manuscript; R.R. contributed to the sections on 1D NMR and Fast NMR method sections; R.T.M. contributed to the section on NMR Databases and Software for Metabolite Identification as well as the section on 2D NMR; L.T. and E.S. assisted with the writing for the section on New NMR Methods in Metabolomics; G.A.N.G. and D.R. contributed to the sections on Hyperpolarization Methods, New Developments with NMR Equipment, and Future Prospects; F.A. created
Figure 1
and
Table 1
; L.J. and M.J. created
Figure 3
and
Figure 4
and contributed to the descriptions for the DNP HSQC sections; and D.S.W. created
Figure 2
and assisted with the writing, editing, and organization of the final manuscript. All authors contributed to the writing and editing of this manuscript.
Funding
This research was funded by Genome Alberta (a division of Genome Canada), The Canadian Institutes of Health Research (CIHR), Western Economic Diversification (WED), and the Canada Foundation for Innovation (CFI). This research was also supported by King Abdullah University of Science and Technology Core Labs and Division of Biological and Environmental Sciences and Engineering baseline (BAS/1/1085-01-08) and (BAS/1/1084-01-08).
Acknowledgments
We would like to thank King Abdullah University of Science and Technology for financial support. Support from the Natural Sciences and Engineering Research Council (NSERC), the Canadian Institutes of Health Research (CIHR), Western Economic Diversification (WD), and Genome Canada is also gratefully acknowledged.
Conflicts of Interest
The authors declare no conflict of interest.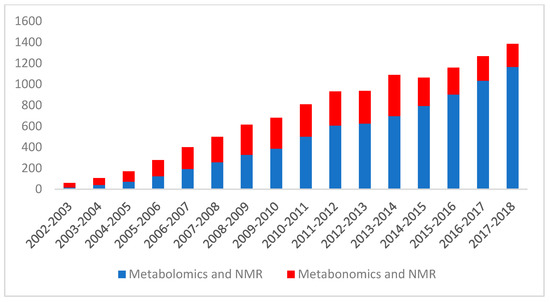 Figure 1.
Increasing trend in the NMR-based metabolomics/metabonomics publications obtained using the keywords metabolomics and NMR (blue) or metabonomics and NMR (red) from the web of knowledge (
http://apps.webofknowledge.com
).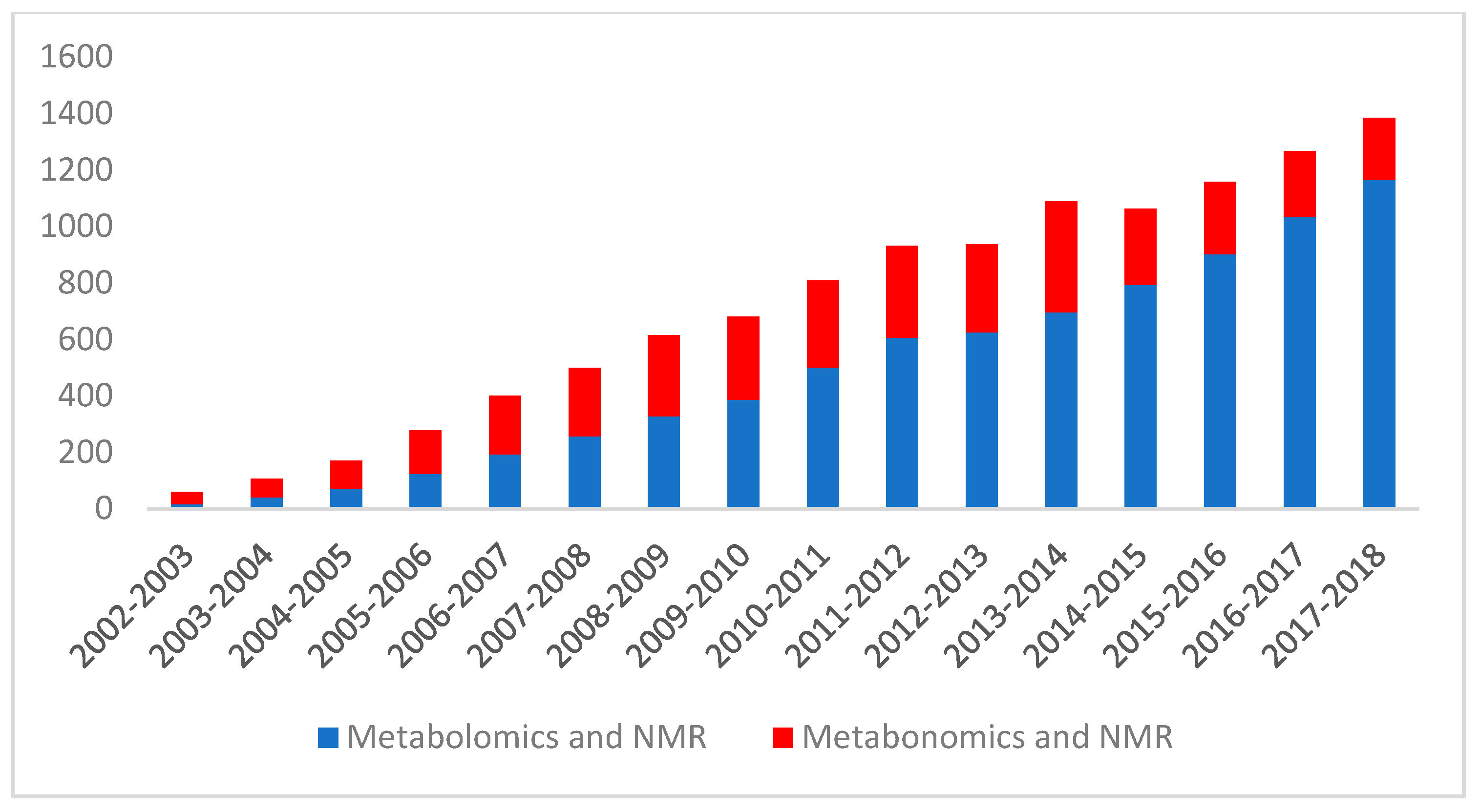 Figure 2. The electromagnetic nature of the NMR spectroscopy of the most common nuclei for metabolomics studies. (A) Frequency scale ranges and types of spectroscopies that correspond to them. The NMR frequency range for the most commonly used nuclei at 600 MHz proton frequency along with the natural abundances of the nuclei are also given. (B) Typical ppm ranges for the 15N, 13C, 31P, 19F, and 1H nuclei under different chemical environments.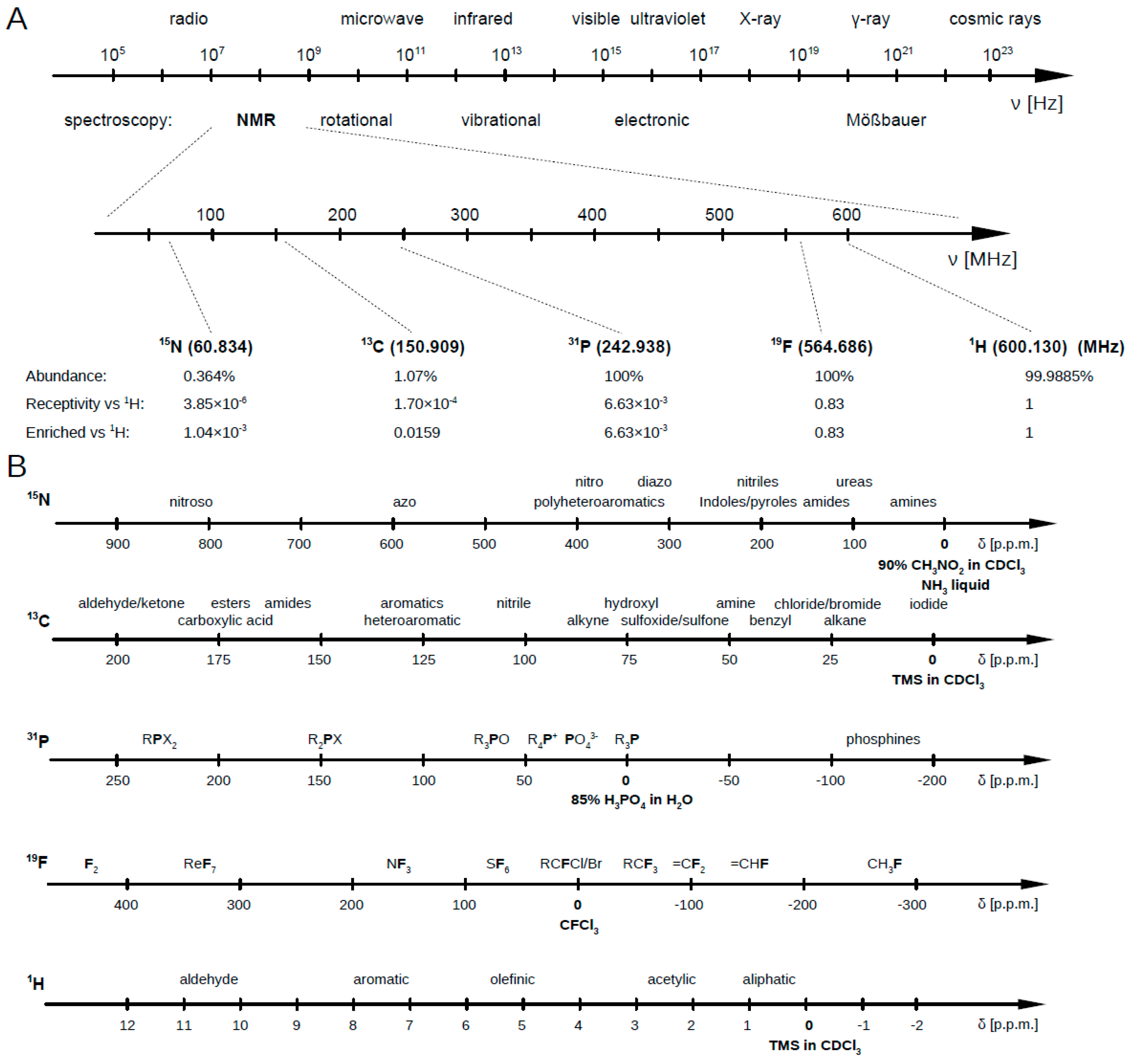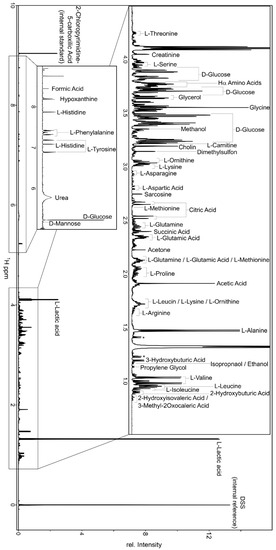 Figure 3. Annotated 1D 1H NMR spectrum collected of NIST SRM-1950 human serum (ultrafiltered with a 3 kDa MW cutoff filter) at 700 MHz. The NIST SRM-1950 sample is a pooled human serum sample collected from a large number of volunteers and distributed by the National Institute of Standards. The identified compounds are labeled above each of the corresponding peaks. The high lactate peak is due the fact that the sample had not been metabolically quenched by NIST during its preparation, leading to the conversion of glucose to lactate.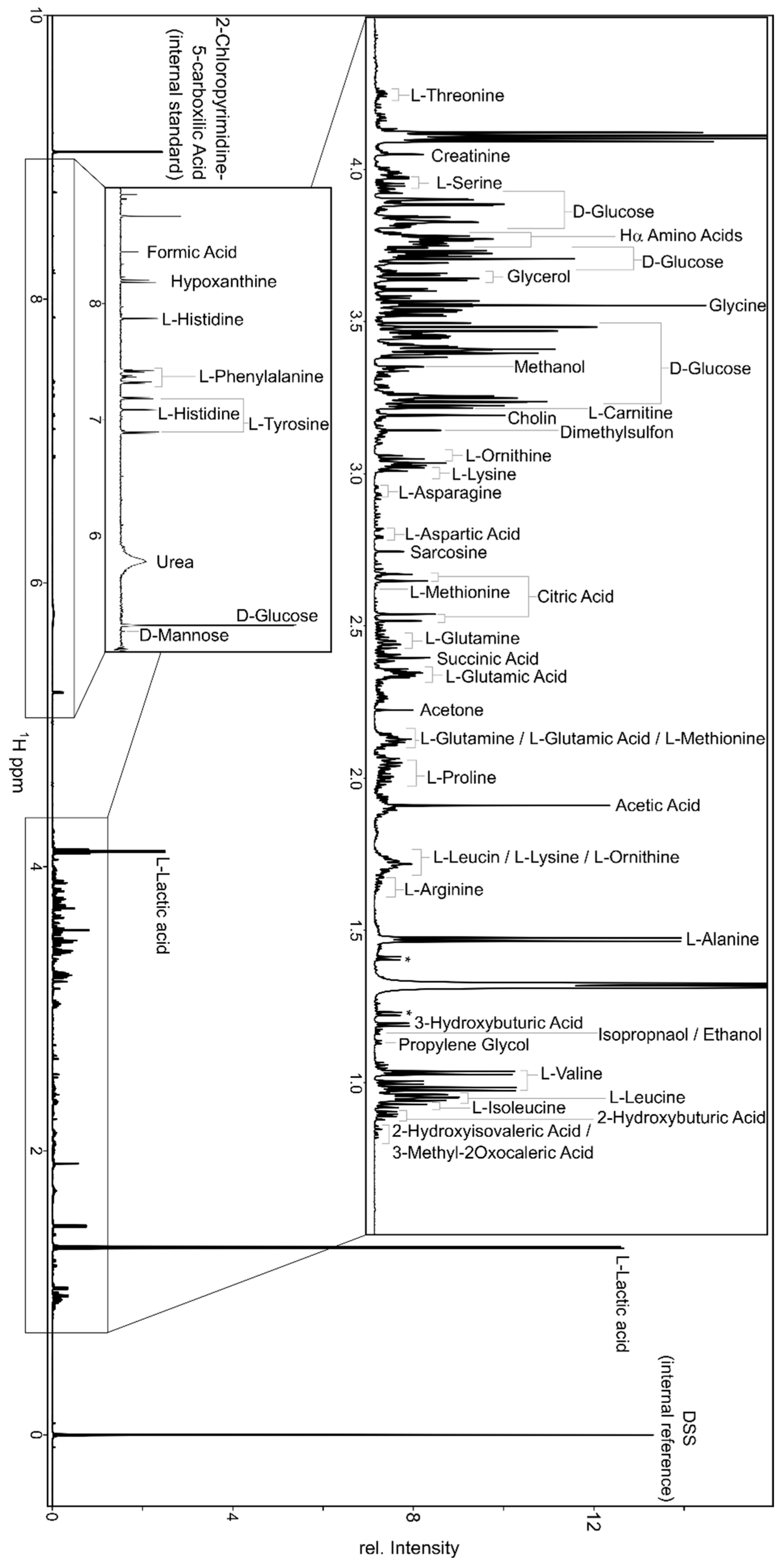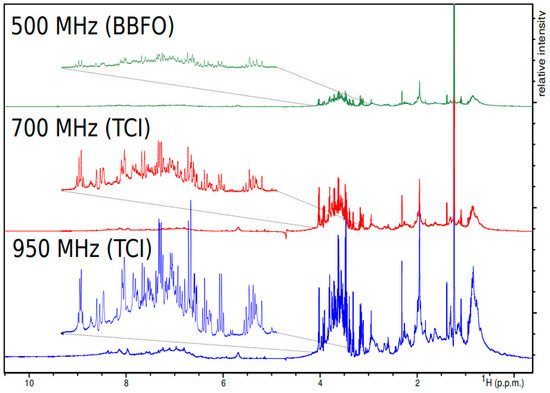 Figure 4. Demonstration of magnetic field strength and probe specificity on spectral resolution of bovine serum recorded with the same parameter set on three spectrometers working at 500, 700, and 950 MHz proton frequencies at 25 °C. The probes used are the Bruker TCI—Triple Resonance CryoProbe on the 700 MHz and 950 MHz instruments and a Bruker BBFO on a 500 MHz magnet.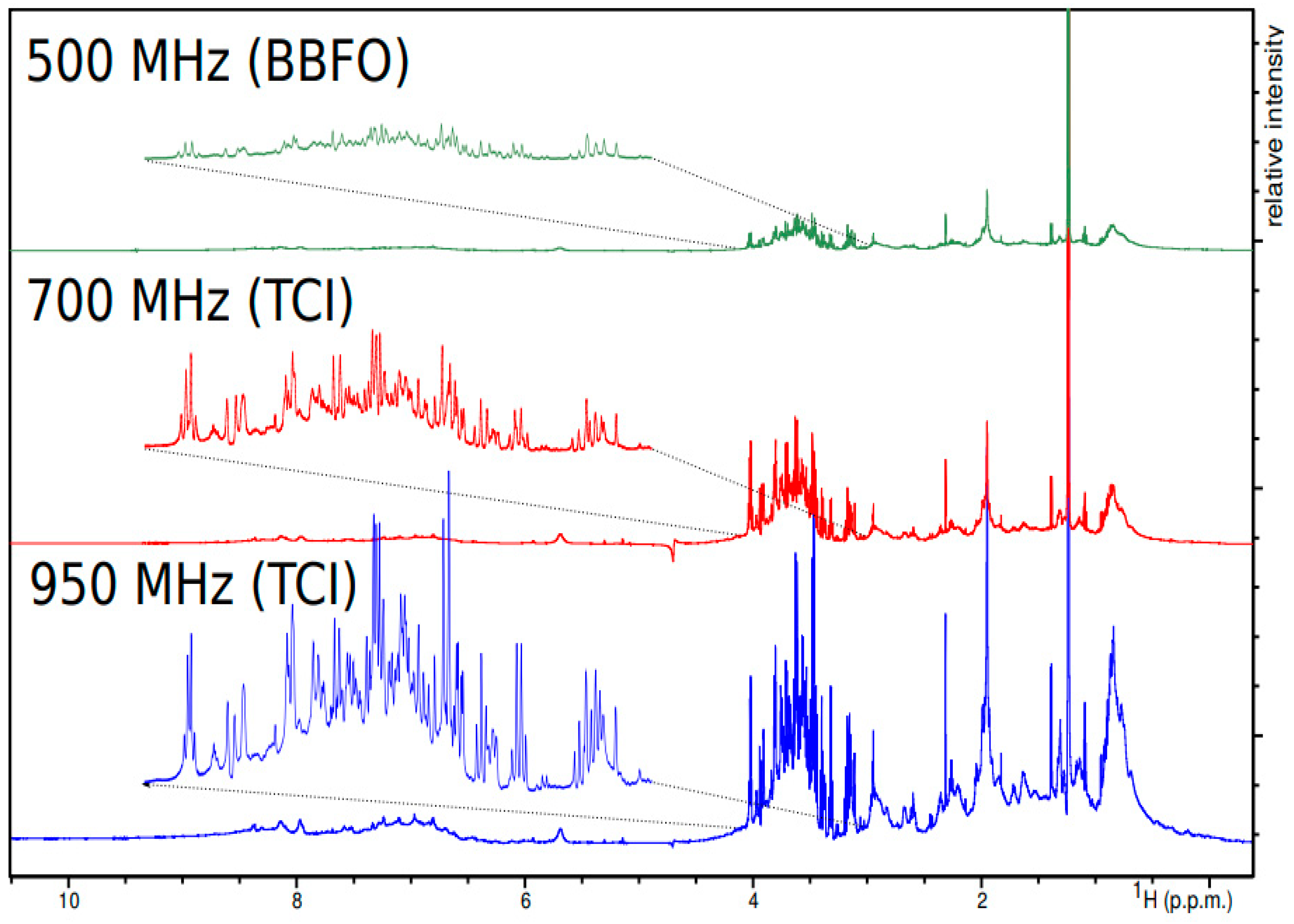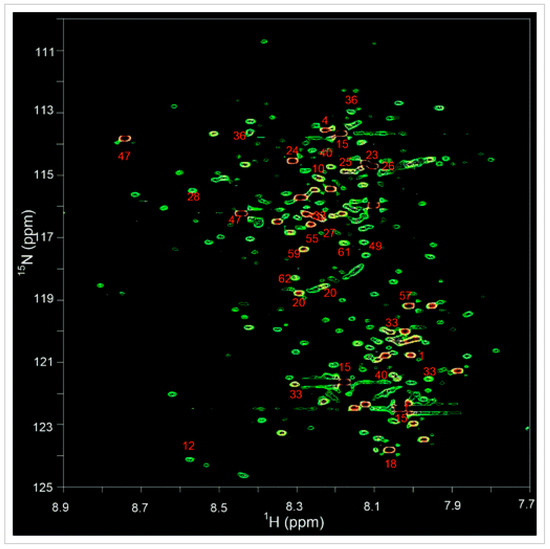 Figure 5.
Detection of nearly 200 carboxyl-containing metabolites in urine by 2D
1
H-
15
N heteronuclear single quantum correlation spectroscopy (HSQC) NMR after tagging with
15
N isotope containing ethanolamine [
46
].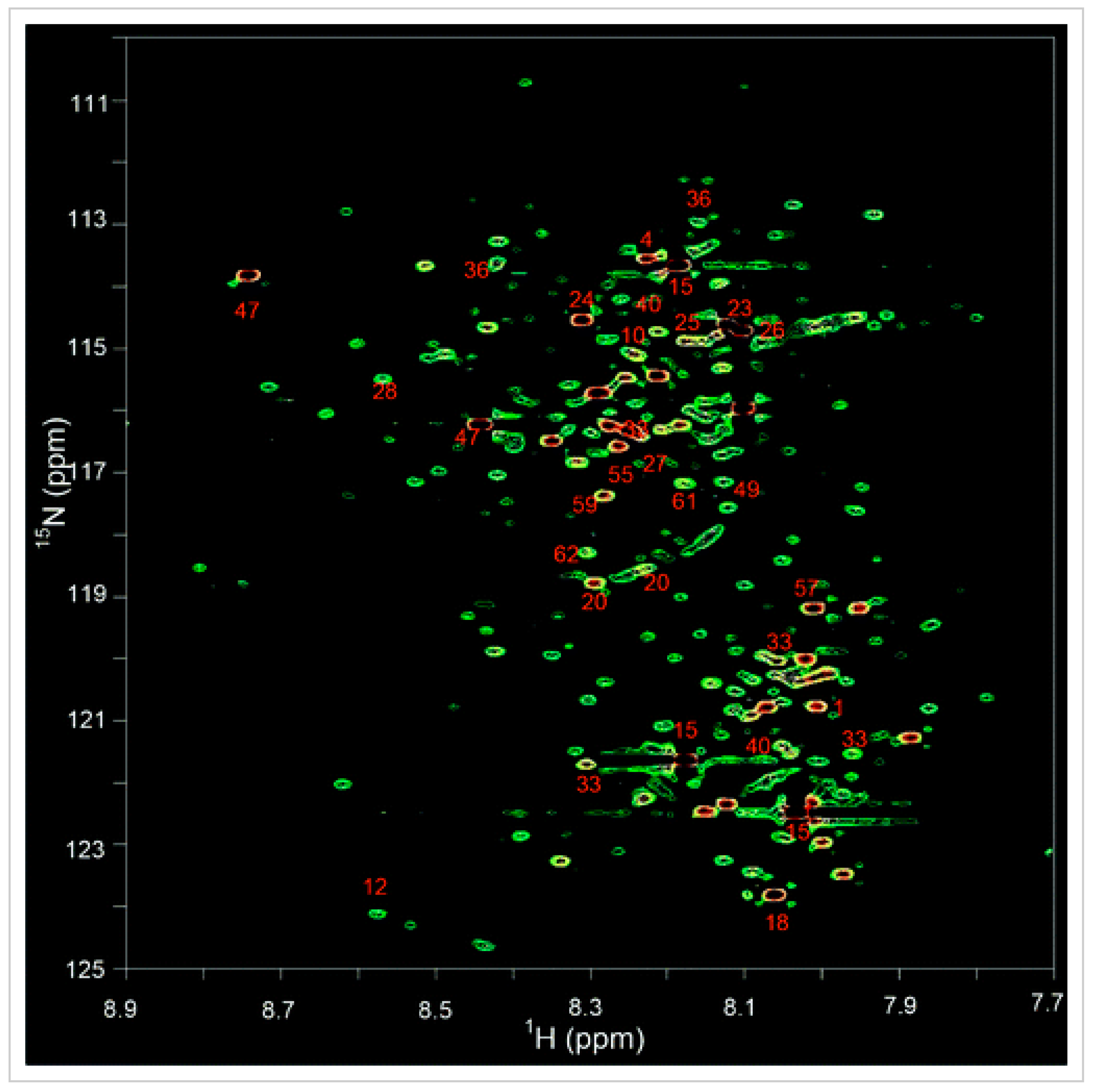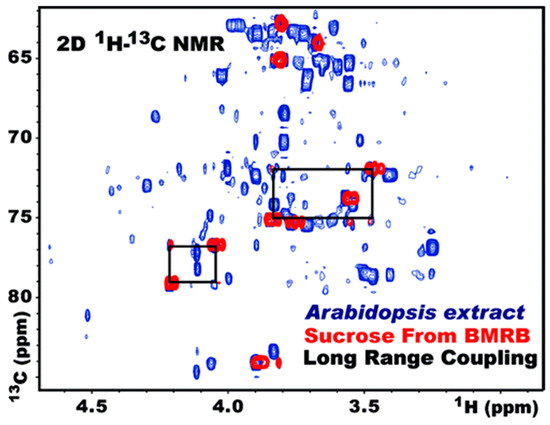 Figure 6.
2D
1
H−
13
C HSQC NMR spectrum of sucrose from the Biological Magnetic Resonance Data Bank (red) overlaid onto an aqueous whole-plant extract from
Arabidopsis thaliana
(blue) [
161
].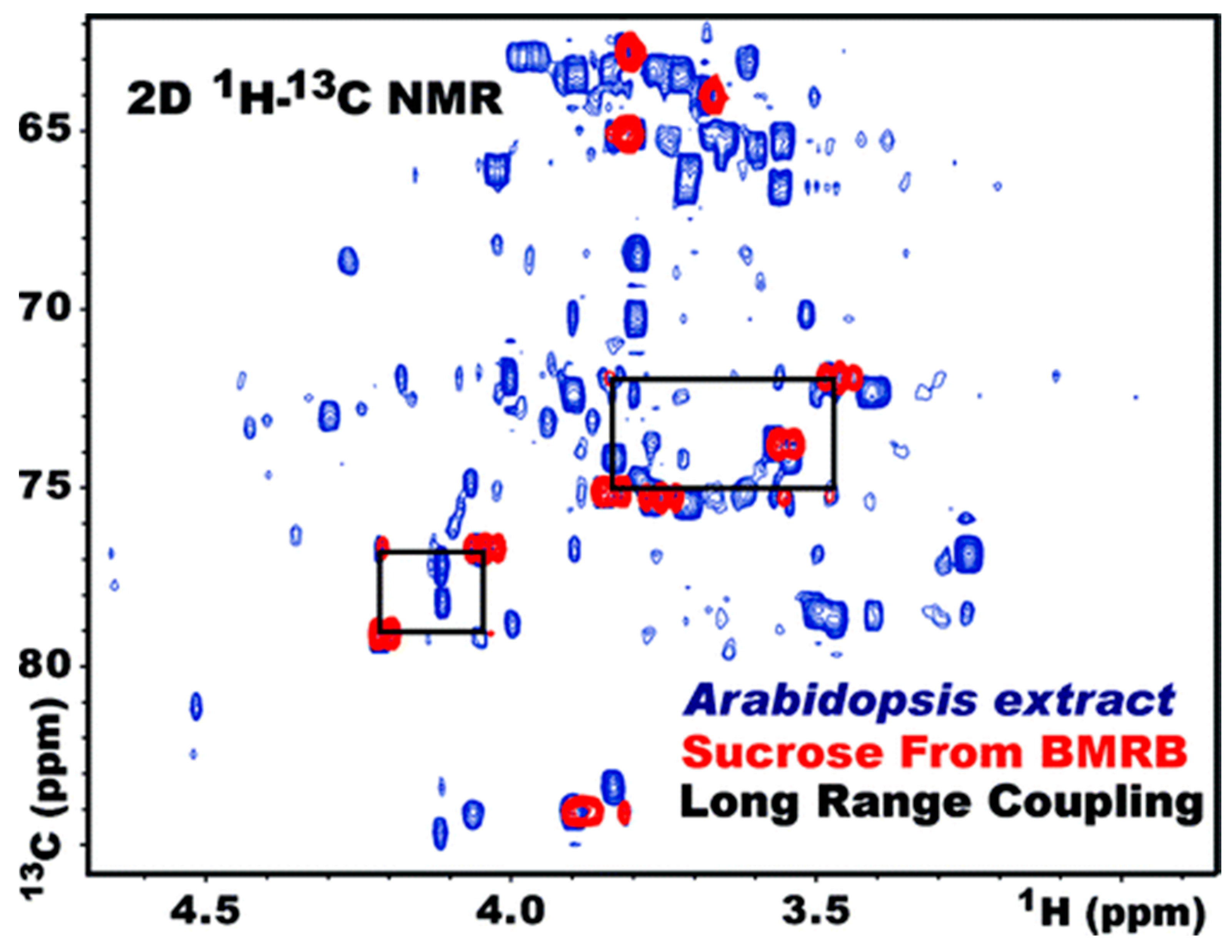 Table 1. Summary of the most important advantages and limitations of nuclear magnetic resonance (NMR) spectroscopy compared to mass spectrometry (MS) in metabolomics applications.
| | NMR | Mass Spectrometry |
| --- | --- | --- |
| Reproducibility | High reproducibility is one of the fundamental advantages of NMR spectroscopy. | Compared to NMR spectroscopy, MS data are less reproducible. |
| Sensitivity | Intrinsically low but can be improved with multiple scans (time), higher magnet field strength, cryo-cooled and microprobes, and hyperpolarization methods. | High sensitivity is a major advantage of MS; metabolites with nanomolar concentrations can be readily detected |
| Selectivity | NMR is generally used for nonselective analysis. Peak overlaps from multiple detected metabolites pose major challenges. | MS is selective. However, in combination with chromatography (such as liquid and gas phase separation), it is a superior tool for targeted analysis. |
| Sample measurement | Enables relatively fast measurement using 1D 1H-NMR spectroscopy, where all metabolites at a detectable concentration level can be observed in one measurement. | Different ionization methods are required to maximize the number of detected metabolites. |
| Sample preparation | Involves minimal sample preparation, usually transferring the sample to an NMR tube and adding deuterated locking solvent. Can be automated. | More demanding; requires chromatography; requires sample derivatization for gas chromatography (GC)-MS. |
| Sample recovery | NMR is nondestructive and, hence, several analyses can be carried out on the same sample. Additionally, the sample can be recovered and stored for a long time. | MS is destructive technique; therefore, the sample cannot be recovered. However, it needs only a small amount of sample. |
| Quantitative analysis | NMR is inherently quantitative as the signal intensity is directly proportional to the metabolite concentrations and number of nuclei in the molecule. | The intensity of the MS line is often not correlated with metabolite concentrations as the ionization efficiency is also a determining factor. |
| Fluxomics Analysis | NMR permits both in vitro and in vivo metabolic flux analyses. Its inherently quantitative nature also enables precise quantification of precursors and products. Mapping of stable isotope locations and incorporating points in molecules is very easy via NMR. | MS can be used for fluxomics analysis; however, the destructive nature of MS-based methods means it is somewhat more limited than NMR-based fluxomics. In vivo fluxomics is not possible with MS, and isotope mapping is more difficult. |
| Tissue samples | Using high-resolution magic-angle sample spinning (HRMAS) NMR, it is possible to detect metabolites in tissue samples. | Although some MALDI-TOF approaches can be used to detect metabolites in tissue samples, these approaches are still far from being routine. |
| Number of detectable metabolites | Depending on spectral resolution, usually less than 200 metabolites can be unambiguously detected and identified in one measurement. | Using different MS techniques, it is possible to detect thousands of different metabolites and identify several hundred. |
| Targeted analysis | NMR spectroscopy can be used for both targeted and untargeted analyses, but it is not commonly used for targeted analyses. | Both GC-MS and liquid chromatography (LC)-MS are superior for targeted analyses |
| In vivo studies | Using magnetic resonance spectroscopy (MRS), in vivo investigation can be carried out most often using nuclei such as 1H and 31P. | Although desorption electrospray ionization (DESI) may be a useful way to analyze tissue samples during surgery, MS is not used for in vivo metabolomics studies. |

© 2019 by the authors. Licensee MDPI, Basel, Switzerland. This article is an open access article distributed under the terms and conditions of the Creative Commons Attribution (CC BY) license (http://creativecommons.org/licenses/by/4.0/).